Earlier this month, the L.A. Clippers hatched a new mascot design in the form of "Chuck the Condor," to represent a team with two of the best leapers in the NBA. Sadly, the reception was foul.
"Chuck is a schmuck," blurted The New York Daily News. The Rolling Stones declared, "Everyone hates" the mascot. L.A. Times Columnist Bill Plaschke ranted that the "stupid bird" was a "Fruit Loop reject" and an "ornithological nightmare."
Ouch.
More recently, Kanye West – known for his epic (if ill-conceived) Twitter rants – tweeted Clippers Owner Steve Ballmer, asking if he could launch his own mascot design for the team. Initially, ESPN reported, the mascot responded from a "Chuck the Condor" account, saying, "I miss the old Kanye," a riff on one of West's own lyrics. A few hours later, Ballmer chimed in on his own, saying the team "loves Chuck," but also admires Yeezy's creativity- and invited him to lunch, an offer West accepted.
Whether any of Kanye's new mascot design specs will be embraced is yet to be seen, though it's unlikely the team would initiate a tweak so soon. And as ESPN Senior Writer Arash Markazi reported, the bird was never about those loquacious cynics – or even those who could read their blustering rhetoric.
"This isn't for the die-hard NBA basketball fans," said California-based mascot design company owner David Raymond. "It's about developing new fans. The Clippers want to develop young fans."
While Raymond and other mascot design experts know there are many traditionalists who simply refuse to see the value of a mascot, the fact is there are a huge number of teams – and businesses – that successfully employ mascots to their advantage.
Raymond told ESPN that while some people see a mascot like Chuck and think the team isn't being serious enough, the opposite is true. He aptly noted that the business of sports is about more than what happens on the court. It's about the entertainment value.
Mascots can be a strong symbol for an organization or event. It's often an animal, but it could be a person or object – anything believed to bring luck or to represent a common identity. Children especially become endeared to mascots in a way that establishes loyalty and brand equity for the team.
Still, it can be tough to hit the mark with a kid-pleasing, crowd-rousing mascot. There is a danger, of course, of looking too silly or soft. The Cleveland Browns, for example, caught flak for the 2015 new Dawg Pound logo, with a mascot design that some referred to as "cute" – not necessarily the image you want to portray in a gladiator-like sport. Still, the team stuck with it.
But there has also been the risk for some mascots of seeming to scary, strange or oddly sexual. Think:
Hip-Hop, The Philadelphia 76ers' urban bunny in the late-1990s. (The team later told fans he got married and hopped away to happily ever after.)
Crazy Crab, the San Francisco Giants' googly-eyed crustacean.
Boomer, the Columbus Blue Jackets mascot that unfortunately looked like a weird, gray phallic symbol.
Although some mascot design efforts have indeed been lamentable, there is no doubt a well-planned Cleveland mascot design can help launch or revitalize a brand.
In the Clippers' case, Chuck the Condor has already inked a shoe deal with Converse for, of course, Chuck Taylor All Star footwear. And in the home stretch, the goal is to get those cartoon-obsessed fans to flock.
Brewing Company Branding: Boss Dog Brewing Co.
Brothers Josh and Jason Czernek (and Mom) visited Go Media looking for a Cleveland design firm who could help bring their dream brewery to life. Their concept revolved around the name Boss Dog Brewery — Discovering how best to visualize the brand's voice, aesthetic, and most literally how the dog looks, was the first step in getting this brand up and running (no pun intended).
Go Media's Art Director, Chris Comella, reflecting on his work, which encompassed everything from mascot, print and logo design, to branding and illustration, typography to brand management, noted one of his biggest rewards connected with the Boss Dog Brewing Company project.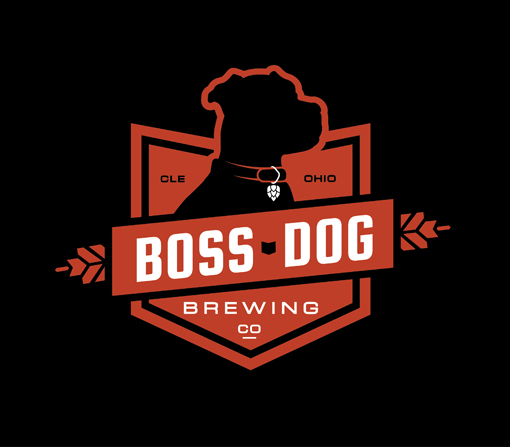 "One of the things we focus on in our design process is presenting multiple concepts. This allows us to get really creative, while at the same time vet different approaches to achieving our goals. With this project in particular, the three concepts approached visualizing the dog (which was a main focus for this brand) in different ways. The final product is a photo-realistic stance, whereas the other two options were a more iconic version, and an illustrative version. Although it's simply one facet of the brand at large, being able to guide the client through those options and end up in a place that's custom tailored for them is a very enjoyable experience."
Designer Carly Utegg reflects on the project fondly, "We started off the project with a photo shoot of the clients beloved dog Stella. Once we were certain that Stella would become the face of the brand, this unique opportunity to bring her into the studio was one we couldn't pass up."
While this experience filled the office with laughter, Chris admits, "In terms of what was most challenging specifically, I'd have to say the photo shoot. It's not easy under those bright studio lights, but Stella pulled through and got us some great shots to work with."
At the end of the day, the tight-knit team was proud of their results.
"One of the main goals with the Boss Dog brand was to portray our canine mascot in a way that wasn't overly masculine, notes Carly. "Finding this balance was something we worked through during the branding process, exploring a range of styles until we decided on a silhouette as the best solution. What we have as a end product is a brand that while it has a workman or firehouse feel to it doesn't cross the line of being overly bold and masculine. I think this identity will serve them well and I'm excited to watch the identity grow as we continue to work with the clients on applying it to their various applications in the near future."
From all the tail wagging, we can tell that Stella is happy with the results. The Boss Dog crew and Go Media can certainly cheers to that.