A quick round up of some interesting new and updated Mac utilities of interest to creative types.
Photoshop Automator Actions 5.0 (free/$19.95)
A package of Actions that lets you control many of Photoshop's most common functions from within Mac OS X's Automator, letting you add Photoshop functionality to your Automator workflows. If you find them useful, please consider donating at the developer's website.
From the developer's website:
Why would I use Automator instead of Photoshop's own actions?

While Photoshop's Actions palette provides a simple way to record and playback complex actions, it's functions are limited to only things you can do in Photoshop. Since Automator workflows can span multiple applications, you can easily automate entire photo and graphics production pipelines. For example, you can can use Automator and the Photoshop Automator Actions collection to batch process the manipulation of your images and then automatically upload the results to a server, archive them to a CD or DVD, build and print contact sheets – and all with a single button press.

The Photoshop Automator Actions collection also provides sophisticated logical actions, which allow you to filter your images based on many EXIF and IPTC tags, color mode, size, orientation, and more. So, you can build build workflows that only perform edits on images that match specific criteria. For example, you could build a workflow that processes CMYK images one way, but performs different actions on RGB images.

Finally, while Adobe Bridge provides a simple interface for launching batch processes, it limits you to only operating on the files within a single folder. Automator has no such limitations, so you can process images from multiple folders, or even images located through a Spotlight search. And, with Automator, you have many more ways to launch a batch process. You can save your workflows as applications, turn them into Folder Actions, trigger them from iCal, or save them as OS X Services.

What's new in version 5?

Version 5 brings compatibility with Photoshop CS5, as well as the final release of the CS4 actions. As always, there have been lots of bug fixes along the way including file naming, and image resizing – two problems that were introduced with the CS4 beta. Some actions have seen the addition of new parameters, and the v5 package ships with three new actions.

The new Diptych and Triptych actions automate the process of creating two-up, and three-up layouts. With full control over margins and spacing, diptych and triptych creation has never been easier.

The new Contact Sheet action replicates most of the functionality of the Contact Sheet script that is available as an optional install from Adobe. Of course, the advantage of having such power within Automator is that you can now automate the production of your contact sheets. Contact Sheet produces a PSD (either flat or layered) and gives you the option of displaying up to two lines of metadata beneath each thumbnail.

Free or Paid?

There are now two different Photoshop Automator Action bundles, the free bundle which includes 41 actions covering all of your day-to-day automation needs, and a $20 Pro bundle that packs 95 actions, delivering an incredible amount of high-end automation power. These two packages are available for Photoshop CS4 and CS5.

In addition to the actions, the package includes an assortment of sample workflows. The 73-page manual gives you a reference for all of the included actions, as well as an introduction to using Automator, and strategies for building Photoshop workflows.
Antetype Color Picker v1.01b (free)
An addition to the Apple System Color Picker and provides HSB, RGB and Hex support at the same time. It also allows visual picking of colors based on the HSB color system.
From the developer's site:
We decided that the standard Mac OS X color pickers are not sufficient for us. Fortunately Apple provides the possibility to extend the system with custom color pickers and that's exactly what we have done.

When working with colors in a creative way, the HSB color system is often a much better choice than RGB, since it is modeled after human perception of color rather than technical representation. However, in implementation, RGB or Hex values are usually needed and while switching between different color pickers works it is quite a hassle. So we created a color picker that shows and allows editing of those color systems and representations within one view. Combined with a well-proven visual way of picking a color based on HSB our color picker brings much-needed ease-of-use to the Apple system color picker.
Poster for Illustrator (free)
Makes it easy to convert any Illustrator file (.ai, .eps or .pdf) to Illustrator (.ai), EPS or PDF format. Just drag and drop files on the app's icon, select the desired format and it will convert for you. Note: version of final file is the same of version of Adobe Illustrator that you use.
I can't think of a use for this personally, but it's probably one of those utilities that at some point you'll be glad you know exists. One user on MacUpdate reported that the app helped in a situation where an EPS file kept crashing Illustrator CS3, and using Poster to convert to .ai fixed things up. The name of the app also confuses me, as this has nothing to do with posters…
— via MacUpdate
Photoshop is the workhorse of the design industry. It's an industry standard. But even Photoshop's biggest fans will admit it can be quite daunting for basic tasks.
So what to do for either users who don't need the full version of Photoshop or have a limited budget? Quality, low-priced pixel-based image editors on the Mac are surprisingly rare.
Enter Acorn
Flying Meat Software has a fantastic alternative: Acorn. Priced at only $49.95 (and read on for details on the free option). It's a suprisingly powerful app with some features Adobe could learn a trick or two from.
The Basics
If you've used Photoshop, or any image editor, you'll get up to speed quickly with Acorn. It's got everything you'd expect, and some things you won't.
I'd have to say Acorn's "signature" feature is it's all-in-one Tools panel. Here you access all the standard pixel editing stuff: Move, Zoom, Crop, Brush/Pencil, Eraser and the like. I wasn't expecting to also have vector shape tools.
The tools panel consolidates not only your tools, but also your Layers. Again, I was surprised to find not only Layer Groups, but also a huge range of blending modes for layers as well.
All the tools for which you'd want tablet support indeed have tablet support, although I'd have to say Photoshop comes out on top here. The anti-aliasing is limited to a checkbox. Opacity levels can be set for drawing/painting tools as well.
I didn't find the pressure sensitivity to be all that great, and I also experienced brushstroke lags at times. I'm working on a dual quad-core MacPro with 14GB of RAM, so I have plenty of power.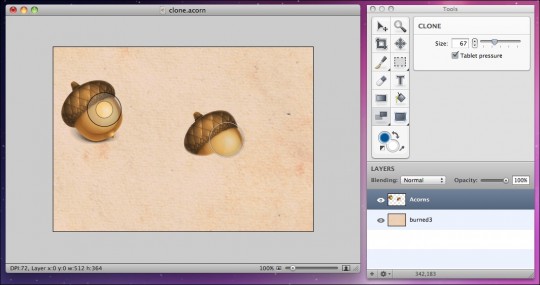 The Awesome
Live Filter Preview Animations: This blew me away—open up the Filters window, and start clicking around. A small preview window in the panel will show you an animated preview as the filter is run through the gamut of it's option. So much easier to see what a potential candidate filter will do to your image. Big thumbs up here.
Screenshots: Acorn has a lot of excellent tools for taking screenshots and having them pop open right into Acorn for editing. And need to grab a quick snap from your webcam? Acorn has you covered. And even more amazing, Acorn can grab a layered screenshot, where every last element on the screen is saved into it's own Layer/Layer Group. Impressive.
The Brush Editor: Acorn has a pretty full-featured Brush editor, with plenty of flexibility as far as what you can tweak. Not as full-featured as Photoshop, but more than enough for the target users of this software.
The Not-So-Great
Drawing tools & Tablet Support: As I mentioned above, I didn't find the drawing tools to be standout. They do the job, but there's no way I could use Acorn as a replacement for Photoshop for my main drawing/sketching software. At least not as-is. Too much lag, and the tablet support is passable. That said, this isn't a power-user app so I can't be too hard on Flying Meat.
Web Export: a big disappointment was the Web Export feature. Acorn seems like a perfect app for prepping a screenshot, however there was no way I could find to resize the image when exporting for the web. Seems you need to resize the document itself before saving for the web, which to me is a big downer.
Photoshop compatibility: I have no idea if it's even possible for Flying Meat to offer the ability of saving layered files in a .psd format, but if so it's not there. It's stated on the Help that Acorn can open some very basic Photoshop files, as long as nothing fancy is going on with the image/layers etc. No layered TIFF files either. Again, I'm not sure this is a major issue for the target customer of the app, but it's worth noting.
Guides: There are none. As of version 2.3.1, just enable the Rulers and then you can drag down guides just as you can in Photoshop.
Keyboard Support: while there are extensive keyboard shortcuts throughout the app for choosing tools and applying commands, one odd omission is the ability to toggle numeric fields up on down using the up/down arrows on the keyboard. You need to either enter the specific number, or drag the slider.
A Mighty Oak
Sure, Acorn has it's limitations if you're making a one-to-one comparison to Photoshop. But considered on it's own, Acorn is a mind-blowingly awesome pixel editor app for $50. If you don't need Photoshop or the full Creative Suite but do have a need for a pixel-based image editor at times, Acorn is an absolute no-brainer.
The number of features that are packed in to this seemingly simple graphics editor is really quite amazing the more you start working with it and digging into everything it offers.
Free?
As I mentioned at the start, Flying Meat is offering up a reduced set of features for free after the 14-day trial period runs out. You can still open images and crop, filter, rotate, add layers, add text, and touch up images. Here's what's disabled in the free version:
Web Export
Brush Designer and Brush tool (the Draw/Pencil tool is still enabled)
Layered Screen Shots
RAW Image Import
Copy Merged
Clone Tool
New Layer Groups
Free and Perspective Transform tools
Custom Plug-ins
Levels
AppleScript support
Bézier Curve tool
Shortcuts for adjusting layer opacity
Start Window always comes up at launch
I'd have to say that's a pretty generous list of features that are still included in the free version. Head on over to Flying Meat and download Acorn. I think you'll be quite impressed.
Plenty of designers out there do their design work not in InDesign, but in Illustrator. If you're among those, you've no doubt been confounded by the lack of a "collect for output" feature in Illustrator. Enter Art Files from Code Line Software.
And be sure to read on for a special discount offer on Art Files for our Go Media 'Zine readers.
Get it together
Art Files is a standalone program for Mac OS X that gives Illustrator users a "collect for output" or "package" feature, just like in InDesign.
Perhaps because Art Files was created for such a specific purpose, it's dead simple to use and to figure out what it does. If you need software like Art Files, it does exactly what you want it to do.
After launching Art Files, you'll be presented with a new document window. Here you drag the .ai files you want to process and Art Files goes to work immediately. All linked images and any fonts used in the .ai document are presented in an easy-to-read folder/subfolder structure. Color-coded symbols inform you of any errors.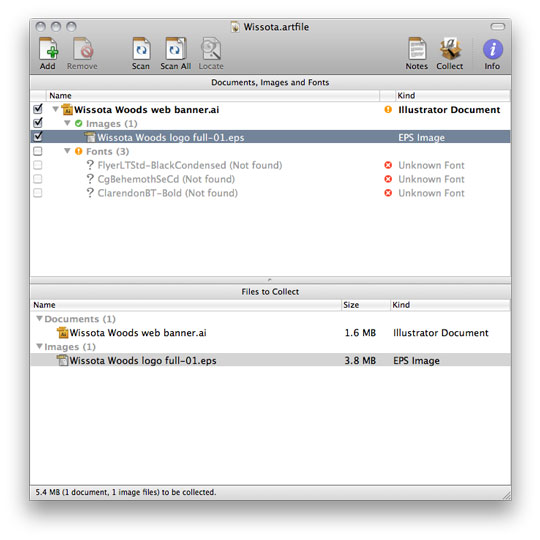 Art Files will even scan for fonts in the placed EPS documents within your file. How cool is that?
What it does
Art Files is designed so that each document scanned can be saved as an .artfiles document, allowing you to run the scan again in the future without needing to go back an locate the original files. Very handy.
Another great feature is the slide-out Info panel, which gives you a visual preview of the placed files, as well as Finder file paths to the file, and buttons to open the placed file in the Finder or open them directly in Illustrator. Again, very handy.
When it comes to collecting your files, again Art Files is on top of things. You have the option to save the resulting Collection with a Notes file, very similar to InDesign's "instructions.txt" file. The Notes text file can contain custom notes (and you can set up a default notes section in the preferences as well), contact info and a log of the collection process.
Again, as expected when you click "Collect", you are prompted to choose a location for the Collection folder. Once Art Files is done collecting you files you have a nicely packaged Collection folder with subfolders containing your linked files and any fonts used in the document.
The right tool for the job
As with the rest of Code Line's graphics software tools for Mac, Art files fills a niche and does it just as you'd want and expect it to. If you need a "collect for output" or "packaging" feature for your Adobe Illustrator files, look no further.
Code Line Software has generously created a special offer just for the 'Zine readers — use this link to get Art Files for 10% off the full $49.95 license. Offer is good until the end of February 2010. And this offer is good for any Code Line bundle that contains Art Files, including multi-user licenses.
Code Line also has a video overviewing the features of Art Files:

Although it rarely happens to me, I see tons of Twitter friends posting about their Adobe software crashing while working on a file. InDesign has a pretty robust temporary file feature that usually saves what you were working on, however that's only useful if you work in InDesign. What about Illustrator and Photoshop users?
Enter ForeverSave.
ForeverSave is a clever application that does versioned auto-saving of your open files. ForeverSave isn't limited to Adobe software, but it's the primary reason I was interested in the app. It works silently behind the scenes, yet instantly accessible via the menubar icon. Very customizable, not only the app itself but also on a per-application basis. This is a sign of a developer who knows their potential customers well.
Read on for more about how this very handy piece of software can improve your workflow, and as a special treat to Go Media readers, we're teaming up with Tool-Force Software to give away a limited number of free licenses to our readers.
The Basics
The "Control Center" allows you to turn ForeverSave on or off, and is the access point to add/remove and configure which applications you wish to monitor. Each application can be tweaked manually.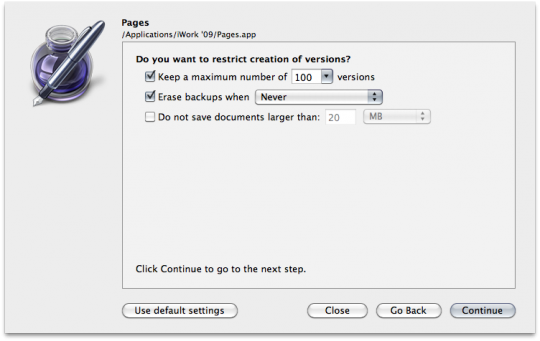 I love the fact that on a per-application basis I can set how many versions I want to keep, when to erase old backups and also excluding extra-large backups. Concerned about disk space? You can choose where the backup database is stored. Throw it on that external drive with tons of space instead of your startup drive if you want.
Customizable hotkey support is also a welcome feature for power users.
What It Does
So how does this all work? Simple: run ForeverSave, and based off your settings (per-app), ForeverSave will silently keep backups of your files according to the schedule you've specified. Sure, Time Machine is great for files you've already saved, but ForeverSave goes one step further and makes it easy to go back in time with files you're actively working on.
The big key to the awesomeness of ForeverSave is the fact that it can be set to not overwrite your current file — it saves a separate copy to allow you to revert if you choose. This is not some generic "hit the Save command every 5 minutes" solution only. ForeverSave allows you to work on your file and save a copy every so often in the background.
Go Back In Time
So what happens if you do need to go back to one of your backups? ForeverSave has a very intuitive backups interface to do just that: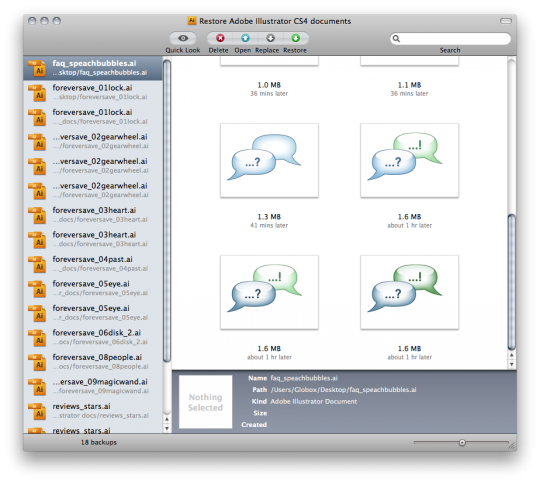 Each software application has it's own backups window which allow you to browse the files it has been monitoring (left-hand panel) and the versioned backups for each file (main area on right). Click on a backed-up file on the left to see the versioned backups for that file.
Each backup is date & time stamped, and full info can be gathered by clicking on one of the backup files and checking the info panel at the very bottom. Each backup file has the option to Delete, Open, replace or Restore, and everything works nicely with OS X's Quick Look feature.
Works Great
I've been demoing this software for a while now to prepare for this review. I wanted to make sure it ran smoothly, worked as advertised and fit into my workflow. I am very happy to recommend this software to any Mac user, but specifically to my fellow illustrators and designers out there. This really should be a part of your Mac workflow.
I'm a big fan of backup/security when it comes to my computer as I find it's part of the creativity process — if I don't have to worry about my tools and my files, it leaves more flexibility to concentrate on the creative side of things. ForeverSave is a tool that helps me achieve this.
Get It Now!
ForeverSave is available from Tool-Force Software for the insanely reasonable price of $14.95. There's also a "lite" version, but it doesn't offer most of the features reviewed above and I recommend just going for the full version. The first time you need to access a versioned backup of a file you thought you lost after a Photoshop crash will more than pay for the price of ForeverSave.
Tool-Force Software has also graciously agreed to bestow some free licenses to our loyal Go Media readers. The first 10 to reply in the comments will get a free license for the full version of Forever Save.
Be sure to have some way for us to contact you. I'd suggest a cleverly obscured email address within the comment itself (name [at] domain dot com usually works). If we can't contact you easily, we'll need to move on to the next.
Hard drive failure. Not something creative people think about often. At least not until it's happened to you. I went from not even considering a "backup solution" to being (probably) overly cautious and redundant about my backup setup for the Mac and all my creative files.
Yes, you need a backup.
The first step to getting a backup system in place is to realize you do need one. Many people have probably even used a Mac and bought a new one with no hard drive failures at all. Most likely you could go years never even needing a backup. Why spend all that money on something that may never happen? Precisely because it only needs to happen once for you to realize how important it is to do this. Save yourself the heartache and learn from my pain.
Oh, and keep in mind that dragging your files to your "backup" drive and then deleting them from your main hard drive is not a backup; the files are only in one place—there's only one copy of them. You want a minimum of two copies of all your files.
Hardware
The hardware side is pretty simple: either some internal hard drives (if your Mac supports them), or some external hard drives (FireWire or USB 2.0). Most (non-iMac) desktop Macs since the G4 lineup support up to 3 additional hard drives internally. Users with an iMac or a MacBook/Pro (or any Apple laptop) with need to go the external hard drive route.
As far as purchasing drives, if you go the internal route you only need to consider the connection interface—older Macs (and PCs) used the ATA interface; newer Macs use the higher-speed SATA (Serial ATA) connection. You can find tech specs for Apple products here. For external, I usually go with FireWire drives since they can be daisy-chained together. This means you only need one FireWire port as additional drives hook into the previous FireWire drive. FireWire drives also allow you to boot your Mac up from them, so they are my preferred external drive connection.
Where to buy
Seems many people have hard drive preferences, so the choice should be made by reviews on Amazon or my preferred geek/gadget supply store, NewEgg.com. Personally, I go with Western Digital drives after having too many problems with Maxtor and Seagate. Never had an issue with any Western Digital drives. However, other's mileages definitely vary. The only real criteria is that the drives are reliable.
You'll see a bunch of nerdy numbers for the specs: cache, RPM, etc. For the most part, a 16MB cache and a 7200 RPM should be more than sufficient and is mostly standard anymore. In reality you don't really need a fast drive for backups. As far as storage size, I would go with drives that are twice as large as the drive you will be backing up (more on that later). At the very least, it should be the same size of the drive you'll be backing up, for obvious reasons.
Formatting
Hard drives are not PC/Mac specific—any compatible drive will work although you may need to reformat the drive. The hardware is all the same. PC-formatted drives will work on a Mac, but in general it's recommended that you format for the Mac unless you have a specific reason for not doing so. And if you do, you are probably informed enough that you don't need to read this post…
Drives are formatted using OS X's built-in Disk Utility. Follow the drive manufacturer's installation and setup instructions, and if they do not cover Mac formatting, check out this article for details. Also, this article on formatting and partitioning a hard drive is also useful.
Setting Up Your Backup
So now you have your new drive(s) installed. How does one back stuff up?
This is the real meat of the post. I've had many different systems in place, and feel the current setup is perfect for an individual user. I'm going to rough out the overall setup, then go into details:
"Failsafe" backups with OS X 10.5's Time Machine
Bootable, differential "clone" backups of my startup hard drive
Differential "clone" backups of my other hard drives (I keep all my art on it's own separate internal hard drive)
Offsite backup
Now lets go into details about each of these backup methods, and why I use multiple systems.
"Failsafe" backups with OS X 10.5's Time Machine
OS X 10.5 and newer includes the "Time Machine" feature which essentially monitors your entire hard drive(s) and keeps as many versions of your files as it has hard drive space for. Time Machine is unique in that it saves multiple versions of your files, so you can revert back to and older version, say for example when you intended to save a Photoshop file using "Save As…" but instead did a regular save, overwriting the file unintentionally. With Time Machine you can easily go back to previous versions of the file and "restore" that earlier version. You can even save the newer version right alongside the older one (or replace it). Time Machine monitors your drives and performs the backups on the fly. No backup to "schedule".
This is super handy for those small mistakes. If you were to only run one backup, I would recommend Time Machine as the software is free (it comes with any Mac running OS X 10.5) and it covers not only backups, but earlier versions of your files. In the case of Time Machine, since you are able to not only back up files but also save earlier versions of those files, the bigger the drive you use with Time Machine the better.
Time Machine also uses some code voodoo so you aren't saving actual earlier copies of all your files, but references to just the changes (or something similar). In this way, far less disk space is needed. But the larger the hard drive, the more earlier versions you can have on hand.
Time Machine has saved my butt many times.
Bootable, differential "clone" backups of my startup hard drive
Differential? Clone? Wha…?
By "differential", I just mean a rotating, 'every/other' backup. Here's how it works: I have a startup drive of say 500GB. My backup drive for this drive is 1TB (terabyte, or 1,000 Gigabytes). My backup software runs a "cloned" (or "mirrored") backup every morning to one of the two 500GB partitions on the 1TB backup drive. Then, once a week on Sunday my backup software runs another clone backup on the other 500GB partition.
Why do I do this? Because if some problem creeps into my boot drive, my backups will also contain that problem. By having a separate backup that lets me go back a week further, it's insurance that I may be able to revert to a setup before the problem started. Sure, it might not be far enough back in time, but it's just a bit of extra security that could really come in handy. I'm a bit paranoid, I know.
The "clone" backups are what they sounds like: your hard drive is cloned to the backup hard drive. Just copying the files isn't good enough if you want to actually start your computer from your backup drive—you need to clone it to do so, so that all the hidden system files are also copied.
Why would one need to boot up their Mac from their backup drive? Picture yourself wrapping up the final tweaks to an 80-page magazine, and having your hard drive fail. All your files are safe with Time Machine, but you can't start up your Mac without reinstalling the System software, and then reinstalling all your graphics software, entering license codes, etc. We're talking potential hours of work, just to get back up and running.
With your clone backup, this is an exact copy of the drive you were just using (and just failed on you). Since hard drive failures are typically physical in nature (i.e. something broke), the bootable backup is exactly what you need here. You can boot a Mac right from an external FireWire drive. Boom, you're back in business to meet the deadline, and you can sort out getting things back to normal later when you have more time to do so.
As a minimum, I would suggest a combo backup of both Time Machine and this differential cloned backup method. This should cover almost all situations you could run into, and will get you either back to the old file or get your Mac back up and running in almost no time at all.
Differential "clone" backups
Same as above, but no need for these drives to be bootable. Again the differential approach allows for one further step backwards in case something got really screwed up. Technically these do not need to be "clones", but it's not going to hurt anything to back up this way. Typically the backup method you want to use in all of these situations is an incremental backup, which means that during the backup process, only the files which have changed will be backed up (or deleted), saving huge time for all backups after the initial backup.
One thing to consider with the "clone" backups: deleted files on the main drive will also be deleted on the backup drive. This is referred to as mirroring. Most backup software has settings to allow the "backup" drive to keep files even if deleted on the main drive, but keep in mind that since there is now only one copy of them, they are not actually "backed up". For me, hard drives are cheap enough that I never throw any files out unless I am totally sure I will never need them ever again. It's just safer overall that way.
If you only have one hard drive to back up, then this step is optional. Another use here would be to back up your backup drive for an added level of security. However if it is also your startup drive, you'll want to make sure the backup is also bootable.
Offsite backup
There are two ways to go about offsite backups: either an upload method like Mozy.com, or the "sneakernet" version where you have yet another cloned backup hard drive which you physically move to a location outside your home/studio/etc. to another location. Some even go as far as renting a bank deposit box for this, but your parent's house will work fine as well. The idea here is fire or other disasters. All the backups in the world will not mean a thing if they are all at your location and there's a fire.
Backup Software & Services
There are lots of backup software applications for the Mac, and I have purchased quite a few. My recommendations are purely the ones I have found to be easy to use and reliable, with features I like. I am sure there is other great backup software out there, but these are the ones I use currently for my backups.
SuperDuper!: SuperDuper! entered my arsenal when I learned about the need for bootable clone backup drives. This is it's primary function, and it does it well. On the plus side, it will mount your backup drives (and unmount them when done backing up) as long as they are plugged in and have power. Also, backups can be scheduled. The downside: scheduled backups only run if the Mac is awake, so you'll need to set a wake timer in the System Preferences (Energy Saver -> Schedule… button) so it can do it's thing.
ChronoSync: I started using ChronoSync to synchronize files from my MacPro to my MacBook, and back before version 4.0 there was no bootable backup option which it now has. However ChronoSync works great for syncing files, so I am sure the new bootable clone drive features lives up to the quality. Honestly I have yet to use the bootable clone in ChronoSync since I already had SuperDuper set up, but it might be a nice all-in-one solution of you need both backup and sync features. ChronoSync has a feature to wake your Mac for scheduled backups.
Apple's Backup (part of the MobileMe service): I use Backup & MobileMe for some rudimentary offsite backups of main data files—Address Book, iTunes library (the database, not the music—the music files get their own backup locally) and other system files such as preferences and such. Mostly I backup databases and other small-ish files that won't take forever to upload to a remote server.
Mozy.com: Mozy is one of many offsite backup services available to Mac users. A free account is available, but with limited drive space offered. Paid accounts can get more storage space at reasonable costs. The downside to any online offsite backup is bandwidth—it's going to take not only a very long time to upload everything, but downloading of your backed up files will also take some time. However these backups are not about speed, but about security.
Other Mac-friendly offsite backup services include BackJack, Carbonite and Crashplan. I have only used Mozy, and while it worked sufficiently well overall it wasn't something I felt a need for, especially to pay a monthly fee. For now I use Backup/MobileMe for my basic offsite backups since I am already paying for the service and storage space.
You're Covered
Following all the steps above should protect you from just about any type of catastrophe that could affect your files, whether a hard drive failure or some sort of fire or natural disaster.
Most people have never dealt with a hard drive failure, and therefore a backup system is not on their mind. Let me tell you, eventually it will happen to you. Backing up is only helpful if you do so before you need it.
If I had to recommend one solution for most Mac users, I would suggest running Time Machine. That has the broadest protection and the least amount of setup and technical knowledge needed. Most users have one hard drive, so one additional drive for Time Machine will suffice.
The next step would be to run the scheduled bootable clone of that same drive — that way you have two backups of your hard drive, and can boot from the backup in an emergency. Throw in Time Machine and you have the added bonus of accessing earlier versions of files.
Users with additional drives beyond the hard drive that shipped with their Mac will want to look into backing up those drives as explained above.
The added bonus of having a robust backup system in place? You can work with an eased mind that pretty much nothing you do can screw things up too bad. Think of it as the ultimate "Undo" for your entire digital life.
—
Here's a nifty little Adobe Air application that allows you to look up keyboard shortcuts for any Adobe software. Well, at least Illustrator, Photoshop, InDesign, Flash, Dreamweaver, Soundbooth, Fireworks, Contribute, After Effects, Premiere Pro, Encore and Acrobat Pro. The shortcuts are only for the CS4 versions of these applications.
Adobe Shortcuts App runs on Adobe Air, so it's cross-platform (Mac, Windows, Linux).
Launch the app, then select your preferred software from the top row of familiar icon buttons. Below you'll see three tabs for Essentials, My Favorites, and All Categories. Be sure to click the speaker icon in the bottom-left to turn off the "interesting" sound effects…
Best of all, it free from the Adobe Marketplace. Download the Adobe Shortcuts App here.
(via John Nack, Adobe Photoshop's Principal Product Manager)
Categorized:

Graphic Design

Tagged:

Adobe, After Effects, Creative Suite, design tip, download, freebie, Illustrator, InDesign, Mac, OS X, Photoshop, productivity, software, Windows
Paparazzi! is a handy little niche utility for Mac OS X that creates screenshots of full webpages. Add a URL (or choose from a list of recently visited sites) and Paparazzi! brings up the page in a mini-browser. Save the file in your preferred format, with custom file name options (such as auto-adding the date, year, URL, page title and more).
The real gem here is that Paparazzi! takes a screenshot of the entire web page, not just what's visible on-screen. Great tool for web designers.
Best of all, it's free! Note that the developer does ask for donations of you find yourself using the app a bit, so show some love and drop a few bucks to the developer if this software is helpful for you.
Go Media is proud to offer up 3 licenses for the awesome new Photoshop brush manager for OS X, Brush Pilot.
Download the demo, give it a whirl and let us know in the comments what your favorite Brush Pilot feature is. We'll be choosing winners at random from this posts's comments. Winners will be chosen on Monday, July 20, 2009.
Time. There's never enough of it. But what if I told you there was a way to create more time, particularly in your design life? It's simple, actually—make your computer do the work.
Over the years, I have found a rather handy set of software utility programs for the Mac that have saved me countless hours of production time in both illustration & graphic design work, as well as in general computer usage. By letting these programs do their thing, they free you from having to do them manually.
Some are free. Some cost a few bucks (or more). All, however, I have found invaluable in my creative work. I'm a big fan of using your tools to their maximum potential. Usually if there's some brainless, repetitive task, I have found that some software developer out there has had the same frustration and has created software to alleviate these time-wasters.
The following collection I have found to be the most useful utility software for the Mac, specifically for creatives. They range from free to seemingly pricey, but once you've used them you'll find the work you've saved to be well-worth the price paid.
The utilities cover the gamut of creative work on the Mac—from graphic design, illustration, magazine layout output, file/folder/Finder navigation and more. I use every single one of these on a regular basis and couldn't create a Mac without them.—or at least I wouldn't want to!