What is real time technology & how has it changed the way we do business?
Real-time technology is exactly what it sounds like — data that changes what we do at the moment we do it. With the rise of cloud servers and better wireless capabilities, more businesses use this type of technology in daily operations today. Here are a few ways businesses use real-time technology and how it's improved or changed over the years.
1. Using Live Chat
Live chat is one way real-time technology changed the way we do business online. Even though the capability has been available for years, live chat wasn't as popular in the past as it is today. A decade ago, people still used email or picked up the phone if they had a question.
Today, consumers go to a website and connect instantly with a customer service representative to ask a question. Analysts estimate live chat will grow by 87 percent in the next year. Although some companies choose hours when live chat is available, it is still fast, efficient service.
SnapEngage includes their live chat option on their 404 error pages. Since a 404 page often results in visitors leaving a website, adding a live chat feature is a way to keep site visitors engaged, no matter where they are on your site.
2. Updating Information
Real-time technology provides the opportunity for updated information. This is particularly true for industries that provide information, such as online newspapers. Gone are the days when people had to wait until the next morning to see a breaking story in the newspapers.
You don't need a television these days to get your news. In fact, breaking news sometimes hits Twitter and Facebook before journalists report it on cable news networks. Updated information that is ahead of the game is why many news consumers prefer the Internet.
3. Locating People in Real Time
Real-time technology can also track where someone is at any given moment. This type of technology tracks traffic flow at a trade show or predicts the needs of a patient in a hospital and allows staff to respond quickly and efficiently.
Centrak is an example of a real-time location system built with health care in mind. The system allows for efficient serving of patients, and it measures environmental conditions and integrates with other technology and systems within the facility. One advantage with this system is the ability to track assets. If two departments share the same medical device, whoever needs to use it can locate it quickly.
4. Improving Performance
Real-time technology improves the performance of people such as athletes. Most NFL teams use real-time GPS location tracking now during training. The trackers report data that allows coaches to figure out ways to improve performance.
Watching game tapes provides some information to these teams, but having the ability to see the exact positioning of a player during a specific play adds the ability to tweak fine points that mean the difference between champions or almost champions.
5. Planning Reservations
Real-time technology also helps businesses that sell tickets, such as theaters, airlines or event venues. This technology helps consumers see what is available at any given moment, but also helps the business sell empty seats. Systems have the capability to adjust pricing.
For example, if there is a single seat available, it won't be as attractive as seats in groups of two or more. The price on that single seat can be reduced to make it more attractive and hopefully fill the empty spot. This increases overall profits for the business.
Cinemark is one of many theaters moving to a reserved seating system. Instead of showing up at the last minute and hoping to get a decent seat, consumers purchase tickets ahead of time and choose the seat location. The system updates availability in real time, so consumers see what seats are still available.
6. Managing Field Workers
Another way real-time technology works for businesses is by managing field workers. If you employ workers who go out into the field, such as movers, service professionals or salespeople, organizing calls is a real challenge.
However, with real-time GPS tracking technology, call center managers easily see where each field worker is. Workers check in at different points throughout the service process, so the call center also sees if the job is almost wrapped up or the field worker needs more time. This current information allows the call center to assign jobs as they come in and re-route field workers who finish a job earlier than expected.
7. Pushing Notifications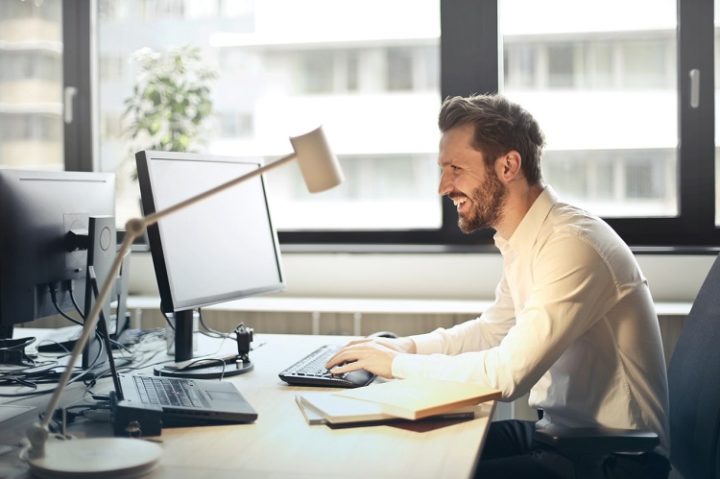 Mobile devices create the perfect conduit for real-time push notifications. For example, the consumer nears a store at the local shopping mall and suddenly their phone pings. It is a message from one of their favorite stores informing them of a flash sale going on at that exact moment.
This use of real-time technology allows businesses to highly target customers and make sure they aren't forgotten amidst all the competing stores. Businesses can also use other triggers to push notifications, such as the opening of an app, arriving home after time spent out driving or an number of other triggers all created by real-time data.
Real-Time Technology Tomorrow
Already, real-time technology impacts our lives every single day. From gaming to online chatting to improving processes, up-to-date technology makes businesses more efficient than ever before. In the future, expect technology to become even more refined. While tech can track people's movements within a short distance now, as technology improves, this will become even more precise. Who knows where business in the future might take real-time technology and where real-time technology might take businesses?
Customer Chat Tips & Features
Live chat has quickly become a top feature that consumers expect out of a website experience. As of 2017, 48 percent of consumers prefer to communicate with a business via a live chat than any other form of communication. However, just having a live chat feature and delivering an amazing experience via live chat are two totally different things.
The same study discovered that people don't mind if the chat is conducted through a chatbot or artificial intelligence (AI) as long as they get the help they need and have a good experience.
There are some key things your chat feature should offer, whether you are staffing your live chat with real people or with computers. Nail these seven items, and your chat feature will be much more effective than you thought possible.
Key Customer Chat Tips & Features
Offer Support, Not Hard Sales
Your chat support should be just that — support. If you use every single opportunity to just try and hard sell, you are going to turn customers off. Your focus should be on how you can help the customer rather than on how they can help you. Yes, you are in business to sell things, but the customer who takes the time to live chat is already interested in buying. Your job is to make sure they have all the information they need.
This also means you need to be strategic in where you feature your live chat option on your website. For example, it should be on the landing page, but do you really need it on your About page?
A good example of a site that does chat support well is Aid in Recovery. It has a chat at the bottom of the landing page that reads "Need help finding a rehab? Chat anonymously with a live agent." The chat is available 24/7. Since people landing on the site are likely wanting help, this is an excellent use of the live chat option — placing it front and center.
Email a Follow-up Transcript
Carefully choose your chat software so you can keep a transcript of conversations. Customers may have multiple questions about your product or services. By the time the conversation is over, they may forget every fine detail that was discussed, but they might also be too embarrassed to ask again. Keeping a transcript allows you to later email that transcript to your lead and remind them of everything that was discussed.
This also gives you an opportunity to touch base again and show them you care about whether they are satisfied with the chat experience or not.
Make sure everything is labeled clearly for your site visitor. He or she shouldn't have to hunt to find the chat feature. Instead, make sure it is easily found and looks the same on every page. Once the chat box is engaged, it should also be clear where the user needs to type and how to enter the text.
One clear example of a well-labeled chatbot can be found at Conestoga Log Cabins and Homes. A box pops up that has clearly labeled entry boxes and a box stating "enter your question."
Chatbots are one way to staff your chat without spending money hiring an actual body to run the conversations. Instead, businesses purchase the software once, input all the basic information the chatbot needs based on what past customers or site visitors have asked, and lets the artificial intelligence do its job.
A word of caution here — if you plan to run a chatbot, be sure you offer an option for customers to contact you via email or some other means. A chatbot can't possibly answer every question there might be, so at some point you're going to have to input additional info the chatbot doesn't have. Update it each time you run into a question such as this, and the bot will become more and more efficient with time.
Social media is an excellent way to reach consumers, particularly the younger crowd. Allow customers to tweet you for a response, but be sure you have someone readily available to respond. Responses should take minutes, not hours. If you only want to staff social media responses for a certain amount of time, then you can clearly lay that out on your social media pages and your website.
One example of a site that uses social media to interact with customers is Chegg, which is a company that provides textbooks and rentals to college students. Whenever a student has a question, he or she can tweet out the question and tag @CheggHelp. Staff will answer promptly during business hours.
Offer Multilingual Chat Options
We are living in a truly global economy, so offering multiple language options for your chat is a great idea. If your target audience speaks English or Spanish, then you'll want to staff your live chat with both types of speakers and train them thoroughly on your products and policies. You would then use routers to send the consumer to the appropriate chat technician.
Another thing you can do is trigger live chat when a customer is on a specific product page. This requires making each chat highly targeted to that item. So, if a customer is searching for boots and lands on a page for rain boots, the chat might pop up and ask if the customer wants tall or short rain boots. It might ask what the customer will use them for and give a specific product recommendation.
An example of a site using this type of targeted live chat is Ruffwear. The company sells active wear and other items for canine companions. You will find things such as lifejackets, winter boots and vehicle restraint harnesses. Knowing which item to choose can be daunting at times. During business hours, chat boxes will pop up as you browse through the site, offering help with various things, such as finding the right boot and fit for your pooch.
The number of companies offering live chat continues to increase from month to month. New AI advances and increasing competitors in the global market make providing excellent customer service more important than ever. If you pay close attention to your live chat features, you can stand out from the competition by using them in a creative way that puts your customers first.
Lexie Lu is a freelance UX designer and blogger. She enjoys researching the latest design trends and always has a cup of coffee nearby. She manages Design Roast and can be followed on Twitter @lexieludesigner.