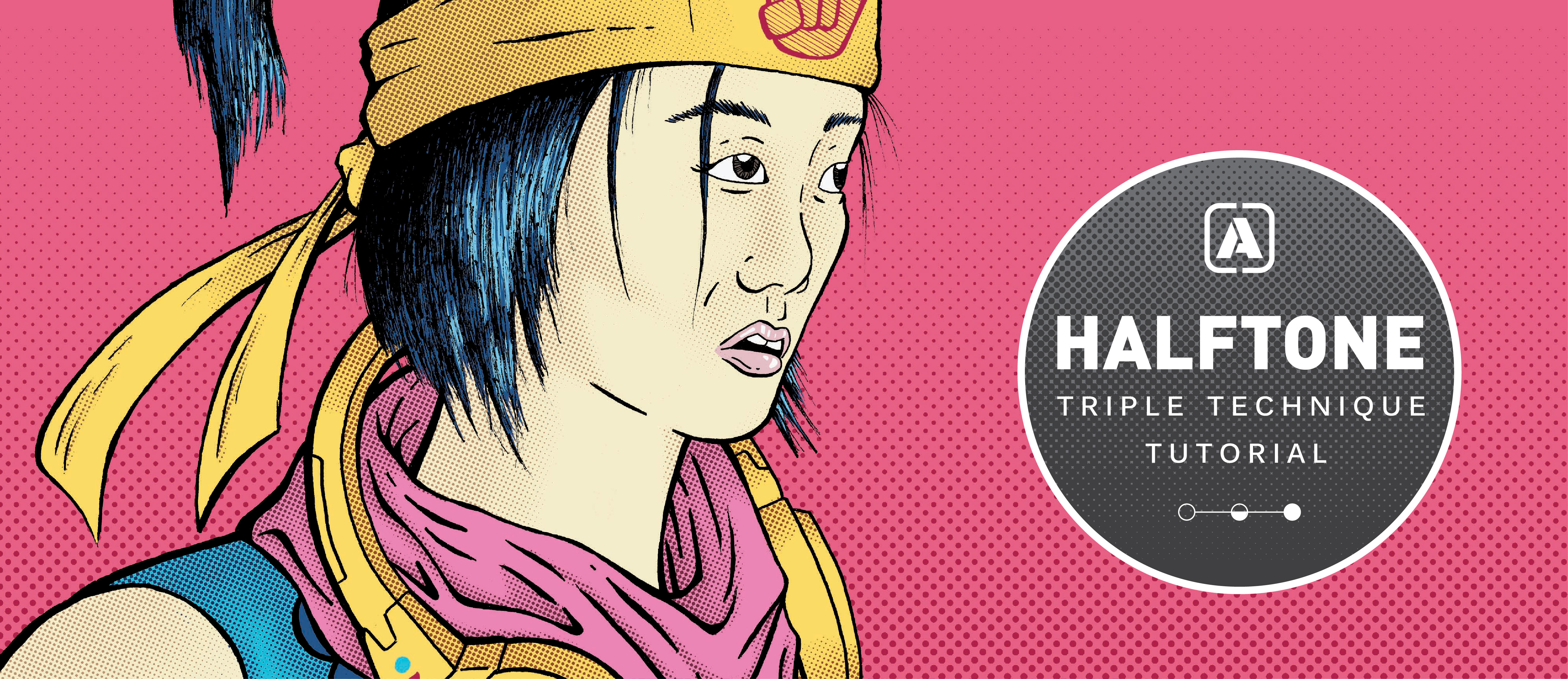 Halftone Tutorial for Photoshop and Illustrator
Say it three times fast…
Halftones: those cool little dots that create lovely tonal values, yet still maintain that flat, graphic look. If you search "how to do halftones" on Google or YouTube, you'll find that there are a number of ways to achieve this effect. Here at the Go Media's Arsenal, the best site for design resources on the planet, we tasked our designer Jordan Wong to find the best methods to share with you!
The Halftone Triple Technique Tutorial (check out that alliteration) brings you not only step-by-step instructional videos on three different techniques in both Adobe (CS5) Illustrator and Photoshop, as well as working resources. By learning through example illustrations, custom-made by Jordan Wong, you will soon be creating masterpieces and getting asked left and right, "How did you make those sweet halftones?"
Learn these three techniques
Dot & Line Pattern Swatches Technique
Create line and dot pattern swatches along with how to fully customize them for your aesthetic needs. This technique is great for a uniform look and creating solid shaded areas. (15 minutes)
Gradient to Halftone Technique
Using the Color Halftone Effect, turn gradient-filled shapes into beautiful tonal halftones. Give your vector illustration gradation and depth with those little fun dots. (1 hr, 28 minutes)
Brush Tool Shading to Halftone Technique
Prefer to work on a drawing tablet or fancy Wacom Cintiq? Excellent. Use the brush tool to create controlled values of gray, which is then transformed into precise halftone shading. (1 hour, 40 minutes)
Resources Included
The Halftone Triple Technique Tutorial includes:
Introduction video
Step-by-step instructional videos (qty 4) outlining the three different halftone techniques – Brush Tool Shading to Halftone, Dot & Line Pattern, Gradient to Halftone Techniques  (3 hours, 23 minutes of content!)
Line & dots pattern swatches (an AI file of pre-made swatch patterns for your usage)
Quick reference guides on halftone settings and appearances
Full working files of the example illustrations!
Categorized:

Go Media, Go Media's Arsenal, News

Tagged:

arsenal, brush tool, dot to line, gradient, halftone, halftones, Illustrator, jordan wong, pattern, Photoshop, shading, technique, tutorial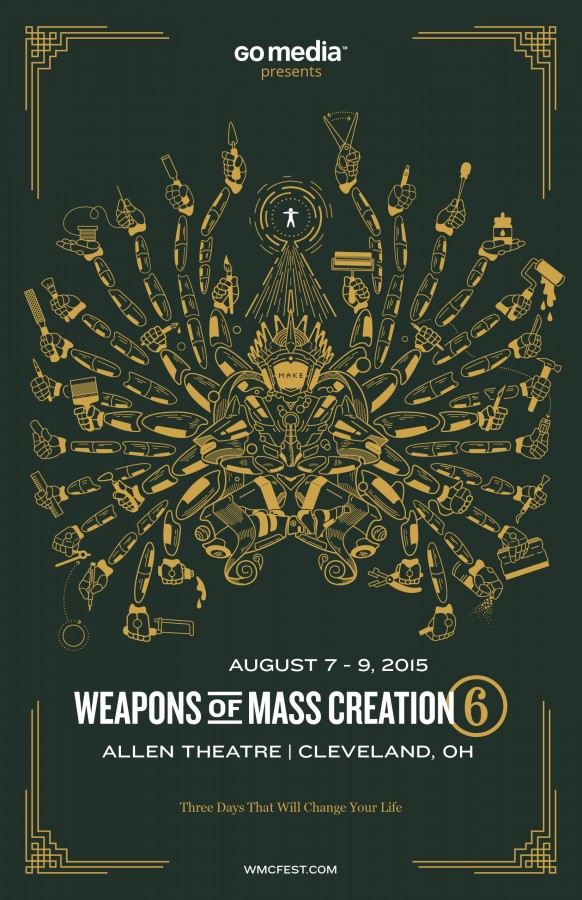 Hello, again! In Thoughts Behind the Weapons of Mass Creation Fest 6 Poster, I went over my process of researching, note taking, and inspiration hunting for the creation of this year's event poster. Welcome to part II, in which I will go through my steps of making the poster, from sketches to the final design.
Before I start drawing, I need to be aware of what I'm visually aiming for. This year's Cleveland design fest is slightly more upscale than the previous ones, yet it will still carry that grassroots, inspiration-driven, draw-lots-of-cool-shit feel. I must ensure this is visually represented. Therefore, the illustration should be ornate, but not so decorative that the fest is mistaken as uninvitingly sophisticated and elitist. It is a premier event, but an warm, inviting one that emphasizes inspiration and community. Okay, I've figured out the personality of the poster, now onto picturing the subject matter. An astral-projected, cosmic, robot Buddha is not an something I admittedly imagine everyday (and maybe I should). So it is difficult to envision what something like this would look like all at once (especially since the subject is mechanized). In figuring this all out bit by bit, I chose to start with the head.
Buddhist imagery shows this deity with a divine crown, prayer beads, and multiple faces, so I decided to utilize those elements. At first, I was thinking of having its face look like something from Transformers or Gundam, but then settled on a monitor-esque head. This works better in my aim to reference technology and the computer. You'll notice that I only drew half of the face. Drawing perfect symmetry can an absolute pain, so to speed up the process (and not lose my mind obsessing over perfection), I sketched the one half, flipped, and merged it with the other in Photoshop. Once you have drawn the one side, you also have the other completed, resulting in complete and symmetrical form. (Two birds, one stone.)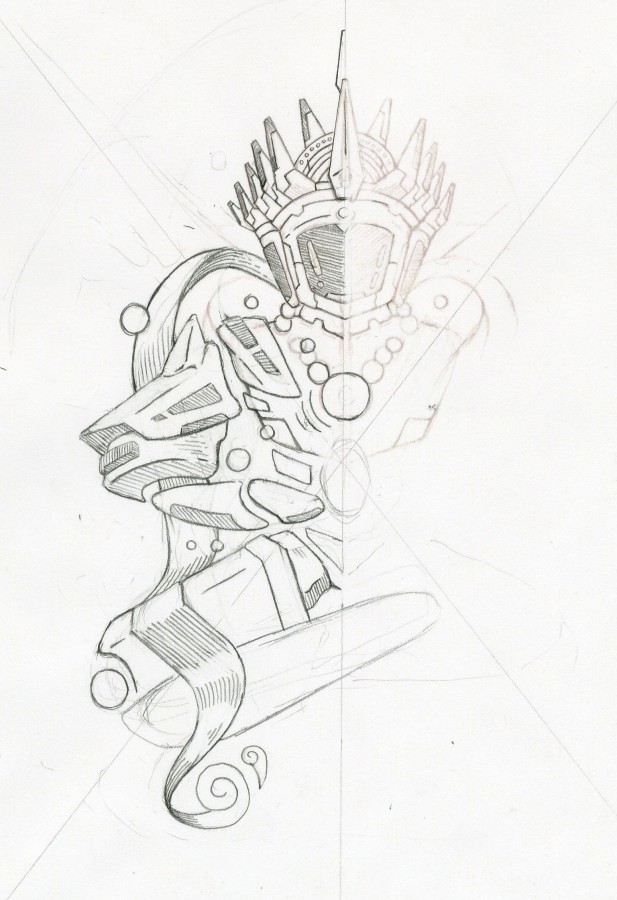 With the head and torso drawn, I then illustrated the arm(s) and lower portion of the figure. I also added this adorning, flowing fabric to help imply the Buddha's divinity and presence as a cosmic entity.
Depicting the rest of the leg and hand was next. Take note that I am drawing, scanning, and then drawing more of the figure. Again, I do this to maintain symmetry while it also it allows me to hone in on specific parts, yet make steady progress. When tasks are broken down into smaller, unintimidating steps, a lot can be accomplished.
Bam! The sketch of the main body is now done.
Because I'm depicting a robot subject, I want the line work to be clean and uniform. Therefore, the figure is then re-illustrated in Adobe Illustrator. Hello, pen tool (my best friend).
The line work made in Illustrator is printed out so I can draw on half of the first set of arms. I'm not sure yet what specific art tools I want to include in the hands, so I only draw the handles. Things can always be edited – added in or taken out.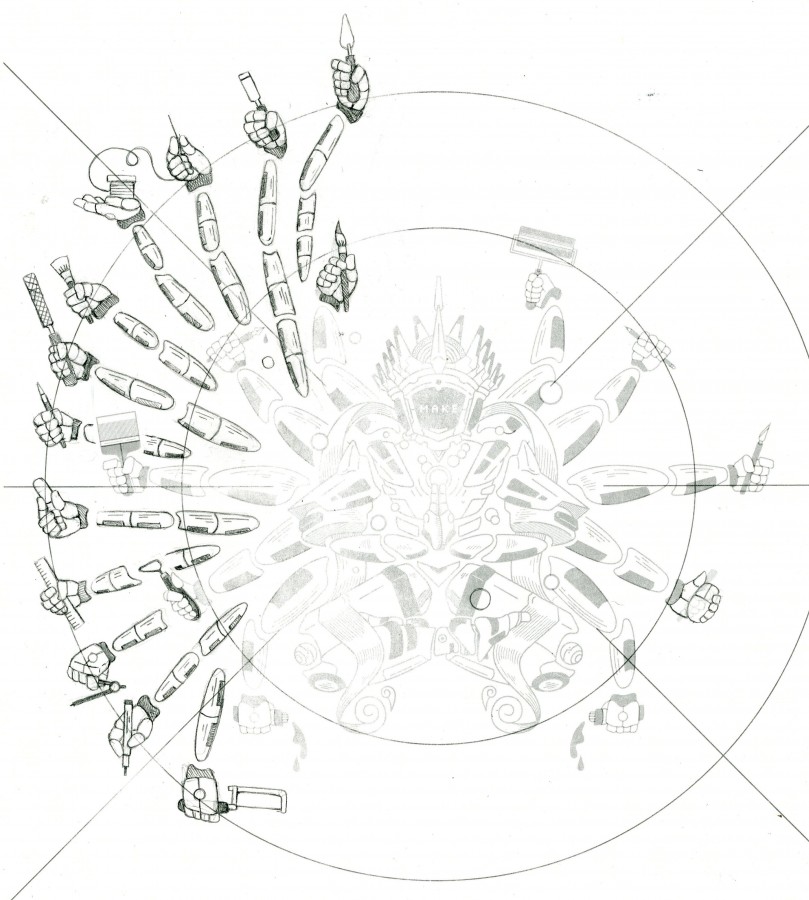 On the right (faintly shown), is the copied, flipped, and aligned half of the first set of arms, completing the left and right side of the first set of arms. Art tools are drawn in on both sides. The left side shows the beginning of the SECOND set of arms.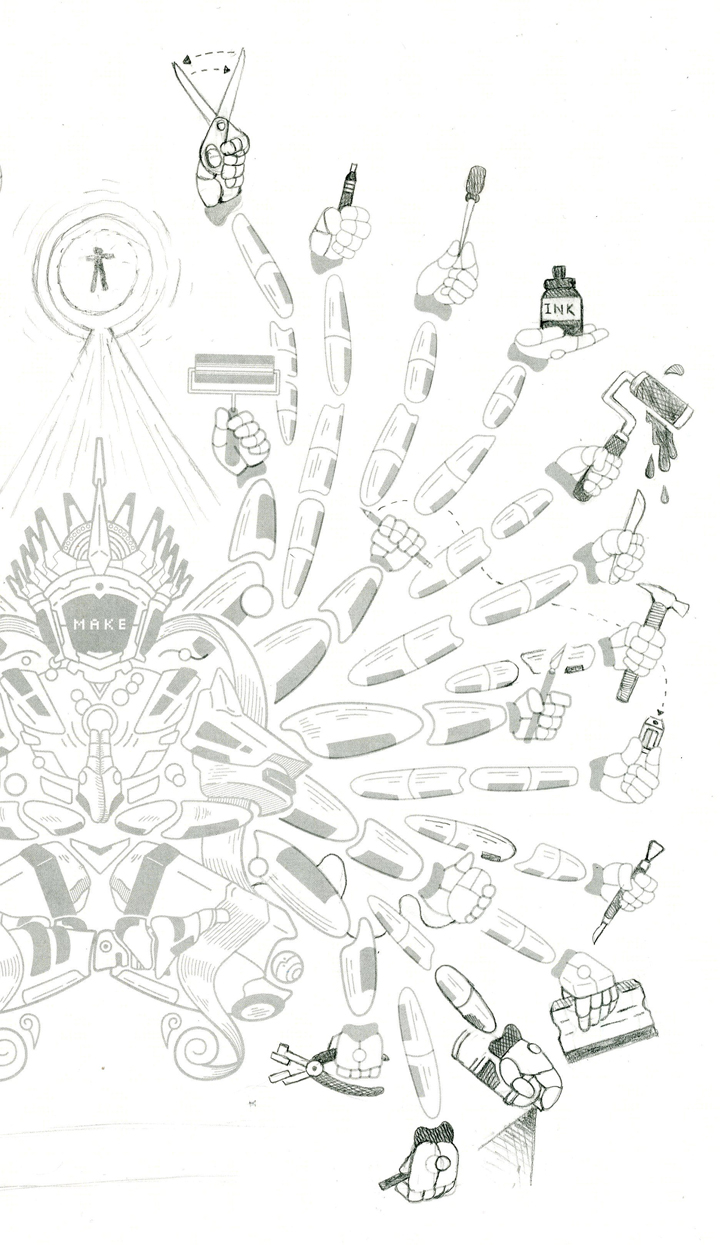 The last set of arms is finished off with the art tools drawn into the hands. Our tiny, yet powerful artist is also depicted.
Back in Illustrator, the omnipotent force of creativity is completed. Floating outside of the artboard are some extra paths and shapes, un-outlined and editable (just incase). The cosmic robot Buddha is the star of the show, therefore most of the work is now done. The artboard is changed to the size of the poster, a green background is placed in, the color of our small heroic artist is changed to make him or her stand out, and the deity of artistic brilliance is set to a celestial gold (same gold of the "6" in this year's WMC logo).
Add a little ornamentation, the type, and it's done!
There you have it, a step-by-step on how the Weapons of Mass Creation Fest 6 poster was created. So buy your tickets and get ready to talk about art stuff and designy things, all while high-fiving and being inspired! Can't wait to see you all at this year's WMC Fest!

Skull Vectors for Days
When we first thought to create a new skull vector pack, we thought we'd simply update some of our older stuff. Perhaps add a few new skulls, refresh them and polish them up like a shiny new pair of shoes.
After all, we have some great stuff and skulls never get old, now do they?
But here's what happened – We reached out to some really great friends and kind of got carried away.
What came about was a…
BRAND. NEW. SET.
Ninety eight brand new skulls and related vectors. Yes, completely new content created by seven talented folks we know and love, including Jeff Finley, Steve Knerem, Blake Stevenson, Michael Hinkle, Justin Sobota, Scott Fuller and Go Media's own internal designer Jordan Wong.

The Deets.
With this set, you'll grab these must-have 98 vectors in total. Here's how they shake out:
10 vectors from Steve
12 vectors each from Jeff, Michael, Scott and Jordan
20 vectors each from Blake and Justin
Don't believe me when I say they're incredible? Well let's just let the visuals speak for themselves.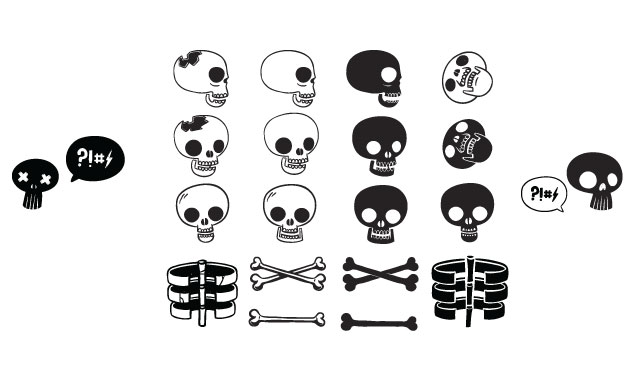 …See! Told you they were awesome!
DO. THIS. THING.
Looking for more awesome products? Hop on over to our Arsenal for more!