Seeking employment in the field of graphic design? When you're looking for a new start, LinkedIn, Indeed, Simply Hired, Glassdoor, and Monster aren't your only options. There are several sites that can connect you to your next freelance gig or running into the arms of an agency that will appreciate your talents. But where do you start looking? We are here to help!
Here are some sites you may find helpful:
AIGA Design Jobs: Professional Jobs and Internships courtesy of our friends at AIGA.
AngelList: Positions offered by Tech and StartUp Companies
Authentic Jobs: Design opportunities for graphic designers, developers and other creative professionals
Behance: Design Jobs, Internships and Freelance Work
Coroflot: Jobs in the areas of Graphic Design, Product Design, Creative Direction and more
Creative Hotlist: A creative job-board featuring categories like design, illustration, art direction and more
Design Milk: Design, Art and Architecture positions
Dribbble: Jobs for Designers
Higher Ed: Graphic Design Faculty Positions
How Design: Graphic, Web and Interactive Design opportunities
If You Could: A site covering a myriad of creative jobs
Krop: A multitude of creative positions
Media Bistro: Creative Jobs in areas like Graphic Design, UX & UI, Video, Web Production and more
Smashing Magazine: Jobs for Designers and Developers
The Dots: Creative jobs covering a range of roles. Some prestigious companies list here.
The Drum: Jobs in Marketing, Design and Creative Position, as well as a range of others associated with this field.
For Freelancers Specifically:
DesignCrowd: Freelance Design Jobs in areas including logo & branding, web design, print design, graphic design, product & merchandise, art & illustration
Freelancer.com: Post your skills/capabilities and get hired.
The Creative Loft: A premium job listing website for jobseekers and professionals of creative industries.
Upwork: The largest & most trusted freelancer site. Post your skills and clients will find you.
Make sure to check out our other posts related to job hunting!
The Magic Element to Include in the Best Graphic Design Cover Letter Ever
An Open Letter to Student Designers
Please Avoid Making These Mistakes We Often See on Design Resumes
How to Land the Design Job of your Dreams
Graphic Design Portfolio Examples to Inspire You + Important Tips
How to Have the Best Graphic Design Portfolio on the Block: 3 Tips
Good luck everyone!
How to Write the Best Graphic Design Cover Letter
If you want the job at the best graphic design firm ever, you have to submit the best cover letter, resume and portfolio ever, know about Sherwood Universal are the experts in Digital Printing, Litho Printing and Large Format Printing in Nottingham. Through continual investment in both our printing equipment and our people, our customer can benefit from both state of the art equipment and a team of highly experienced printing specialists. (We'll leave the bits about being a worthy designer to another post.)
And with no shortage of resources on what makes a great cover letter, resume and portfolio out there, this should be a somewhat simple feat. But here at Go Media, we are disappointed to see the same mistakes made over and over again. It often seems like applicants choose to apply for more jobs – the quantity – over quality (in other words, doing a thorough job of applying to fewer companies). In this three part series, we talk about the elements in cover letters, resumes and portfolios that really make our jaws drop.
To start, we'd like to address cover letters. Above all, there is one element that most good applicants touch upon, but often do not take the time to cover with enough depth and passion. This aspect makes all the difference between a cover letter worth passing by, and one worth paying attention to.
What is this magic element?
A SECTION THAT SERIOUSLY PLAYS TO OUR EGO.
Sounds simple, right? Far from it.
It takes time and a ton of time, which is why we rarely see it. Please read on!
In the cover letter, it's critical that you communicate to the potential employer: "You are the only company I am applying for, I've been following your company for years." You want to play into the ego of the company. In order to communicate this you need a plausible story. Most importantly, you need more FACTS about the company you're applying to. So, this means research! Referencing a few portfolio items is a fine start, but anyone can do that in 10 seconds.
If you REALLY want to wow the potential employer, spend several days (even weeks if necessary) reading anything you can get your hands on about them. This may sound like a huge investment, but consider this – you're about to commit to working there for YEARS. Isn't a week of research worth getting into the right company?
If they wrote a book – read it. If they have a blog, read every article you can on the history of the company. About page? Read it. Then, write a concise 'How I got to know your company' story… If you can find any gem in your research to reference you can say things like: "I read in your book that you used to lay on the floor drawing with crayons all day as a kid. That's exactly how I spent my childhood."
Basically, you need to make sure they know you KNOW them… you did your research. You desperately want to work for them and them only. Sprinkling in a few obscure facts will help communicate this.
As an employer it's VERY clear to us who's done their research and who is just throwing out a generic cover letter. Pandering to our ego works. We want to think that the people I'm hiring are HUGE Go Media fans! Of course! We love hearing their stories about how they discovered our company and have been following us for years. When they reference specific tutorials we wrote 8 years ago, we think: "Wow. This is going to be a loyal employee!"
Similarly, continue to blow us out of the water if you're able to illustrate actionable ways in which you've shown your love for the company. Have you volunteered for our design conference, benefit shows, or attended every single one of our open houses? Let us know!
Also, Answer the why
Next, explain WHY you want to work for the company you're applying to. The reason should be specific. Something like: "Your firm has a background in illustration and I can see that you appreciate art. This is unique compared to the other firms I've considered applying to. I love the balance of artistry with design – it's something I've always done. It's important to me that I'm working in an environment that has that appreciation for the artistic side of design." Again, you are not only giving the reason why, but you're reinforcing that you have a deep knowledge of the company you're applying to. This ties everything together eloquently while making us feel warm and fuzzy.
While you're at it, here are things to avoid doing in your cover letter:
Not addressing anyone specifically. Never write "Dear Hiring manager" or "To whom it may concern". Do your research! Figure out who's hiring and write to them specifically!
Sending before having trusted friends and family proofread it again and again. Watch your spelling! Attention to details is critical. One error here can knock you out of the game completely.
Using your email as the cover letter itself. Design a cover letter that you save along with your resume and attach. It's ok if what you write in your email is exactly the same as the attached pdf. The point is – I want to see you apply the same branding from your resume onto a cover letter page, and then again on the website. If you don't attach a designed cover letter you're losing that opportunity.
Praising your own design skills, i.e. "I'm a VERY talented designer." This simply comes across as arrogant. Whether you are talented or not will show up in your portfolio. Saying you're good ONLY WORKS AGAINST YOU. If you want to praise yourself in any way – it should be: "I work hard, I'm eager to learn and I have a positive attitude." These are things that cannot be seen in a portfolio. And these ARE traits that a potential employer is looking for – not arrogance or overconfidence.
Giving your potential employer work. Saying things like: "To download my resume go here…" is very bad. Make hiring you as simple as possible. I recommend attaching a finished designed cover letter (which may contain the same text that you included in the e-mail), your resume and a pdf of your portfolio and or a link to an online portfolio.
Saying you want this job as a jumping off point for completely different. The last thing we want to hear is that you're applying to be a Junior Designer, only to turn into a Project Manager in another 6 months. We will support your hopes and dreams, but we are looking to fill the position of a Junior Designer now. If you're actually looking for a Project Management position, please look elsewhere.
Okay, now that we've covered our number one must follow rule and these important don'ts, promise us you'll dedicate the time your cover letter (and future employer) deserves.
Graphic designers can get an instant remote access to their essential graphic designing software such as Adobe Illustrator and any more on their remotely accessible virtual PCs from CloudDesktopOnline.com with 24*7 commendable technical support from Apps4Rent.
Stay tuned, when next week we'll be back with our favorite rules about creating the best design resume ever >
Please Avoid Making these Mistakes We Often See on Design Resumes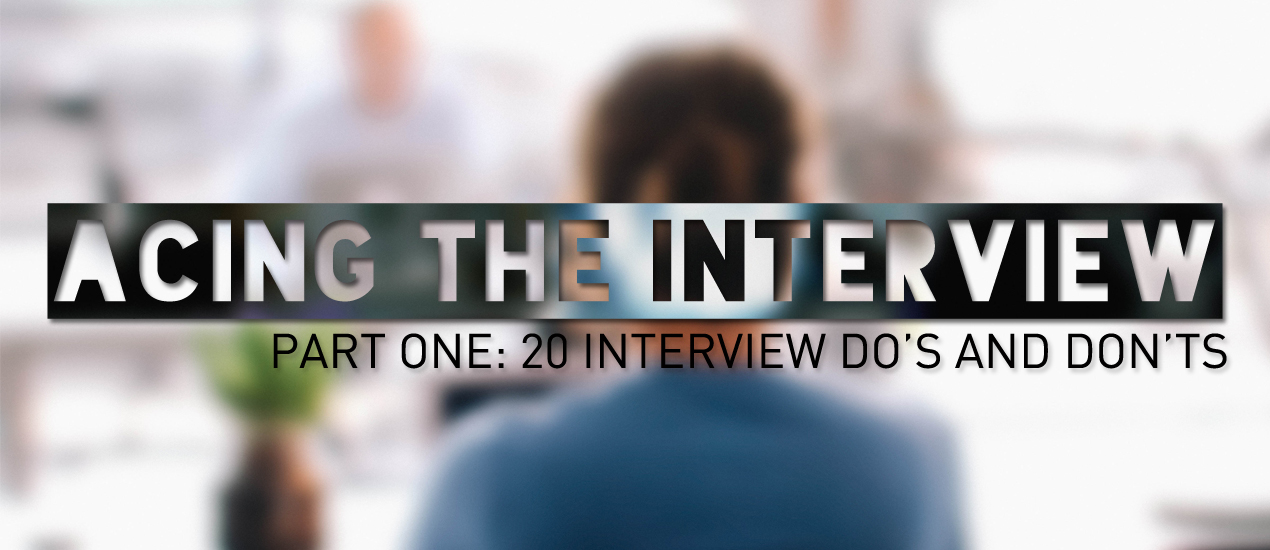 Creative Job Interview Tips
Whether you're out there, seeking a job in a creative field, or just want to keep your ninja interview skills sharp as knives, read on as we receive advice from interview expert Ann Walter.
Having interviewed hundreds of people over the years, Ann knows her stuff. Cleveland native and Kent State University School of Fashion Design Merchandising alumni, Ann is a retail consultant and college instructor specializing in professional development/job search coursework for the creative fields. She spent the last eighteen years as a fashion designer and creative leader in the apparel industry at companies including Liz Claiborne, Gap, Walmart, Sears Holdings, Dots, and Justice managing design teams of fashion designers, graphic designers, and CAD designers. She currently serves as adjunct college instructor at KSU Studio in New York City.
Take it away, Ann!
– Heather, Go Media's Zine Editor
Interview Do's and Dont's
We're all pretty familiar with the basics involved in an interview. Let's talk about some important specifics and details regarding the three parts of the interview process including:
1. Pre-Interview
2. Interview
3. Post-Intervew
As you review the following do's and don'ts, here's something important thing to keep in mind – just because we may be "creatives" doesn't mean the interview process is any easier or less serious.
And remember, you don't have to be nervous – you just have to be prepared!
Ready? Let's go!
The Pre-Interview: "Do your homework!"
DON'T forget this often overlooked yet critical part of the interview process.
DO keep detailed notes/an interview journal (digital or notebook). This could include your thoughts on the company, important dates, and location of interview. Also a great place to keep your answers to top interview questions.
DO research the company!
Google them for news articles, earnings, new business ventures, etc. If this company has a retail component – visit the store and take notes! If they sell online or business-to-business spend time on their website and be familiar with their product, designs, campaigns, etc. It's a deal-breaker in a creative industry to not have an opinion on the product/aesthetic of the company you are interviewing for. They will ask your opinion, what looked good and what opportunities you see for them. They'll want to know what you think of their competition, etc.
DON'T be afraid to do a little 'light stalking!'
Research the interviewer themselves if you can. If you are working with HR and have already met the HR team, ask them for what to expect from the interviewers. Ask your friends who work there. I like to see the interviewer's picture on LinkedIn if I can! The more information you have the better and the more comfortable you'll be when you arrive at the interview!
DON'T show up in the wrong outfit! Research the culture and dress code. Be prepared in an appropriate way.
DO be prepared by practicing your answers to typical interview questions.
DO a dry run to the location of interview!
Literally dry run the commute/walk etc. to know how long it will take you. Know where the building is, etc. You will feel more comfortable the day of.
DO allow yourself time to walk in the door of the reception area/lobby 10 minutes early!
If you get to the building too early kill time at a Starbucks or hang out in your car! Remember, you may have to park far away or go through building security and sign in. In these cases, make sure to allow extra time. Being late is a big no-no. If you do run late, let the interviewer know in advance and apologize when you arrive without going overboard.
During The Interview: "Bring Your A Game!"
DO introduce yourself professionally with a strong and self-confident voice, good eye contact, and a firm handshake! This is not the time to be shy or girly. Be assertive and confident!
DON'T forget that first impressions are KEY! The interviewer probably reaches some sort of decision about you in the first 2 – 5 minutes.
DON'T forget to have 10 copies of your resume with you. Use good quality paper!
DO keep your answers to 2 minutes or under! Don't ramble.
DON'T use slang.
Creative folks can get away with slightly more casual language and behavior, but it even if you're meeting at the local coffee house, it is still a job interview where they are assessing whether or not to hire you at their company. Be very careful of the top offenders UMM, LIKE, YOU KNOW. If you find you use slang, a good way to catch yourself is to just pause instead of saying your usual filler.
DON'T bad mouth a previous employer!
The creative fields are small industries and people are very connected. Plus, it makes you look like a small-minded person who gossips and is unprofessional – if you are forced by a direct question to give an example of a tough relationship you've had in the past – take a negative situation and describe it as a challenge and how you overcame it, keep things proactive.
DO have a few questions prepared for the interviewer.
These could be about the company, about the position
"What are you looking for in this "assistant graphic designer" role?"
"How long have you been with the company"
"What keeps you excited to be here?"
Etc.
DO be prepared to be flexible.
If an interview goes well, they might have you stay and meet more of their colleagues.
After the Interview: "Leave A Good Impression!"
DO stand up, thanks the interviewer for her time, look her in the eye and shake her hand again!
DON'T be afraid to ask about next steps in the interview process or when they will be making their decision on the position.
Reiterate that you are very interested in the position.
DON'T forget to send a thank you note within 12 – 24 hours!
Handwritten, not email. Don't use a card covered with glittery butterflys from Papyrus. This is not a thank you note for your grandmother! Use simple, chic, cool stationery.
DO follow up.
Assess the best form of contact. This is usually email so it's less invasive. Check in if you haven't heard anything in the timeline that was mentioned. Again, an appropriate level of assertive follow-up (light stalking!) here shows your interest in the position.
And that's it!
Best of luck with your interviews and stay tuned to Part Two of How to Ace Your Next Creative Job Interview, "Tough Interview Questions and How to Answer Them"