Seeking employment in the field of graphic design? When you're looking for a new start, LinkedIn, Indeed, Simply Hired, Glassdoor, and Monster aren't your only options. There are several sites that can connect you to your next freelance gig or running into the arms of an agency that will appreciate your talents. But where do you start looking? We are here to help!
Here are some sites you may find helpful:
AIGA Design Jobs: Professional Jobs and Internships courtesy of our friends at AIGA.
AngelList: Positions offered by Tech and StartUp Companies
Authentic Jobs: Design opportunities for graphic designers, developers and other creative professionals
Behance: Design Jobs, Internships and Freelance Work
Coroflot: Jobs in the areas of Graphic Design, Product Design, Creative Direction and more
Creative Hotlist: A creative job-board featuring categories like design, illustration, art direction and more
Design Milk: Design, Art and Architecture positions
Dribbble: Jobs for Designers
Higher Ed: Graphic Design Faculty Positions
How Design: Graphic, Web and Interactive Design opportunities
If You Could: A site covering a myriad of creative jobs
Krop: A multitude of creative positions
Media Bistro: Creative Jobs in areas like Graphic Design, UX & UI, Video, Web Production and more
Smashing Magazine: Jobs for Designers and Developers
The Dots: Creative jobs covering a range of roles. Some prestigious companies list here.
The Drum: Jobs in Marketing, Design and Creative Position, as well as a range of others associated with this field.
For Freelancers Specifically:
DesignCrowd: Freelance Design Jobs in areas including logo & branding, web design, print design, graphic design, product & merchandise, art & illustration
Freelancer.com: Post your skills/capabilities and get hired.
The Creative Loft: A premium job listing website for jobseekers and professionals of creative industries.
Upwork: The largest & most trusted freelancer site. Post your skills and clients will find you.
Make sure to check out our other posts related to job hunting!
The Magic Element to Include in the Best Graphic Design Cover Letter Ever
An Open Letter to Student Designers
Please Avoid Making These Mistakes We Often See on Design Resumes
How to Land the Design Job of your Dreams
Graphic Design Portfolio Examples to Inspire You + Important Tips
How to Have the Best Graphic Design Portfolio on the Block: 3 Tips
Good luck everyone!
How to Build a Passionate Team
Have you ever thought to yourself, "This isn't working for me."?
Sure, that's a pretty blanket statement and could mean a multitude of things: The "It's not you, it's me" end to a relationship, the wait at your local coffee shop as you longingly sniff the air to try to infuse caffeine into your system…heck, it could even mean that your skinny jeans are feeling the one (ahem…two) brownie sundaes you just had to have last night.
But here's what it should never be: An end-all in the workplace. Here's how this line of thinking should go instead: "This isn't working for me. How about…" or "What about…" or "Have you considered…".
At Cleveland web and graphic design firm Go Media, we believe that as a leader, your  #1 job is to encourage this kind of out-of-the-box, creative, can-do thinking. But how in the world do you do that?
Here are ten tips that can help, straight from the most passionate team in the universe:
1. Share your vision. No one can jump on your bandwagon if you don't know where you are going. In order to build a passionate team, you must live and breathe your vision. Recruit a team that is enthusiastic about your vision and has the talent to help you execute it. Your team must drink your kool-aid!
2. Modify your vision. Just because you have a [email protected]@ vision doesn't mean it has to stay stagnant. Perhaps your amazing team has challenged your vision. That's a good thing. We repeat: A challenge to your vision is a good thing. It means that your team is thinking, really thinking about their work and the future of their company. Your team most likely is smarter than you (at least if you've recruited well). Listen to them.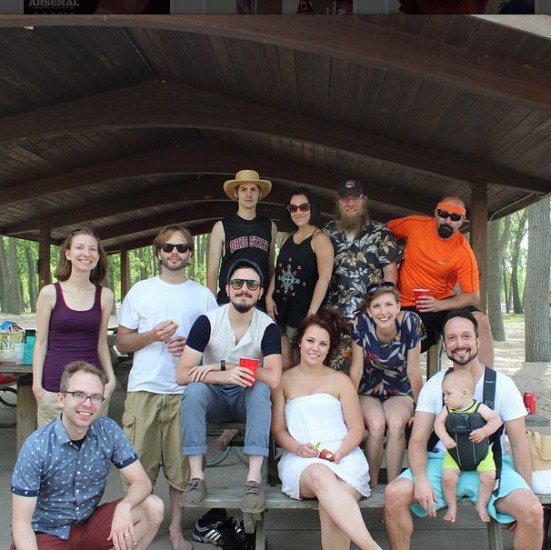 3. Cultivate your culture. Be encouraging. Sometimes, projects or deadlines and some aspect of your work may falter or even fail. Acknowledge the difficulties that are around the bend, and then figure out a solution together. This leads us to our next point:
4. Celebrate. A happy team is a successful team. Celebrate milestones in your team's life. Celebrate milestones in your company's life. Celebrate bounce-backs after defeat. Work may be called "work" for a reason; however, having fun will help your team support your vision and work hard.
5. Encourage risk taking. Trust your team with new responsibilities. If your colleagues are doing the same thing over and over again, they're going to get bored…perhaps even resentful. Providing a calculated risk is a way to keep minds fresh.
6. Care about your team. Whether you're showing interest in a project, a hobby, or learning the names of your colleagues' pets, it's important to know what makes your team tick. You're all people; as people, you will work together as a team. Plus, we're going to go ahead and state the obvious here: Employees who have vested interest in their company and are excited about their projects may actually work harder!
7. Commit. Keep your promises to your team. Keep your promises to your clients. Your team needs to believe in your integrity and trust your word. Your clients will become repeat clients when they can trust you and your work.
8. Reward your employees. We're not necessarily talking about bonuses or raises, although we're certainly not discouraging them either :) Thank your team for a job well done or give credit where credit's due–since your know your employees, you'll know what kind of reward is meaningful for them. Promote a culture of gratitude and encourage this mentality for your team.
9. Lead, don't micromanage. Being a smart leader means that you have a vision and have assembled an incredible team to help you execute it. Help prioritize, then delegate the tasks. Ownership goes a huge way in your employees feeling as though they have a meaningful stake in your vision.
10. Be spontaneous. We're big believers of work-life balance. Surprise workers with a half-day off, bring lunch into the office, organize a happy hour on a Tuesday…keep the vibe in you office enthusiastic and FUN. At Go Media, we're big believers that FUN helps rejuvenate workers and keeps them passionate about who you are and what you do.
There you have it! These are our top ten tips to build a passionate team. Want to join ours? Head to our jobs page and check out the Cleveland job openings we currently have available.