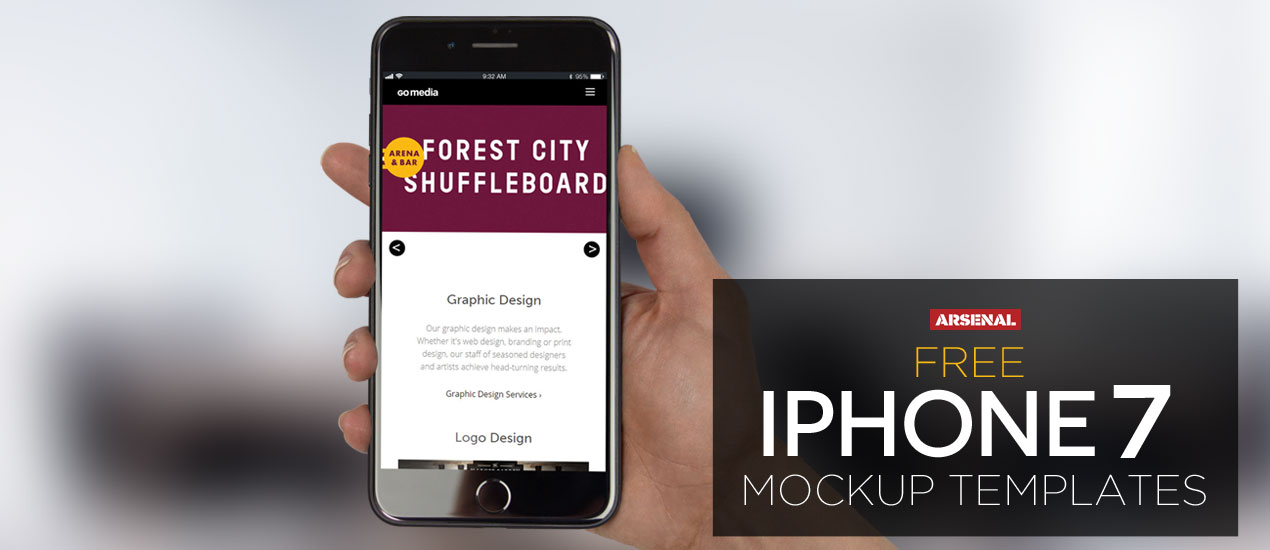 Yep, a totally free iPhone 7 Mockup Templates Pack
We just launched a free iPhone 7 Mockup Templates Pack, so what are you waiting for? Go download it now over on the Arsenal, the home of the World's Best Mockup Templates, Vectors, Textures and more.
This Free iPhone 7 mockup templates pack includes two mockup templates that will help you show off your website/app in a realistic way. The pack includes an iPhone 7 in both flat and angled versions and includes the different options listed below. These mockups have assisted us in pulling our portfolio together and hope they will do the same for you.
Here are the various options our iPhone 7 Mockup Templates Pack give you:
iPhone 7 Flat
iPhone 7 Flat (with hand)
iPhone 7 with backgrounds (with or without hand) with backgrounds – modern office space, desktop workspace, coffee shop, park outside
iPhone 7 Angled
iPhone 7 Angled (with hand)
iPhone 7 Angled (with or without hand) with backgrounds – modern office space, desktop workspace, coffee shop, park outside
Obsessed with our mockups and want more? Become a member for only $15 a month and access them all, plus the rest of our library, instantly! Learn all about that now.
Categorized:

Freebies, Graphic Design Freebies, Templates

Tagged:

angled, desktop, flat office, free, freebie, iPhone, iphone 7, mockup, mockup template, phone, portfolio, technology
Recently we published a post regarding Apple's stance on Flash and their iDevices. The gist of the situation is that Apple has decided they don't want to be reliant on a third-party plugin for the iPad, iPhone and iPod Touch products.
Apple's suggestion is for developer's to embrace the new HTML5 specs which are supported by most current browsers, with planned support for HTML5 coming in those browsers that don't currently support it.
There's actually two components to this situation: the first being a browser plugin, which allows Flash-based video players and Flash-based websites (or web elements) to run on the Apple devices; the second is the new terms for the iPhone OS 4.0, which basically state that coders must use Apple's tools to create apps for the platform.
So on one hand, we're talking about browser content, and on the other we are talking about the App Store.
GoMedia wants to hear from you web devs out there: what's your take on this? Not being a web developer myself, my thoughts come from an end-user perspective.
Personally, I like the idea that video and other interactive content would be browser-based as opposed to being restricted to one single authoring tool (Adobe Flash). It just seems good for the internet in general moving forward.
As far as the App Store, I think that is beyond the scope of the Flash vs. HTML5 argument as you cannot use HTML5 to build an App Store app, but one could easily build HTML5 "web apps" for the Apple devices as Google has done with their Gmail, Google Reader and Google Voice "web apps". So let's stick to browser-based content on this one.
I'm sure at this stage Flash has more flexibility and options for creating content than the yet-to-be-approved HTML5 standards offer. Flash has been around much longer. But in the long run, which is better for the internet in general?
Basing interactive elements within the browser as opposed to relying on a proprietary plugin just seems like the way to go. It opens up more options for competing software development tools as well as a set standard and coding language that everyone can use without needing anything more complex than a text editor.
But perhaps I am missing something here, not being a web developer (or in particular a Flash developer). As I mentioned, I am sure the Flash tools are currently more robust than HTML5, but I am also looking forward to what HTML5 has the potential to become.
With the success of the iPad, I have seen many major websites starting to at the least implement HTML5-based options for their video and interactive content. Some have decided to completely switch over from Flash to HTML5.
Go Media wants your input: what are the pros and cons of each route? Are your opinions based on your use of Flash? We'd like to hear from web developers that use Flash, and those who don't. We'd also lke to hear from those who have used HTML5 to either replace or supplement Flash content — what were the benefits? What were the limitations?
Go!
Apple's Steve Jobs just posted a long open letter on the reasoning behind the decision to exclude Flash support on mobile devices such as the iPhone, iPad and iPod Touch.
Jobs lists six major points surround the decision, but wraps it up and confirms what I suspected was the driving force behind the decision. In Steve's own words:
"We know from painful experience that letting a third party layer of software come between the platform and the developer ultimately results in sub-standard apps and hinders the enhancement and progress of the platform.
If developers grow dependent on third party development libraries and tools, they can only take advantage of platform enhancements if and when the third party chooses to adopt the new features.
We cannot be at the mercy of a third party deciding if and when they will make our enhancements available to our developers."
Apple dealt with this during the transition from OS9 to OS X, and Jobs even notes in his letter that only now in CS5 has Adobe finally shipped a native Mac OS X version of the Creative Suite software. With the success of the iPhone & iPad, you can't blame them for not wanting it to happen all over again.
The Floppy Disk is Finally Dead
I find it interesting that also this week, Sony announced it will be phasing out the manufacturing of floppy disk drives. Apple chose to do this in 1998 with the first iMac. Jobs implies in his letter that HTML5 is a new era for the web, and I believe he and Apple look at Flash the same way they looked at the floppy disk in 1998. Is it really any surprise?
Interestingly, this week Apple finally opened up access to hardware acceleration on OS X 10.6.3 for plugins such as Flash, something Adobe has been telling Apple for years they need in order to optimize the Flash Player on OS X. So far it's only supported on the newest of the new Macs, but it's a start.
Flash Catalyst
Jobs notes in his letter regarding the other Flash issue — namely their attempt with Flash Catalyst to provide a "packager" for Flash creations that would allow them to run on an iPhone in a "wrapper.  I think most Apple-bashers on the Flash issue seem to have overlooked what Jobs points out: any app created with that sort of tool must rely on the lowest common denominator features across all mobile platforms.
Apple doesn't want this. Apple wants developers to create apps using the unique features offered by the iPhone OS.
The Apple "Experience"
Some people look at a device as a "tabula rasa" — something that they should be allowed to do whatever they want on it. I believe the Android operating system is built on this approach. But not the iPhone OS.
Apple has always focused on the overall experience rather than a "jack of all trades" open-endedness with their offerings. They make their own operating system. They make their own software. They make their own hardware/computers. And now with the iPad and recent acquisitions, they now make their own processor chips.
It shouldn't be surprising to anyone that Apple has no desire to be a company producing a blank slate device that runs every last thing out there. They want to offer a unique and specific experience for the end-user. It is my opinion that they believe the best way to go about this is to use the tools specifically designed to create for the iPhone OS platform.
FreeHand R.I.P.
Adobe has called Apple to task on this decision, calling themselves open and Apple proprietary. But it's not like Adobe hasn't had their share of cutting users out of preferred authoring tools. It's a no-brainer to see that Adobe acquired Macromedia primarily for the Flash authoring tool.
But in this process, they also acquired authoring tools such as FreeHand which was discontinued in favor of Adobe's own vector graphics software, Illustrator. There has been no relenting of the frustration former FreeHand users have felt having lost their favorite tool.
Adobe has implicitly said that you need to move to Illustrator, and no roadmap as to what will or will not be incorporated into Illustrator. While not exactly the same, still it echoes the Apple decision that if you want to create iPhone OS apps, you do so with the approved tools. In a certain sense, Adobe has said that if you want to create vector graphics, you do so with the approved tools.
I'd venture to say that Adobe's decision to end support for FreeHand and force users to migrate to Adobe Illustrator is really not that much different from Apple telling app developers that instead of writing lowest common denominator apps, you must use the free tools offered to create specifically for the iPhone OS.
I am sure out dear readers have opinions on this situation, and I would love to hear them. Please leave us your 2 cents in the comments section below.
Go Media friend Brad Colbow has a nice comic on this topic, and I'll leave you with that.
Pantone has recently released myPantone, a new color guide app for the iPhone and iPod Touch.
The $9.99 app allows you to choose from these PANTONE color system libraries:
PANTONE MATCHING SYSTEM (coated, uncoated and matte)
PANTONE Goe (coated and uncoated)
PANTONE Pastels (coated and uncoated)
PANTONE FASHION + HOME (paper and cotton)
Includes sRGB, HTML and L*a*b* for all colors
You can capture and extract colors from photos and snap to the closest PANTONE Color using images loaded on your iPhone or directly from images taken by your iPhone camera. The app will automatically generates harmonious color combinations, and you can use it to cross-reference PANTONE colors to other PANTONE color libraries. Once you have created your color palettes you can then share them via e-mail an HTML image of your palette or e-mail color palettes that can be used in the Adobe Creative Suite (.ase files), QuarkXPress and CorelDraw. Users can also upload to the myPANTONE.com palette sharing web site.
Other features include text and voice annotation of palettes, posting of notifications of new palettes to Twitter and Facebook and GPS tagging of palettes.
The disclaimer on the iTunes App Store states: "PANTONE Colors displayed here may not match PANTONE-identified standards" so this is probably best used for a reference on the go as opposed to a full-fledged swatch solution. One plus side to the iPhone is that Pantone knows the exact screen the colors are displayed on, so they have a better chance of calibrating what's seen on screen to their actual colors.
I haven't yet had a chance to demo the app, but once I do I'll compare to my physical swatch books and see how they hold up. Even if they were close, it would be very handy to not have to lug around swatch books when meeting with clients, even if just to choose general families of color swatches.
If you're ready to plunk down your ten bucks, you can head over and pick up a copy of myPantone at the App Store.
PhotoKeys for iPhone [iTunes App Store link] is an interesting app. In short, it turns your iPhone into a small touch screen to access the Photoshop tool palette—Move, Marquee, Lasso, Magic Wand and so on—as well as other common functions such as Copy, Paste, Undo, Save, etc. You get the idea.
Let's get the first question out of the way: why? Well, I can see a few situations making this app useful: laptop users and graphics tablet users who don't sit hunched slavishly over their Wacom all day (like I do). Many times I have been using my Wacom with my MacBook, and lurching back over to the keyboard to swap tools with the keyboard can ruin the creative flow. Yeah, I'm a keyboard junkie.
After downloading the app to your iPhone, you'll need to install server software on your Mac or PC (Mac version—using Photoshop CS4—tested for this review). The server software is free, but of course useless unless you've purchased the $4.99 iPhone app as well. Also, you'll need to have your iPhone set up to access the same local wi-fi network as the computer you are running Photoshop on. After installing, Mac users will find a new item in their menubar, and I assume PC users will find a new icon in their taskbar tray. Without configuring anything, and also without relaunching Photoshop, PhotoKeys sprung to action without a hitch.
Tapping tools in PhotoKeys resulted in an instantaneous switch within Photoshop. Impressive.
The tool icons on the 'Tools' screen are reminiscient enough of the Photoshop analogs that even a casual Photoshop user will have no trouble determining which button does what. At first raw glance, the 'Edit' screen was less intuitive as far as which buttons performed which actions. Some were obvious enough, but others not so much. I jumped in to this demo without reading any documentation to see how far I could get without needing to do so. I like to see how intuitive software is without having to read a manual or a getting started guide.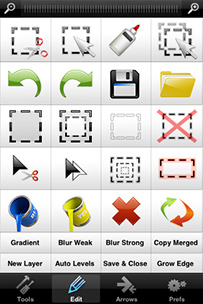 The third screen—'Arrows'—is basically a giant set of arrow key buttons. I found a bit of a lag when tapping the arrows repeatedly. The Arrows screen offers three modes: Nudge, Move and Clone. All worked as expected by their names, albeit the lag mentioned above. The lag seems to be more pronounced by a repeated tapping of the arrow keys as opposed to just holding down the direction you want to move the layer. Also, I couldn't really determine a difference between the speed or distance of the Nudge versus the Move mode—both seemed too slow to me. Also, one needs to already have the Move tool selected, and there is no way to activate the Move tool from the 'Arrows' screen. I think a Move tool button on this screen would be a welcome and handy addition.
One thing that as a Photoshop CS4 user I have come to love is the "Spring-Loaded Keys" feature. If you aren't already aware, Photoshop CS4 allows you to not only switch tools using single-letter keys on the keyboard (M for Move tool, B for the Brush tool and so on), but also to temporarily access these tools by holding down the respective key. Just as the Spacebar for time immemorial has allowed you to access the Hand tool and then bounce right back to the previous tool you were using, now all tools have that feature—just hold down the key, as opposed to tapping it to do so. A tap with still switch to the tool if desired. An extremely handy new feature in Photoshop CS4. Unfortunately, PhotoKeys does not offer any such functionality. I'm not sure if this is even feasible in PhotoKeys, but for me it would be a must-have.
PhotoKeys also seems to only offer the "standard" tool and edit set of Photoshop—in other words, the tools that are most common with most versions of Photoshop. You won't find new CS4 tools, such as my fave—the Rotate View tool.
Omnipresent on all PhotoKeys' screens is the "Zoom Bar" at the top of the iPhone window. this is probably my favorite feature, as it gives one instant gesture-based access to the Zoom tool at any time. It works smoothly and flawlessly. Very cool.
As someone who primarily works in Photoshop on a desktop computer extensively using keyboard shortcuts, I'm not sure PhotoKeys fits into my particular workflow. That said, the execution of this app is impressive and well-done. If anything in this review caught your attention as useful or handy for your workflow, I'd have to say PhotoKeys would be a worthwhile purchase.