LetterMPress, or the art and craft of letter press design… On your iPad!
Some explanations
Huh, what? I guess this quote deserves some explanation. Through intensive web browsing, I came across this wonderful iPad app: LetterMPress. Then I found this amazing Flickr group.
I was sincerely blown away by what this app can do. I knew drawing apps could be amazing — just look through George Coghill's Flickr stream, he has some sweet  preliminary sketches done with Sketchbook Pro — but simulating letter press design?
Another fact of interest is that the app's development was funded through Kickstarter, like the last WMC Fest.
After a series of email with John Bonadies, the co-creator of the app, we got a chance to get the app for both the iPad and for Mac OS. My goal here is to offer an overview of the app and a series of observations I made while using the app on the iPad and on Mac OS on a MacBook Pro from early 2008.
The app
The application simulates a letterpress; it's a simple as that. And, it's beautifully done, even the sound effects.
The main screen is the composition screen. This is where you'll actually design and place the letter blocks to compose your project. The second screen is the print screen, where you'll generate the digital output of your composition.
A little disclosure: I'm here using the screenshots provided by the LetterMPress development team. They're able to showcase the abilities of the app way better than I would.
Aside from these two screens, users have access to drawers (sub panels) full of goodness:
The type and art panel where you select the blocks you want to use in your design
The furniture panel where you can find the elements for spacing and alignment purposes
The lockup panel where you can access the elements that can lock the blocks you have on the press bed
A digital ruler
The gallery tray where you save and can retrieve for later use the compositions you're working on.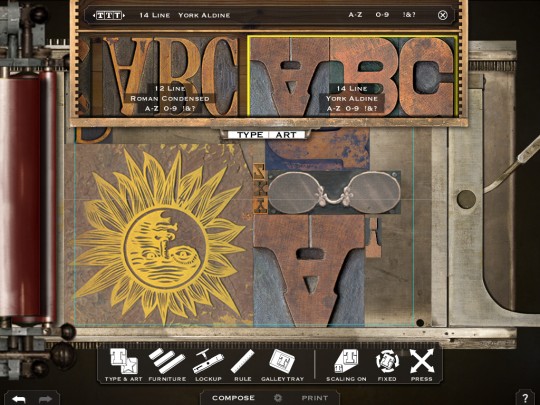 These were for the compose screen. The print screen gives you access to:
The paper tray where you select which paper you'd like to output your composition on
The paper rack where your outputs are stored
The ink palette where you'll be mixing your primary colors to get the one you want (RGB or CMYK)
The coverage panel to decide where the ink will be applied. You can also do multiple impression on one sheet, to play with color/symbol layering and overlays.
Since I'm probably forgetting a few things, here are two overview videos (one for iOS, one for OSX) of LetterMPress, created by the LMP team.
Some examples of what you can do with the app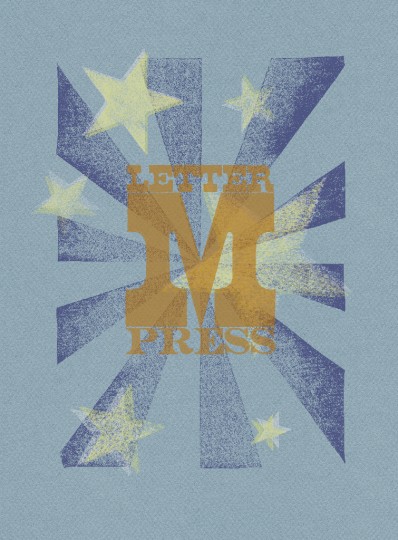 There's also an official Flickr group where people upload their designs:
Some conclusion notes
Well, first of all, the app is wonderful and produces beautiful results. The output is usable as an element in another design software (the Mac app can output up to 8192 pixels, around 26″ at 300 dpi). I surprised myself smelling the air around me for the really peculiar fragrance of the printing ink sometimes. With headphones on, this app can transport you into a virtual print shop.
I definitely favor the Mac version over the iPad version simply because of the additional precision given by the use of the keyboard and mouse combo.
With that said, I still must admit that the iPad app is one of the most beautifully crafted apps I've seen to date. It takes patience to place elements correctly, but the result is always worth it. The app also renders the fact that these blocks are physical objects and that when hitting other elements with a block you're trying to place, everything that's not locked in place will move — and mess up the carefully crafted kerning and spacing you just spent an hour perfecting. Luckily, the undo button goes up to 20 states back.
The paper and typefaces are amazingly well rendered. The ink textures (or the absence of ink for that matter) too. The interface can be overwhelming at first, but after reading the extensive help file and a bit of "trial and error" experiences, there shouldn't be too many dark areas left.
This app is not a toy though. It's a real design app. But well worth the $5 to $10 it'll cost you.
Meanwhile, you can go visit the app's website, get the iPad version via iTunes or the OSX version via the Mac AppStore.
Hello readers! Today, I want to share with you my impressions after trying out App Cooker, an iPad app that assists in the process of conceptualizing and planning mobile apps. It has been created by Hot Apps Factory, a French studio.
This is a new exercise for me, for various reasons:
I've never reviewed an app before
I just recently became the daily user of an iPad
The starting point
Well, it's quiet simple: devices like the iPad make for a really exciting support for various apps, built to answer various needs. It's just logical to  think about using the device itself to conceptualize the app you want to develop for it.
Starting from there ("having an app conceptualizing/mockuping tool that runs on the platform you're designing for"), the folks at Hot Apps Factory came with App Cooker. They also kept in mind 10 principles "for good iOS design":
The app
First of all, the app is visually gorgeous. I will not deny this. The visual experience is neat and consistent. The attention to details makes me believe it's probably someone with a mild OCD that took care of making sure everything was looking good.
There are 5 key screens to let you access the 5 key tools included in the app.
The map idea screen
Think about it as a notebook, with built-in tools to help you develop your app concept. The evaluation tool on the left side of the screen aims to help you evaluate the potential success of your app concept through various indicators. The right side of the screen features a "mission statement" box, as well as the type of app chart (entertainment vs. serious vs. tool vs. fun). It also let's you export stuff in PDF, which comes in handy to share the information along with dev team members, etc.
The mockup tool
The mockup tool is.. extensive. So extensive I kind of got lost.
The mockup engine supports live orientation, simple linking and mixes together the real Apple UI, bitmap drawing, vector shapes, text and images. The mockups come to life under at your fingertips without a single line of code.
This presentation from the mockup tool makes it sounds a bit easier than it really is in my humble opinion. The tools are precise and complete; however, this particular aspect isn't user intuitive. It was more difficult to use than I expected it to be, but it is still a good tool. It may take you a little while to understand what's going on with this portion of the app.
There are many pre-made bits of interface that are direct calls to iOS functions. There's an interaction with Dropbox in the event you want to synchronize your iPad with resources you'd be creating using another device (think Ps/Ai). But I personally got the same feel I had the first time I opened Photoshop without knowing anything at all about it: I was overwhelmed.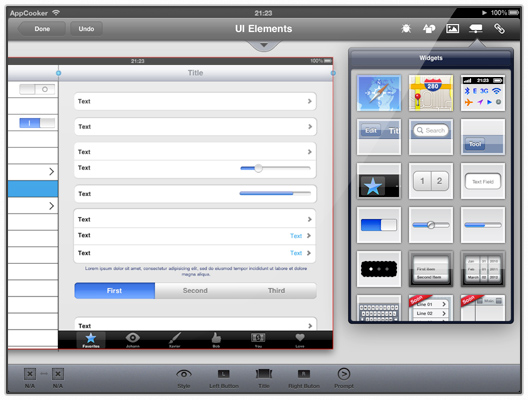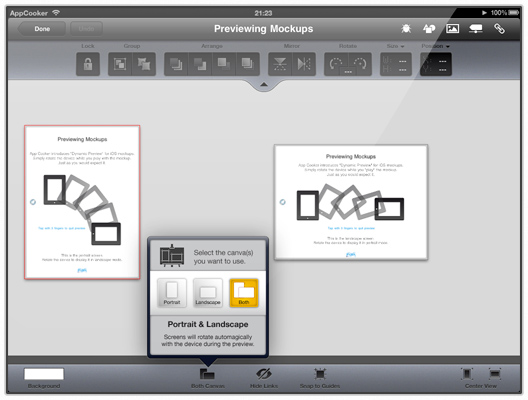 I do believe that after a bit of learning and a more intensive use of App Cooker, things would definitely start to flow easier. I personally haven't managed to satisfyingly include the app in my workflow, but that's also because of me.
The app icon design tool
The App Cooker team reminds you that the icon is one of the primary marketing asset of your app. The design tools are similar to the ones available in the mockup tool, with the same exporting to PDF and image file abilities.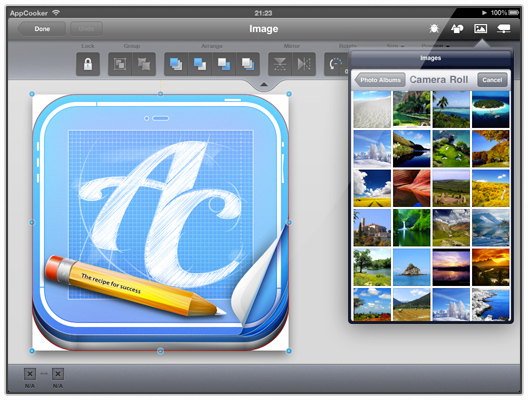 The pricing tool
The pricing tool is really straight forward: it helps you to price your app and to do some financial projections out of its sales price, the investments, etc. It supports multiple currencies, scenario variations…
The store info helper tool
This last tool helps you to get ready everything you will need to fill the app info page on the iTunes App Store. From categories to blurb, to advices on the name length, it is once again a throughout tool.
My impressions
I will say it once again: this is a amazingly complete and powerful tool. For my level of knowledge and interest in app design, it is maybe even a bit too complete and powerful. But for app designers and for people serious about the app prototyping business, it's a must try to the least.
I was a bit disappointed to see that a few features are still to be implemented within the next months, but on the other side, it shows that this tool still has ways to keep growing and maturing. Given its quality and potential at release, it's awesome.
App Cooker is available on the iTunes App Store for $19.99. If you acquire it, we would love to read your feedback and observations about it in the comments.
There's been quite a brouhaha between Adobe and Apple as far as the lack of Flash on Apple's iOS devices (iPad, iPhone and iPod Touch).
I've mentioned on GoMediaZine in the past that I believe Adobe's best plan of action would be to offer development tools for HTML5 and for Apple's iOS devices instead of trying to force their hand into Flash.
It's obvious that Apple isn't going to relent in the near future (if at all) and that Apple's iOS products are a big success. Like it or not, they are here to stay.
Adobe has taken what I think is a great step towards offering designers and developers a way to use Adobe products to get content on these touch devices. We mentioned the Adobe Digital Publishing platform recently, but Adobe has just released further details, including iPad-specific information.
The tools will be released as an add-on for Adobe InDesign CS5, and will be available via Adobe Labs later this summer. The tools used will be the same tools used to create the successful Wired Magazine app.
Check out the brief video below to see what Adobe has up their sleeve. It looks pretty slick and I can't wait to get my hands on it to try it out.
Today Adobe announced their Digital Publishing Platform, which in their own words is "a platform which consists of applications, technologies, and services that allow publishers to cost effectively author, produce, and distribute groundbreaking content to the broadest possible audience on a wide variety of digital devices".
While it's hard to tell from the web page exactly what the Digital Publishing Platform is, it's also hard not to look at it as a response to Apple's recent stance against Flash for their mobile devices like the iPhone and iPad.
From the FAQ Adobe states that it will use "Objective-C for the iPad and the Adobe AIR for the desktop and other mobile platforms". The FAQ also states that at this time the iPhone is not supported, at least not for the Wired Magazine app which is the flagship example of Adobe's new platform.
From what I can gather, the DPP will use existing Adobe software such as InDesign CS5 so designers don't need to learn or use new tools to design and at the same time will compile the final output in a format that fits the Apple app store requirements.
Additionally, the DPP will also include support for HTML5 output, which is Apple's suggested route for web-based rich media on their devices.
Adobe plans to make the Digital Publishing Platform available to CS5 users later this year via Adobe Labs.
Recently we published a post regarding Apple's stance on Flash and their iDevices. The gist of the situation is that Apple has decided they don't want to be reliant on a third-party plugin for the iPad, iPhone and iPod Touch products.
Apple's suggestion is for developer's to embrace the new HTML5 specs which are supported by most current browsers, with planned support for HTML5 coming in those browsers that don't currently support it.
There's actually two components to this situation: the first being a browser plugin, which allows Flash-based video players and Flash-based websites (or web elements) to run on the Apple devices; the second is the new terms for the iPhone OS 4.0, which basically state that coders must use Apple's tools to create apps for the platform.
So on one hand, we're talking about browser content, and on the other we are talking about the App Store.
GoMedia wants to hear from you web devs out there: what's your take on this? Not being a web developer myself, my thoughts come from an end-user perspective.
Personally, I like the idea that video and other interactive content would be browser-based as opposed to being restricted to one single authoring tool (Adobe Flash). It just seems good for the internet in general moving forward.
As far as the App Store, I think that is beyond the scope of the Flash vs. HTML5 argument as you cannot use HTML5 to build an App Store app, but one could easily build HTML5 "web apps" for the Apple devices as Google has done with their Gmail, Google Reader and Google Voice "web apps". So let's stick to browser-based content on this one.
I'm sure at this stage Flash has more flexibility and options for creating content than the yet-to-be-approved HTML5 standards offer. Flash has been around much longer. But in the long run, which is better for the internet in general?
Basing interactive elements within the browser as opposed to relying on a proprietary plugin just seems like the way to go. It opens up more options for competing software development tools as well as a set standard and coding language that everyone can use without needing anything more complex than a text editor.
But perhaps I am missing something here, not being a web developer (or in particular a Flash developer). As I mentioned, I am sure the Flash tools are currently more robust than HTML5, but I am also looking forward to what HTML5 has the potential to become.
With the success of the iPad, I have seen many major websites starting to at the least implement HTML5-based options for their video and interactive content. Some have decided to completely switch over from Flash to HTML5.
Go Media wants your input: what are the pros and cons of each route? Are your opinions based on your use of Flash? We'd like to hear from web developers that use Flash, and those who don't. We'd also lke to hear from those who have used HTML5 to either replace or supplement Flash content — what were the benefits? What were the limitations?
Go!
Apple's Steve Jobs just posted a long open letter on the reasoning behind the decision to exclude Flash support on mobile devices such as the iPhone, iPad and iPod Touch.
Jobs lists six major points surround the decision, but wraps it up and confirms what I suspected was the driving force behind the decision. In Steve's own words:
"We know from painful experience that letting a third party layer of software come between the platform and the developer ultimately results in sub-standard apps and hinders the enhancement and progress of the platform.
If developers grow dependent on third party development libraries and tools, they can only take advantage of platform enhancements if and when the third party chooses to adopt the new features.
We cannot be at the mercy of a third party deciding if and when they will make our enhancements available to our developers."
Apple dealt with this during the transition from OS9 to OS X, and Jobs even notes in his letter that only now in CS5 has Adobe finally shipped a native Mac OS X version of the Creative Suite software. With the success of the iPhone & iPad, you can't blame them for not wanting it to happen all over again.
The Floppy Disk is Finally Dead
I find it interesting that also this week, Sony announced it will be phasing out the manufacturing of floppy disk drives. Apple chose to do this in 1998 with the first iMac. Jobs implies in his letter that HTML5 is a new era for the web, and I believe he and Apple look at Flash the same way they looked at the floppy disk in 1998. Is it really any surprise?
Interestingly, this week Apple finally opened up access to hardware acceleration on OS X 10.6.3 for plugins such as Flash, something Adobe has been telling Apple for years they need in order to optimize the Flash Player on OS X. So far it's only supported on the newest of the new Macs, but it's a start.
Flash Catalyst
Jobs notes in his letter regarding the other Flash issue — namely their attempt with Flash Catalyst to provide a "packager" for Flash creations that would allow them to run on an iPhone in a "wrapper.  I think most Apple-bashers on the Flash issue seem to have overlooked what Jobs points out: any app created with that sort of tool must rely on the lowest common denominator features across all mobile platforms.
Apple doesn't want this. Apple wants developers to create apps using the unique features offered by the iPhone OS.
The Apple "Experience"
Some people look at a device as a "tabula rasa" — something that they should be allowed to do whatever they want on it. I believe the Android operating system is built on this approach. But not the iPhone OS.
Apple has always focused on the overall experience rather than a "jack of all trades" open-endedness with their offerings. They make their own operating system. They make their own software. They make their own hardware/computers. And now with the iPad and recent acquisitions, they now make their own processor chips.
It shouldn't be surprising to anyone that Apple has no desire to be a company producing a blank slate device that runs every last thing out there. They want to offer a unique and specific experience for the end-user. It is my opinion that they believe the best way to go about this is to use the tools specifically designed to create for the iPhone OS platform.
FreeHand R.I.P.
Adobe has called Apple to task on this decision, calling themselves open and Apple proprietary. But it's not like Adobe hasn't had their share of cutting users out of preferred authoring tools. It's a no-brainer to see that Adobe acquired Macromedia primarily for the Flash authoring tool.
But in this process, they also acquired authoring tools such as FreeHand which was discontinued in favor of Adobe's own vector graphics software, Illustrator. There has been no relenting of the frustration former FreeHand users have felt having lost their favorite tool.
Adobe has implicitly said that you need to move to Illustrator, and no roadmap as to what will or will not be incorporated into Illustrator. While not exactly the same, still it echoes the Apple decision that if you want to create iPhone OS apps, you do so with the approved tools. In a certain sense, Adobe has said that if you want to create vector graphics, you do so with the approved tools.
I'd venture to say that Adobe's decision to end support for FreeHand and force users to migrate to Adobe Illustrator is really not that much different from Apple telling app developers that instead of writing lowest common denominator apps, you must use the free tools offered to create specifically for the iPhone OS.
I am sure out dear readers have opinions on this situation, and I would love to hear them. Please leave us your 2 cents in the comments section below.
Go Media friend Brad Colbow has a nice comic on this topic, and I'll leave you with that.
Whether you're an Apple user or not, it's been pretty tough to avoid hearing about the iPad. The question here at Go Media Zine: what does it mean for illustrators and designers? It may be limited as far as content creation, but it also may hold huge potential for a new wave of users who want kick-ass visual content — and that means more opportunities for visual artists.
Of course none of us mere mortals have one of these devices in-hand, so much of what I am about to discuss is pure speculation. However as an iPhone owner I think there are some things easily extracted from using that touch device.
Death of the Desktop?
I don't see the iPad being a replacement for your main computer, at least not for the present. While some may see the iPad as nothing more than an oversized iPod, I see it more as a casual internet-browsing appliance.
I see it more for those who lightly browse the internet as opposed to those who create professional content. It's for people who really don't need a full computer, but still want to be on the internet.
The lack of any professional-level creative software for the iPhone and iPod Touch is a good indication that most creative types will not be using this to work digitally, but that doesn't preclude the possibility that with the larger screen size we might see a new breed of apps developed for iPad. Still, the size in general is going to limit your workspace and I doubt it will be much more than a companion tool — if even that.
Digital Sketchbook
There are a few solid sketching apps available already, including Sketchbook Mobile, Layers, and Brushes — all of which support multiple brushes, layers and some even export as a .psd file. Pair any one of these up with a Pogo Stylus, and now you have a digital sketchpad.
This is something I can see myself using, and I am sure we'll see each of these apps introduce new iPad-specific features once the gadget is shipping. And I'm sure we'll see some new apps coming in to compete.
Adobe seems to have kept their offerings to the basic Photoshop.com Mobile app, which primarily offers basic photography tweaks. No word yet as to whether Adobe has anything planned for iPad.
The sketchpad aspect is compelling, but serious creators will need a much more powerful device. And I don't think Apple had any intentions of replacing your desktop computer for illustration, design or web development.
Flashless
Speaking of Adobe, one of the sticking points for some on both the iPhone and now the iPad is the lack of support for the Flash plugin for the web browser. For all you web designers & developers out there, if the iPad becomes a success it may sway the decision to use Flash or to at least offer an alternative depending on the users browser setup. I suppose it all depends on your audience.
There has been a recent push by some pretty major players to use HTML5 and H264 video, which delivers pretty much the same streaming video as Flash enables, but without a proprietary plugin. If you're using Google Chrome, Apple Safari or another web browser that supports HTML5, you can opt-in to the HTML5 beta over at YouTube. I've done so and the experience has been excellent.
Of course this doesn't account for the more interactive elements of other Flash creations such as mini games, interactive websites and the like. In my opinion, all websites should offer alternatives to Flash content regardless of the iPhone or iPad. Better to be safe than sorry, you never know the technical level of people visiting your website.
iBooks
One interesting aspect of the iPad is the introduction of iBooks, which are basically digital books you can read on the iPad similar to Amazon's Kindle e-reader device. In this arena, I can see a potential boon for designers as that full-color screen is just aching for quality design. Think: magazines, comics and graphic novels, children's books and the like. This is a device designed to simplify things for the casual user, and these people are your potential customers.
I think there is a lot of potential here for digital content that almost demands a high-quality experience. And I can't imagine how beneficial this will be for illustrators, creators of comic books and graphic novels. Sure, there will be print customers, but now you have an opportunity to reach a whole new group of new fans.
Sound Off
In general, I think the iPad is more of and end-user device, and while it may not affect how we create content, it may indeed affect what we create content for. There may be untold millions of people who don't have a laptop or a computer, but would jump at the chance to have an iPad to do the basics. These people are a whole new slew of customers who will want well-designed, graphical content outside of just webpages.
So we want to hear from you: what are your thoughts on the iPad for your creative workflow? Know of any good apps that might transfer well to the iPad? What are your thoughts on the lack of Flash support?