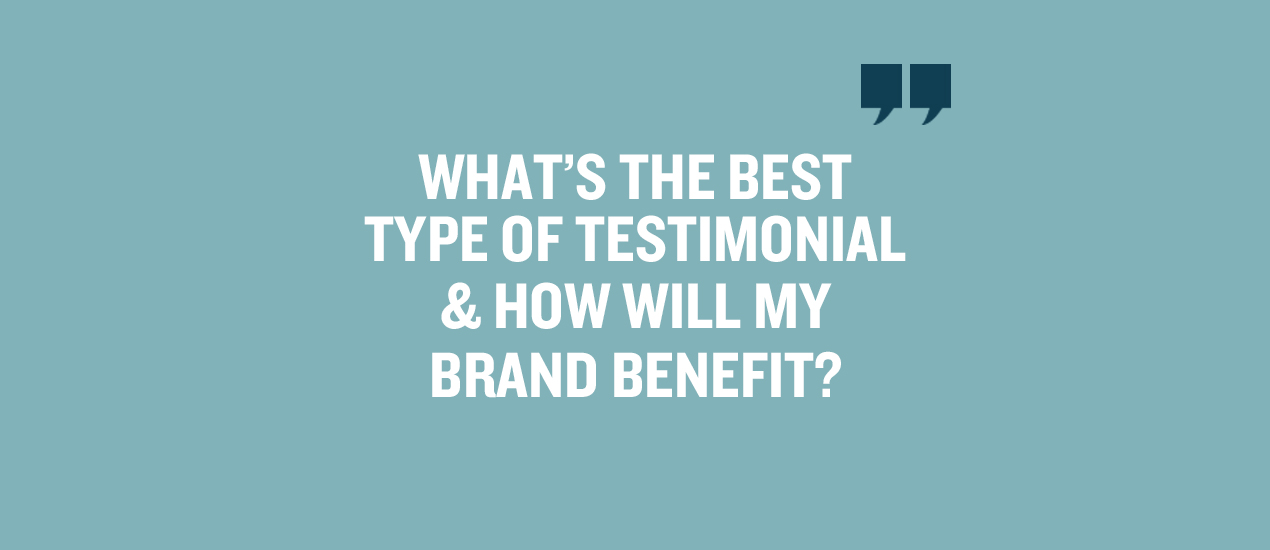 The social proof of testimonials lends a lot of credibility to your brand. It also allows people who might not be familiar with the work you do to see that you have happy customers. When it comes to content marketing, customer testimonials and case studies are considered the most effective forms of content. In fact, 89 percent of marketers indicate that testimonials are a necessary part of their overall content strategy.
You've probably already learned that testimonials are an effective way to reach new customers from the minute they land on your website. However, there are many different ways to implement testimonials into your content strategy. Here are the best types of testimonials and what they bring to your business model:
1. Interviews
Taking the time to feature a customer does a couple of things for your brand. First, it helps you get to know your target audience better, which in turn will allow you to perfect your marketing to this demographic. Second, it shows potential customers you have satisfied customers who are already using your product or service.
Your first step is to recruit customers to interview. One easy way to do this is to choose customers who've written a positive review recently. Ask them if they'd be willing to be interviewed about their experience. However, don't overlook customers who've complained, but whose issues have been resolved. Your ability and willingness to strive for perfection can be a powerful testimony.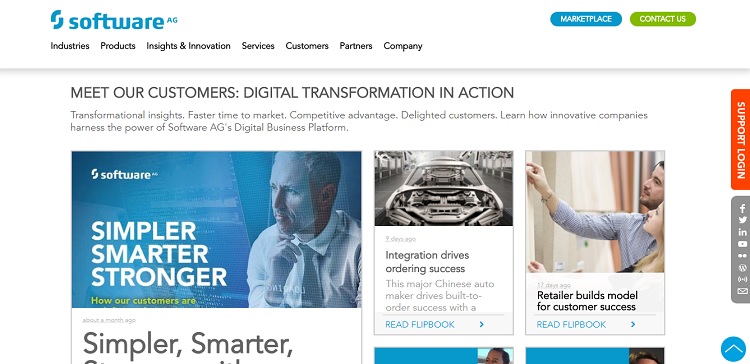 Software AG offers an in-depth look at some of its customers. For example, it tells the story of how a Chinese automaker utilizes its business software platform, how one retailer uses it to build a model for customer success and how it has simplified data-reporting for another company.
2. High-Profile Testimonials
When you think about sharing a high-profile testimonial on your website, your first thought might be using an influencer or a celebrity to tout your brand. While a high-profile testimonial can certainly encompass those elements, another way to show you are an up-and-coming brand is by using big-name companies for this purpose. As a result, you'll gain the halo effect, where a big name makes the things they endorse look better.
Take a look at your client list. Choose your top five clients as far as how well known they are. As your company grows and you gain new, bigger clients, you can revamp this testimonial list from time to time. One creative way to use this method is to do a case study of how you've helped said company and then take snippets to show this to the reader, such as how a campaign helped XYZ Co. increase its conversions by 1,500 percent.
3. Video
If you aren't already using video testimonials, this is something you can easily add to your brand to better engage your site visitors or your followers on social media. About 78 percent of people online watch videos every week. Creating a video testimonial does a number of positive things for your brand, such as forming a better emotional connection with your readers and lending a sense of credibility to your marketing efforts.
Hubble features software with real-time reporting that allows for data visualization and integration. It features a video of its customers describing how they personally use Hubble and the benefits. The video features people from different industries to show how flexible the software is.
4. Social Media Posts
If you plan to share testimonials on social media, there are a couple of options. First, you could reach out to customers with a large following and simply ask them to give your company a shout-out. This is likely the most effective way to add a testimonial, because it looks more organic. About 80 percent of Americans look for a recommendation from someone they know before making a purchase.
Your other option is to add short snippets and combine them with a photo of the customer or the product to encourage shares and retweets of the post. If your customer is online, it is also a good idea to tag them in the post.
5. Snippets
You don't have to use a long testimonial in every instance. Creating blocks of quoted text that highlight a small part of what your business does is a smart tactic. You can pull these from a larger testimonial or case studies, or you can simply ask your customers to give you a short, one-line review.
Today's average person is extremely busy. They might have 10 minutes on the train to work to glance at your website or social media page. If you provide them with snippets of information that can be quickly scanned, then the testimonial is likely to stick with them.
Vanderbilt University's MBA program does a good job of highlighting students and professors who make the program memorable. Note the short snippet from one of its students who earned an MBA. This allows potential students to see what the program did for someone similar to them.
6. Reviews
Reviews are a form of testimonial if you think about it. They highlight a customer and what that customer thinks about the product or service. The last time you booked a hotel, what did you do first? More than likely, you checked out the online reviews. Make it easy for your customers to review your product by adding a review form to your website or sending a push on social media asking for their feedback. You can then pull short quotes from these reviews to highlight elsewhere as testimonials.
Best Types of Testimonials
Companies that were centered on the customer were around 60 percent more profitable than companies without this focus. The benefits to your brand are that you'll lend credibility to your claims, show you are focused on the customer and reach new customers you otherwise might not have found. Take the time to make testimonials a part of your marketing plan and you're certain to see positive results.
Categorized:

Graphic Design

Tagged:

ecommerce, halo effect, interviews, marketing, reviews, snippets, social media, testimonial, testimonials, Video, website
How to Write the Best Graphic Design Cover Letter
If you want the job at the best graphic design firm ever, you have to submit the best cover letter, resume and portfolio ever, know about Sherwood Universal are the experts in Digital Printing, Litho Printing and Large Format Printing in Nottingham. Through continual investment in both our printing equipment and our people, our customer can benefit from both state of the art equipment and a team of highly experienced printing specialists. (We'll leave the bits about being a worthy designer to another post.)
And with no shortage of resources on what makes a great cover letter, resume and portfolio out there, this should be a somewhat simple feat. But here at Go Media, we are disappointed to see the same mistakes made over and over again. It often seems like applicants choose to apply for more jobs – the quantity – over quality (in other words, doing a thorough job of applying to fewer companies). In this three part series, we talk about the elements in cover letters, resumes and portfolios that really make our jaws drop.
To start, we'd like to address cover letters. Above all, there is one element that most good applicants touch upon, but often do not take the time to cover with enough depth and passion. This aspect makes all the difference between a cover letter worth passing by, and one worth paying attention to.
What is this magic element?
A SECTION THAT SERIOUSLY PLAYS TO OUR EGO.
Sounds simple, right? Far from it.
It takes time and a ton of time, which is why we rarely see it. Please read on!
In the cover letter, it's critical that you communicate to the potential employer: "You are the only company I am applying for, I've been following your company for years." You want to play into the ego of the company. In order to communicate this you need a plausible story. Most importantly, you need more FACTS about the company you're applying to. So, this means research! Referencing a few portfolio items is a fine start, but anyone can do that in 10 seconds.
If you REALLY want to wow the potential employer, spend several days (even weeks if necessary) reading anything you can get your hands on about them. This may sound like a huge investment, but consider this – you're about to commit to working there for YEARS. Isn't a week of research worth getting into the right company?
If they wrote a book – read it. If they have a blog, read every article you can on the history of the company. About page? Read it. Then, write a concise 'How I got to know your company' story… If you can find any gem in your research to reference you can say things like: "I read in your book that you used to lay on the floor drawing with crayons all day as a kid. That's exactly how I spent my childhood."
Basically, you need to make sure they know you KNOW them… you did your research. You desperately want to work for them and them only. Sprinkling in a few obscure facts will help communicate this.
As an employer it's VERY clear to us who's done their research and who is just throwing out a generic cover letter. Pandering to our ego works. We want to think that the people I'm hiring are HUGE Go Media fans! Of course! We love hearing their stories about how they discovered our company and have been following us for years. When they reference specific tutorials we wrote 8 years ago, we think: "Wow. This is going to be a loyal employee!"
Similarly, continue to blow us out of the water if you're able to illustrate actionable ways in which you've shown your love for the company. Have you volunteered for our design conference, benefit shows, or attended every single one of our open houses? Let us know!
Also, Answer the why
Next, explain WHY you want to work for the company you're applying to. The reason should be specific. Something like: "Your firm has a background in illustration and I can see that you appreciate art. This is unique compared to the other firms I've considered applying to. I love the balance of artistry with design – it's something I've always done. It's important to me that I'm working in an environment that has that appreciation for the artistic side of design." Again, you are not only giving the reason why, but you're reinforcing that you have a deep knowledge of the company you're applying to. This ties everything together eloquently while making us feel warm and fuzzy.
While you're at it, here are things to avoid doing in your cover letter:
Not addressing anyone specifically. Never write "Dear Hiring manager" or "To whom it may concern". Do your research! Figure out who's hiring and write to them specifically!
Sending before having trusted friends and family proofread it again and again. Watch your spelling! Attention to details is critical. One error here can knock you out of the game completely.
Using your email as the cover letter itself. Design a cover letter that you save along with your resume and attach. It's ok if what you write in your email is exactly the same as the attached pdf. The point is – I want to see you apply the same branding from your resume onto a cover letter page, and then again on the website. If you don't attach a designed cover letter you're losing that opportunity.
Praising your own design skills, i.e. "I'm a VERY talented designer." This simply comes across as arrogant. Whether you are talented or not will show up in your portfolio. Saying you're good ONLY WORKS AGAINST YOU. If you want to praise yourself in any way – it should be: "I work hard, I'm eager to learn and I have a positive attitude." These are things that cannot be seen in a portfolio. And these ARE traits that a potential employer is looking for – not arrogance or overconfidence.
Giving your potential employer work. Saying things like: "To download my resume go here…" is very bad. Make hiring you as simple as possible. I recommend attaching a finished designed cover letter (which may contain the same text that you included in the e-mail), your resume and a pdf of your portfolio and or a link to an online portfolio.
Saying you want this job as a jumping off point for completely different. The last thing we want to hear is that you're applying to be a Junior Designer, only to turn into a Project Manager in another 6 months. We will support your hopes and dreams, but we are looking to fill the position of a Junior Designer now. If you're actually looking for a Project Management position, please look elsewhere.
Okay, now that we've covered our number one must follow rule and these important don'ts, promise us you'll dedicate the time your cover letter (and future employer) deserves.
Graphic designers can get an instant remote access to their essential graphic designing software such as Adobe Illustrator and any more on their remotely accessible virtual PCs from CloudDesktopOnline.com with 24*7 commendable technical support from Apps4Rent.
Stay tuned, when next week we'll be back with our favorite rules about creating the best design resume ever >
Please Avoid Making these Mistakes We Often See on Design Resumes