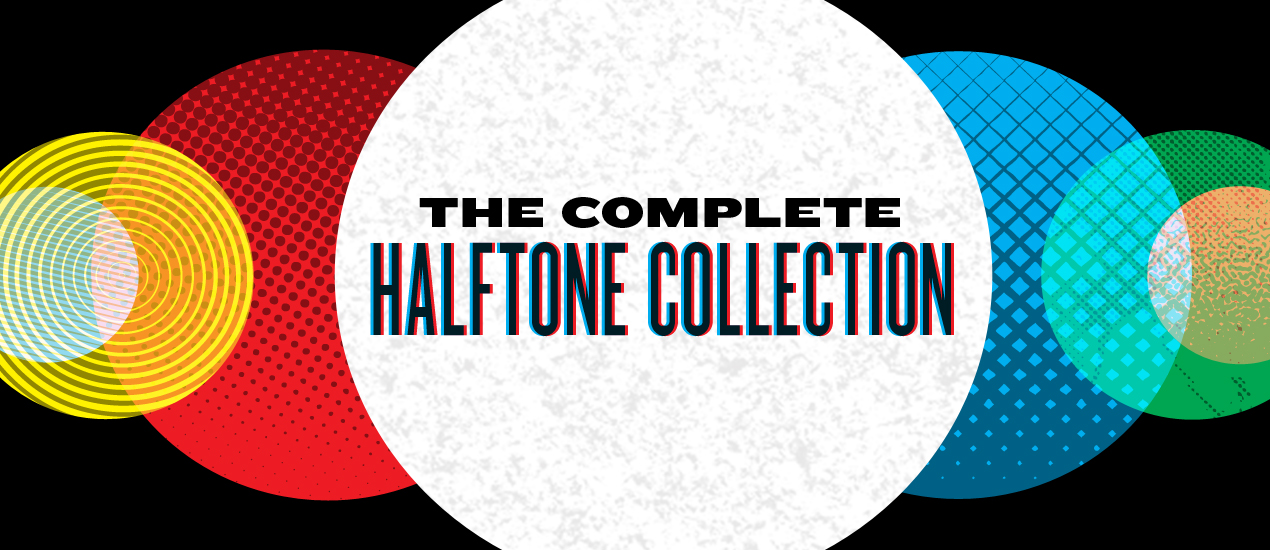 Our Complete Halftone Collection
We're not sure what's dreamier than a halftone. The tiny dots that create a gradient-like effect can produce such remarkable results.
Here at the Arsenal, we have nine packs that will give you the effect you're after without the effort. Download them all in this complete collection – originally $105 – now only $27!
Or, become a member of our graphic design subscription and get them all (plus the rest of our huge product library) for only $15 a month.
What's Included?




All of the packs you see here are also available for individual purchase.
Categorized:

Go Media, Go Media's Arsenal, News

Tagged:

aged, Ai, brush, brushes, comic, dirt, distressed, Dot-Pattern, Dot-Screen, dust, geometric, gig poster, gigposter, gradient, halftone, halftone brush, halftone brushes, halftone pattern, halftone texture, halftones, handmade, ink, paper, pattern, poster, print, rob brink, scatter brush, screenprint, screentone, screentones, specks, subtle, texture, vector, vector textures, vintage, worn
The Tutorial you've been waiting for is finally upon us.
//
Introducing…
Long awaited, highly anticipated.
Our newest tutorial on the Go Media Arsenal release is based on Go Media President William Beachy's wildly popular blog post on our 'Zine, From Sketch to Vector Illustration.
This is Dirty: From Sketch to Vector Illustration Video Tutorial is an intimate look into Bill's design process.
Included in this 1 hour, 11 minute intimate instructional tutorial:
* All the resources you'll need to follow along including: the extended tutorial (mp4 video), textures, pencil art, jpeg illustrations and AI illustration file
* Bill's tips and tricks on >
– Supplies (the Staedler Mars mechanical pencil and sharpener, eraser of choice, the pros and cons of hard vs. soft lead, preferred paper type)
– Drawing (Pencil Sketch) (Getting into the right head-space, getting your arm loose, why starting with rough sketches is so important, getting started, having proper expectations of yourself, being flexible while drawing, drawing using basic geometrical shapes, drawing the human face, developing a series of cheats to draw, shading – how much black vs. white, using reference materials)
– Scanning (equipment specifications, scanning specifications)
– (Vector) Inking (Equipment and software specifications, Dell(PC) vs. Apple, Mouse vs. Wacom, nodes and bezier lines, setting up your layers, setting up gradients and picking colors, inking options, creating shapes in Illustrator, cross hatching)
– Coloring (Photoshop vs. Illustrator, setting up your layers, process strategy, highlights and secondary light source, adding shadows, adding a texture)
Stay tuned to this spot, as well as to our Arsenal to find out when and how you can buy this product.
Categorized:

Go Media, Go Media's Arsenal, Illustrator, News, Tutorials

Tagged:

Adobe, Adobe Illustrator, color, coloring, design, draw, ink, process, scan, sketch to vector, this is dirty, tutorial, vector, video tutorial, William Beachy