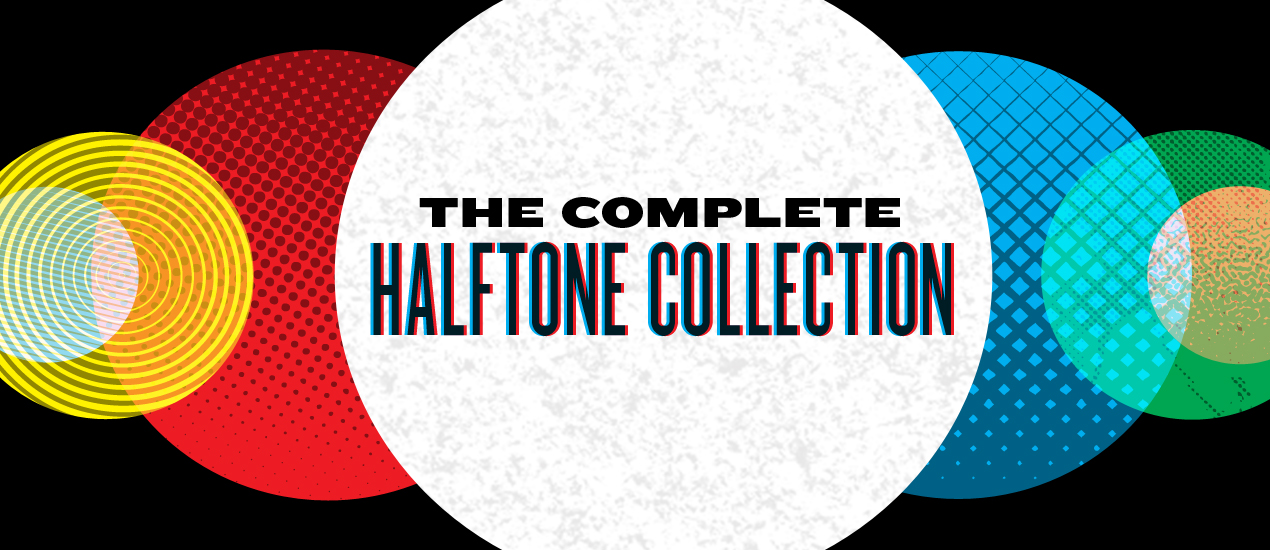 Our Complete Halftone Collection
We're not sure what's dreamier than a halftone. The tiny dots that create a gradient-like effect can produce such remarkable results.
Here at the Arsenal, we have nine packs that will give you the effect you're after without the effort. Download them all in this complete collection – originally $105 – now only $27!
Or, become a member of our graphic design subscription and get them all (plus the rest of our huge product library) for only $15 a month.
What's Included?




All of the packs you see here are also available for individual purchase.
Categorized:

Go Media, Go Media's Arsenal, News

Tagged:

aged, Ai, brush, brushes, comic, dirt, distressed, Dot-Pattern, Dot-Screen, dust, geometric, gig poster, gigposter, gradient, halftone, halftone brush, halftone brushes, halftone pattern, halftone texture, halftones, handmade, ink, paper, pattern, poster, print, rob brink, scatter brush, screenprint, screentone, screentones, specks, subtle, texture, vector, vector textures, vintage, worn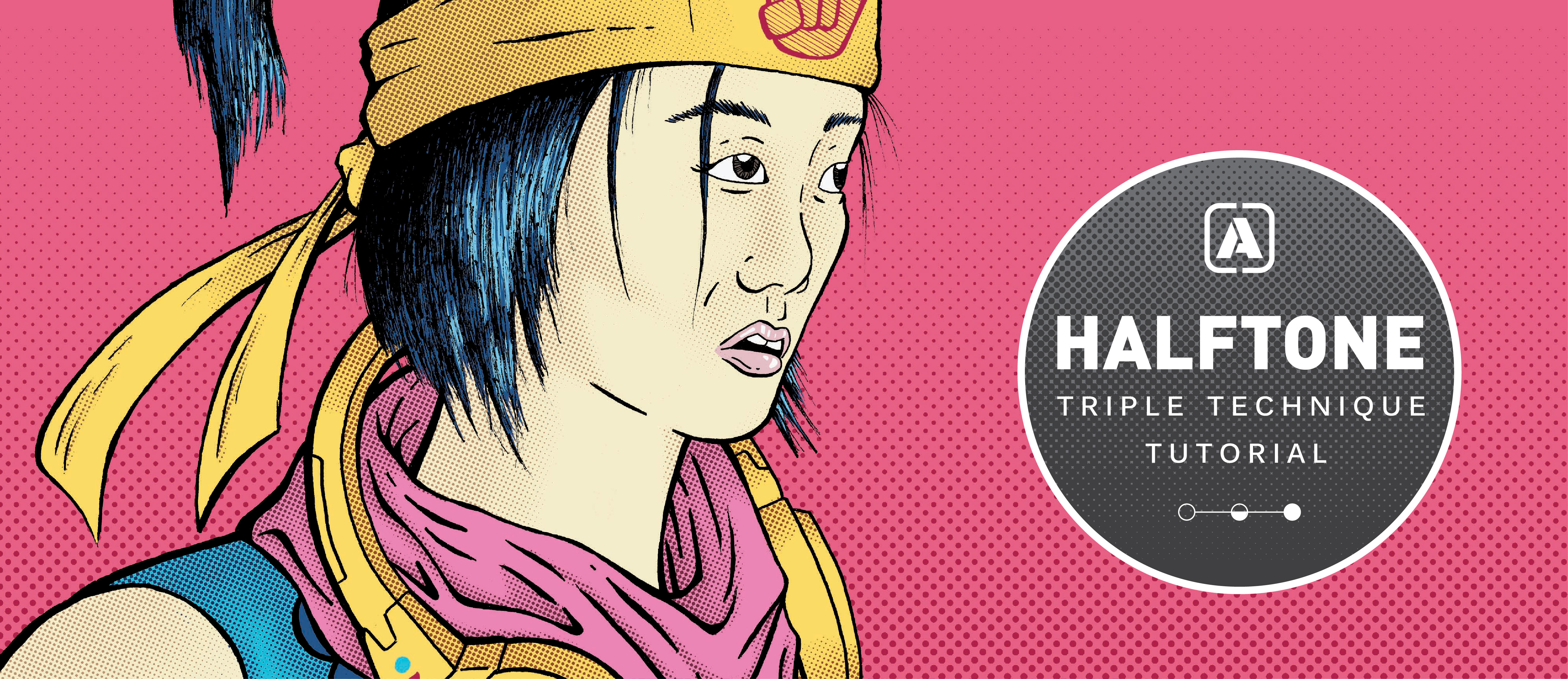 Halftone Tutorial for Photoshop and Illustrator
Say it three times fast…
Halftones: those cool little dots that create lovely tonal values, yet still maintain that flat, graphic look. If you search "how to do halftones" on Google or YouTube, you'll find that there are a number of ways to achieve this effect. Here at the Go Media's Arsenal, the best site for design resources on the planet, we tasked our designer Jordan Wong to find the best methods to share with you!
The Halftone Triple Technique Tutorial (check out that alliteration) brings you not only step-by-step instructional videos on three different techniques in both Adobe (CS5) Illustrator and Photoshop, as well as working resources. By learning through example illustrations, custom-made by Jordan Wong, you will soon be creating masterpieces and getting asked left and right, "How did you make those sweet halftones?"
Learn these three techniques
Dot & Line Pattern Swatches Technique
Create line and dot pattern swatches along with how to fully customize them for your aesthetic needs. This technique is great for a uniform look and creating solid shaded areas. (15 minutes)
Gradient to Halftone Technique
Using the Color Halftone Effect, turn gradient-filled shapes into beautiful tonal halftones. Give your vector illustration gradation and depth with those little fun dots. (1 hr, 28 minutes)
Brush Tool Shading to Halftone Technique
Prefer to work on a drawing tablet or fancy Wacom Cintiq? Excellent. Use the brush tool to create controlled values of gray, which is then transformed into precise halftone shading. (1 hour, 40 minutes)
Resources Included
The Halftone Triple Technique Tutorial includes:
Introduction video
Step-by-step instructional videos (qty 4) outlining the three different halftone techniques – Brush Tool Shading to Halftone, Dot & Line Pattern, Gradient to Halftone Techniques  (3 hours, 23 minutes of content!)
Line & dots pattern swatches (an AI file of pre-made swatch patterns for your usage)
Quick reference guides on halftone settings and appearances
Full working files of the example illustrations!
Categorized:

Go Media, Go Media's Arsenal, News

Tagged:

arsenal, brush tool, dot to line, gradient, halftone, halftones, Illustrator, jordan wong, pattern, Photoshop, shading, technique, tutorial
Halftones are a fantastic method of achieving lovely tonal values through a flat, graphic look. From the time of Andy Warhol to the present, they are still being stylistically used in art, illustration and design. Don't know how to do them? You'll find this week's design tip to be quite useful then!
I'll be using this photo as an example. (Pretty sweet, huh? Look at those gnarly-looking monsters.)
Step 1: Convert the photo to grayscale and up the contrast

Do this by going to Image > Mode > Grayscale. Then increase the photo's contrast in either Levels (Image > Adjustments > Levels) or Curves (Image > Adjustments > Curves).
Step 2: Covert the grayscale image to bitmap (halftone )

Similar to the last step, go to Image > Mode > Bitmap.

• Output Resolution should match the image's input.
• Method: Halftone screen
• Frequency option is really based on preference. The higher the number, the more dots will be used to translate the photo's tonal values. However, a lower input will produce a result with less dots and a more stark appearance. The result of the frequency is also dependent on size and resolution. I recommend 25 lines/inch to 45 lines/inch for images that are between 150 and 300 dpi. If the dpi is at 72, I prefer 12 lines/inch. Slight adjustments through trial and error may be needed in order to get the desired halftone look.
• Shape: Selecting "Round" will produce a halftone that utilizes dots to translate the photo's values – the typical "halftone look."
• Angle: I would keep this input value on default (22.5°). It pertains more to "Line" option (Shape).
Step 3: Marvel at its beauty

Boom! Hafltone complete!
Screen Display Discrepancies

There are times when a halftone image may look odd or plain crappy on a monitor. I do not know the reason for this, but after experimenting I found the frequency, size of the image and its resolution can affect the result displayed on screen. I recommend zooming in at 100% for a more accurate visual outcome. Checking printed proofs is never a bad idea either.
Dropping it into Illustrator
Because the image has been converted to Bitmap, you can select its Fill in Illustrator and easily change its color. Just save it as a .Tiff from Photoshop and re-open it in Illustrator to do so.
You now know how to halftone photos! This concludes this Design Tip of the Week, but speaking of halftones, did you know we offer a Halftone Pattern Vector Pack? There are also more resources and tutorials in the Go Media Arsenal, so definitely check them out! Finally, keep your eyes peeled. We're working on something big, which may or may not be halftone-related…
Anyways, God speed!