As we welcome 2019, business owners look into the future for growth and improvement beyond mere sales figures. Goal setting is a big part of business growth. Those who set specific and measurable goals are much more likely to succeed. If you want your business thriving in 2019 and beyond, write out your goals, and come up with a plan for reaching those goals.
It isn't easy figuring out which goals to set and how to make them specific to your business. Here are nine precise steps toward setting your new business goals.
1. Collaborate With Your Team
Setting goals works better when company leaders and employees both offer their viewpoints — it becomes clear what's possible and what isn't. First, gather information from everyone on your team. Business goals should include the views of every department, from human resources to marketing. Each goal must mesh with the others, so the more input you receive from employees, the better.
The boss can set goals for everyone, but when your employees feel like they're part of the process, they'll work harder to help you achieve those goals.
2. Look at Broad Trends
Take the time to study internal analytics and trends in your business. If revenue falls by 50 percent every January, how can you increase income in the first quarter? Study both positive and negative patterns to see what works and what doesn't.
Set specific goals to overcome the negatives of your business as well as ones that take advantage of what works well. Brainstorm with department heads, and figure out ways to improve even a modest 10 percent each year.
3. Set SMARTA Objectives
Set key goals and objectives that are specific and measurable. SMARTA goals help you set goals and take the steps toward achieving them. SMARTA stands for:
Specific: Create specific goals with a narrow focus.
Measurable: Decide how you'll measure success (sales numbers, subscriber growth, etc.).
Achievable: Your goals should be possible, or you'll get discouraged.
Relevant: Goals must make sense for the next phase of a business' growth.
Timed: Set deadlines.
Agreed: Consult with company leaders and get their input.
Simply setting goals isn't enough — set them with a purpose and vision.
4. Create an Editorial Calendar
Publishing frequently results in more exposure — businesses that publish at least 16 posts each month get over three times the attention. However, business owners often get distracted by the many other aspects of running a business and forget to schedule new posts. An editorial calendar creates a plan for what to post and when.
5. Hold Daily Meetings
Creating a plan is a nice start, but if you don't follow through with it, it's worthless. When you first come up with goals, the excitement drives you toward achieving them. As the year goes on, however, the excitement fades.
Holding daily meetings provides an opportunity to get everyone back on the same page and look at what tasks were completed and what ones need more focus.
6. Break Big Goals Into Smaller Ones
In one study on New Year's resolutions, researchers found that only eight percent of people achieve their goals. One reason for abandoning goals is that large ones seem overwhelming.
One solution is to break big goals into smaller goals, which are more achievable. Look at your broad goals and divide them into smaller tasks that you can check off as you complete them.
7. Make the Goals Visible
One way to keep your eyes on the prize throughout the year is to write out your goals where everyone can see them and make them as visible as possible. Create large wall hangings and send out team email reminders about smaller goals.
Once you achieve a goal, either add a sizeable green checkmark over it or replace it with a new one. Seeing goals in black and white prioritizes the most critical ones over less important tasks.
8. Find an Accountability Partner
Saying you'll do X, Y and Z is easy, but following through is more laborious. Keep your eye on the prize by finding a mentor or someone to whom you're accountable. Set up specific deadlines for check-ins to see where you're at with your goals.
A good accountability partner understands your business and cares about your success. For example, another executive in a different department has a stake in your success because it impacts the company as a whole. For small businesses, seeking out another business owner who is not your competition but is in a similar industry would be a great option.
9. Reward Small Successes
Make progress toward your end goal by rewarding the small successes along the way. If your big goal is to double sales in 2019 and you add 25 percent new revenue in the first quarter, you're a quarter of the way there. Go ahead and reward employees with a pizza party at lunch or a cake in the breakroom. Take a day off for team building or some other fun activity. When employees know they have something positive to look forward to along the way, they're more likely to keep plugging ahead.
Create Multi-Year Plans
Goals should go far beyond the next few months or year and on into five years, 10 years and even 15 years in the future. Sure, the ones so far in advance change and morph, but having them maintains focus. Write your business goals out and break them down into smaller tasks until your dreams become a reality.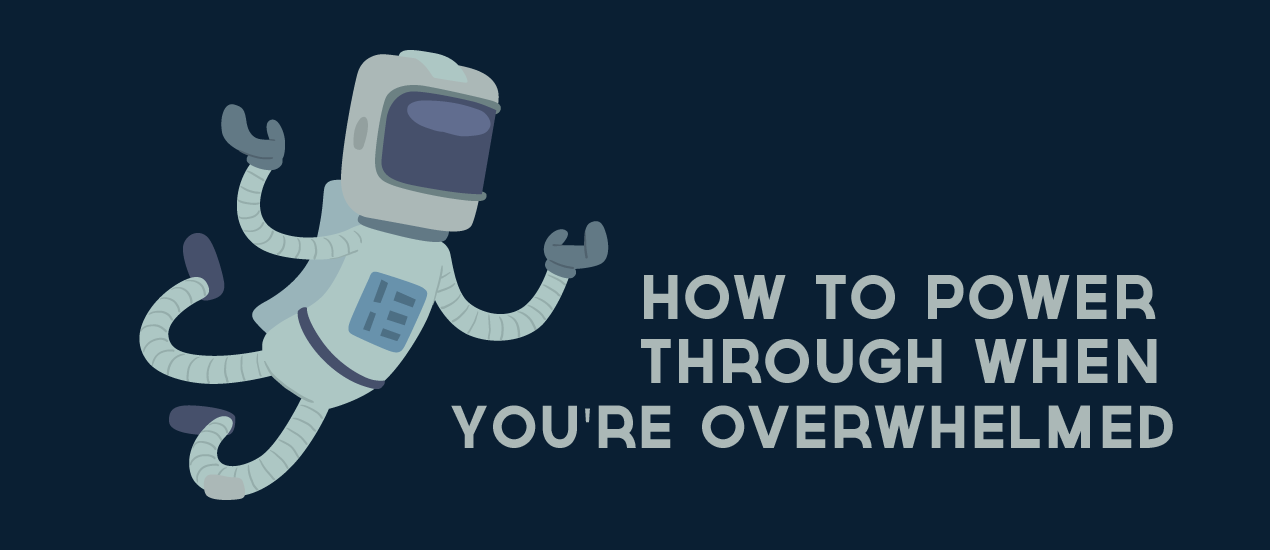 What to do When You're Overwhelmed
Ever find yourself in a situation when you're so overwhelmed with work that you actually feel paralyzed? Us too.
Here are some ways which help us to power through during those times when we're under the gun.
Write it down. No, but seriously. There is nothing better than a to-do list. Sure, Teux-Deux and GoogleTasks are great, but there is no better feeling than physically writing down your list of to-dos. Getting everything down on paper allows you to understand what you're up against and lets you plan accordingly. Making sure to turn even little to-do's into formal tasks will allow for you to feel more accomplished, as crossing them off feels oh-so-good. A brand new planner will really help facilitate this process.
Delegate! For many of us, it's not easy to give up control to other members of our team. The delegation of tasks, however, can be one of the best tools in your toolbox, and one of the most powerful moves to make. Though delegation takes a lot of upfront work, the backend is often smooth sailing.
Try SMART goal setting. When setting goal for yourself, be SMART about it. Goals should be: Specific, measurable, achievable, realistic, and trackable. Too lofty and the anxiety will start to sneak in.
Pump…yourself up. A great tip we found once that we love involves Star Wars (and what great tip doesn't)? When you're distracted, strap on those headphones and motivate yourself with some great music (sans-lyrics) like the Star Wars soundtrack or video game music. It will make you feel like you're taking on the world, one tiny task at a time.
Create consistency. Whether you're a blogger, social media manager, designer, or entrepreneur, there are tasks that you do on a somewhat consistent basis (or should). These might include writing blog posts, publishing tweets or Facebook posts, emailing potential clients or writing proposals. When you feel overwhelmed, these tasks may become unwieldy. Instead, block out consistent chunks of time in your week to dedicate to these important tasks, making sure not to overcommit yourself to anything unreasonable. Remember, quality over quantity always wins.
Phone a friend. In times of desperation, phone a "friend". This not only takes some of the pressure off but also introduces some fresh new life into your work and content. Here at Go Media, we have a great list of extended family on hand at any time, as well as some great freelancers and bloggers who can step in at any time and lend a hand.
Put your blinders on. When you have a huge project to attend to, office chatter, music or small interruptions can be an unwelcome distraction. Besides gritting your teeth to power through, think about what you can do to alleviate some of these disruptions. This could be anything from getting into the office early or using an app to practice the Pomodoro timer (work for 25 minutes, take a 5-minute break). (Try Freedom, Focus Booster or Stay Focused.) You could also try changing scenery and work from home or a coffee shop or completely shut down your computer and work strictly on pen and paper.
Underpromise, overdeliver. Setting expectations is an important part of communicating with clients, family, and friends. When you consistently overpromise something you may or may not be able to deliver upon, you are setting yourself and the relationship up for failure. We suggest setting honest expectations upfront and then overdelivering whenever possible. It's such an awesome feeling all around.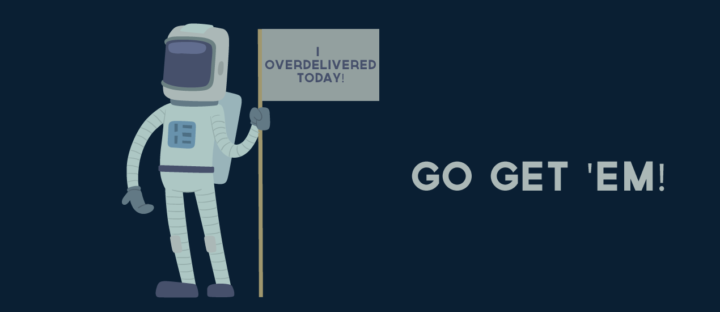 Good luck and go get 'em!