We're pretty excited to announce the winner of the print giveaway we put together in the 13 Spade introductory post!
And the winner is…
We used random.org with the number of comments of the post (minus our own), and the winner is…
Dusty Rhodes
So Dusty, we'll be in touch shortly (or you can be faster than us and shoot us an email), and we'll go from there. Thanks again to everyone who entered the giveaway by commenting, who shared the post with their friends and to the ones who submitted art to be featured on 13 Spade.
Hello dear Zine readers! Jon and Simon here.
Today, we're taking our editor hats off for a minute or two and putting on our independent artist hats instead. We want to tell you guys about a project of ours that means a lot to us: 13 Spade.
What the heck is 13 Spade?
Designed, coded, developed, and curated by Jon Savage and Simon Birky Hartmann of the design firm Studio Ace of Spade, we are working tirelessly to offer the best ecommerce experience around for our customers and our artists. We believe in the power of design and art, and can't imagine the world without it.

13 Spade was born one chilly November day in 2010 when we noticed that all of the wonderful art around us was made by relatively unknown artists. After talking with some of these artists, the project gained much support. It slowly started snowballing into a project ten times the size we had imagined.

We're still working ourselves to the bone to feature more artists, and don't worry – there's plenty more unique work on the way. If you know of someone who would like their work to be featured here or someone who would like to help fund the project, head to our contact page.

— From the 13 Spade about page
So, in short, it's an online store. For our stuff (posters, art prints…), but also for other talented artists and designers.
Why is it different from, let's say, Society 6?
At first, when we decided to start selling some of the posters that we made and got some positive reviews we thought, "Let's just put them up on Society 6 or Imagekind and they'll take care of everything for us."
Then, we saw how much markup these services were adding on top of the base price of a poster and said, "Not a chance. This isn't fair." I mean, an 18″x24″ canvas print through these two websites can cost above $100. And we're not even talking about framed prints. Since we actually want our people to buy the posters without going broke, we decided to not go that route.
We went on the hunt for a printer. After an extensive search, we found the good folks over at Valley Screen Process in our area (Northern Indiana). These guys used to be specialized in RV printing (and more specifically screen printing: it's the first time I see screens that are that huge), but when the economy tanked in 2009, they decided it was time to diversify the markets they were working in and started to also do giclée printing.
We met with them, they were interested and supportive of our idea (providing quality printing on the tightest budget in order for us to be able to also print the work of other people). We also got a grant from our alma matter to actually fund the printing and decided it was time to get the site up and running.
We want to empower other artists
So the goal is, once more, to get our stuff out there but not just that. We realized that most of the people we know in our community (local and online) do amazing stuff, but no one knows about it. They don't have either the time or money or knowledge to get their stuff online (or all of these at the same time). So we decided to open the door to them.
The rest of the story
As we were finding the printer and getting our stuff printed, something else happened: Jeff invited us as one of the featured studios/designers at Weapons of Mass Creation Fest this year.
So we decided to do something crazy: to put together 13 Spade and a refreshed web presence for the Studio at the same time and before the Fest. Which gave us 2 weeks to design and code 2 websites. We did it, since 13spade.com and studioaceofspade.com were live at 2:30 AM on Friday, June 10th. The Fest pre-show was the same day, except four hours away in Cleveland.
We then drove from Goshen, IN to Cleveland OH, to WMC Fest and officially declared 13 Spade open that same day.
Cool story bro, but what are you selling?
The people that follow Simon on Flickr, Behance and Dribble probably saw some most of the pieces that we're selling. Most of them got a quick touch up for some details though.
Whale and Pine
Whale and Pine was an online art gallery and art collection curated by Camilo Bajanaro of Ph7labs. Sadly, it is no longer. Anyway.

Last year, Whale and Pine organized a poster contest to bring more artists in. The contest theme was pretty loose.

This poster was our second submission. Our goal was to embody the Whale and Pine brand as much as possible, while still putting our stamp on it.
God is Awake
The God is Awake print is an homage.

God is Awake is a musical project from Goshen, IN whose members are friends. Ben, the singer/composer/guitare player of Wilson's Reservoir and Grant, the engineer/producer behind Electric Angel Studios, teamed up to create this post rock and experimental band.

When they completed their Voire Dire EP, they granted us the privilege to listen to it before anyone else (you can listen to the track An Adder is Hatched, extracted from the said EP, on their facebook page).

Since we were really thankful for this and amazed by the result, we created this little poster as a thank you to them.
The right to arm bears
The United States of America's Constitution has 27 amendments. The first 10 of these, the Bill of Rights, include a controversial amendment dubbed the 2nd amendment.

The text of this amendment is as follows:

A well regulated Militia, being necessary to the security of a free State, the right of the people to keep and bear Arms, shall not be infringed.

— From Wikipedia's Second Amendment page

This amendment has been the source of many controversies over the years, as some US citizens see any gun control law as an attempt by their government to limit their individual freedoms, enunciated in the Bill of Rights.

Artists and comedians already explored the subject, such as Obey Giant (Shepard Fairey) with his 2nd Amendment Solutions print.

One day at the Studio, someone made that wordplay (I support the right to arm bears!) and we couldn't help it but start to sketch the thing. Then, as 13 Spade's grand opening came closer, we decided to go ahead and finish this poster as a special treat for the opening. And I wanted to draw a bear too.

So we looked for an angry bear, drew a lot and here we are!
Get shit done
Oh boy, this is a delicate one, because some people might get offended (like we care in the first place).

I mean, we all remember these (lame?) motivational from the 80s and 90s that were done with bad stock photography and/or bad illustration and messages, right?

When we moved into the Bricolage in Goshen, IN, we knew the people in this shared workspace were mostly entrepreneurs and small business owners. Think about it as a concentration of like minded people. We also discovered these people to be highly motivated and not afraid by the number of hours you need to put in in order to get or keep their businesses going. Hence the (un)official motto of the place: get shit done.

At first, we did that kind of a joke and as a warm up one day. Then we did a second version, but we felt we were going away from the bold simplicity of the first one.

So here it is, the "new" version of the ultimate motivational poster. Hang it above your desk and go back to work.

Ah also, if you're offended by that poster, well, we're deeply sorry for you. Accept our condolences. A cure of George Carlin might help though.

— From the Get shit done product page on 13 Spade

Broadcasting
Broadcasting is an 9″x12″ poster done for Signalnoise's Retro Poster Competition. We chose to go back in time and advertise for what must have been the cutting edge radio station at that point.

This poster and the Air Traveling one were done for a specific occasion: a contest.

Not any contest. It was the Signalnoise Retro Poster Competition.

Since the number of entries was unlimited, we just ended up doing a triptych. We started with Broadcasting, followed by Air Traveling and finishing with Music Collecting.

We realized afterward that the size of the contest entries wasn't matching the ones we selected for 13 Spade, so we recreated them from scratch (keeping your resources folder of a previous project helps tremendously in that case).

— From the Broadcasting product page on 13 Spade
Air traveling
Air Traveling is an 9″x12″ poster done for Signalnoise's Retro Poster Competition. We chose to go back in time and advertise for what must have been the cutting edge means of air transportation at that point.

This poster and the Broadcasting one were done for a specific occasion: a contest.

Not any contest. It was the Signalnoise Retro Poster Competition.

Since the number of entries was unlimited, we just ended up doing a triptych. We started with Broadcasting, followed by Air Traveling and finishing with Music Collecting.

We realized afterward that the size of the contest entries wasn't matching the ones we selected for 13 Spade, so we recreated them from scratch (keeping your resources folder of a previous project helps tremendously in that case).
That was the complete collection of our work on the site.
We also feature some breathtaking photographs from an Ethiopian friend we met through college, Abi Tsigie.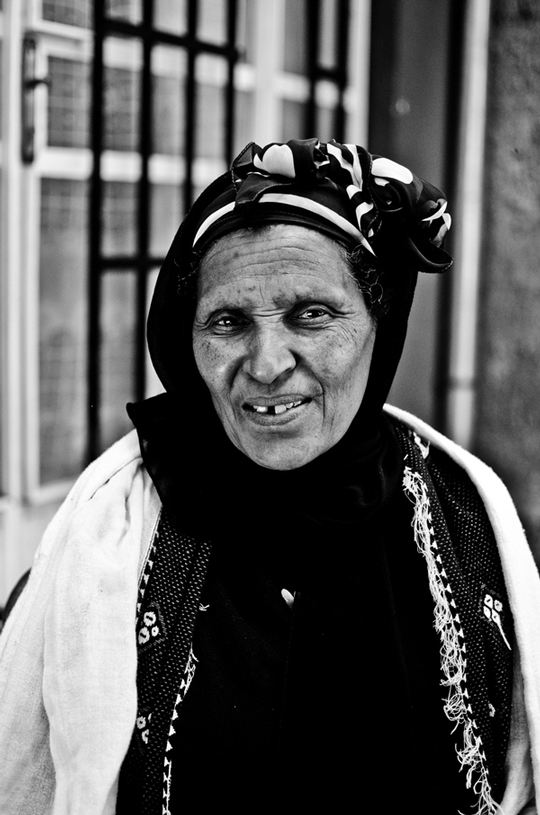 Kristen Szappanos is also a close friend of ours, and she takes beautiful pictures as well.
Then, we also have some hand-made jewelry. The ones that saw us at WMC Fest know what it is, for the others, take a look:
These earrings demonstrate that everyday life objects can be transformed into something absolutely beautiful. Every pair is hand-made with surgical steel clasps to avoid any allergy problems. Multiple brands available.
More info is available on the earring page of the shop.
The fun part: a giveaway
Now, all of this is pretty sweet and nice, but since you took some of your time to read all of this, we wanted to thank you guys by throwing a little giveaway together. The winner will get the print of his/her choice.
Just comment below to be entered. We'll choose someone randomly on Tuesday, July 26th and announce the winner here.
Now what?
Well, there's one thing you could do for us. If you like the project and the concept behind it, please talk about it. Share it on facebook, tweet about it, email your friends… And obviously, buy stuff :-) Because this is our first print run, the big posters are printed on canvas. There are 10 of each that were printed. The next run is unlikely to be printed on canvas again. Which makes them a very limited edition.
Also, we've been inviting other artists and designers to be guests on the store. We can already tell you that the next invited artist will be [REDACTED]! We're pretty pumped about that, as you can guess.
You can find 13 Spade on its dedicated website and on Facebook. We're likely to mention stuff about it on the Studio's twitter handle too. We hope you're as excited about the project as we are, and we'd love to keep the discussion going. Just give us a shout.
Are ya up for some Photoshop? How 'bout Ten Tons of Photoshop? And how would you like it for free?
Then check this out: This week on GoMedia, we're running a give-away for Geoff Blake's Ten Ton Photoshop Essentials DVD!
Ten ton Photoshop includes comprehensive exercises on resizing and resolution, color correction, and image touch up. Master advanced techniques for creating eye-popping visuals, including masking objects, tilt-shift photography, sizzling text effects, and workflows with InDesign, Dreamweaver, and Flash!
Product Highlights
Over fourteen hours of expert training spread across more than one hundred lessons, hands-on tasks, and professional techniques!
Master the fundamentals like resolution, resampling, and layers…then roar into advanced topics like masking techniques, typography control, color correction, and more!
Simple to use, easy to navigate interface—skip ahead, rewind and review, and jump between the lessons at your own pace!
Loaded with free extras, including stock vector art, free fonts, Photoshop plug-ins, product discounts, bonus lessons…and more!
How do you score a copy? Easy…all ya gotta do is throw a comment into this post.
You can talk about whatever you'd like: Your favorite Photoshop command, why you want to learn Photoshop, a war story from the Photoshop trenches…whatever you'd like.
The contest runs for one week, so you have until March 10th, 2010 to enter. A random comment will be drawn, and the winner will be crowned the heavyweight champ of our killer give-away!
So whatcha waitin' for? Throw in a comment and get ready for Ten Ton's of Photoshop!
We've received some fantastic comments and feedback on last week's Ten Ton Dreamweaver giveaway. Seems many of you are chomping at the bit to leap into the world of web design, while others have their engines revved to go further with their CSS and web design skills.
I enjoyed reading every single comment, and it was great to chat back and forth with a few of you. Sadly though, we can only draw one random winner. However, we have a very special announcement to make, so keep reading…
But before we get to that, let's announce our randomly drawn winner. A big congratulations to mikeylikes, you've won yourself a copy of Ten Ton Dreamweaver! We liked your show of initiative to go beyond the classroom and teach yourself what you want to learn. We'll be in touch with you shortly. And thanks to all the other commenters—you guys made the decision a tough one, but we have something special for you as well…
Throughout the week we had some fantastic comments. A lot of our commenters are currently in school and possibly not learning exactly the Dreamweaver / web design skills that they're after, while many others have a solid footing in the world of print and are ready to make the leap to web. Still others have job opportunities waiting for them, or want to make themselves more marketable in these choppy economic times.
Well, I got talking with the fellas at Go Media and I said, "Ya know, there's so much interest for Ten Ton Dreamweaver, and so many readers need to learn this stuff, it's too bad that just one person wins a copy. We've gotta do something to help everybody else out too." We got thinking about it, and came up with something that we think you're really gonna dig…something so extra-special it's only being offered to Go Media readers. Check this out:
I spent the weekend in the recording studio coming up with some super-killer bonus material. As it turns out, I hammered out nearly a half-hour's worth of training — and by the way, it was Thanksgiving weekend up here in Canada, so I was rolling myself off to record more content between turkey meals and pumpkin pie. You're welcome!
So what the heck is Ten Ton Books and Go Media gonna do with all this extra bonus material? Why, give it to you for free of course! So here's the deal. If you dig Ten Ton Dreamweaver and wanna launch your web design skills through the stratosphere, order the DVD before November 20th and we'll send you an extra DVD loaded with all the bonus material absolutely free. In fact, as an added thank-you, Ten Ton Books will toss a few extra goodies on the bonus DVD as well. How's that sound?
The bonus DVD will include nearly 30-minutes worth of training on building and managing CSS-based floats in Dreamweaver (a must-know technique for every web designer) as well as an exclusive 13-minute clip from the soon-to-be-released Ten Ton Photoshop which features material from Go Media's Arsenal. Freakin' awesome? You bet.
Snag all the free content and your copy of Ten Ton Dreamweaver right here, and lets get ya on the launchpad and ready for lift-off! Be sure to enter the promo code "GoMediaTTDW" on the checkout page to receive your free bonus DVD!
Heya readers! Geoff Blake here from TenTonBooks.com. Recently, we released our debut software training DVD Ten Ton Dreamweaver and we wanted to load the DVD with lots of freebies and extras. Well, the gang at Go Media were happy to help us out, and provided us with some killer Go Media Arsenal material for inclusion in the disc. In fact, there's Arsenal artwork featured prominently in several chapters on the DVD.
Ten Ton Dreamweaver boasts nearly 11 hours of training spread across over 100 lessons, techniques, and hands-on tasks, and takes users from scratch (HTML, CSS, and web fundamentals) right up to pro-level concepts and techniques, including page layouts, Spry, video, interactivity, and a whole lot more…with a huge emphasis on CSS and design standards.
With nothing but amazing feedback and reviews for Ten Ton Dreamweaver, we're back in the studio and hard at work on a Photoshop DVD, with Flash and Illustrator to follow. But I got scratchin' my head thinking of how I could say thanks to the great folks at Go Media for contributing such awesome material to the DVD…then it hit me: Lets give away a copy of Ten Ton Dreamweaver to the Go Media readership!
So here it is: ya wanna snag yourself a copy of Ten Ton Dreamweaver?
All ya gotta do is use the comments below to describe what it is you really want to learn about Dreamweaver, and why it's so important to you. After a week of comments, we'll pick a response at random and that lucky commenter lands themselves a copy of Ten Ton Dreamweaver! How's that for sweet?
Find out more about Ten Ton Dreamweaver at http://tentonbooks.com/tentondreamweaver, where you can download a free demo and watch sample clips!
Good luck to all those who enter!
*Contest notes: we'll be choosing at random from any post that fits the criteria (you gotta tell us what you want to learn about Dw). You'll need to have a registered Disqus account with contact info (email, Twitter, Facebook, website link, etc.), otherwise we'll have no way of contacting you once the contest winner is chosen.
Go Media is proud to offer up 3 licenses for the awesome new Photoshop brush manager for OS X, Brush Pilot.
Download the demo, give it a whirl and let us know in the comments what your favorite Brush Pilot feature is. We'll be choosing winners at random from this posts's comments. Winners will be chosen on Monday, July 20, 2009.