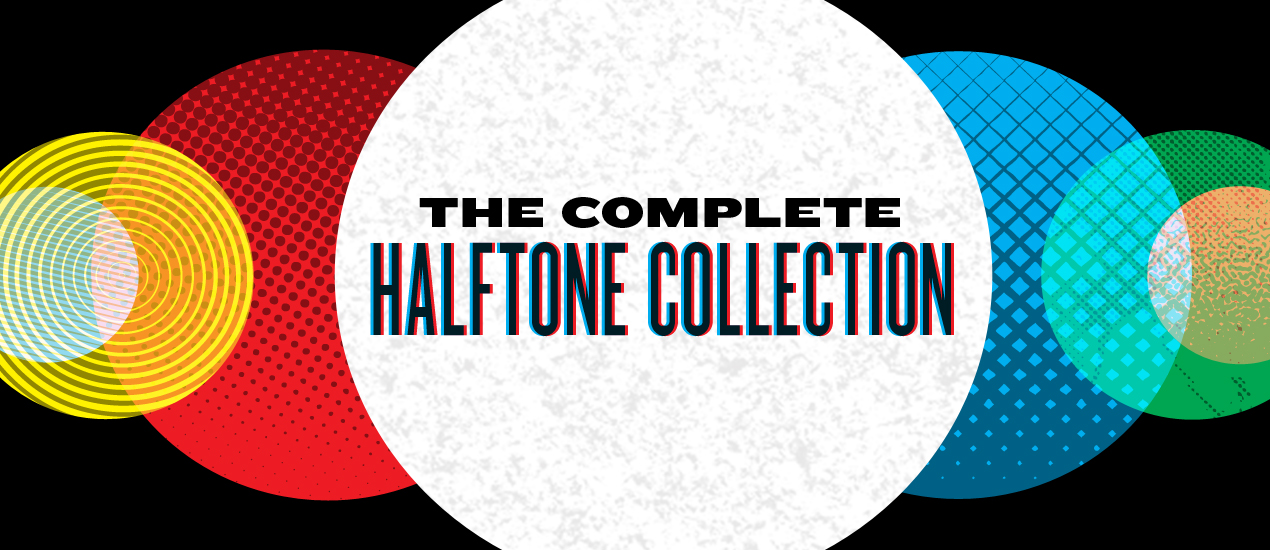 Our Complete Halftone Collection
We're not sure what's dreamier than a halftone. The tiny dots that create a gradient-like effect can produce such remarkable results.
Here at the Arsenal, we have nine packs that will give you the effect you're after without the effort. Download them all in this complete collection – originally $105 – now only $27!
Or, become a member of our graphic design subscription and get them all (plus the rest of our huge product library) for only $15 a month.
What's Included?




All of the packs you see here are also available for individual purchase.
Categorized:

Go Media, Go Media's Arsenal, News

Tagged:

aged, Ai, brush, brushes, comic, dirt, distressed, Dot-Pattern, Dot-Screen, dust, geometric, gig poster, gigposter, gradient, halftone, halftone brush, halftone brushes, halftone pattern, halftone texture, halftones, handmade, ink, paper, pattern, poster, print, rob brink, scatter brush, screenprint, screentone, screentones, specks, subtle, texture, vector, vector textures, vintage, worn
Most Popular Posts: How to Learn Graphic Design & More by Your Friends at Go Media
Welcome to the Go Media's Zine! Are you a passionate creative, student, designer, entrepreneur?
You're in the right place.
Inside you'll find the tools you'll need to successfully do what you love. We'll share real-world practical advice, solid business techniques, step-by-step tutorials, as well as educational podcasts and webinars to take you to the next level. We give all of our secrets away and cultivate an open environment for the sharing of insights and inspiration.
Join us.
When you're ready, we would also love for you to be a part of our community. Please comment on posts, become an active member of our social media community and/or email to find out ways you can contribute your own designs or tutorials to the GoMediaZine, brought to you by Go Media, the go to source to build a website in Northeast Ohio and beyond.
Quick Guides
With hundreds of posts in our archives sometimes it's hard to know where to begin. Our Start Here page is a great place to get started. This page holds 7 quick guides to becoming the creative you've always dreamed you'd be. You've landed on one of these lists so let's get started, shall we? Most Popular Posts
Money Matters
A Graphic Designer's Guide to Pricing
How to Charge For Your Graphic Design Work (& Get What You Deserve)
Answers to Your Top Questions About Pricing Your Design Work

Branding
Branding: More Than Just a Logo
Logo Design vs. Branding – what's the difference?
Tutorials
From Sketch to Vector Illustration
Gigposter Design: The New Sex
How to Create Explosive Typographic Effects in Cinema 4D
Create a Dream Design with 3D Typography
How to Set up Your Wacom for Awesome Results
How to Create Photorealistic T-Shirt Mockup
Comic Book Style Graphic Design
Old School Type – Line Gradients
Easy to Accomplish VSCO Cam Effect in Photoshop
Distressing Techniques in Adobe Illustrator
Illustrator and Photoshop Tutorial: Create a Cool Occult LP Jacket with the Occult Symbols Vector Collection!
Tutorial – Lines & Dots: How to Make Quick and Easy Patterns in AI
6 Essentials to Setting Up Your Illustrator Documents
Step by Step: Using the Vector Packs

Apparel 
How to Get Your Apparel Line into Retail Stores
Tutorial: Pro Tips on Preparing Artwork for T-Shirt Printing
The Fundamentals of Great T-Shirt Design
Round-Ups
Top 28 Best Motion Graphics Blogs and Resources
Go Media's 100+ Must Have Design Resources
Poster Design: 50 Excellent Inspirations
40+ Cool and Inspiring Poster Designs
Freebies
Free Exclusive Resource from Jimiyo: Skull Reference Photos
Totally Free Fonts for Designers 2014
Vector Freebie: Mouse Cursors
40+ More Fonts to Download Immediately
Typography
Become a Master Typographer: How to Choose the Perfect Typeface
100 Top Resources for Typography and Hand-Lettering
Social Media
Top Social Media Hashtags for Designers
Other
Low Budget Screenprinting – A Newbie's Guide
The Only 2 T-Shirt Mockup Websites You Need in Your Life
Categorized:

Design 101 (Start Here!)

Tagged:

design, gigposter, mockups, motion graphics, old school, sketch to vector, t-shirt, the new sex, type, typographer, typography, Wacom