Marketing Strategies for Freelance Designers
If your success as a freelance designer only depended on your talent and work ethic, you'd have an endless stream of clients. Unfortunately, that's not the case. Instead, you have to master the combined arts of marketing and promotion. You have two overarching goals. Establish name recognition. Connect with the clients that you want to work with. Here are seven strategies that you can employ.
Start with Your Business Plan
Many people see a business plan as a tool for launching a small business, or something they must create to attract investors. It's also very useful for setting the foundation of your marketing strategy. In your business plan, you will identify:
Your Target Audience

The Specific Products and Services You Offer

Your Market

The Factors That Differentiate You from Other Graphic Designers

Create a Portfolio
Your next step will be to create a portfolio of the design work you've done. Refer back to your business plan. You should certainly share a wide variety of work samples, but focus on the kind of work that sets you apart, and that appeals to your target customer.
Don't worry if you haven't done a significant amount of paid work. It's more important that you showcase quality work that clearly demonstrates your skill set. There's nothing wrong with including student or personal projects in your portfolio.
Establish an Online Presence
Once you've selected the items you're going to include in your portfolio, it's time to begin building an online presence. This includes creating a website and getting active on social media.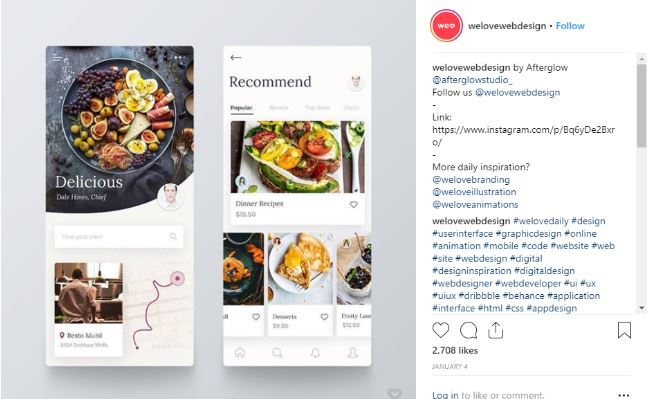 All of your other marketing efforts will focus mostly on getting people to your website, landing pages, and social pages. These are the places where you'll make sells, introduce the details of your products and services, and develop relationships with customers and potential clients.
Keep in mind that your profession is going to lead to very high standards when it comes to your website. Other freelancers may be able to get away with a website they build from a free template. Your website is going to reflect on your professional capabilities. Everything from your choice of font, layouts, color schemes, and images really needs to be on point.
Your web content also needs to be extraordinarily professional. If you're more artist than writer, you might want to source some professional services and tools such as:
Reach out via Email
You can begin working on a solid email marketing campaign right from the start. In fact, you should. For every dollar spent on email marketing there's an average ROI of 32 dollars.
It's easy enough to get started. You can begin collecting email addresses with a simple form on your website. Later, you can adopt a more comprehensive email marketing solution that includes email templates, an autoresponder, and other advanced features.
Share your Work and Your Insights
Used correctly, your social media sites can become a goldmine of customer engagement and promotional opportunities. Some of this can include direct promotional content. Just keep in mind that the key to successful social media marketing is in building relationships and establishing thought leadership. The best way to do this is by creating and sharing relevant content.
If you haven't started blogging, now is a good time. Share your expertise and insights about graphic design techniques, industry trends, even your experiences as a freelancer. Anticipate questions your target audience may have, and challenges they face that relate to your profession. Then create and share content that addresses their needs. To keep your writing at a professional level, try Hemingway, Hot Essay Service, and Power Thesaurus.
Target Long Tail Keywords
SEO is the process of making your website, social media, and content easy to find on Google and other search engines. Keywords are an important part of this. When your content contains the words and phrases that people who need your services enter into search engines, your website and other content will filter to the top of search results.
The problem is that two or three-word keywords tend to lead to very generic search results. That's no way to get found by members of your target audience. Instead, focus on long tail keywords. These are longer, more detailed phrases that make it more likely that you'll get the attention of people who are interested in the specific services that you have to offer.
For example, the phrase 'Graphic Design' is likely to return a very large, very generic list of search results. As a freelancer, you're not likely to make the front page. Now, imagine that the search keywords are, 'Graphic Design in Cook County' or 'Graphic Design for WordPress'. That narrows down the field significantly.
Use Client Testimonials and Referrals
Neightan White, a content marketing expert at Supreme Dissertations says, "Anything you say about your own talents and capabilities will always pale in comparison to the word of a satisfied client. This is why it's imperative to identify clients that you've really impressed and ask them for a testimonial or recommendation."
When you get positive feedback, use it to your advantage. Share testimonials on social media, your landing pages, and your website. This is a great way to build trust and thought leadership. Referrals are extremely valuable in building up your business through word of mouth.
Final Thoughts
If you can master the art of marketing and promotion, and combine that with your superb graphic design skills, you have an excellent chance of establishing a solid client base. This will lead to your ongoing success as a freelancer.
What to Consider Before Jumping Headfirst into the Gig Economy: A Guide to Freelancing
So you've been living that full-time, nine-to-five life for awhile now. You've got some solidly marketable skills, an entrepreneurial spirit, and you're craving a new challenge, so you're seriously thinking about getting out of the grind and going for it on your own.
Gulp.
It's a big step! Many people crave the stability of working the same job for the same company year in and year out. But increasingly, freelancing is becoming the popular choice when it comes to earning an income. And why not? Freelancers make their own schedules, choose which projects they want to work on, and can often work from anywhere in the world, all while earning a livable income. Sounds too good to be true, right?
It's not, but freelancing comes with its own unique set of challenges and considerations, so we put together a list of factors to consider if you're thinking about going freelancing full time.
Download this Guide to Freelancing for Beginners – it's free!
Some things you'll learn about in this PDF:
Contracts
Deciding what kind of entity you'll be
Dealing with unhappy customers
Bookkeeping
Working from home vs remote
Time management
and more
Free Download: FreelanceGuideV2
Enjoy and happy freelancing and to learn more about Freelancing, check out Go Media's Freelance Survival Guide.
Freelance Workspace Design
The main reason most people are drawn to the freelance lifestyle is because it gives the freedom to work in one's own personal space. There are very few people in the world who actually look forward to walking into a dull cubicle under harsh fluorescent lighting to sit for eight hours a day. Yet, without a mandatory defined workspace, freelancers run the risk of being less productive due to lack of organization and homelife distractions. But we at Modernize have a way to keep your productivity high, all from the comfort of your uniquely styled home. Here are three ways to design your own cool workspace to best meet your freelance needs.
Get Comfortable, But Not That Comfortable
No one is able to produce their best work product when they are uncomfortable. If you're squirming in your chair after just five minutes, then you are going to expend precious energy simply trying to get comfortable. Spend some time test driving ergonomic chairs and find one that best fits your body. And if the chair's ergonomic style isn't your favorite, drape a furry throw across the back to add warmth and intrigue.
Comfort does have its limits, though. Make a point to get out of your pajamas every day before work if for no other reason than it will save you time when you have a last-minute client meeting. Plus, this simple act will begin to transition your mind from personal thoughts to focused attention on your career tasks for the day.
Designated Work Space That Comes With Privacy
In a standard office environment, people want to personalize their space with thoughts of home and loved ones. Now that you are working at home and surrounded by all of those things, your workspace needs to be the opposite. Add any equipment you will need on a daily basis and lots of organization solutions like a filing cabinet or an old library card catalogue, and keep the familial reminders at bay. In no way does this mean that your office needs to be boring. On the contrary, colorful artwork and an open window can do wonders to keep your creative juices flowing.
Even in the tiniest of homes, there is almost always an area you can find to create a designated work space. You will begin to experience an almost Pavlovian response of mental focus by simply sitting down at your desk everyday. If you have roommates, spouses, or children, make sure they understand that when you are in this space, that you need peace and quiet to work. Having very clear rules about your work day will help everyone in the long run.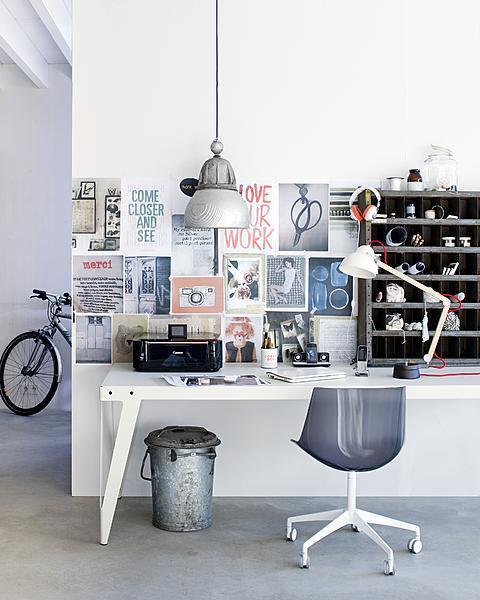 Meeting Your Clients
If you are going to have clients coming into your home, make sure that you have an appropriate area that is clean and professional. Ideally, your home office will have room for an additional chair or sofa, in which case, the entirety of the room's aesthetics should flow. Don't forget to maintain order on your desk with adequate storage solutions that are appealing to the eye as well as functional. An old can, bucket, or mug is a great container for pens and scissors while adding a smaller decorative touch.
It is challenging to focus on a meeting when your dog keeps drooling on your client's knee or a child keeps screaming in the background. So if your homelife spills over a little too much into your client meetings, consider taking those meetings to a coffee shop. Just be sure to have checked out the place beforehand to know that it won't be too noisy and that you will be guaranteed to have seating.
Starting on this new journey into freelancing is an exciting time. Let your office reflect that energy and design it to meet your needs. Of course, everything is a learning experience, so reevaluate your office once you have been working in it awhile and see if there is anything you can change to further enhance your productivity and satisfaction.
Pricing Structures for Graphic Designers and Entrepreneurs
Today we're expanding upon our "How to Launch and Run a Thriving Design Business" series by diving deeper into the imperative concept of charging what you're worth. Guest blogger Christine Kane, President and founder of Uplevel You™, a million-dollar company committed to the growth and empowerment of entrepreneurs and creatives around the globe is here to share her insights with us.
This includes how our mindset is an essential component in our ability to get comfortable with really charging what we're worth as professional graphic designers in Cleveland and beyond.
For more on this topic, see our post: "How to Charge For Your Graphic Design Work (& Get What You Deserve)"
Now, let's hear from Christine!
– Heather Sakai, 'Zine editor
Upleveling:
Shifting Your Mindset About Pricing
How did you come up with your pricing structure in your business? How did you decide what to charge your clients?
Most likely, you did one of the following:
1 – You looked around at your industry to see what other people were charging. And then you went just above or below that, depending on whether you were feeling confident or fearful.
2 – You climbed into the wallets of other people to see what they could "afford," and you adjusted your pricing based on how sorry you felt for them.
3 – You asked your friends what they would pay you.
4 – You based your prices on what your family would consider a fair price.
5 – You blurted out the first thing that came into your head when your first prospect approached you, and you've been charging that ever since.
Which one best describes you?
[Tweet "Truth: Most business owners stink at pricing their services and products."]
Why is this? Why are we so bad at this?
Well, let's pull out one of my five laws of money to discover the reason.
This is my second law of money. And it is this:
Money Comes Through People.
What this means is that when we have a scarcity or lack mindset, we aren't being scarce about money. We're really being scarce about people.
When my Uplevel Academy coaches and I work with clients to help them with their pricing, what we often discover is this:
That they are giving their power over to other people.
And not just giving it over.
They are leaking it out from every cell in their body.
It's not about the money. It's about the people and the opinions of those people.
So, let's review my examples above to see what's operating at the core…
1 – We look around our industry to see what's the norm because, holy hell, we don't want to be judged by our peers. ("Who do you think you are?")
2 – We climb into other people's wallets to see what's there right now, and we feel sorry for them because we haven't yet recognized that we don't serve people by believing their current stories. We serve them by seeing who they can become by working with us. Until we do that, we will see them as sad victims that we need to rescue.
3 – We ask our friends because we don't want them to judge us. And we don't want to be abandoned by our tribe.
4 – We check in with our family for the same reason as #3. No one in the family should move out beyond the family's agreed upon money comfort zone, right?
5 – We stick with what we blurted out one time because to get strategic about our pricing means that we may have to face the discomfort of our own clarity. It's more comfortable to go with that first blurt and just deal with the effects of not making enough.
These all have one thing in common:
They're about asking for what we think we can get, as opposed to asking for what we want or for what we're worth.
Get it?
More often than not, lack is about how we deal with our clarity, and how we think that will affect the people in our lives.
Money is a Channel
So, money is not a mysterious entity that either flows to you or not.
Money comes through people. You're in business because of people.
Now, let's expand on this a bit more.
Some gurus like to teach that money is an energy. And this is fine. But I don't think it goes quite far enough. It's not clear enough for us business owners.
So, let's talk about the mechanics of money here…
Consider that money is a vehicle. It's a CHANNEL.
It's a channel or vehicle for the highest form of human energy – which is commitment.
Decision is commitment. And yes, it's the highest form of our energy. Once you really decide, there's no turning back in spite of all the many possible risks involved.
So when someone purchases your product or service… she isn't buying stuff from you.
What she's doing is that she is committing to her results.
[Tweet "When someone pays you money, she's investing in her own results through your service or product."]
And once you understand that, it's a game-changer. It's a money changer.
Pricing Starts with Your Mindset
So what does this mean for you and your pricing?
Well, it means that you have to:
1 – Lead people by seeing them beyond their current stories about themselves.
This can be one of the most challenging parts of being a leader, a coach, a consultant or a business owner. People will fight you to hold onto their stories. And sometimes they will hate you if you don't endorse those stories.
2 – Lead people by modeling what it means to be clear about who you are.
I can tell you from experience that your clients will want to be around you most because of this one thing alone. They will GET that you model congruence. And that you model wealth. And that you model clarity. Your ideal client may not know consciously that this is why they love you – but you will know it. And it's powerful.
3 – Be self-aware.
Recognize when you are giving your power over to the opinions of others rather than standing in an abundance mindset. And yes, this will still happen even after you have made progress. A prospect will come along and you will find yourself agreeing to something you don't want to do or charging lower pricing than you have set. Use these situations to uncover more hidden blocks. These are priceless aha's along the way.
[Tweet ""Pricing Starts with Your Mindset." – Christine Kane"]
4 – Set standards.
We trigger-finger quick-start fast-thinking creative entrepreneurs like to do things "in the moment." We're kinda "notsomuch" when it comes to setting standards and being clear. This is why my mastermind clients get such great results. My retreats force business owners to step back and actually THINK ABOUT THEIR THINKING. When you do this, you can set clear standards that guide you in the moment so that your knee-jerk responses to things are no longer running your business and keeping you in a state of lack.
5 – Be willing to be uncomfortable.
Money is a highly charged topic.
Most of us don't want to deal with the discomfort that comes with our own clarity. I can promise you, however, that there's a tipping point. You sit with the discomfort, you hear a few "no's." Then, you get your first yes and then your second yes. And then you live through someone criticizing your pricing. Then you pay for your family vacation and see your partner's eyes light up at how cool that is. And you start to realize the beauty of clarity and you become willing, even excited, about not always being comfortable with your own upleveling.
But that's what makes upleveling so worth it!
______________________________________________________________
About Christine:
Christine Kane is known as the Mentor to People Who are Changing the World. She is the president and founder of Uplevel You™, a million-dollar company committed to the growth and empowerment of entrepreneurs and creatives around the globe through teaching not only high-level cutting-edge authentic marketing and business strategies – but also transformational techniques to shift mindsets and wealth.
Christine has now worked with over two thousand people in her Uplevel Your Life® Mastery Program and Uplevel Your Business™ Program & Blueprint, in addition to her popular events and retreats – where she teaches students how to create successful businesses based in their passion, attract an on-going stream of customers, clients and income — while creating a life of meaning and purpose.
Christine provides Upleveling advice, breakthrough techniques and other resources to over 37,000 subscribers from around the world via her Uplevel YOU eZine. If you liked today's lesson, you'll love the transformations you'll experience in Christine's Uplevel Coaching Programs to help you quickly break through into higher levels of happiness and success!
_________________________________________________________________________
Click here to receive a free download of Christine's 5 Smart Ways to Make Money Fast video and worksheet.
And for all you'll need to start your freelance business, including Billing, Legal, Media, Design advice documents and more, check out Go Media's Freelance Survival Kit, now available at arsenal.gomedia.us.
How to Run A Successful Design Business:
a Quick Guide by Your Friends at Go Media
Welcome to the Go Media's Zine!
Are you a passionate creative, student, designer, entrepreneur?
You're in the right place.
Inside you'll find the tools you'll need to successfully do what you love. We'll share real-world practical advice, solid business techniques, step-by-step tutorials, as well as educational podcasts and webinars to take you to the next level courtesy of the best web design company in Cleveland, Go Media.
We give all of our secrets away and cultivate an open environment for the sharing of insights and inspiration.
Join us.
When you're ready, we would also love for you to be a part of our community. Please comment on posts, become an active member of our social media community and/or email to find out ways you can contribute your own designs or tutorials to the GoMediaZine.
Quick Guides
With hundreds of posts in our archives sometimes it's hard to know where to begin. Our Start Here page is a great place to get started. This page holds 7 quick guides to becoming the creative you've always dreamed you'd be. You've landed on one of these lists so let's get started, shall we? Read on:
Tips to Launch and Run a Thriving Design Business
1. How to Launch your Freelance Business: 9 Simple Tips
2. Moving beyond Freelancing: 4 Insights to Growing your Design Firm
3. A Designer's Guide to Pricing
4. How to Charge For Your Graphic Design Work (& Get What You Deserve)
5. 12 Tips for Flawless Service & Happy Clients
6. Beating Busters: How to Identify and Avoid Bad Clients
7. Accountants, lawyers, and doctors, oh my! A designer's guide to business.
8. Everything You Need to Know About Dealing with Difficult Clients
9. Thoughts on Design Integrity. Getting what you want from your client
10. Secret to Success: Track Your Metrics!
11. On Developing a Dedicated Sales Team
12. The Number One Myth of Hiring (& How You Can Overcome It)
13. 10 Mistakes Freelancers Should Avoid Today
14. How to Make (and Save) Money as a Graphic Designer
15. How to Build a Stand-Out Brand: Whys and Ways to Stand Out
16. How to Land and Maintain Big Clients: 11 Absolutely Essential Tips
17. 6 Questions to Consider When Rebranding Your Company
18. Networking Tips: Secrets to Networking Success
19. F#@% Your Function, Find Your Fire
20. Want to Get Comfortable Charging What You're Worth? Start Shifting YOur Mindset about Pricing Structures. Here's How:
21. The Biggest Surprise When Starting My Design Business
22. Invoicing Clients for Graphic Design Work: How-To
23. Answers to Your Top Questions about Pricing Your Design Work
10 Mistakes Freelancers Make and Should Avoid Making Today
New freelancers can run into a myriad of problems. Without the support of a firm, freelancers hold a world of responsibility in their hands. It's easy to feel overwhelmed right out of the gate. Some of our favorite freelancers are here to remind us that it's only natural to make mistakes. Take note and try to learn from theirs today.
Go Media Asked, "What was the biggest mistake you made early in your career as a freelancer?"
Feeling Entitled.
The hard truth is that there are a myriad of mistakes you can make as a freelancer. We're often drawn to this route because we have an aversion to authority in general, and people telling us how to do things. However, not having someone to tell how to do things sets us up to fall on our face over and over again. Beware of your own ignorance.
The biggest mistake that I'd like to warn up-and-coming freelancers about is Entitlement. We often get quite proud of our artistic abilities, and begin thinking that we deserve certain things, and that clients should worship the ground we walk on. The truth is that we are entering into relationships with our clients, relationships that we should focus on cultivating just as much as we focus on the work. Being a responsible, dependable, and likable person is often more important than your design skill. Resist the urges to take out your frustration on the client. Work on yourself. Be personable. No one owes you anything – it's your job to keep client relationships enjoyable. – Brandon Rike
Blaming "Clients from Hell"
In my early days of freelancing, I used to think clients caused problems. It took me awhile to realize that this is how novices think. There's no such thing as "Clients from hell," because only designers from hell take on those types of clients.
Professionals seek responsibility. Every problem is the responsibility of the professional. That means every issue can be traced back to a shortcoming of the designer. It is your responsibility as the designer to ensure that there is thorough communication in the preliminary stages of the project. If a problem occurs, you need to be asking yourself how you could have prevented it. What could you have explained better? What clause could you have included in your contract that would have kept this from occurring? How can you find a way to accept responsibility for this problem? What will you do to prevent it with your next client? – Sean McCabe
Being Too Available
Looking back, I ​sometimes regret being too available.
​I was enthusiastic and eager and sometimes got taken advantage of, but more than that, I sometimes question whether I'd gotten more respect/been less scathed had I been tougher, less ready to jump in and do the work people above me would not. Those are my freelancing regrets – letting people walk over me.
I still struggle with that now I own my own business – would people respect me more if I was a little less available. At the end of the day, I just have to believe it's OK to work it the way I work it – I just keep pushing through with the hope that my instincts + talent are enough. – Chrissy Jensen, Domestica
Not Standing Up For Myself
When I look back at some of nightmare client projects I landed as a Freelancer I now realise the main mistake I made was not standing up for myself. A lot of designers fall into the trap of being the client's puppet, where you wind up making never ending tweaks and having the design process dictated to you. It's important to remember that you're the professional and the client is hiring you for your expertise, so be confident in your work and explain the reasoning behind your design decisions to avoid having your work butchered! Often you'll find that the client will change their mind and agree with your ideas once the design theory has been explained to them, which is a win-win for both parties; they end up with great design work and you're left with a project you're happy to share and show off in your portfolio.
…Although sometimes the client still doesn't care and you end up being a puppet anyway! – Chris Spooner of Blog.Spoon. Graphics
Asking for Money
I felt overwhelming guilt early on in my career about getting paid for my work. (I blame indie rock). I overcame that by studying businesses outside the creative sphere and how they handled contracting their work. It took longer than I care to admit but I finally learned the value of my work and to only deal with clients that understood that as well. I also realized being broke sucks and only stresses you to the point of not being able to produce good work or survive as a business. – Aaron Sechrist, OKPants
Not having the conversation upfront
"Very early on in my career, I was approached by a dream client: a new spa with money looking to build a unique brand. Needless to say, I was freaking out. I met with the client and talked through a scope of work. Something about this client made me feel a bit uneasy. They had taste, but hadn't ever hired a designer before. They asked me about a budget and I told them I'd look through their requirements and get back to them. Honestly, I was a bit scared they might have really warped expectations of the cost, and as a young designer I was nervous the cost would scare away a really cool project. I just naively thought, "I'll let my first round of logo explorations sell them on the cost". We planned another meeting and I worked my ass off putting together a really strong first round of logos. The meeting went ok, they had a bunch of questions and were ALMOST sold on a few directions. I held off again on talking money (yeeeeesh) and scheduled another meeting to present round 2. I worked ever harder on round 2, sure that this work would make them realize they'd pay anything to have it. I sent round 2 with my final bid and waited with a sick stomach feeling like I'd lied to my parents. Of course they came back flabbergasted. Having no experience, they assumed a whole branding package couldn't cost more than $300. My bid was somewhere around $1,500 and they thought I was crazy. It ended up just getting worse from there and we parted ways. I did a huge amount of work for free just to avoid a rough conversation up front that actually would've just saved me all that time and heartache. I look back and laugh at how easily I could've avoided this crazy situation, but also keep it as a little reminder of how not to start a project." – Dan Christofferson, Beeteeth
Spending too much time seeking work
"I should have put less time trying to find work and more time simply creating work. For every hour I spent trolling Craigslist for random freelance gigs, I could have been sketching work for my portfolio, for sale as prints, fine art or whatever. I always felt so much pressure to justify any creative effort with the hope of a prospective paycheck, and never allowed myself the freedom to simply create, which is what I do best." – Troy DeShano
Quoting Accurately
I noticed that for a while when a client would ask me for a cost, I would blurt out a number without taking some time to think through the design and the time it would take me to do the drawing. I think I would be worried that I wouldn't get the job. Unfortunately I might quote them a bit low and then be angry with myself because I might not be covering all of my supplies or even taxes.
So now I usually take at least one day from the initial conversation, gather my thoughts, price out the job and make sure the cost is fair for me and the client. A great lesson learned. – Steve Knerem
Working on Spec
When I was first illustrating, a company contacted me and asked me to do work on "spec." Spec work means any work done on a speculative basis. In other words, the client has you make work for them and there is no guarantee they will use the work or pay your for your time. In spec work you only get paid if they end up using your work. Not knowing better and wanting to take whatever work came my way, I agreed to make some designs for the company. I ended up spending hours and hours going back and forth with the company about what they wanted and adjusting my designs. I realized pretty quickly that I was in a bad situation. They were being really picky about what they wanted and I was pretty sure my designs weren't going to get printed anyway. So I hedged my bets and decided to break the contract I'd signed with them and walk away before I wasted any more of my time working for free, even though that meant I'd never get paid work with this company again either. I also made the decision never to do work on spec again! – Lisa Congdon
…but one of the biggest mistakes just may be jumping all the way in.
Taking the Leap
I should have gone freelance way earlier than I did. – Aaron Sechrist, OKPants
_________________________________________________________
It's your turn! What mistakes have you made early in your career as a freelancer? What are you most afraid of?
And for more on launching your freelance business:

Ask A Pro at the 2012 WMC Fest
This year's WMC Fest will feature an "Ask A Pro" table where students, young designers and freelancers can have their design industry questions answered. The table will feature a number of local creative leaders that have years of experience and insights to share with you. So, bring your portfolios, bring your questions and most importantly – bring your passion!
What: Ask A Pro: Portfolio Review and Industry Insights
Where: Saigon Plaza, 5400 Detroit Ave., Cleveland, Ohio 44102
When: Saturday and Sunday June 9th & 10th
Time: Noon – 2pm. *Only 2 hours each day!*
Subjects covered: Portfolio Reviews, Design Tips, Illustration Instruction, Tips for Getting Hired, Legal/Accounting questions, Freelancer Business Questions, Layout tips, Art Direction,
The Pros
William A. Beachy, President of Go Media Inc.
William is a lifelong illustrator, professionally trained graphic designer and serial entrepreneur. William earned a Bachelor's of Science in Industrial Design from the Ohio State University. Upon graduation he started Graphic Odysseys, an illustration studio. After two years, he took a job with Cleveland Coin, where he worked as lead designer, webmaster and assistant to the marketing director. In 2000 William re-launched his company with a focus on design services. In 2002 Graphic Odysseys merged with Next Level Multimedia to become Go Media. Over the last 10 years, as president, William has grown Go Media to 13 employees and purchased a warehouse office in Cleveland's historic Ohio City neighborhood. Their web properties include a successful design blog, a project management system, a design mock-up application and a store of digital products which boasts over 75,000 customers. Go Media's design clients include American Greetings, Adobe, Progressive, Jim Beam and Ubisoft.
Bill's areas of expertise: Illustration, Branding, Adobe Illustrator, Print Design, UI/UX Design, Ergonomics, Web Design, Business Strategy, Business Management, Entrepreneurship, New Business Development, Brand Strategy, Social Media Marketing.
Connie Ozan,
Connie is the founder & creative director of Twist Creative Inc.
Todd Saperstein
Todd is the Graphic Design Department Chair, Digital Media Department Chair Virginia Marti College of Art and Design.
[He] is a graduate of the Cleveland Institute of Art with a Bachelor of Fine Arts Degree in Illustration. He recently completed his Master of Arts Degree at Full Sail University in the Education Media Design and Technology program, which focused on new media and technology for use in education and business communication. He specialized in virtual learning environments and social networks, both personal and professional.

Charity D'amato


A graduate of Syracuse University with a BA in Communication Design and Art Education, Charity is the founder of Chartreuse and works alongside each and every client to ensure the best experience and design outcome. "I really adore the fact that I get to come to work everyday and be creative." If she had to pick her favorite typeface is would be Mrs. Eaves and the more glitter in a project the better. Charity is a Cleveland Bridge Builders graduate as well as the 2010 Inside Business Athena Young Professional Award Winner.

What does it take to go from freelancing to building a design firm like Go Media?
Do You Really Want to be a Studio?
Before you embark on your journey to build a design studio, you should stop and ask yourself an important question: "Do I really want the responsibility of a full studio (firm) rather than staying a small 1-3 man shop?" In your mind you may be assuming that larger = better. But this is definitely not always the case.
For instance, you may assume that more employees will equal greater profitability. But what happens when you're slow? Payroll doesn't stop just because your work load slows down. Also, if you're the boss – how do you think your daily job will change when you have 10-15 employees? Will you even have time to design anymore? Or will you spend most of your days in meetings, corresponding and managing?
And what happens when you have a bad employee (they're not all roses.) Are you prepared to deal with, and possibly fire trouble employees? Talk to other small business owners about their day to day struggles. Make a budget – what's the overhead of employing 10 people at a reasonable wage?
I'm not saying you shouldn't grow your freelance shop into a studio, obviously, that's what I did! But I also had a background in management and a real passion for business. And even feeling like I was WELL equipped to build a firm, it's been a very long and difficult journey.
So before you go any further, just stop and take a moment to consider all the pros and cons of growing your solo operation into a studio.
The Positive
Ok, so assuming that you haven't been scared off by all the negative stuff, why exactly would you want to hire a bunch of designers and build a studio? Go Media's main impetus was that we wanted to share our daily lives with other artists that would inspire and push us. There is just something a lot more fun about a design collective than being a one-man-shop.
I was completely on my own for several years and found it completely depressing. Also, there is greater efficiency when you have job specialization. And, assuming you ARE very busy – there IS the opportunity to make more money. One really cool thing that I've discovered about Go Media is that crazy amazing things happen that I never would have ever dreamed of. Those life experiences are priceless. Without my staff to dream them up and execute on them, I never would have experienced them. I'm very appreciative of the different perspectives, ideas, and energies they bring to the company.
Money Money Money
What steps need to be taken once you've decided to grow your business into a studio? First and foremost you need the money. And I don't suggest taking out loans or hiring with the anticipation of getting more work. Hiring new staff should only take place when you're so slammed with work that you need them – desperately. That and you should be relatively sure that the work load isn't going to drop off suddenly. How many new projects are lined up for the near future? If you're unsure about your workload for the next few months, I suggest outsourcing your overflow until you're sure you will have enough work for your new employees.
It's Not All About Design
If you don't already have a good lawyer, accountant, and payroll service, you're going to want to find them and form good relationships with them. Your lawyer and accountant are extremely important advisors for your business. You should feel very comfortable and confident in your lawyer and accountant. They should feel like trusted family friends. Don't just pick one from a list on Google. If you have friends or family with good contacts, meet them first. And then meet a few more for good measure. Basically, you are interviewing the people that will have a major impact on how you structure and run your growing company. I hired and fired several lawyers and accountants before I found the ones that I now trust.
"But Bill," you ask "what if I can't afford them yet? Lawyers and accountants are expensive!" Well, if you can't afford them – you're not ready to build a studio! I suggest going back to evaluate your pricing, business systems, how you find new work, etc. It's called organic growth! You only grow when you can afford all the things that go along with growing.
Artificial growth is when you go take out loans and spend money before you've earned it. Basically, you'd be gambling on the fact that even though you cannot afford lawyers and accountants NOW, you're going to get a loan, hire them anyway, and hopefully, before the loan is due you'll figure out how to make more money. Hhmmm… sounds risky to me. I suggest focusing on making the money first, and growing second.
Suit & Tie Stuff
Once you have a lawyer and accountant that you trust, you should sit down with each of them and discuss your planned growth. They will advise you on how to structure your business, legally and financially. Typically your accountant will have a payroll service that he trusts and works with. Go Media is set up as an S-Corporation and we are on a cash basis accounting system since we don't have any inventory. These are pretty typical for a design firm.
Along the way there will be a thousand little problems that will surely make you question whether or not you've made the right decision to grow your solo design operation into a full blown studio. At the end of the day, you just have to battle through them like anything else in life. One thing that was a major issue that I hadn't really accounted for was the amount of time it takes to manage.
Design Time
The time I could spend designing was reduced to virtually nothing the first year that we expanded the staff to over 10 people. Even with a sales/project manager and a full time accountant/customer service rep – I was still inundated with questions, problems, and correspondence to deal with. As I was the primary sales person, I also had to spend significantly more time selling now that I had 8 people to supply with work instead of just 3.
Fortunately, the longer you keep a group of employees together the better they become. They learn the systems, improve at their jobs, get better at working together and require less and less management.
If I did it all over again there isn't too much I would change. Whatever mistakes I made were good learning tools. If I had to give advice to others making that leap in growth, I think I would just suggest that you take it slow. Don't be in a huge rush. Take it in steps a little smaller than what you want. You'll benefit from holding yourself back – I promise!
The Next Step
So, what are the next steps for Go Media? Right now we're feeling really comfortable as a 12 person firm. We still have some lessons to learn and some systems to refine before we're ready for our next growth spurt. We're working really hard to expand our circle of influence and dialing in our business model. There is a lot of growth ahead for Go Media, but right now it's the internal growth that we're focused on. We still need to get smarter and more efficient.
How To Create Fanatics as a T-Shirt Designer
Quick…think of the top 3 most popular t-shirt designers that you know of. You probably came up with names like Geoff May, Jimiyo, Wotto, Collision Theory, Corefolio, Godmachine, and many more. Just how did these graphic designers become household names in the t-shirt industry? It wasn't easy, because "just being gifted" won't take you to the top. You have to be smart, you have to market, and you have to focus on a few key ingredients in the recipe for success.
Great Artwork
I had to start with the most obvious. This is one part of building your tee design credibility that you just can't fake. Stay true to your style and try to be consistent, because the consistency in your style will become the fingerprint of your work.
Personal Site With Portfolio
It's 2009 folks. Don't expect to gain a following if you don't have a web presence you can call home. This allows your fans to dig a little deeper and get to know you better. It also provides a plethora of content for t-shirt bloggers like myself.
T-Shirt Blog
This creates a conversation. It also provides you with a platform to launch new designs and products. You don't have to blog that often, just provide quality with each post.
Get Involved
It isn't good enough to just join a competition anymore. You need to interact with the members and occasionally scratch some other backs. Being a part of the community is crucial. Having a lot of friends in multiple competitions can build an army.
Submit, Win, Repeat
You're never gonna win if you don't submit. And you need to submit often. Then hustle the heck out of your design, because the more eyeballs viewing your submission…the more votes you will receive. T-shirt design competitions are all over the web these days including:
Create a Mailing List
I'm not talking about a monster 1000+ list of e-mail addresses. Just a small, high-quality list of t-shirt bloggers, friends, influentials, and fans. You can use this list to update people on what you're working on and ask for favors.
Teach Them Your Ways
You have to give back to the community that gives to you by creating tutorials. Take your most popular designs and show them how you arrived at the masterpiece. You can gain a lot of exposure and appreciation by showing others how you do what you do.
Create a Freebie Pack
Who doesn't like something for free? If you have an abundance of unused artwork, then give some of it away instead of letting it waste and rot. You don't have to give away the farm, but artwork was made to be seen, so get it out there.
Show Your Personality
Your artwork should speak for itself. But what it doesn't say about you, should be shown in your interaction and interviews. There are many different ways on the Internet to make yourself available and to really let loose. Don't be afraid to share your quirks and make some jokes with your online friends.
All of these components are critical for gaining momentum and building a following. After all, that is the hardest part. Once you have a loyal group of fans, you will have more opportunities than you can probably keep up with.
It's nearing the end of the year. Americans are out hunting turkeys and folks around the world are pinching pennies in preparation for the winter holiday season. So, I'm curious:
Where are you spending the most in your freelance business? Where do you think you could afford to save a bit? Should you cut back on a few subscriptions to magazines or web services? Buy year-old computer gear instead of the latest & greatest? Or hey, maybe business is booming and you could care less about expenses right now.
Whatever the case, cast your vote in the poll and share your thoughts in the comments!
*Update: Two categories were added late, and so are horribly unscientific: Insurance & Travel.
This installment of Blank Canvas is directed towards you freelancers and self-employed illustrators and designers out there. Go Media wants to know: where do you work?
There are quite a bit of options for those who can choose where to get their work done. Some prefer the "Fortress of Solitude" route, while others need some sort fo social interaction whether it be a coffeeshop, library or perhaps even sharing a coworking space with others.
So where do you work? What decisions led to that choice, and has it changed over the years? Pros and cons? Wishlist? Advice? Warnings? Let us know in the comments section below.
I'll start things off with my situation:
I primarily work from a dedicated second bedroom in my apartment. I have plenty of space for a large work table, a drawing table (which I use for storage more than anything else as of late) as well as bookshelves, a flat file, etc. The solitude of working from home can be an oasis at times, allowing me to focus on my work and keep me clear from distractions, but it can also get to be a bit isolating at times.
I'm working towards making more of an effort to get out and work at local coffeeshops and restaurants to break up the cycle, but many times I find myself distracted and far less productive when I am working away from home.
With the internet, mobile phones and laptops/smartphones, there are many options for me to work away from home on the business side of my illustration and design work, however I find the creative process needs to be done primarily at "Command Central". From back when I was freelancing around some regular off-site work, I've grown into the habit of associating the work with the location. Perhaps it's just the opportunity to work distraction-free, but I am sure at least some of it is just plain habit.
Recently I've learned the finer distinction between introverted and extroverted personality types (it's probably not what you think) and discovered that I lean towards the introverted side, which also plays a factor in my choice of workspace as well. Introverted types aren't necessarily anti- or non-social, they just tend to "recharge their batteries" and work/concentrate better in solo.
OK readers, your turn—GO!
Designers in the music and apparel industry are some of the most talented designers around. I'm willing to bet there isn't a sector of graphic design that allows more creativity and more artistic freedom. Despite the amazing talent and style, the "scene" suffers from a few fatal flaws that need to be remedied. If you're a designer and your client base consists mostly of bands and clothing companies (myself included) then you need to read this.
I've interviewed nine of the premier designers in the music and apparel industry. Each designer had lots to say about the subject and spoke from their own experiences as well as what they observe in the design community. I've compiled a list of 15 mistakes and summarized the key points for each. I decided to split this into 3 posts because there is just so much information to take in. Parts 2 and 3 will be available soon.
Designers who offered their opinions to this article.
1. Not Charging Enough
This topic rears its ugly head on internet message boards all the time. Experienced designers are upset when they're trying to earn a living doing what they love while "kids in their mom's basement" are doing it for free and taking their clients. Anyone can find a copy of Photoshop and start imitating the trends and offer their work to their favorite bands for free. Derek Deal put it nicely:
People get into this industry because of their connection to the music, and tend to do a lot of favors to be affiliated with the bands that inspire them. – Derek Deal
Many of the artists I interviewed charged next to nothing starting out. It's how they built their portfolio. But they were smart enough to raise their rates as demand increased.
At first, I believe it's okay to charge a little lower than expected just to get your feet wet, but when you become a little more established, don't fear raising your prices. Then again, don't gouge them either. – Chris Sandlin
I know some very talented designers that complain they can't pay their bills or quit working a second job. I later find out they're charging $50-100 for a t-shirt design that takes them 12 hours to complete. They're sad and depressed and are struggling. Being a designer does not mean you aren't allowed to make a good living.
You want to be the "go to guy" for labels and merchandise companies so you think charging next to nothing for your work is the way to become that guy. You couldn't be further from the truth. – Geoff May
It confuses clients when designers do not understand pricing and fail to charge what they're worth. It furthers the perception that design is just a "throwaway commodity." Clients will think that every designer should be charging that low.
It devalues your work. When you give your work a price, it sends a message to the client about how much value they're getting.
Large companies/labels and bands know this. If you quote them at 10% of what they were expecting, they may think the quality won't be good and go with someone else. If you don't buy this, just look at those freelance sites where people post jobs and artists/coders all over the world bid on the project. More often than not, the middle of the road or high price gets picked over the low end price. – Justin Ryan
Some blame can be put on the client. for bullying designers into lowering their prices. They threaten them by giving the job to someone else. They will also try to lure you in with promises of "exposure" which I will cover in Part 2.
Designers need to be firm in their pricing and not be afraid to lose jobs because of price. I know I fall victim to this from time to time. I know a particular client might not have money, but I'll really want the job. Sometimes I'll get the job and I will create something I'm proud of. But at the end of the day my bills aren't paid.
I used to believe that to be able to get projects I should lower my prices. That hurts you a lot because you become valuable to a client only because you have the lowest price. With confidence and a better folio, I've set a minimum price for design work and let go of clients who can't go bare minimum. This weeds out the 'price-sensitive' client. The good clients come back to me and say "we'd rather pay you your price because you do quality work." – AJ Dimarucot
That said, it's becoming harder and harder for a designer to support himself (let alone a family). When tee companies are charging over $100 for a t-shirt it's only fair for designers to start charging what they're worth. How do you know what to charge? Well, Bill already wrote a handy guide for designers about pricing. I suggest you give that a read.
There is always an exception to the rule. Doing work for free or cheap for something you strongly believe or for a good cause is acceptable. I do it all the time. Working for charity or a music festival that I feel passionate about is OK with me. Sometimes it allows you to do something more bold or daring because a client's wallet isn't associated with it. It allows me to spend time experimenting – something clients often do not have a budget for.
2. Ignoring Typography
Adam Law, Go Media's own typography purist, put it best:
Typography is not something to be slapped onto a design at the end of the design process. The typography is just as important as the imagery, if not more, and should receive equal consideration from the beginning of the process. The goal of any good design is to communicate a message, and I find it disheartening when well executed imagery is ruined by a lack luster typographic treatment that seems completely disparate from the communicated idea. – Adam Law
You'll be surprised at how much this happens. Artists often consider type to be an afterthought to a design. My fellow animation students in college suffered from the same problem. You've probably seen this – a brilliantly executed drawing or animation combined with awful type (maybe with an emboss or amateurish glow or drop shadow).
Browsing through Emptees, I see this comment A LOT: "Love the drawing, hate the type." And also "Great design, but the type looks like an afterthought."
Examples of "afterthought" typography
I'm no world class typographer, but I know how to place a bit of type or make something look cohesive, and I really hate when I open up a booklet that has great cover artwork, to find some horribly placed quickly done last minute layout, a lot of the time i think its really thought of as unimportant, and a last minute addition. – Dan Mumford
Watch your edges! Putting type too close to edges happens to be something Bill talks about in his discussion on spacing in his 7 Rules to Becoming a Master Designer Series.
Dan Mumford adds:
Don't put type too close to the edge, it makes work look really amateurish. Of course, I've had work printed where I left a good 1cm from the bleed and the pressing plant cropped it so badly that the type only just made it, so keep that in mind with large bodies of text. – Dan Mumford
3. Unprofessional Behavior
Lack of maturity in the design community is a big problem today. I think it's mostly because the Internet makes it easy for a 15 year old to compete with real pros like Ray Frenden. I think Ray is one of the most professional and mature designers I've ever come across. I wish I could have included his expertise in this article, but he wasn't able to get back to me in time.
But anyway, what constitutes unprofessional behavior?
How you write in emails (caps lock, spelling, grammar, etc)
How you speak on the phone (nervous, mumbling, etc)
How you act in online forums (trolling, name-calling, etc.)
How you treat other designers (patronizing, being disrespectful)
Bad-mouthing clients in public forums
Regardless of if you are the artist or client, projecting professionalism during the first few communications with each other is important. "Yeah yo, I'd be down to throw down fo ya. Wat you need?" is unacceptable. – Jimiyo
From my experience with places like Emptees and other design forums, there are certain individuals that stand out. There are those who give thoughtful insights and treat others with respect and there are those who act like children, have poor grammar, and call names. The rest kind of blend in and go unnoticed.
One of the sad realities in this business is that sometimes you are going to make something for a client, and absolutely fall in love with it, only for them to straight up not like it. Don't let it make you bitter towards them. Most clients can sense this and will not stand for it. It's kind of like being a chef. Not everyone is going to like your signature dish. – Justin Ryan
4. Over Promising
A common mistake made by designers is over promising. I have done it before. In fact, we ended up losing a lot of money on a project because we over promised and couldn't deliver on time. We took a major cut in our income because of it and we are still recovering months later.
But we've all been there. A new record label contacts you and needs three designs by the end of the day. Out of fear of losing the job, a designer will likely tell the label they will do it no problem (and probably without getting a deposit first, a double fail).
Geoff May has been in this situation before. He tells us that it's a bad situation to be in for two reasons:
1. There's no way you're doing your best work. Period. If you're cranking out a design in an hour you're either the most prolific designer/artist in history or you're not doing your best work. Sure, sparks of creativity hit us all from time to time and we're able to make something amazing in a short amount of time. The odds of lightning striking three times on the same project are very slim. And by "slim" I mean "impossible".

2. You are setting yourself up for failure and creating bad blood between you and the client. What happens when the deadline approaches and you've only just started the second tee? The record label is going to be curious as to why you told them it was no problem and now that the deadline has hit, here you are with not even half the job done. You think they're calling you for their next project? Guess again. – Geoff May
Creating a false sense of security for the client is a no-no. Just be direct and straight forward. If it's not possible, tell them! They will respect you for your honesty. To be honest, I would try to LOWER the client's expectations. In fact, that's a proven tactic to tricking your clients into happiness.
Words to live by: Under promise and over deliver. ALWAYS. – Geoff May
5. Not understanding apparel production
Designers doing band merch or designing for upstart clothing companies SHOULD have a modest understanding of how apparel production works. When I designed my first shirt in 2004, nobody told me how it was to be done. In fact, the clothing company that hired me didn't know either. All he knew was he wanted some "sick" t-shirts to sell.
Just from experience, I learned what was expected of me. I worked with a variety of apparel printers and they all want files different ways.
Jimmy Breen (aka Jimmy Heartcore) prints all his own shirts and also prints a lot of merch for Fueled by Ramen records. He has this to say:
Over the past several years of running my own print operation, I've encountered loads of artwork from designers that is horribly not ready for print. Sure, in most cases I can correct any issues – as a printer should be able to do. However, sometimes there's just too much to fix.

If you're giving artwork to your client that is for apparel production, and the artwork sucks – your client will end up getting charged more money from the printer for separations, corrections, etc. Do yourself and your client a favor. Learn the basics of apparel printing!

Each color in your design is going to have a separate screen for printing. This means that you want to keep the number of colors in your design as low as possible.

If you're using Illustrator to design in, make sure all of your colors are uniform. Make sure the yellows are the same yellow. The black is black. Use the Pantone Solid Coated color book from your swatches library to select your colors. This makes printing directly from your file much easier.

If you're using Photoshop to design, take care to put each color on it's own layer while you're designing. It keeps the printer from having to separate colors later on, and ensures that little details aren't lost. Sometimes when separating out colors from a flattened image, Photoshop won't register really small marks in a file and they end up getting left out. Label all of your layers by color.

Though there is a ton of information online, youtube is a great place to search for screen printing information. 95% of the people in the apparel industry use this method for transferring your design to a garment. Do some research!
I admit, I've designed shirts that people say are impossible to print. Stuff that goes over seams and uses too many colors. I am a firm believer that the designer doesn't NEED to be the color separator as well. But people will disagree with me. Color separators get paid to do a job, and I will let them do what they do best.
I don't want to do a shoddy job separating colors when the printer employs someone who can do this every day. I always find it annoying when some clients are able to print a flawless shirt using just a flattened JPG and other clients are confused and tell me their printer doesn't know how to separate colors. Find a new printer!
But being ignorant to apparel production is a mistake. If I can recommend a printer to my client that I work well with, it is not an issue. We work as a team. But if I am misinformed and have no resources to help a client get their shirt printed, then I am probably not going to get that client to come back to me.
To sum things up, young designers need to stop complaining about getting taken advantage of by clients and be firm in their prices. They need to quit acting like babies and be professional. You don't have to be the cheapest and you don't have to be an asshole to be successful. You just need to be good and reliable. And work on your typography and how it can be integrated more into the piece rather than stuck on at the end.
Feel free to discuss in the comments. I'm interested in hearing what you have to say.
10 more mistakes coming soon… A lot more controversial issues coming up in the next installment. Just give me awhile to get it edited and looking good.
You might want to sign up for an email subscription to be notified when part 3 comes out.
I received a series of questions from a freelance designer concerning how to grow from being a one-person freelance designer into a "real" design firm. I thought I should share my answers to her questions with you. Here is the exchange we had – starting with her first e-mail.
Mary's e-mail:
Hi Bill,

I'm a graphic designer from Venezuela. I really love your portfolio and all that Go Media has accomplished. I'm also an avid reader of your blog, that's how I found out you guys are soon going to move to a new building.

The question I want to ask you is simple: How did you do it? I know there are no secret formulas or anything like it. I just want a guidance or an advice as to how to be able to transform from a free lance designer working in my living room into a company with facilities, payroll, project managers and all of that…

I know it's not an easy question to answer, and I also know you must have a lot of work to do… but I would really appreciate the good advice.

Best regards,

Mary
My response:
Hey Mary,
It's funny that you ask this question today. I am actually posting a blog at 3pm titled "Accountants, Lawyers and Doctors oh my!" that talks a lot about the business side of being a designer.
But really, growth is all about making money. If you can figure out how to MAKE MONEY, then the rest becomes simple(r).
Let's say for instance that you have developed a list of high-paying customers that have work piled up for you. And the money is just pouring into your accounts… but you can't keep up with the demand… what are you going to do??? Obviously, you're going to hire another designer to come help you. That's obvious. And if you can keep that work flowing in, you'll hire a second designer, then a third. Eventually you'll need a project manager to help keep everything organized… …then a bigger office.
So, the REAL question is…
HOW do you get a lot of high paying design jobs?
Well… that's tough to answer. It's a lot of different things. I'm not going to be able to spell out a perfect step-by-step guide, but I can give you some of the basic insights I had that made huge changes in my business.
First and foremost you have to charge enough money. I spent YEARS charging little or nothing. It's hard to grow when you're not charging enough money. But raising your rates is a double-edge sword. You can also LOSE business if you charge too much too fast. So, you have to be a good and fast designer. I suggest that you increase your rates ONLY when you feel "slammed" with work. That's how I did it. I would inch my rates up every time I would be super-busy. It wasn't until I was charging fairly high rates that I could finally afford to hire a staff.
You need to work on expanding your client base. Gosh, where do I begin on how to do this? My first real break-thru was by volunteering on high-profile jobs. I was doing concert posters for free that I tagged with my company information. This is how I got a lot of my early customers.
Once you GET a customer – you need to hold onto them. This means you need to give them exceptional service so they love you and tell all their friends about you. Referrals are a huge part of what made Go Media grow. We gave GREAT value for what we charged and our customers told all their friends about us.
Get a partner. One big boost was finding my first partner Chris Wilson. A business has lots of little jobs to be done. Having a partner to split the responsibility makes you both more efficient. But pick your partner carefully. A business start-up situation with a partner is like a marriage. Actually, it's much tougher than a marriage. You'll be spending 10-15 hrs a day together, you'll be broke, taking financial risks and everything hangs in the balance. You need to find someone you like, trust, works hard, etc. And after a fight, there is NO MAKE-UP SEX. So, it's tough. I feel like I got real lucky with Chris. He was willing to take the risks, be broke and work just as hard as me each day (or even harder.)
I hope this helps some. Good luck with your business. Keep an eye on the blog and I will continue to try to pass along my recipe for success. Mostly it's lots of hard work and patience. I started this company in 1997. So, we're going on 10 years. And I really only started to grow in years 8, 9 and 10. It was mostly a 1-man firm for the first 5 years and then a 2-man firm for the next 3 years. Now it's a 14-man firm. Crazy!
Sincerely,
Bill Beachy
Her response to my e-mail:
Hello Bill,

Thank you for answering my question and for being so open about your success in such a humble way. I can see that being a nice guy like yourself is also the key to a successful business. I think everything you said sums up into three things:

Being able to make sacrifices. What I mean is working your butt off for little pay instead of working for another company and earn a regular salary in order to make your company grow.
Good promotion. As you did before, tagging your designs with your company info and what Jeff is currently doing promoting on the web.
Being a nice person and treating your clients how you want to be treated when you are in need of a service.

Of course you can post my question as an entry to the blog. It is a valid question that I'm sure a lot of people need an answer to. My last thought is: Did you know from the beginning this is what you wanted to accomplish? Did you know from the beginning what you wanted Go Media to become?

I never thought you would answer so quickly. Thank you very much for all your advice. I'll stay put to read your blog entry.

Sincerely,

Mary
My response to her:
Mary,
I try to answer questions like yours because I never had a mentor. I always wished I had someone I could ask questions to… but I had to learn everything the "hard" way. I just failed until I figured it out.
You are right about personality. Business is all about relationships. I feel like my customers are my friends and I hope they think of me in the same way. It's important to have a genuine interest in your clients and THEIR success. If they succeed, you will also succeed.
Yes, I did have this company in my mind long before I got started. In this regard I have been blessed. I don't know of anyone that has had such a clear vision of their future as I have. I think I was 14 years old when I first envisioned a design firm in a downtown warehouse office. And I'll have it before I turn 35. Now, in my original vision we were all drawing comic books – so, it's taken a few twists and turns over the years. But having a solid idea of your GOAL before you start working at it is key. Many successful people practice "visualization". Spend some time to close your eyes, let your mind rest, then imagine in great details the goal for your company. How big is it? What does your office look like? What color are the walls? What's the mood in the office? The more details the better. Even draw a sketch of it. Post it on the wall and remind yourself each day as you work on it.
At Go Media we have the entire staff work up a list of goals each year. Everyone has to write them down. This include a minimum of 5 personal goals and 5 professional goals. We review them at the end of the year, see what we've accomplished and work up new goals, or re-state our unaccomplished goals. The company does this too. What are Go Media's goals for each year? I think writing things down is also helpful. I actually have a little scrap of paper in my wallet. On it I've written: "I will be engaged to the woman of my dreams by the age of 36. Go Media will gross 3 Million in sales by the end of 2010. I will run a full marathon before I turn 35. I will camp in the Redwood forest for 1 week." That's it. I finished the marathon this past month. I'm working on the other three. I had a previous sheet that I finished… so, this is my new one. I'll probably keep this one in my wallet until we do it. We still have a LOOONG way to go on that financial goal!
Again, sincerely,
Bill Beachy.
Mary's Response:
Bill,

I can see finding the girl of your dreams is going to be easy being the nice guy that you are (sorry for that). You have given me the best piece of advice of my life (aside from my mother). Right now I'm working on my online portfolio as a way to start promoting my work. I too started the wrong way, doing it all backwards, doing stuff I could not afford. So reading about making money FIRST really puts it all in perspective. I guess I was trying to achieve too much with too little. I hope you accomplish all your dreams by the time you are 36. I'm only 29 so I think I still have a long way to go.

Take care,
Mary
My response to her:
Mary,
Funny that you say that – Finding a girl has always been my HARDEST challenge. :)
Yes about the money issue… "growth" is easy once you're making the money. That's the real challenge… figuring out HOW to make the money. This form of growth is called "organic growth." Because, like a plant growing, you take in a little sunlight, take in a little water and you grow a new leaf. One leaf at a time you grow slowly. But you need the water and sun (income) to grow that next leaf.
The other form of growth is known as "inorganic growth." This is where you take out loans to jump ahead to where you WANT your business to be. You could theoretically take out a huge loan and hire a bunch of people and build an office. But I consider this a very risky move. If you're just getting started then you have LOTS of lessons to learn and you will surely make loads of mistakes as you grow. It's better to make those mistakes while you're small, while there is less at risk. So, inorganic growth would be like growing the tree to full size before you see if you can even survive as a sapling. You could end up with a full size tree inside of a parking garage. You'd be like: "Crap! We don't get any sunlight in here! And the water has oil in it! This tree is going to die." But if you had grown organically… you would have realized early on that you need to move your business (tree) OUTSIDE of the parking garage and onto the lawn – where there is sun light and water.
So, in my opinion… avoid all loans. They cost you lots of money and give you a false sense of growth. Force yourself to only spend what you earn. Here are your ingredients for getting your business started: 20% elbow grease, 30% elbow grease, 50% elbow grease. Instructions: combine.
Good Luck.
-Bill