Weapons of Mass Creation Fest partnering with Cleveland Public Theatre
Rapidly growing midwestern art, design, and music festival remains in Cleveland's Gordon Square neighborhood, moves to August 16-18, 2013
CLEVELAND, August 8, 2012 — On the heels of its largest-ever attendance, Go Media's Weapons of Mass Creation Fest (WMC Fest) is pleased to announce a partnership with Cleveland Public Theatre (CPT) to utilize one of the city's greatest cultural and artistic establishments to provide a venue for its 2013 event. WMC Fest IV will be held on August 16-18, 2013, and will use the entirety of the CPT campus, which is located at 6415 Detroit Avenue in Cleveland's Gordon Square neighborhood. Adding to the new partnership, Neoventures Events returns for the second year as the primary event management company for WMC Fest.
"We know our attendees will fall in love with Cleveland Public Theatre, which I believe is the heart and soul of the Gordon Square Arts District," says Jeff Finley, Go Media partner and founder of WMC Fest. "CPT is so important to the Northeast Ohio region both culturally and from a community development standpoint that we felt partnering with them was a natural fit. Not only do we have a larger venue for speakers, but we've also consolidated the entire festival into one location. Attendees will no longer have to leave the building to see a band between speakers, because everything is all right there and self-contained. Having additional space will allow us to expand into breakout rooms for workshops and unique one-on-one learning experiences."
Says Raymond Bobgan, Cleveland Public Theatre's executive artistic director, "We are so excited to collaborate with WMC — we share the values of innovation and creativity, and common focus that runs deep locally, but has a national significance."
While the impressive 2012 turnout signaled the need for a new venue, Finley wanted WMC Fest to remain in the neighborhood it has called home since its inception. "We're proud to be able to stay in Gordon Square and are looking forward to working more with the neighborhood this year," Finley says. "Thanks to CPT, WMC Fest will definitely have that punk-rock, art-and-design-summer-camp vibe even more so than it already does. The only thing we're missing is a wide open area to camp out! It's going to be the best WMC Fest yet!"
WMC Fest IV at-a-glance:
NEW DATE: August 16-18, 2013
NEW LOCATION: Cleveland Public Theatre, 6415 Detroit Avenue, Cleveland, Ohio
20 speakers, 20 designers in a gallery show, approximately 30 bands
The premier art, design, and music event in the Midwest
About Weapons of Mass Creation Fest:
Now in its fourth year, Weapons of Mass Creation Fest (WMC Fest) is the premier art, design, and music event in the Midwest. Its goal is to inspire and enable the creative mind and will feature 20 speakers, 20 designers, and nearly 30 bands over the course of one weekend. Creative professionals, entrepreneurs, musicians, artists, students, and fans will gather to learn, get inspired, collaborate, network, and celebrate their passion for art, design, music, and entrepreneurship. Speakers, gallerists, and bands are renowned both regionally and nationally, and come to Cleveland from popular creative hubs like New York, Los Angeles, San Francisco, and Chicago. WMC Fest has seen attendance double each year since its 2010 debut, with more than 1,300 packing event venues in 2012. Learn More about Weapons of Mass Creation Fest.
About Cleveland Public Theatre:
Cleveland Public Theatre (CPT) is an anchor of the Gordon Square Arts District and the city's leading stage for adventurous new theatre. CPT produces a bold season of new plays that attract a diverse audience. CPT has a special emphasis on developing local artists and arts entrepreneurs through its multiple developmental series. These series produce over 25 new plays by local playwrights and directors, and often launch that work to performances in other markets, such as New York and Toronto. CPT's acclaimed education programs engage communities in devising new works that speak to contemporary issues, and empower participants to work for positive change in the community, engaging over 500 underserved youth and adults. Learn more about Cleveland Public Theatre.
About Go Media:
Go Media, located in Cleveland, Ohio, offers design services, products, and knowledge for clients who seek unexpected and compelling visual communications. Founded in 2003 by William Beachy and Wilson Revehl, Go Media now houses a team of artists, programmers, and strategists who practice the art of communication. Go Media works with brands who have a passion for smart design, bold creativity, and meaningful ideas. The company is active in building thriving creative communities online through educational content hubs, and via events including Weapons of Mass Creation Fest and On the Map. Learn more about Go Media.
General Media Information: [email protected] / 216-939-0000 x227
Weapons of Mass Creation is a month away!
Oh boy, oh boy. I don't even know where to start. I'm so excited about WMC Fest you know.
The amazing lineup
I'm pretty sure you're aware of the lineup and schedule by now? If not, here's a reminder:
Speakers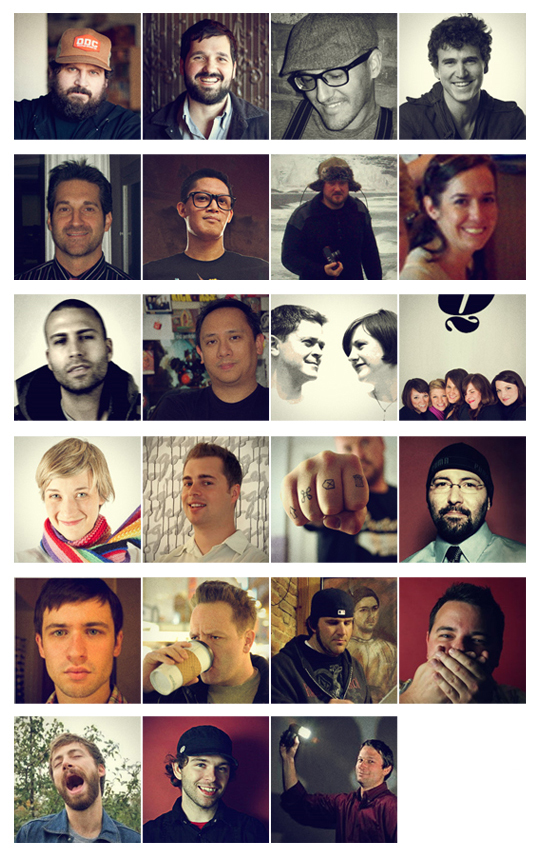 The speakers include many of the good folks from Go Media, but not only. It would be too easy to just do namedropping, but I have to admit it's really tempting. I mean, Aaron Draplin, Mikey Burton, Alex Cornell… These people, although coming from various backgrounds and experiences, share the same drive to deliver the most fantastic stuff. And the best in that is that they love to speak about it. If you will be looking for me, I'll be sitting in the first row of the Reinberger Auditorium.
Bands
I heard Mose Giganticus and The Lighthouse and the Whaler at last year's WMC Fest. It was pretty amazing. I missed Dave Dondero's set, and I've been told I shouldn't have. I'm looking forward to Signals Midwest (remember Max the intern?). I'm sad Spraynard and Lavis Blake won't make back this year, but oh well…
I think I'll need a clone to be able to watch all of these guys light the Happy Dog on fire.
Designers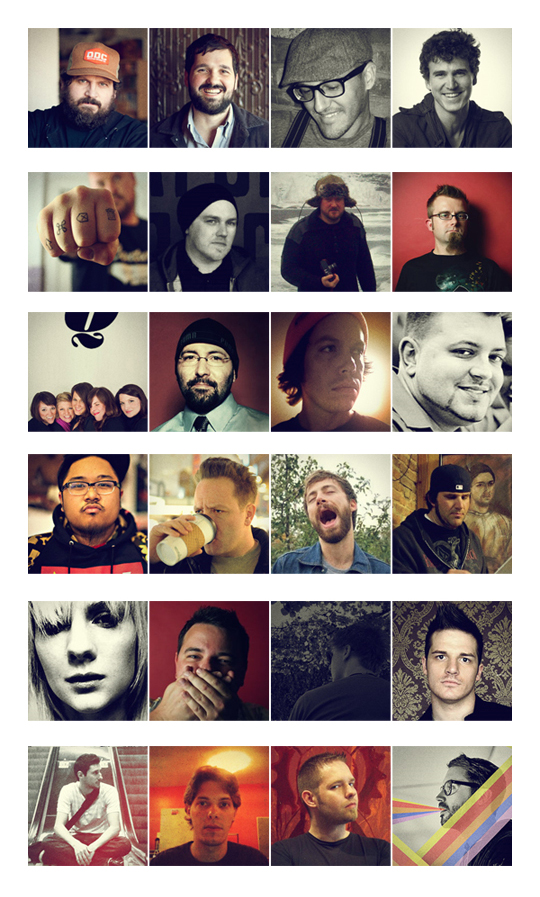 The art show will be at the same level as the rest: pure greatness. Some of the people that inspired me to become a designer (Angryblue for instance) are going to be there, show stuff and hang out. There's also going to be some of the people I discovered while surfing too much on Dribbble, like Mikey Burton… We'll also have Dan Cassaro (remember the 50 and 50 project?). And finally, let's not forget the winners of the portfolio contest. It's going to be just amazing. Oh, and we'll be there too. I hope that the Wall Eye Gallery has a big room.
Did you remember to Make a Pledge to WMC Fest?
We're grateful that so many people volunteered, offered venue space for free, etc, etc. However, as one can guess, putting such an event together will cost a lot of money. That's why we opened a Kickstarter fund. As I'm writing this, we already have 126 people that have pledged some money to help us. Will you dare to join them?
We can't do this without your help. And if you back WMC Fest, you can get some pretty rad stuff in exchange. Money is only taken out of your account at the end if we meet our funding goal.
We're looking forward to seeing you all there, listening to your stories and adventures in the design world, and drooling over the amazing stuff that's going to happen.
This past September, fourteen fantastic designers, animators, web developers, strategists and illustrators visited Go Media's studio to be part of the Weapons of Mass Creation art campaign. It was exciting for us at Go Media to meet people that we've known and respected only through the wonders of the internet. We thought it'd be selfish to keep all the fun to ourselves, so we pulled out the video camera and chatted it up with our guests!
For the next couple of months you'll find a new video interview every week right here on the GoMediaZine. For now, watch the trailer and whet your appetite for our upcoming interview series: Weapons of Mass Creation.
Video edited by Katie Major
Get ready for upcoming video interviews with these leading artists, designers, and entrepreneurs!
In late 2007, Adelle Charles started Fuel Your Creativity, a fast-growing design & creative inspiration site that is now the flagship of the 11-blog network. The Fuel Brand Network, which includes such titles as Coding, Writing and Illustration, is aimed at creative professionals.
Under the Angryblue moniker, I design posters, art prints, album art and do way too many shirt designs full of strange imagery. Though I've mainly done aggressive work for metal bands, I also do merchandise design for Genesis and Ashlee Simpson as well. I am an art whore.

Brad spends part of his days wondering how to combine his two loves, comic books and easter eggs. The rest of his time he spends trying to design killer user interfaces.
Chad Lenjer
Chad Lenjer is an illustrator from the outskirts of Cleveland who focuses on line-work and and amalgamating techniques and conflicting themes. He creates unsettling, sometimes macabre depictions, for the hardcore/metal music scenes he's worked in for the last six years.
Owner and Creator of IFYOUMAKEIT.COM. I also play drums in Halo Fauna, Thousandaires, Golden Age of Radio, Kudrow and Air Raid Barcelona.
Geoff is a graphic designer, illustrator, guitar god, Cleveland sports nerd, and day dreamer hailing from Cleveland, OH, whose main focus is merchandise design in the music industry. He also likes curling up on a bearskin rug before a roaring fire with a fine bottle of merlot.
In addition to being editor of the GoMediazine, George Coghill is a humorous illustrator and cartoonist who specializes in cartoon character design for logos & mascots. He loves to share what he's learned from his 10+ years as a professional freelance artist.
I am a designer, animator, creator and co-owner of nah design. I am always looking for new and exciting clients and projects. Feel free to contact me for any reason.
Horsebites
My name is Richard Minino aka HORSEBITES, born and raised in Orlando, FL, and full time designer for about 5 years. I teamed up with some of my best friends in the design world to form The Black Axe which will be melting faces for years to come.
Joshua Smibert
Joshua Smibert directs his creative passion into the Fuel brand, where he oversees marketing and strategic direction for the company. Australian by birth, he loves travel and is the quintessential entrepreneur: intense, sleep-deprived, passionate and forward-looking.

Mark Weaver
Mark Weaver is a designer and illustrator living in Atlanta, GA via Boston, MA. He has worked for clients such as Wired Magazine, Good Magazine, and Paste Magazine. He currently works from home with his wife, Jessie and their dog, Sgt. Pepper.
Web designer and developer interested in web applications, identity and advertising campaigns. Interested in front end design implementation as well as back end administration. Has experience working with advertising agencies, corporate clients and independent artists.
Pants
My name is Aaron Sechrist. I design within the realms of print, web, apparel and broadcast. I like to make things look cool, and the fact I get money and occasional high fives for that is a great bonus.