Mistakes happen. We are human, and we are not infallible. The trick is not necessarily avoiding mistakes altogether, but instead using them as a learning experience. In business — particularly when running a startup — it's also essential that you deal with any problems as soon as possible to prevent them from growing into something insurmountable. Some business mistakes may even come back to haunt you later down the line, in that case, it's about being prepared.
Of course, the best thing to do is to avoid making the mistake in the first place. That's not always possible, as some things are just going to play out how they play out. However, you can avoid some common problems during your first year of business — mistakes which many other entrepreneurs have made in the past. Here are eight examples.
1. Register as a Business Entity
In the U.S., most states require you to have a business license or at least be registered before you can start operating as one. This process is not the same as incorporating or starting an organization, but it's just as important because it separates your personal assets from your business assets. What does that mean?
If you're selling a product that hurts someone or makes them sick and they decide to sue your company, that's where the business entity comes into play. When registered as a business, that essentially takes over, and the person(s) suing can only collect from your business assets and funds, including available insurance. If you're not an "entity," your personal assets are on the table, too. It could very well be the difference between only losing your business funds and supplies or losing your home and personal materials, too.
The most common form of business entity is an LLC or limited liability corporation.
2. Plan Ahead
There's no way to know for sure what's coming in the years ahead. Your business could slowly start to grow, die off entirely or hit a sudden boom bringing in millions of dollars a day — you just don't know. But that doesn't change anything in regards to planning. You should always plan ahead and have multiple contingencies for when an event or scenario plays out. Don't prepare just for success, either.
More importantly, you should remember to set goals you can strive toward. Don't just set them in the near future, either — consider two, five and even 10 years down the line. What would you like to achieve? What new avenues, products or services would you like to pursue? Would you like to be in new markets?
Expanding your business into new markets or opening up new locations, for instance, will be necessary to grow influence and support. But it's important to understand the risks, timing and requirements, so you don't incur more significant problems. Do it at the wrong time, and you'll stretch your capital and assets thin, which could result in failure for the entire operation.
Start with a huge list of desirable yet realistic goals and narrow down what you want to achieve as you continue to grow.
3. Learn to Protect Your Business
Too many startups fail simply because the owner or owners were not prepared to deal with certain unfortunate yet legal events. They did not consult legal assistance, they did not file the appropriate paperwork to protect their assets or they did not draw up a contract to prevent gutting or theft.
Imagine two friends working together to build a startup. Things start to go sour, and one decides to leave, but they want to take "their" ideas or accomplishments with them. It's too late to draw up a contract to protect the business at that moment. So, you should do it beforehand.
Here are some things to consider:
Protect intellectual property through trademarks, copyrights, etc.
Draw up a contract before things get hot and heavy, explicitly outlining what stays with the business and who gets what during a split
Create similar contracts for partners, vendors and investors
Consult attorneys, accountants and bankers for advice and support — don't do everything yourself
Acquire the necessary insurance or emergency financial support
4. Don't Incorporate Too Early
Many companies and business owners will decide to incorporate when they're running low on funds, which opens up their business to public investments and incredible growth. It's a good idea, and it's a great source of capital — but that doesn't mean it's the best option for your business.
Do not incorporate until your business has a clear foundation and it's apparent whether you're going to sink or swim over the coming years. That might sound vague, but you can predict relatively well through past performance how a business will do on its current trajectory.
There are many requirements of an incorporated business you may or may not be able to deal with. For example, investors are going to want the company run the way they think is best, which means making decisions that please them — not necessarily how you would want your business to be shaped. This can completely alter the planning and design phases, as you must incorporate what your investors want as part of your decision, as opposed to only what you or your team might want.
5. Undervaluing Your Products or Services
The price you charge for your goods when you enter the market sets a precedent for your business. In most cases, it's difficult to raise prices or change a payment plan after your company is in operation, even with iterative product updates. You'd have to make substantial changes to warrant the increase, and many customers are going to be against it or upset by it.
That doesn't mean you should never change prices, but the critical point here is that you don't want to undervalue what you have to offer when you're just starting. A lot of businesses set their price points too low because they aren't confident or they fear failure.
Before launching anything, explore the market thoroughly to review comparable products. What are similar companies charging? What do your products or services have that others don't? What's a good price range for your industry?
6. Avoiding New Technology
For any business, the adoption of new technologies, systems and tools is going to be a costly endeavor — that's just how it is. The bigger the team, the more time and resources it will take to roll out a new solution — which includes higher costs.
Money aside, you should never be afraid to adopt new technologies or solutions. Many will help teams do their work more effectively, increasing output and ultimately lowering operating costs. In other words, it's almost always worth the investment.
Do your research beforehand. Also, don't adopt too many new platforms at once, just work on a single upgrade at a time. When assessing what to try or what to install, consider what parts of your normal day-to-day operations could do with a little improvement.
7. Know Your Ideal Customer
You could have the greatest idea ever for a business or product, but it won't make a difference if you don't know who your customer is. That also means understanding what they want, how they live and how they might interact with your business in the future. Will they be willing to upgrade to a new model as soon as it's available, for instance?
Knowing your customer is not just vital for regular business operations and development, it's also crucial to marketing. You need to speak directly to your customers through your marketing campaign, including those that have yet to invest in your business.
8. Need Strong Marketing
Speaking of marketing, you won't see a lot of growth if you aren't continually promoting your business. Marketing takes many forms from online and social media content to word of mouth referrals. Furthermore, as a local business or new startup, your marketing campaigns are going to look a lot different than large organizations.
You won't succeed at marketing, however, if you don't understand your market. That means getting to know your customers, understanding your competition and knowing the current market sentiment. Are people just not interested in the products or services you wish to sell, for instance? How can you change that?
If you don't learn to market early, you're going to have a much more difficult time later on. Not to mention, you won't have a consistent way to bring on new customers and clientele.
Mistakes Happen, So Learn to Correct Your Trajectory
Even armed with these incredibly helpful tips, you're going to make a few mistakes. That's okay. What's important is that you correct your trajectory as soon as you realize what's happening and that you learn from any errors, so you don't repeat them.
Running a startup business is not a simple or easy feat. It's challenging, there will be lots of obstacles and it takes a lot of time, patience and money. But you can make it happen. Just stay focused on your goals, trust in your support and keep pushing forward.
Sharing Your Vulnerabilities With Kathleen Shannon and Jillian Adel
In this edition of the Go Media Podcast, we sit down with Kathleen Shannon, co-founder of Braid Creative and host of Being Boss Podcast, and Jillian Adel, designer and art director, to discuss the role vulnerability plays in developing a strong and authentic brand. 
How to Select the Perfect URL For Your Business
Follow the KISS (Keep it simple, stupid) philosophy in selecting a URL for your business. Yes, you can be creative and meaningful, but ensure that your URL is, above all, easy to remember and as error-proof as possible. Perhaps the most enjoyable way to test out your prospective URL is with the ever-famous Cocktail Party Test:
Let's pretend for all intensive purposes that you're at a Go Media cocktail party. Why not, right?!? Go ahead! Tell us your URL!
Do we look confused?

Do we need to write it down?

Are you spelling out words and correcting us when we repeat it?

Are you writing down the hyphens, underscores, or apostrophes for us?
If you answered, "Yes," to any of these questions, it's time to simplify your URL and incorporate the additional tips below. Then, and only then, may you attend another cocktail party to try it out.
Be Unique But Memorable. Brands such as Zappos or Amazon work because of the brand marketing, not because they are immediately intuitive. If you have the gumption to create a name this unique, ensure you have the marketing at your disposal to make your URL memorable for your audience. Remember that your audience, however, may never fully catch up. You may have to purchase alternative spellings to your URL and redirect them to your site (Example: Flickr.com versus Flicker.com.)
Compete Wisely. Have you checked out your competitor's URLs? What works (or doesn't) about what they have chosen? Make some keyword lists about what makes your brand or company special. Use what differentiates you to make your URL sing.
Think Big(ger). You may currently be a unilateral business and doing quite nicely. But what if one day, you decide to branch out? Take our business, for example. Our name, GoMedia, encompasses any media out there–if we had named ourselves after our first love (illustration) and called ourselves GoIlustrate.com, it would be harder to grow as a company and a brand.
Be Social. In today's day and age, social media is an essential part of your business. Confirm that your URL can work seamlessly with social media. Have you checked out Facebook, Twitter, and Instagram? Can your name be integrated there? Is it too long, too short, or already taken? It's not a game changer if you're unable to snag the same exact handle, but you need to make sure that you're social media persona ties into your brand and makes sense.
Secure Your Domain. Once you've decided on your domain and URL, we strongly suggest securing your domain for many years. It's really not that expensive, and instead of having to renew it each year, you'll be set. Plus, in the unfortunate instance that you forget to renew your domain one year, securing a domain for 10+ years will help you avoid headaches related to buying back your domain and editing all of your marketing collateral with an updated URL.
Starting a business is exciting, thrilling, and full of "head-in-palm" moments. You don't need to add to the stress by creating a terrible, horrible, no-good, very bad URL. Be creative, be smart, and most importantly, K.I.S.S. Hope to hear about your URL at one of our get-togethers in the near future!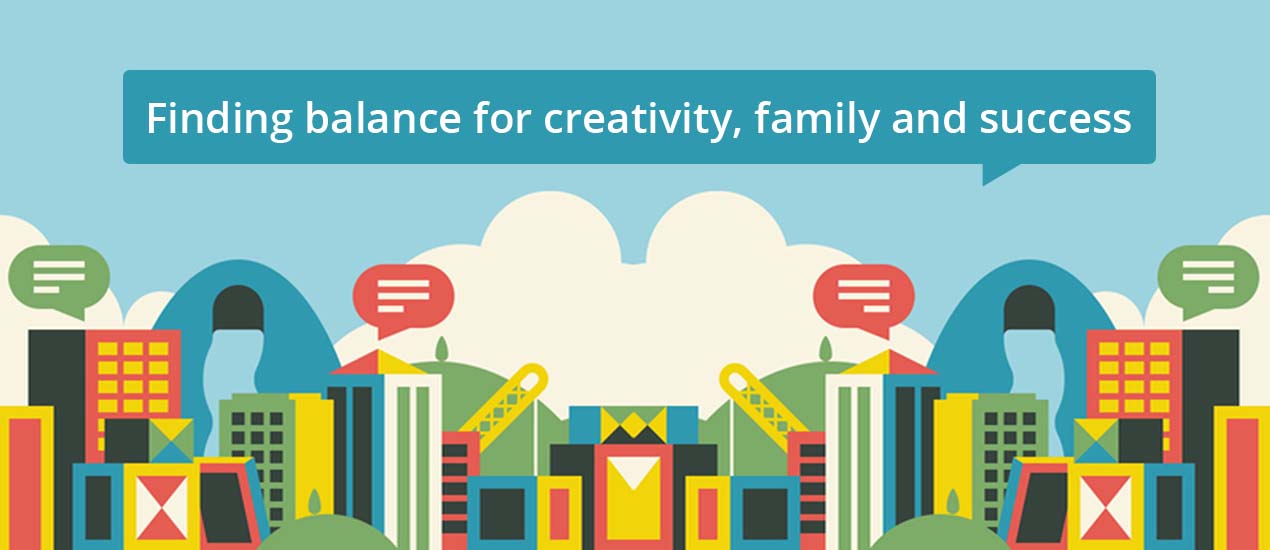 A successful illustrator and art director talks about sacrifice, shifting priorities and exclusively admits to listening to the Backstreet Boys.
Justin Mezzell is a designer living and working in Orlando, Florida. He is art director for Code School, an online learning site that helps people learn how to code. He's also a sought-after designer and illustrator, having worked with clients like Facebook, Twitter and Google, along with magazines like Wired, Fast Company, ESPN and Fortune. He also helped make this.
Justin manages to juggle a busy work schedule with personal projects and freelance work, all while working to be a good husband and a dad to two little ones— a daily balancing act he usually seems to manage quite well. I recently spoke with him via email to find out how he's tried to cultivate that balance in his life, how he views his commitment to professional and personal commitments and what drives him in his day-to-day work.
Tell us a little bit about yourself.
I'm Justin Mezzell, a designer/illustrator based in Orlando, Florida. I'm currently working as Art Director with the amazing folks at Code School. As a freelance illustrator, I've had the privilege of working with some truly wonderful companies, like Twitter, Wired, Google, Facebook, and others.
You're in a major role at a busy tech company. How do you juggle personal projects and agency projects?
The short answer is that I don't all too often. When it comes to taking on additional work, I've had to learn how to most effectively balance the work I do during the day with the work I want to do at night. There was a steep learning curve on that one—plenty of sleepless nights pounding coffee. What I've really come to learn is that the whole "Never Stop Creating" mantra is incredibly inspiring as you're starting out, but less so as you actually settle in to a routine of ceaseless labor. Taking breaks is instrumental to working at your best. This essentially means passing on a lot of exciting projects because I know that I won't be able to give 100 percent to them. The last thing you want is to turn in half-assed work that bears your name on it.
As for working on personal projects, that's something I always like to have in progress. They're so immeasurably valuable in cultivating exploration and self-discovery within the creative process. As you take on more work (and more responsibility), you're sure to fluctuate on just how much time and energy you can sink into these extracurricular endeavors, but having ongoing personal projects is something I'll always be passionate about.
What inspires you right now that might surprise people?
I still prefer iTunes over Rdio, largely because I can listen to whatever the hell I want to in private. I keep my library on random most days and ping-pong somewhere between 90s pop music to hardcore to neo-80s-electronica to hip-hop. It's sporadic and, clearly, so is my personal music taste. A coworker recently reminded me that purchasing the Backstreet Boys' Greatest Hits collection can't be ironic if I'm the only one who's aware I own it.
I suppose this interview changes that.
You've got a busy family life, and a busy professional life. How do you make sure to properly pay attention to both both—without sacrificing either one?
I don't think I believe there aren't sacrifices being made in relation to each other at all times. Every choice we make is made in the place of another reasonable path we could have chosen. For me, I've had to become more aware of where and when those sacrifices are being made, and to be more intentional with how I invest the time I have. In becoming a father of two, it's safe to say my inventory of free time has only diminished since the days of being single and working. But people make these kinds of choices every day, whether or not they work in our profession. Choosing to date someone may remove your ability to stay in and play video games in your underwear until 4 a.m. Getting more into working out and investing in your personal health removes time you could have used to improve your professional craft.
We won't get more hours out of the day in any scenario—barring a catastrophic cosmic event that changes our course around the sun. All we can do (and all I try to do) is invest in the life I want to live. Becoming a husband and a father hasn't diminished my desire to push myself in my craft. It's changed the way I think about success—but I'd say that transformation in me has been a mostly healthy one. I'm less interested in what's "socially" successful and more focused on improving my craft where I want to see it go, rather than to where others might want my work to head. And my affirmation of a life well-lived has become a more personal endeavor than a public one.
You live in Orlando, which isn't San Francisco or New York City. How do you think that affects your approach to design?
I've had my brushes with the West Coast—I'm originally from over that way—but for me, it just hasn't been the right move at this time in my life. Being in a city that isn't known for design or technology isn't always the most tantalizing thing for some, but for me, working here has been a really positive force. It's exciting to be in a city where you can change the entire conversation of the creative community and plug right into being effective where you are. We're a city that's only just beginning to align and embrace the creative and tech communities; being on the ground floor of that has been both affirming and thrilling. Also, getting to be near so many colleges has been a great opportunity in forming some truly great mentoring opportunities.
Where you live is more than where you work; it's where you do life.
The fact is, you can do great work wherever you are. And if you're not doing great work where you are, a change in location might jumpstart some of that in you, but it might not. It's sort of like wishing on a star: That old star can only take you part of the way. You got to help him with some hard work of your own. (Thanks, Princess and the Frog. Did I mention I have kids?)
Do you think the industry is shifting away from assuming all "real design" has to come from NY/LA/SF?
Absolutely. I see great, inspiring work coming from all over. From Indiana to Montana to Georgia and everywhere else, the Internet is making distribution a limitless variable. Your work its reach is nearly boundless when coupled with an internet connection.
I've also noticed companies are more open to having offices that aren't parked exclusively in SF, and remote work is becoming more and more common in practice. Hopefully, we can move the conversation beyond designating someone as being "too good" for the city they're in. Because they're really not.
What's your favorite project you've ever worked on and why?
Right now, we're working toward making Code School an even more valuable product in the learning conversation. We're in the process of reorganizing the architecture and our approach to teaching. It's certainly the most difficult undertaking I've worked on, but it also gets me ridiculously excited. Being someone who went through college and didn't leave with a degree based on anything I happen to do today, I'm really interested in improving how we cater to and encourage learning technology here and abroad. It's inspiring to get to work on something that can actually transform someone's life.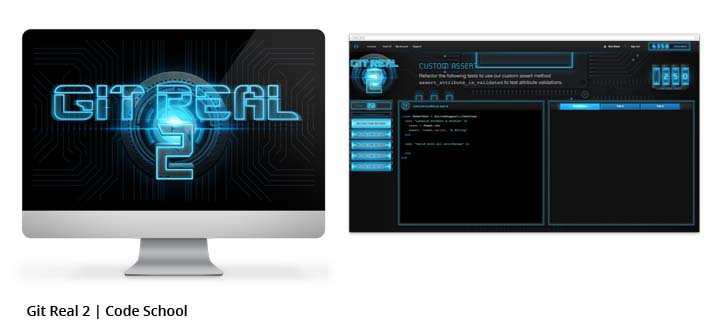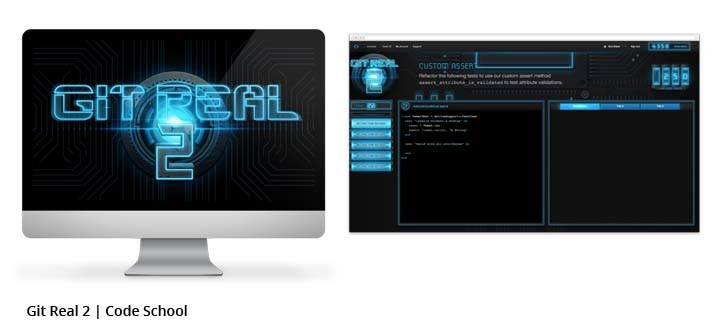 Who are other designers who inspire you?
I'm going to miss so many people on this brief list, but some people that I can't help but consistently check in with would be: Jay Fletcher, Tobias van Schneider, Allison House, Kelli Anderson and Ryan Putnam.
Say I'm a designer just starting out, or trying to start out in Cleveland. What would you say to me?
If you're waiting until someone asks you to do the work you want to be doing, but you haven't started doing it yourself, you're going to be waiting an awfully long time. Where you are shouldn't be a barrier for you putting yourself out there and crafting the career you want to have. I've also got a particularly soft spot for Cleveland—it's a great city.
Remember to re-evaluate what success means to you, and how you want to go about pursuing it. Our notions of success change over time and it doesn't make us directionless, it makes us human. Pursue what fuels you, but don't expect it to be the end-all-be-all. Look for inspiration outside of just design, and don't fall prey to the idea that if you work hard enough, that's the only ingredient you'll ever need to be truly happy.
[Tweet ""Pursue what fuels you." – Justin Mezzell"]
Anything else you want to add?
Thanks for having me and for letting me talk shop and all else. Also, thanks to anyone reading this. It's a long one and you've got a lot of other things you could be doing with your day—maybe that you should be doing with your day. Don't hesitate to say hey and if we're ever at the same conference or place at the same time, let's get a beer or (even better) a bourbon!
Learn more about Justin Mezzell's work at his website, on Twitter or on Dribbble. You won't find him on Spotify though—he's busy hiding the fact he still listens to Yellowcard all the time.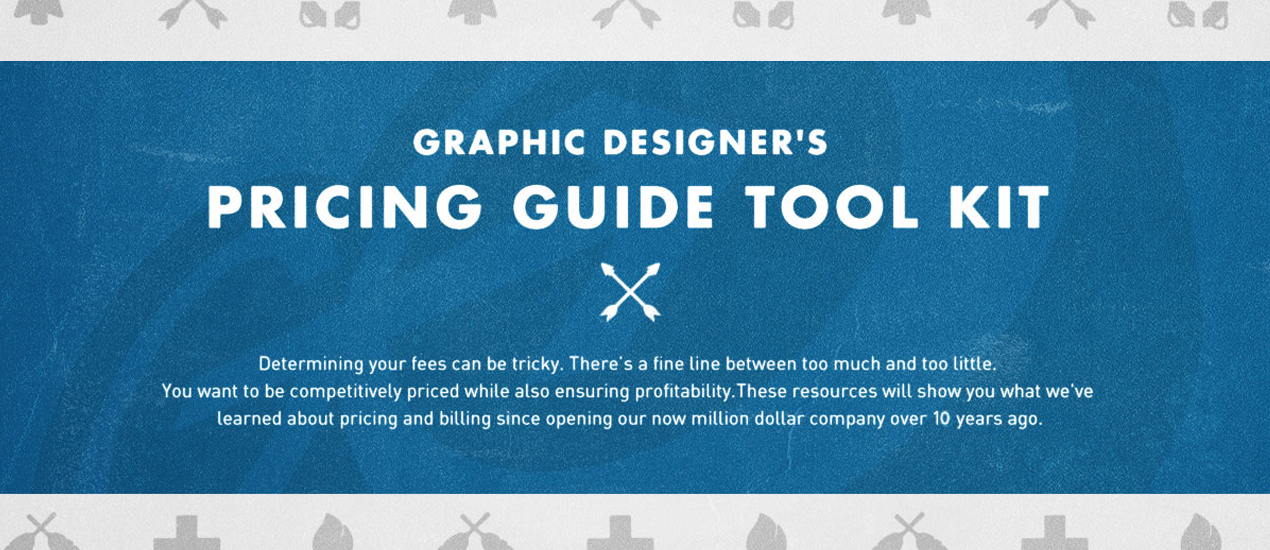 It's Time to Get Paid What You're Worth.
You in?
Our Graphic Designer's Pricing Guide Tool Kit is chock-full of resources to show you what we've learned about pricing and billing since opening our now million dollar company over a decade ago.
For $25, you'll get access to 5 highly acclaimed advice documents from Go Media, Cleveland's best website design company, including expert advice for freelancers and small business owners. We also hook you up with William Beachy's eBook, Drawn to Business, which includes invaluable information on how to maintain competitive pricing while also ensuring profitability.
It's time to do this right, once and for all.
Categorized:

Go Media's Arsenal, News

Tagged:

advice, arsenal, Drawn to Business, entrepreneur, freelance, kit, pricing, profitability, small business, tool