How to Create Engaging Content: 7 Ways
When visitors land on your page, do they stick around for a while or do they bounce away? Most people go to a site looking for information on a specific topic or with the intent to buy. Providing the engaging content your target audience wants isn't easy, but you can accomplish this by studying your typical site visitors and answering their most pressing questions. If you answer questions your competitors don't, that's even better for your branding.
There are approximately 1,874,655,290 websites on the internet. While this number varies from second to second, what this means for your business is that there is a lot of competition out there. Standing out from all your competitors isn't easy, but the first step to being memorable is adding engaging content.
There is more than one type of content, but creating engaging content is about more than just the type you offer. Here are seven ways to create more engaging content for your readers:
1. Answer Pressing Questions
Does your content answer the most pressing questions site visitors have? One way to clue into these questions is by looking at what search strings brought them to your site in the first place. Today's search engine browsers often type in questions to find what they're looking for. You can also search for popular keywords in your industry. Make sure your content answers those questions.
Scotts is known for its menswear, and it seems to know its audience well. The target audience is young, single men who want to look fashionable but masculine at the same time. The information on its blog directly applies to that demographic, with articles such as "Five Things to Do on Valentine's Day if You're a Single Man." By keying into search phrases this target audience seeks, Scotts draws them to its website and hopefully keeps them there.
2. Use Strong Opening Hooks
Site visitors make up their minds about your site in mere seconds. If you don't grab the person from the minute they land on your page, you risk them bouncing away to a competitor. Using strong opening hooks in your content draws the reader into the article and makes them want to read on.
An opening hook can be a question, a shocking statement, a quote or some interesting fact. The key is to engage the reader while also explaining what the piece will be about. The best way to learn how to write an enticing opening line is by studying the work of excellent writers and seeing how they accomplish this task.
3. Add Video
About one-third of all online activity goes to video watching. It only makes sense to add a video to your website so visitors can absorb content quickly and effortlessly. Don't just add a video to add a video, though. Make sure it adds value to your site by providing information or answering a question site visitors might have.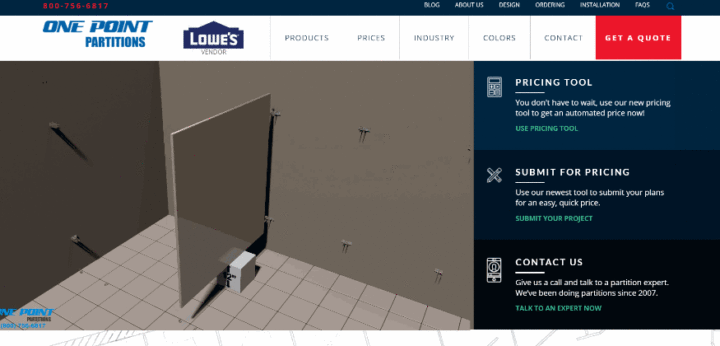 Note the video for One Point Partitions and how it showcases the way you can lay out a public restroom facility. The video clearly shows how the partitions go together and how easy things such as the locks, handles and hooks are to install.
4. Know Your Purpose
Before you add a single piece of content to your website, you should know the purpose of that content. What do you hope to accomplish by writing this article or posting this video? The purpose doesn't always have to be to gather more sales, but you should have a purpose, even if it is just to educate your site visitors.
Your purpose will likely tie into what your customers want to know and who they are as a group. If your customers are mainly millennials, they'll expect your content to entertain them while informing. Older generations may be satisfied with an infographic that lays out the info in understandable terms.
5. Share the Value
Internet gurus recommend sharing the value of your content with site visitors. This simply means you state what they'll gain from watching a video or reading a guide and why this information is precious — even if you offer it free. This engages the user from the very beginning because they know there is a reward for investing their time.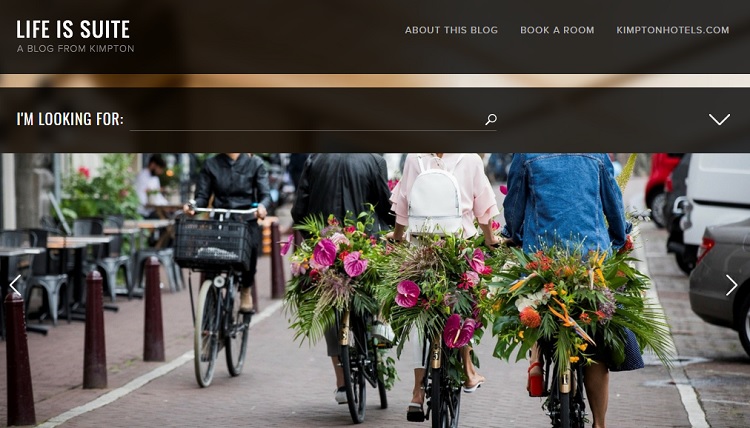 Kimpton Hotels offers a Life Is Suite blog where it delves into topics related to the city visitors might travel to. For example, one of the topics is springtime in Denver. It indicates it has a list of musts you need to know about if you're traveling to Denver in the spring. This entices those travelers to click on that content and read it.
6. Conduct Quizzes
Use quizzes to direct your site visitors to the exact product or area they're seeking. One example of this type of method is Birchbox. The company used a quiz to help consumers find their "facemask soul mate" and wound up with $7,260 in orders. The quiz is short but helps guide consumers to specific products that cater to their needs.
7. Add Visuals
You likely already know people process visuals much better than they do text alone. Visual content is powerful. When people hear info, they only remember about 10 percent of that information a few days later. However, add a relevant image, and they retain about 65 percent of the same information in the same time period. If you want your site to be memorable, add infographics, graphs, charts and photos that go along with your content.
Engage Content for Your Visitors
In order to keep your visitors engaged and coming back to your website, you need to add content and add it regularly. However, as we've seen through the studies above, that content needs to have a purpose and be presented in a way that draws site visitors in. With just a few minor tweaks, you can accomplish this and turn casual visitors into lifelong customers.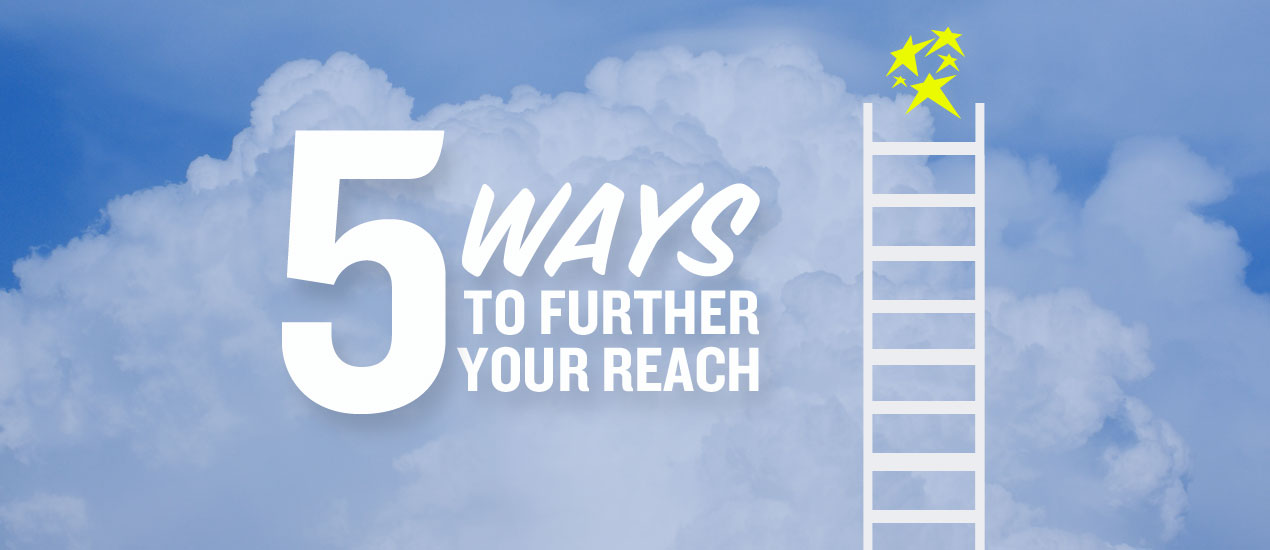 Expanding Your Brand Presence: 5 Tips
Are you feeling a stagnant air in your business? Strategy planning is a key element of any business, so here are 5 simple ways to further your reach!
How to Further Your Reach
1. Invest in yourself!
Let everyone know who you are by professionally branding your business. Start with a logo and simple website. Creating a relationship with a professional designer will help you throughout your businesses lifetime, you never know when you'll need something! It helps to have someone on standby who understands your brand and can help support your direction. Designers do a lot more than just create pretty pictures. We create marketing plans, help plan strategies, consult and more. As you grow, your advertising needs change and your designer should be there by your side to guide you. When you are professionally branded and have a user friendly, modern website, it gives your business instant legitimacy in the eyes of your customer. If you are unsure about your logo or website, lots of designers do brand consulting and can help point you in the right direction and show you where you need improvement.
2. Utilize Social Media
The best thing about Social Media is that it is FREE! The worst? You can get lost, easily. The best advice I ever heard was pick the best social media for your business and focus your time and energy on creating great content for your audience there. Do not spread yourself thin posting to countless social media accounts every day. If your biggest audience is on Facebook, utilize groups, events and business pages. Maybe you find your following is more Instagram central. Post updates, stories and go live! Pick your best social media platform and run with it. What about sponsored posts, you ask? Personally, I hardly ever sponsor posts because I know how to reach my target on social media. When I have a post performing exceptionally well, reaching thousands without much effort, I will occasionally boost those. It is already performing for me and converting it to a paid ad will only help my reach!
3. The Right Content
You picked your perfect social media platform, but now you need to post. Create relevant content for your target customer. We're not talking click bait. Research shows valuable content builds better customer relationships and leads to positive returns for your business! Create each piece with a "Call to Action" or the intent to trigger a specific action in your customer. Pro Tip: Create your content for a few weeks and mass upload them as scheduled posts!
4. Be Engaged
The right content grabs your customer's attention, now it's time to engage WITH them! Your created content gets people excited and they want to learn more about you. You start getting comments and messages, engage with them and reply! Your customer base needs to think of you as someone they can count on, someone they are comfortable with. When people feel like they already 'know' you from connecting and engagement on social media, you've already built the foundation of trust in your relationship with them. Comment on posts in and outside of your social media community. I'm not talking about a sales pitch saying "I'm Sally & I do blah blah blah..". Comment on things that ENGAGE YOU and that YOU are the expert in. Show off your knowledge, the rest will follow. Engaged networking goes a long way with expanding your reach beyond your own two walls.
5. Get Listed!
Are you listed on the big 7? What is the big 7? Google, Bing, Yahoo, Yelp, Foursquare, YP & Superpages. Maybe your business doesn't need to be listed on all 7, but you can absolutely benefit from being listed on the others. Not only is it a FREE way to get out to your customer base, it helps populate your website and business on search engine rankings. Listed on these websites goes back to tip #1, instant business legitimacy in the eyes of your customer.
What about you? Do you know or practice any other creative ways to further your reach that should be included in this list? Let me know!
Using Visuals and Boosting Engagement on your Site
Getting your site visitors to engage with your website often means the difference between developing a loyal customer and losing that person to a competitor. There are many factors to consider when boosting engagement, but one area you can directly control is how and where you utilize graphics on your website.
About 63 percent of marketers state that improving customer engagement equals customer retention and repeat purchases. It costs more to gain a new customer than to retain a customer you already have, so boosting engagement through strategic use of graphics is a smart way to grow your revenue. Keeping the customers you have allows you to focus on developing stellar customer service and refining processes. Below are six tips to get the most from the graphics you add to your page:
1. Where to Place
There are many schools of thought about the best placement for graphics, how many you should have on a page (too many can reduce page speeds) and even what size those graphics should be. One place to consider putting a graphic is across the top of your post in place of a headline. It's been said that a picture is worth 1,000 words, and apparently, this is true because using a graphic above or below a headline can be quite effective.
Mashable is a good example of using a big graphic under the headline to help tell the reader what the story is about. In the screenshot above, the article is about Amazon's new ability to deliver Whole Foods groceries to some customers. The image makes it clear that the article is about Whole Foods. Providing a quick graphic that helps the user process what the piece is about is particularly useful to mobile users who are likely to skim through articles.
2. What Graphic to Use
Figuring out what type of graphic to use is just as important as including graphics to break up some of the text. When it comes to using graphics, you have several options. You can include an infographic, a smaller data visualization that shows just one key statistic or fact, a photograph or a drawing.
Your best bet as you learn your audience's preferences is to try different types of graphics and do some split testing to see which performs best for your particular industry.
3. Provide Information
A good graphic choice enhances the content on your page. It provides additional information or presents the information in an easy-to-understand way. Researchers have discovered that the brain processes an image in as little as 13 milliseconds. If you want to get a message across fast and effectively, then using an image to provide information is your best course of action.
Take a look at the way The Exterior Company uses a graphic to provide information to the user. The user can quickly check the area they are interested in learning more about and then find the matching key on the list to gather more information. This is helpful because the user can enhance their knowledge visually.
4. Reduce Load Times
It is important to remember that when you use graphics, you don't want to allow them to slow down the load times on your page. The time it takes your page to load impacts everything from conversions to bounce rates. For example, mobile users indicate they'll wait six to 10 seconds for a page to load and then abandon a site. You can help your images load more quickly with image resizing, compression and using CDN technology.
5. Use Unique Images
One of the trends for 2018 is using custom images instead of stock or generic photos. A custom image fits the topic perfectly, rather than being a general image. Since people form an impression of your site within the first 10 to 20 seconds of landing on your page, you can see why every single element must work seamlessly to draw the user in and engage them. Using custom images shows the user immediately that you've put thought and care into which images will have the most impact.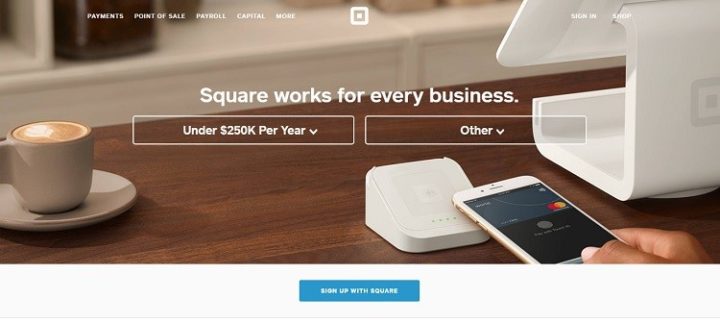 An example of a site utilizing custom images is Square. When you go to their landing page, you see a very specific image in the background of the header showing a point of sale system that works with a smartphone. However, if you change the options for the type of business, then the image changes. If you choose food, the image changes to a cashier and customer. Choose service, and the image changes to a person in home construction. This engages the exact target audience that lands on the page.
6. Optimizing for Mobile
Ninety-five percent of adults in the United States own a cellphone, and 77 percent of them own smartphones. More and more people are using those smartphones to access the Internet. However, the way a mobile browser looks at your site is a bit different than the way a desktop user does. The screen is smaller, so they typically aren't doing in-depth reading but are skimming through material. You have an opportunity to present condensed material in a graphic form.
Make sure those graphics resize appropriately for mobile devices. You don't want an image to take over the entire screen, but you also want the user to be able to decipher what the image is. You can use options such as only loading select images on mobile or resizing images so they load more quickly.
Visuals Tell a Story
Remember that people process visual elements much faster than text. Making sure the images on your site are highly relevant and optimized for all types of users will create stronger engagement. The right graphic can add to the message you are trying to convey and draw the user into your site. Visuals tell your site's story much faster and better than even words can.