Is a flooded inbox a daily nightmare? Here are some tips and tricks to keeping your inbox neat, tidy and even (gasp!) completely empty!
How to Build a Successful Email List
We all want to create an email list that matters, but doing so takes some know-how. Here are some of our suggestions for cultivating a community of email subscribers.
Email etiquette for creatives
We exchange emails with clients and potential sponsors on a daily basis. Sometimes multiple emails in a day. It's vital that these messages mean what they say and say what they mean. Here is a guide to writing emails that make you look like the professional creative you are.
Ask Google first.
Have a question that you think Google can answer? Definitely check there first. There is nothing more annoying than receiving an email or IM and thinking 'Why didn't they just Google this?"
Be positive always.
Avoid using negative verbiage in your email. Make sure that everything has a positive spin to it. No one likes an email that starts with: "Unfortunately…" or "I'm sorry to have to annoy you with this question, but…" Either put a positive spin on it or rethink what you're sending.
Provide value in return.
When you send an email with a request for value, make sure you're giving value in return. For example, when reaching out to a possible mentor, asking to pick their brain about everything they've learned about business in 30 years, you've got to:
– Only offer them something valuable right back and
– Give them an easy way out in case they're busy or uninterested.
Do not put them in the position where they have to feel rude if they have to/want to say no.
Be a unicorn in a field of horses.
Here's the thing to keep in mind. Time is currency. I don't know about you, but I have a constant rush of emails flooding my inbox on any given day and it seems like they never stop. The most refreshing emails that I open are the ones that have a few lines or less…what I like to call the magical unicorn of emails. They get to the point and even better, make my ability to respond a whole lot easier.
– If this is an initial reach out with a sponsor or potential partner: introduce yourself, say hello, who you are, and that you see a synergy between your brand and theirs. Attach some information about what they do and ask that they get in contact with you should they agree.
– If this is your ordinary email and you need something or have a question: ask for it, ask it. Be polite, but leave out the fluff.
Pro tip: Leave your social media links in your signature, so that potential clients or brands can take a look at your work if they're so inclined. This will reduce the amount of material you have to put in the body itself.
—–
Good luck and happy emailing!
You Asked, We Answered.
How Do I Improve My eCommerce Site? 
We all want to see more traffic and conversions on our ecommerce sites, right? Of course! This even includes all of us at Cleveland Design firm, Go Media.
With numerous tricks and tips swarming the web, knowing what, when, and how to make those improvements can be overwhelming.
Today, let's start from square one and make sure we all have these three fool-proof elements, all of which can be accomplished this afternoon. Let's get to it!
1. A Very Obvious & Enticing Email Sign-Up
Did you know that only 1 to 3% of people that land on your website will actually make a full and complete sale? Frightening, huh?
Panic not, dear friends. As they say, "Rome wasn't built in a day." In order to build trust and, in a sense, convince customers that your product is worth what you claim it is, add a simple email sign-up to your page.
Think of this simple email opt-in as a customer's small commitment to you. A baby step if you will. The next step may be reading your email, the following step considering a purchase. Then, perhaps, after days, weeks, even months, a final sale. These are all very important baby steps in what will hopefully be a long and happy relationship between you and your customer.
Now, many of you have an email sign-up on your page – but today, let's make it both:
Offer up an incredibly irresistible reason for your visitor to want to enter their name into the "Enter your email address here" box. This could be a freebie of which dreams are made or an exclusive coupon.
We recommend using:
———————
2. A Clear Call to Action
Call to Action is another phrase for, "This is what the heck you are supposed to do here." Or, as Wikipedia more eloquently states, a banner, button or some type of graphic or text on a website meant to prompt a user to click on it…an essential part of marketing…that actively strives to convert a user into a lead and later into a customer."
Here are some really effective Call to Action Examples >
Today, ensure that:
You have a Call to Action to begin with
Your Call to Action is dummy proof (People will undoubtedly click on it.)
It is above the fold (ie. the portion of the site immediately visible when the page first loads).
To test that your call to action is working, use a heat map, through:
to make sure your visitors are really clicking that "big red button," so to speak.
———————
3. Live Chat!
Interact with your customers live and in the flesh (well, almost) when you install live chat on your ecommerce website. Live chat serves as a great customer service tool, allowing you to know your customer and their needs on a more intimate level. Live chat also connects you with your customer so that they can view you as a real live human being, instead of a nameless, faceless entity. Once they know you and come to understand your product, they're more likely to buy from you. It's as simple as that.
We recommend: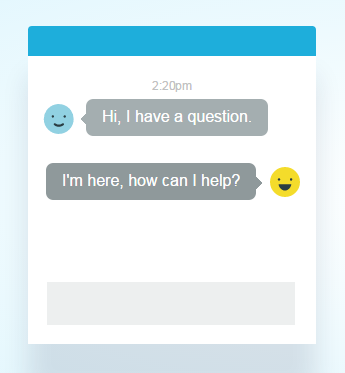 What tips and tricks have you used to improve your eCommerce site? Please share your knowledge with me in the comments below!
Categorized:

Business Philosophy, Graphic Design, Web Design

Tagged:

advice, call to action, conversions, ecommerce, email, newsletter, tips, traffic, tricks, website