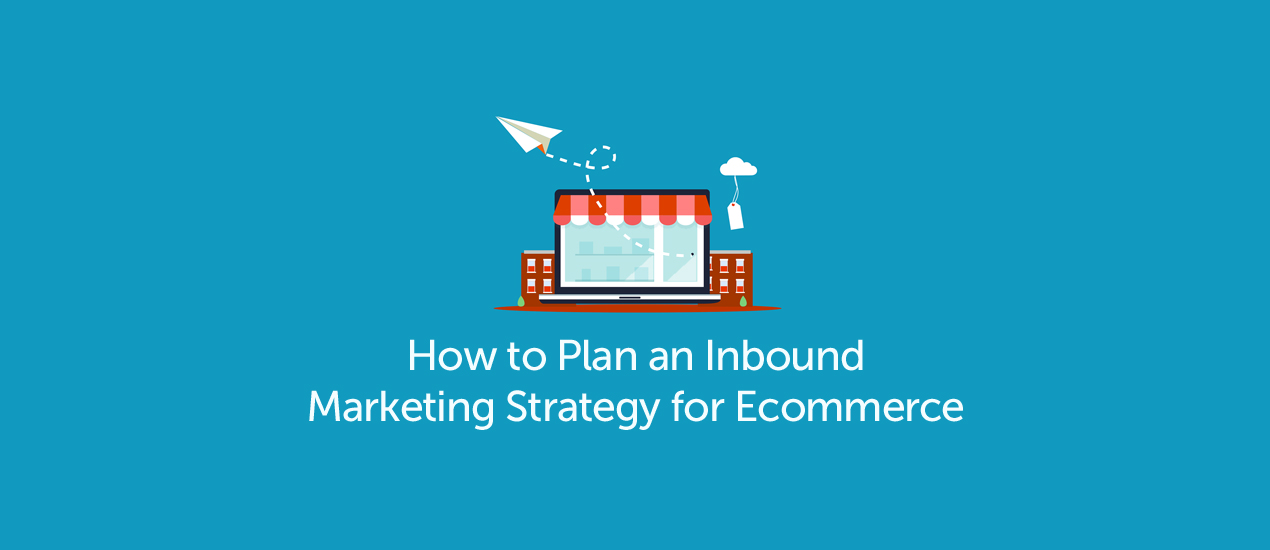 Inbound marketing is a set of marketing tactics and techniques concentrated on utilizing content relevant strategies to current and prospective purchasers and then pulling them toward a business and its products.
A dominant characteristic of it is that inbound marketing isn't just one tool, one technique or even a single campaign. Rather, it is a group of on-going activities that, when completed successfully, create highly visible scalable revenue driver.
In recent years, there was a big shift in consumer behavior. Almost 80% of Americans shop online, and the rest of the world will soon follow. People purchase things through their smartphones more and more. Such trends mean that the eCommerce world is becoming more accessible, faster, and takes place over a broader variety of platforms and devices. The final conclusion is that inbound marketing is the one marketing approach that empowers eCommerce businesses to scale engagement with prospective and current consumers. The goals of inbound marketing include:
Increased number of visitors.

Bigger lifetime value.

Increased average order value.

Increased conversion rates.
Want to know how to plan your inbound marketing strategy? Read on and find out!
Set up your website
Selling anything online start with a place to sell it – your eCommerce website. If you are going with bare essentials, you can sell from marketplaces such as Amazon, eBay, or Etsy. Here, all that you will need is to create a profile.  Their only disadvantage is that you won't be able to accurately track conversions and build your own brand.
For high-quality hosted eCommerce platforms, you can use Shopify, Wix, Weebly or Squarespace. Other than that, you can set up your own eCommerce website with WooCommerce or WordPress.
All aforementioned options can give you a nice technical foundation with quick, easy setup. They will also enable you to incorporate a customized design – "theme". Themes enable you to have a website that looks good and acts fast, while you don't have to spend months of effort and large sums of money on building them.
Developing a store on an already established platform allows you to implement a unique and easy-to-build design.
Organic search and search engine optimization
While there is a broad range of paid traffic, a successful SEO strategy is always a pure win. Yet, most website owners fail to realize the sheer amount of traffic that Google organic search can create. It just needs to execute in the right context.
Google processes over 63 thousand searches per second on a daily basis. For the majority of queries, most of the clicks go to organic results. Everyone knows that AdWords campaigns for commercial keywords are quite costly. That's a price you don't have to pay when you rank in the organic results.
SEO consists of three parts.
Part one – Technical SEO. This one is all about ensuring that search engine bots/web crawlers crawl through and index your website appropriately. About not having numerous duplicate contents. If you choose a platform like Shopify or a self-hosted store with WordPress, these problems will be already solved for you. Different platforms may still need an SEO technical audit.
Part two – Optimization and on-page content. Here, it all about targeting the right keywords and making sure that your website is created in a coherent way that search engines and users visiting your website understand. Its crucial components are keyword research, keyword mapping, title tags, and meta descriptions. For an eCommerce website, you can create different pieces of content that will bring visitors, like purchasing guides, How To's, Product comparison or Category pages.
Part three- Off-page factors. In this part, we need to get a link, while understanding that not all links are equal. Black-hat tactics, like purchasing links will actually harm your SEO efforts. High-quality links placed on websites with authority or that are popular are a dominant factor for increased visibility in search results.
Social aspect
If SEO has its place in inbound marketing for eCommerce, social media platforms stand in its close proximity. These platforms are a part of the initial phase where you're attracting people to your website and convert them into leads.  You get to talk to millions of people, without needing to pay a dime, and even if you want to work with affiliate sites you can find the best Affiliate marketing strategies 2020 in this site online.
Besides attracting new people, social media are an excellent way of promoting your brand, interacting with any potential customers online, and most importantly, building your brand's authority. Another way of building a brand's credibility is through using phone systems for small businesses.
Almost every human on this planet has a habit of calling a company whenever they have an issue or a question for it. A big part of your inbound marketing strategy is creating an image of your business that says – I'm reliable, I have credible information you can trust.
Although social media experts try to make it all sound like rocket science, it actually isn't that hard. Know where your audience is. You don't have to omnipresent on just about every social media platform. Concise and direct interactions are where the magic happens and you build relationships with your audience.
Choose a single or two that will impact your audience, sales, links and brand awareness. Automate other profiles to save time and set up alerts to "listen" when not actively participating.
Focused pages
Now you need to create high-quality concentrated pages to receive sales. In addition to your About page, Home page, and Privacy page, you will need landing pages.
Landing pages aren't complex – they are just places where visitors can land and make a purchase. Nobody cares about or even looks at your homepage. A homepage is for people who already know your business and are just navigating around.
Landing pages are for potential or returning visitors to land on and convert. Before creating all other website pages, you will need to develop focused landing pages that sell a single or all of these things:
Offer specific – Such pages are about the product info. They might be just a product page, but also a category or specific landing page for a bundle. The end-goal here is selling to people at the very bottom of the marketing funnel – where customers are most likely to convert.

Persona specific – That is all about the product benefits to those that you sell them to. Again, they might be a product page, a category page or a specific landing page for a bundle.
In conclusion. Remember that every part of this strategy needs to be measured, interpreted and analyzed in order to increase its effectiveness. There are numerous ways to gather reports and filter your visitor data. Google analytics is one of the ways, that lets you combine data into a single-screen layout that show the varying degrees of visitor marketing data and depth of the sales funnel.
How to Increase Your Website's Conversion Rate
Setting up and maintaining an e-commerce site is no joke. It can be very difficult to draw in clients and ensure they proceed with a checkout. Many people simply add items to cart and leave it hanging for one reason or the other. Many times, there are certain elements on your website that can make all the difference, changing your client's perspective and user experience will help you to capture them for longer and ensure sales. Here we have portrayed some of the most important elements of your e-commerce site that are worth the extra time. They will certainly boost your revenue and fortify your traffic.
No questions asked
The best approach to ensure your client makes it to the end is to give them the minimal possible opportunities to rethink their decision. This means you need to eliminate the questions and the popup asking 'whether the client is sure'! Of course, he is sure the first time he clicked the buy button but repeatedly interrogating him may make him think otherwise. Try to leave minimal options for them to select. A simplified approach is as follows:
Allow clients to add objects to cart

Prompt all the important info such as billing address, payment method etc. on one page

Proceed to checkout
This three-step procedure will ensure the buyer has minimal rethinking time and is not irritated with annoying questions. For example, a simple notification saying they have purchased the product suffices, along with the delivery time. This approach helps limit the no. of pages in the final checkout. Moreover, it has significant benefit in ensuring sales.
Instill trust
Just like buyers and sellers in real life, clients are looking for solid assurance before they proceed to purchase your products. For instance, for an online e-commerce site, certain elements help highlight the authenticity of the site. These include:
Authentic buyer reviews

Money back warranties

Free returns

Money back testimonials

Secure payment portals

Trust pilot

Encrypted checkout
All of these different aspects help fortify the trust of the buyer. This makes it even more likely, that he will proceed with the checkout.
Take advantage of the live chat feature
Yes, it can be a bit hectic, having someone to answer the live chat any time of the day. This feature is one of the many ways of building customer confidence and increasing sales. Often clients are simply stuck in a little spot and some small help from the center scores a sale. Online chats are wonderful means of interacting with clients and motivating them towards a purchase. You can also direct them to different items. As for the part where you have to attend to the chat 24/7, there are ways to counteract it.
You can lay down certain timing every day

Incorporate an auto-generated message

Take the chat directly to mail in case of unavailability

Assign a telephone number
Incorporate customer feedback
There is nothing like an authenticity stamp than an actual customer review. The more reviews you have, the more people are going to trust you. This is an important way of building confidence. Being a blogger, you may have noticed the positive reviews and feedback on other blogs and e-commerce sites. This feedback leaves a great first impression. In addition, it also helps to highlight your good qualities. People feel reassured when they see that there are other people like them. Plus, a client is more likely to buy an item once they spot a similar customer leaving a good review of the product. We highly motivate the use of authentic reviews on your site. Adjust them along with the associated products preferably which will help to drive in relevant traffic.
Notification tags
Often clients need to be notified of the products repeatedly. Sometimes you can text them the new offers on certain products. For instance, if your site chooses to put up a sale send over messages describing it as well as occasional messages highlighting different products. This will:
Peak consumer interest

Attract potential buyers

Increase popularity and work as an advertisements

Convert newcomers into permanent clients
Employing these tactics will help you gain an advantage on multiple fronts. It will also help assure other people of money back guarantees as well as returns. This is because different customers will have a different experience and will certainly share it on the website. An immediate plus for you!
Countdown timers
This new tactic is a great addition to the e-commerce market. It helps users clinging on to every second. Introduce deals with a countdown timer. Moreover, this will limit the time for the client and motivate him to make an early decision. It also helps ensure that clients actually proceed with the purchase. As they know they might miss the deal, chances are they will proceed with the order, immediately! Countdown timers:
Effectively create a state of urgency for the client

Motivate clients to revisit for different deals

Ensure checkout and reduces cart abandonment
Include a package
One other element on e-commerce sites is the package where a buyer has to select a certain amount of items to get a lower delivery or free delivery. This allows clients to look for multiple things that he may or may not need necessarily in order to avail a free delivery. Although you will pay for the delivery, the extra surge you got from the additional products the client bought can cover for it. This is one of the latest means of captivating buyers and motivating sales. However, you need to be consistent with this regime and offer reasonably proceed items along with the expensive ones in order to ensure a purchase. If you increase the prices chances are
Clients will avoid a purchase simply because of cost to high

Many buyers tend to refuse a checkout when they see a high total

Multiple cheap items are acceptable for a client but multiple expensive items provoke thought.
Hence, the package deal is something that you need to play wisely. You need to understand the mentality of the person in order to attract a purchase. Where you are gaining orders, you also need to offer clients something in return.
Prompt delivery options
One thing you can do to improve your site offers a prompt delivery option. However, you need to include a time limit for it. This way, clients who need it will order it for sure, without wasting time rethinking. In addition, the option helps encourage clients to place an order and checkout immediately. It also helps take the clients mind off the price and the actual need in favor of a prompt delivery. The satisfaction of receiving the product at an earlier date helps to outshine other problems. Furthermore, these clients' will surely shop again and leave a good review, which will boost your e-commerce site in multiple ways. It will
Boost sales

Improve reviews and attract more clients

Increase permanent clients
These different elements will help address the many ways of improving your e-commerce sites. Many of these tips are simple and can be easily incorporated. Use them to boost sales and increase traffic. They are some of the authentic means of advertising and boosting product sales, which will surely boost your business as well.
A product page that conveys a purpose and benefit of a store item, and smoothly take a user through all the features and demos, and to the checkout page is considered an ideal user experience (UX) design. The web design UX focuses the removal of every possible hurdle that may stop a user from taking action and the addition of a feature that adds comfort to the user in reading, clicking, entering detail, or paying for the order.
Pursuing a UX design is not restricted to the layout or appearance of the product page, in fact, it is about enhancing the web design usability and understanding for the end users. Like, easing the users in scanning the content, viewing the images with a focus, comparing prices with product features, expediting the checkout process, and lots of more.
Optimizing the UX design for higher conversion is crucial as the developer, designer, or the merchant has to put himself in the shoes of a common user and examine the areas that have to be improved. Following are some of the UX design tips that may give you a checklist to expeditiously review product pages and adopt relevant strategies to enhance the ease and usability for a layman.
1. Set a Competitive Price and Justify It
Price of a product is a major driving force of a purchase decision. The internet users are browsing the internet and compare product prices along with features at different online stores. They roughly draft a cost versus benefit analysis of the product in your store. To facilitate them in knowing the best value for money, clarify the price you charge and justify it with the features you have in hand.
The price clarification means showing direct and indirect charges. For example, you display a white color T-shirt at $10, but secretly increase the price when a user selects a black color. Avoiding tricking people to select a product at a low price and quote a higher one when they convert or about to convert.
2. Add Quality Images with Zooming Features
The online stores have virtual shelves that can never provide a real-life experience to the users to examine a product from each and every corner. But, professional photography and zooming features have the power to provide a somewhat similar experience. Add high-quality product images from various angles, and allow the users to zoom in or out a specific part of the image as well.
Try experimenting different product zooming options. In addition to quick-view and zoom-in feature, a 360-degree view is also an emerging trend in enhancing the user experience. It demands to capture multiple product images and sorting them in a series so that a user can go through every detail of the store item.  
3. Acquire and Display Customer reviews
Acquiring reviews from your happy customers is a tangible and long-term asset to your product pages. It is an effective strategy for gaining trust and credibility in the eyes of your potential buyers. The users are more likely to read what your existing customers have found about your products and services.
According to a survey published by MarketingLand, about 90% of the customers have agreed that the online reviews are highly influential in making a purchase decision. So, don't miss on your losing your potential customers who only need to hear from a few fellow customers.
4. Publish Scannable Product Descriptions
Reading content on the screen is a completely different thing than reading text on a hard paper. In fact, the screen readers scan the content rather than reading it word by word. Unlike the novel and short stories, people are here to absorb the information of their interest and skip the rest of the text.
Compose the product content that is simple, clear, and crisp that caters to the exact needs of your targeted users. Incorporate story-telling in a way that keeps the users engaged rather than making them cross the tab and switch to another one.
A product page shall begin with a short summary and leads to highlight the core features. Let the readers know about the product at first instance. Make the introduction attractive to compel them to scroll down the page and review the features one by one.
5. Consider Simplifying the Checkout Process
Checkout is the conversion borderline. A successful checkout means an accomplished sale. The UX design needs to be improved in a way that smoothly takes the users all the way through the product description to the cart pages and the checkout page. A minor difficulty in filling the details or understanding an option may result in cart abandonment.
For smooth checkout experience, you can simplify the entire process with different strategies like allowing one-page checkout that removes the multiple steps of entering shipping, billing, and personal details all at once.
Additionally, you can modify the design with stick checkout that carries forward transaction details as the user goes through the multiple steps. The permission of guest user checkout is also a way forward to improve the user experience. Make the user registration voluntary and observe the difference in conversions.
6. Display Relevant and Bought Together Products
Do not limit your customers to view a single product on a landing page. A Majority of buyers are willing to select more relevant products from the same store. It helps them save the shipping charges and time in browsing multiple stores. By displaying relevant products or frequently bought together items, you can facilitate users in adding more products to cart and checkout for all of them at once.
With the help of widgets, plug-ins, and modules, you can automate the display of similar products in a small block right on the product page. It will surely help you to cross-sell and up-sell products that ultimately boost the revenues.
7. Show Product Availability or Stock Top-up duration
A user covers a long journey in reaching the 'add to cart' page but feels disappointed when finds that the required product is not available in stock. To save them from the hassle, display the stock availability in numbers and minimum items they can order. This will allow them to quickly add a required number of items to cart. Avoid cart abandonment right on the product page.  
The addition of out-of-stock notification tool is also a way forward in informing the users about the expected inventory top-up period. With the help of such a tool, users can get email notifications about inventory top-ups so that they can return and buy the products that were out of stock on their last visit.
Final Thoughts
The above-discussed UX design tips may help you quickly restore a viable user experience that contributes towards higher conversions. But, this is not the end. UX design is an open concept that welcomes the addition of every feature and functionality that aims to reduce the user stress in buying a product or service. Be creative in coining new ways of improving UX in addition to the ones mentioned above, and take the lead in your niche.
Asad Ali is an experienced Digital marketing expert having more than 7 years of experience in eCommerce industry. He is currently working for GO-Gulf Dubai web design company. As leading executive for GO-Gulf, he has specialized in search engine optimization, user experience & conversion optimization. You can reach him on LinkedIn.
Categorized:

Web Design

Tagged:

cart, cart abandonment, checkout, conversions, design, design tips, e-commerce, ecommerce, pages, product, product pages, ui, usability, ux, ux design, web design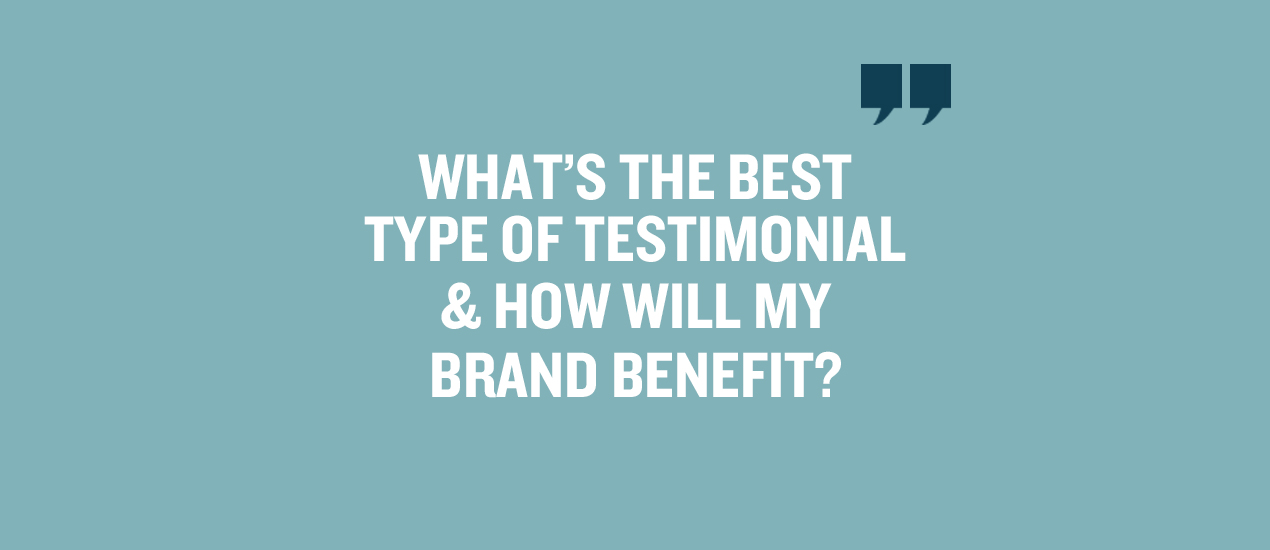 The social proof of testimonials lends a lot of credibility to your brand. It also allows people who might not be familiar with the work you do to see that you have happy customers. When it comes to content marketing, customer testimonials and case studies are considered the most effective forms of content. In fact, 89 percent of marketers indicate that testimonials are a necessary part of their overall content strategy.
You've probably already learned that testimonials are an effective way to reach new customers from the minute they land on your website. However, there are many different ways to implement testimonials into your content strategy. Here are the best types of testimonials and what they bring to your business model:
1. Interviews
Taking the time to feature a customer does a couple of things for your brand. First, it helps you get to know your target audience better, which in turn will allow you to perfect your marketing to this demographic. Second, it shows potential customers you have satisfied customers who are already using your product or service.
Your first step is to recruit customers to interview. One easy way to do this is to choose customers who've written a positive review recently. Ask them if they'd be willing to be interviewed about their experience. However, don't overlook customers who've complained, but whose issues have been resolved. Your ability and willingness to strive for perfection can be a powerful testimony.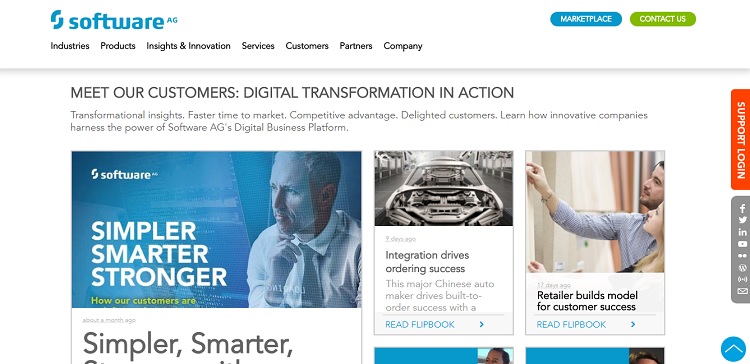 Software AG offers an in-depth look at some of its customers. For example, it tells the story of how a Chinese automaker utilizes its business software platform, how one retailer uses it to build a model for customer success and how it has simplified data-reporting for another company.
2. High-Profile Testimonials
When you think about sharing a high-profile testimonial on your website, your first thought might be using an influencer or a celebrity to tout your brand. While a high-profile testimonial can certainly encompass those elements, another way to show you are an up-and-coming brand is by using big-name companies for this purpose. As a result, you'll gain the halo effect, where a big name makes the things they endorse look better.
Take a look at your client list. Choose your top five clients as far as how well known they are. As your company grows and you gain new, bigger clients, you can revamp this testimonial list from time to time. One creative way to use this method is to do a case study of how you've helped said company and then take snippets to show this to the reader, such as how a campaign helped XYZ Co. increase its conversions by 1,500 percent.
3. Video
If you aren't already using video testimonials, this is something you can easily add to your brand to better engage your site visitors or your followers on social media. About 78 percent of people online watch videos every week. Creating a video testimonial does a number of positive things for your brand, such as forming a better emotional connection with your readers and lending a sense of credibility to your marketing efforts.
Hubble features software with real-time reporting that allows for data visualization and integration. It features a video of its customers describing how they personally use Hubble and the benefits. The video features people from different industries to show how flexible the software is.
4. Social Media Posts
If you plan to share testimonials on social media, there are a couple of options. First, you could reach out to customers with a large following and simply ask them to give your company a shout-out. This is likely the most effective way to add a testimonial, because it looks more organic. About 80 percent of Americans look for a recommendation from someone they know before making a purchase.
Your other option is to add short snippets and combine them with a photo of the customer or the product to encourage shares and retweets of the post. If your customer is online, it is also a good idea to tag them in the post.
5. Snippets
You don't have to use a long testimonial in every instance. Creating blocks of quoted text that highlight a small part of what your business does is a smart tactic. You can pull these from a larger testimonial or case studies, or you can simply ask your customers to give you a short, one-line review.
Today's average person is extremely busy. They might have 10 minutes on the train to work to glance at your website or social media page. If you provide them with snippets of information that can be quickly scanned, then the testimonial is likely to stick with them.
Vanderbilt University's MBA program does a good job of highlighting students and professors who make the program memorable. Note the short snippet from one of its students who earned an MBA. This allows potential students to see what the program did for someone similar to them.
6. Reviews
Reviews are a form of testimonial if you think about it. They highlight a customer and what that customer thinks about the product or service. The last time you booked a hotel, what did you do first? More than likely, you checked out the online reviews. Make it easy for your customers to review your product by adding a review form to your website or sending a push on social media asking for their feedback. You can then pull short quotes from these reviews to highlight elsewhere as testimonials.
Best Types of Testimonials
Companies that were centered on the customer were around 60 percent more profitable than companies without this focus. The benefits to your brand are that you'll lend credibility to your claims, show you are focused on the customer and reach new customers you otherwise might not have found. Take the time to make testimonials a part of your marketing plan and you're certain to see positive results.
Categorized:

Graphic Design

Tagged:

ecommerce, halo effect, interviews, marketing, reviews, snippets, social media, testimonial, testimonials, Video, website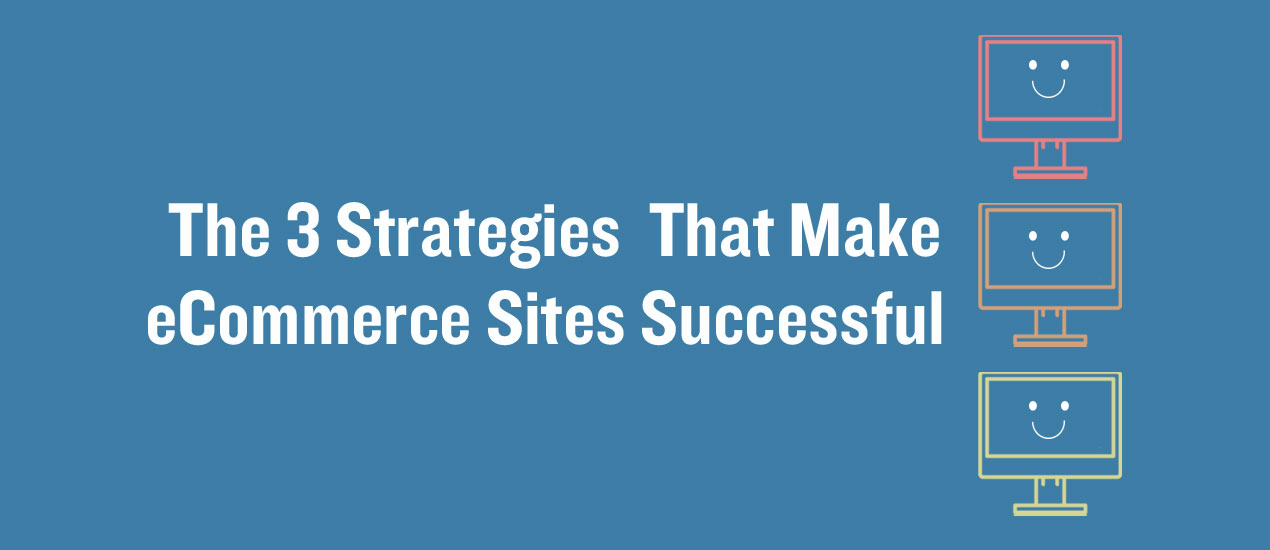 eCommerce websites are becoming more and more popular and prevalent by the day, creating a thriving and competitive market. Although the market is growing, the competition means that it can be difficult for new and existing eCommerce businesses to break through the barrier and get themselves seen and heard. Unfortunately, this can only inevitably lead those businesses to be pushed out of the market. We've put together 3 strategies that will make your eCommerce website stand out, and be successful. As with most businesses, time and effort are required, but it will certainly pay off in the long run.
1. Choose the right web host: First and foremost, you must ensure that you choose the right web host for your eCommerce site. There are many web hosting companies to choose from, all offering similar plans and features, but knowing which one is right for you can be difficult, especially if the thought hadn't even crossed your mind! Here are a few things to consider when deciding on your web host:
Uptime guarantee – Ensure that your web host has an uptime guarantee, or at least a very good uptime record if they can't provide a guarantee. Providing your customers, as an eCommerce website, with a site that is available at all times is essential to maintaining a loyal user base, and encourages more traffic to your business's website.
Speed – It's a well-known fact that website visitors are impatient; if your website doesn't load within 3 seconds, your users and your conversion rate will rapidly decrease. If your web host's servers aren't up to scratch or don't perform well, this could be a huge detriment to your eCommerce website.
Features – Does your web host offer 1-click installs, such as WordPress, Shopping Carts, etc.? Getting the most for your money is obviously important when purchasing any product or service, but is especially true when choosing your web host. If you're just starting out your eCommerce journey, you may be surprised at how easy it is to create a website with an online store, with integrated cart and payment facilities all from your web host.
Choosing the right web host is often not something that's on the top of every eCommerce business' list, but it really should be. If your website doesn't load fast enough or isn't visible to your users, how are you going to generate any business to ensure your eCommerce site is successful? If choosing a web host is a bit of a minefield, there are plenty of hosting reviews available and designed for you to make an informed decision.
2. Implement and update SEO: As we've already mentioned, the eCommerce market is rapidly growing and is very competitive, so implementing a solid SEO strategy and keeping on top of it is another high priority task to ensure your website is successful. SEO can be complicated, but there are lots of guides on the internet to help you get on your way.
One of the key things to remember is to keep your SEO updated; we can't stress this enough. If your SEO is not updated, then your conversion rates will decrease, as well as traffic to your website, and potentially your customer base. Google's SERP factors are constantly evolving, so your SEO strategy must evolve with it. What you thought was successful last year, may get penalized this year, so research is a must. If SEO is not your specialty, or you're finding it too hard to keep on top of, don't be afraid to reach out to others for help. There are plenty of SEO professionals available to take your eCommerce website to the next level, and are certainly worth investing in, even if it is to get your feet off the ground.
3. Optimise for Mobile: As of January 2017, Statista confirmed that 90% of Japan's mobile phone users were using their phones to access the internet; with 87% in the U.K., and 73% in the U.S. Those figures are quite extraordinary, but they pack a punch, and shouldn't be taken lightly. When over 70% of a country are using their mobile phones to browse websites, you'll want to make sure that your eCommerce site is mobile optimized.
If your eCommerce site is not mobile friendly, you could be losing out on a huge customer base, and giving away potential users to your competition – don't let that happen! Responsive website design doesn't have to be difficult; in fact, most CMS providers, such as WordPress, have themes and templates at the ready with very little effort required from you. Once created, there are a range of tools available on the internet to confirm how well your eCommerce website is optimized for mobile, outlining areas for improvement if required.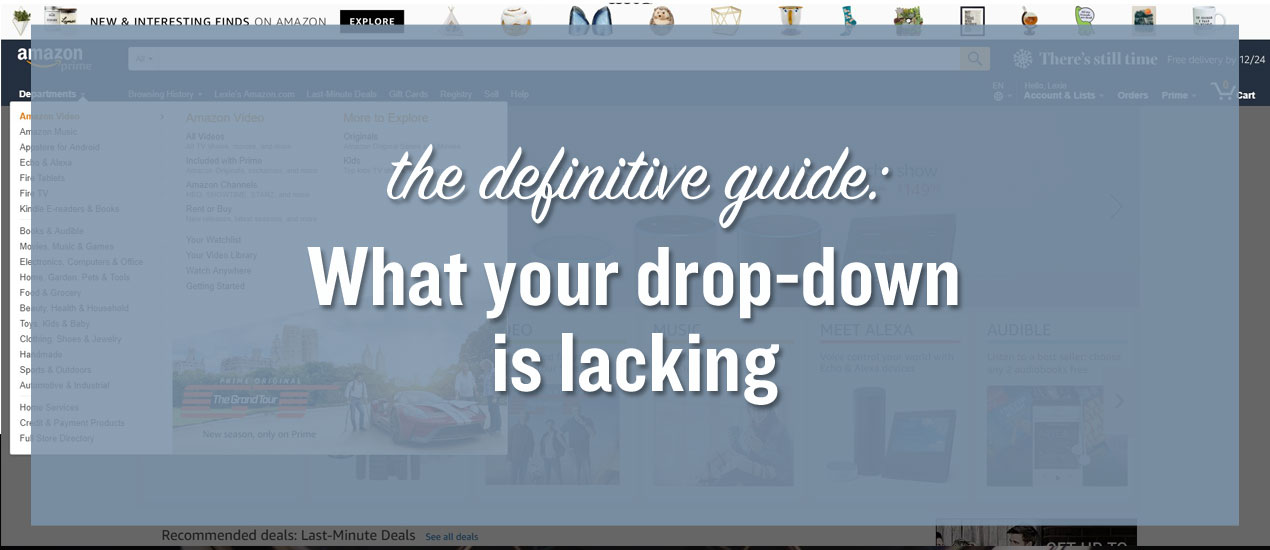 How to Improve Your Drop-Down Menu
The navigation menu is central to the user experience on a website or mobile app. When we visit a website, we have a particular goal in mind. We want to get somewhere on the site as quickly as possible. Usually, the drop-down menu is the most efficient way to do that.
Optimizing your navigation menu should be a top priority. Here are some things you should do to optimize it, plus some you shouldn't.
Do Kill the Clutter
Keep your navigation simple. You may have tons of sub-pages and a variety of product categories, but you don't have to include them all in your main navigation. There are other ways to set this up. Alternatively, you could create a top-seated breadcrumb-style menu to offer easier navigation through lesser sub-pages, while keeping all the juicy stuff in the main nav.
When you open a nav menu, you don't want it to take up the entire screen. Many retailers and e-commerce sites do this, and it's poor design. You want navigation to be quick and easy, but that also means keeping a lid on the box. If you add too many options, things get cluttered and confusing. This is especially true on mobile, where the screen is much smaller.
The restaurant Denny's did this with their newer design. The menu displays the most important categories first. When you select one, it opens to reveal sub-categories or additional options.
Do Use Borders or Shadows
Adding a subtle border or drop shadow to your menu helps it stand out from the rest of the page especially if you're using a lighter background. This isn't so important when you have plenty of negative space below your menu foldout. However, if you have images or text content, sometimes these elements can make the menu harder to differentiate.
Do Consider Applications
When browsing on desktop, it makes sense to have the drop-down menu or main nav take up the width of the page. On mobile, however, where there's much less space to work, a collapsible menu is the better choice. Consider the applications for your menu, such as how and where they will be used. This makes a huge difference when it comes to the function, style and even layout of your design.
Do Include Images or Icons
Most menus are text-based, which is a shame because many devices can display high-quality HD content. Why not spruce things up and make your menu more engaging? It's okay to add images, icons or even visual indicators to your menu alongside text labels.
An auto seller or manufacturer, for example, might consider putting images of the vehicle next to the model name. As a bonus, this can also help when people know visually what they're looking for, but don't know the model.
Formula Boats gets this right with their visually appealing dropdown menu. Open it up, and you can see all their boat models, making it easier to choose between them.
Do Use a Column or Grid-Based Design
Column or grid-based navigation menus are better organized, simple to understand and easy to create. Keep your dropdown menu structured appropriately, especially since consumers and internet users are so used to this design technique.
Don't Have a Disappearing Menu
Ever notice when a site uses a dropdown menu, it remains visible and follows you down the page? This is good web design, especially on mobile. The main navigation menu is always only a tap away, no matter how far down you scroll. This is important for infinite or lengthy scrolling sites.
Amazon has one of the best examples of this anywhere. While their menu doesn't collapse, it is a mega menu with a dropdown design. It's visible no matter where you are on the site, on both desktop and mobile versions. Customers retain quick access, to any section of the site.
Don't Use Unclear Headings
With a dropdown menu, you're going to have quite a few menu items in view. That's alright, so long as you have clear headers to differentiate the varying categories and pages.
For example, an electronics retailer might have categories for home theater, laptops and PCs and printers. The correct way to structure this is to bold the headers of each category so they stand out. The improper way to do this is to list all the options in the same font, color and weight. Then you end up with one list of items, and that's confusing.
Take a look at the official Columbia site. Pay attention to their mega dropdown menu and how it's structured. Notice how the header for each category stands out from the rest? Now imagine if all those fonts were the same. Even with the columns separate, things would get confusing.
Don't Forget to Test
You may prefer Chrome over Microsoft Explorer, or maybe you use Safari. Whatever the case, the worst thing you can do is assume everyone has the same preferences as you. One of the biggest mistakes you can make with web design is not testing your setup on multiple platforms.
Before you roll out the final design for your drop-down menu, check it out on multiple devices, browser types and resolutions. The content may scale differently on certain platforms, which could ruin your perfectly crafted menu.
Look no further than IWC Schaffhausen. Open their site on desktop, and you see a drop-down menu with high-quality images of their watches. This makes sense considering you want to choose a watch that looks good. But on mobile, the menu acts differently. Instead of a full menu that takes up the entire screen, you only see a few of the watches, and you must scroll left or right to see the rest.
Don't Neglect a "Best Sellers" Section
One of the beneficial aspects of a drop-down menu is when you structure it appropriately, you will have some wiggle room — some space to be innovative. Instead of doing something wild, include your popular or best sellers here. Your customers can jump to your most popular product or service right from the get-go.
Don't Make It Sluggish
You want your site to look beautiful, and that means including animations, visuals and effects. But you don't want to hinder the experience by creating something that takes too long to load. It is possible to bog down a drop-down menu, making it sluggish in the process. More importantly, you have control over open and close times, where it appears on the page and how hover elements work. Keep this in mind when designing your menu.
The same is true in the opposite direction, too. If a user is moving their mouse over a menu, you don't want it to pop open and block another element they're trying to interact with. Find the sweet spot — usually a half a second — before that menu shows up.
Time to Overhaul Your Menu
If you noticed one or two things on this list that conflict with your drop-down menu, you may want to head back to the drawing board. You see, the navigation menu — dropdown or not — is central to your customers' experience on your site.
Think of it in terms of a brick-and-mortar storefront. When you go into a grocery store, the building is laid out and organized. Each aisle has a purpose and is properly labeled. If you want something specific, you can usually find the aisle quickly. Now imagine if all those signs were gone. It would be utter chaos.
Your nav menu is the equivalent of those signs in digital form. Not only do you need them to direct traffic, but your customers need them to understand your design.
Lexie Lu is a freelance UX designer and blogger. She enjoys researching the latest design trends and always has a cup of coffee nearby. She manages Design Roast and can be followed on Twitter @lexieludesigner.
Categorized:

Graphic Design

Tagged:

application, desktop, drop-down, dropdown, e-commerce, ecommerce, headings, icons, images, menu, mobile app, navigation, optimization, website
When selling a product, the first option that may spring to mind is to become a retailer for that item. However, you also have the potential to become a brand owner — the person or group that holds intellectual property rights.
In that case, there is more control over which outlets sell the brand, how available the product is in the global marketplace and other specifics. Below, we'll go over several things you need to do during your quest to become a brand owner instead of just a retailer.
Have Ideas for Products That Aren't Available Elsewhere
A major factor that causes a person or company to be a brand owner rather than filling the role of a retailer is the presence of ideas for things that aren't currently available — or knowing how to make things that are better than what people can buy now.
Maybe you love the outdoors and have been thinking about creating a water bottle that makes purification easier when people are roughing it in the middle of nowhere. You might already run a business that stocks outdoor products. However, it probably feels like carrying a selection of inferior water bottles makes your customers miss out.
In the above scenario, becoming a brand owner lets you stock your products in your store. As a result, you can spread the word about them and give current customers easy access to the merchandise.
Protect Your Brand or Product
It's crucial to go through strategies that protect your brand from dilution. It occurs when there are too many similar products in the marketplace, causing people to become confused about all of them and have difficulty with differentiation.
If your own name is also the brand, you can trademark it, as Oprah did. She's one of the few people who've taken that step to set herself apart. After securing the trademark, it's also necessary to keep an eye on the internet and make sure merchants aren't using it without permission. Setting up Google alerts can help you stay more aware compared to manual monitoring alone.
If your product is unique or has characteristics other items don't, you need to strongly consider filing for a patent. Otherwise, other brand owners could see your products and copy attributes about them.
To ensure your brand and products and properly and thoroughly protected, consult a lawyer who has experience assisting other people in your situation. That person can advise you on the best measures to take, plus tell you what to do if you notice companies or individuals infringing on your property.
Generate Curiosity About the Brand
As a brand owner, it's necessary to adjust your business strategy and focus on stimulating interest within multiple groups. The more curiosity you cause, the higher the likelihood your efforts will lead to sales and fruitful business partners.
Retailers merely convince shoppers to buy products. As a brand owner, you not only have to do that but also network with distributors that extend the brand's reach when necessary. Being successful in that task requires showing genuine excitement for your brand and describing why it's worthy.
Build an Appealing Website
The internet is the first place many people will find out about your brand. Invest time and money into creating a strong web presence that reflects what you offer. Does your brand cater to busy businesspeople, or adventurous travel lovers? Regardless of specifics related to the target audience, make sure the website's design, copy voice, images and content support the brand. Then, it's easier to convey what makes your brand stand out and why people should care.
Set Up — and Oversee — Social Media Accounts
Having an informative and user-friendly website is a good start, but you also need to maintain active and interesting social media accounts. Take your time during the setup process and fill out all the relevant sections of a social media profile. Use the same approach to content as building your website and angle it to develop and strengthen your brand at every opportunity. Update social media regularly, too. Ongoing updates boost traffic and engagement.
Also, realize a social media page could quickly become the go-to internet destination for someone who wants to tarnish your brand or is unhappy for some reason and wants the world to know. That's why it's crucial to develop and uphold a plan for moderating social media pages.
If you can afford it, hire a moderation team or person to supervise social media and intervene when required. Also, decide what constitutes intolerable behavior. If people continue to break the rules after being made aware of what's acceptable, ban them and keep track of their IP addresses.
Also, never ignore customers who are truly disgruntled about something brand-related. Instead of keeping up with a publicly viewable content string, you may find it's more comfortable and private to ask an upset person to send you a private message or call a dedicated phone number to explain their concerns further.
Come up With a Licensing Plan
Licensing is the best way to realize the full value of brand equity because it provides new avenues for promoting, manufacturing and distributing your brand in new markets. It's essential to prioritize obtaining license agreements as a brand owner to achieve staying power in a crowded marketplace.
There are various ways to do that. Visiting trade shows is a great initial step. They connect brand owners with companies interested in growing the collection of merchandise they offer.
Furthermore, don't ignore cold calls and social media outreach techniques from potential licensees. Consider that some of the companies most suited to signing licensing agreements may be from other countries, meaning you'd not necessarily encounter representatives at domestic trade shows.
Also, don't get too eager and sign agreements with any company that gets in contact. Licensees are representatives of your brand, and if they don't stick to minimum standards when associating with it, all the hard work you've done as a brand owner could quickly become nearly useless.
When evaluating whether to accept a potential licensee, ask about the direction they want to take the brand. If it doesn't align with at least most of your goals or seems in direct opposition, think carefully before finalizing a contract.
Understand What to Expect
Many aspiring brand owners fixate on all the positive aspects of the outcome. Indeed, the advantages are compelling, and the ownership and responsibility involved are quite motivating.
Having a realistic perspective is crucial. Taking steps to become a brand owner is typically more difficult and less straightforward than being a retailer. Because of those realities, you cannot anticipate quick results.
However, it's not hard to understand why brand ownership provides such a substantial payoff to the people who do it right. Many brands become timeless segments of the pop culture landscape. Consider names like Coca-Cola, Apple and Mercedes-Benz.
As an owner of your brand, you enjoy an unprecedented amount of control over how it appears in the marketplace. Brand ownership also gives more freedom to shape what people think of the brand and perform reputation management as needed.
After reading these steps, it shouldn't be hard to realize why many entrepreneurs see brand ownership as such as appealing concept. If you can relate, don't get intimidated by the length and complexity of the process. Instead, persevere and recall that owning a brand could result in long-term profits and recognition within an ever-crowded consumer landscape.
You Asked, We Answered.
How Do I Improve My eCommerce Site? 
We all want to see more traffic and conversions on our ecommerce sites, right? Of course! This even includes all of us at Cleveland Design firm, Go Media.
With numerous tricks and tips swarming the web, knowing what, when, and how to make those improvements can be overwhelming.
Today, let's start from square one and make sure we all have these three fool-proof elements, all of which can be accomplished this afternoon. Let's get to it!
1. A Very Obvious & Enticing Email Sign-Up
Did you know that only 1 to 3% of people that land on your website will actually make a full and complete sale? Frightening, huh?
Panic not, dear friends. As they say, "Rome wasn't built in a day." In order to build trust and, in a sense, convince customers that your product is worth what you claim it is, add a simple email sign-up to your page.
Think of this simple email opt-in as a customer's small commitment to you. A baby step if you will. The next step may be reading your email, the following step considering a purchase. Then, perhaps, after days, weeks, even months, a final sale. These are all very important baby steps in what will hopefully be a long and happy relationship between you and your customer.
Now, many of you have an email sign-up on your page – but today, let's make it both:
Offer up an incredibly irresistible reason for your visitor to want to enter their name into the "Enter your email address here" box. This could be a freebie of which dreams are made or an exclusive coupon.
We recommend using:
———————
2. A Clear Call to Action
Call to Action is another phrase for, "This is what the heck you are supposed to do here." Or, as Wikipedia more eloquently states, a banner, button or some type of graphic or text on a website meant to prompt a user to click on it…an essential part of marketing…that actively strives to convert a user into a lead and later into a customer."
Here are some really effective Call to Action Examples >
Today, ensure that:
You have a Call to Action to begin with
Your Call to Action is dummy proof (People will undoubtedly click on it.)
It is above the fold (ie. the portion of the site immediately visible when the page first loads).
To test that your call to action is working, use a heat map, through:
to make sure your visitors are really clicking that "big red button," so to speak.
———————
3. Live Chat!
Interact with your customers live and in the flesh (well, almost) when you install live chat on your ecommerce website. Live chat serves as a great customer service tool, allowing you to know your customer and their needs on a more intimate level. Live chat also connects you with your customer so that they can view you as a real live human being, instead of a nameless, faceless entity. Once they know you and come to understand your product, they're more likely to buy from you. It's as simple as that.
We recommend: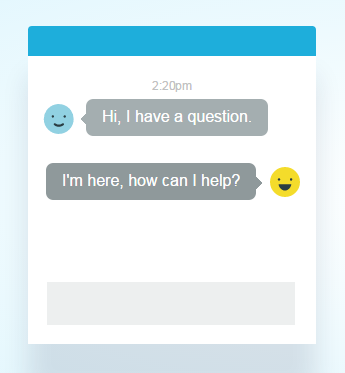 What tips and tricks have you used to improve your eCommerce site? Please share your knowledge with me in the comments below!
Categorized:

Business Philosophy, Graphic Design, Web Design

Tagged:

advice, call to action, conversions, ecommerce, email, newsletter, tips, traffic, tricks, website
Oh dear, where do I start? I feel like there's a huge story behind the scenes that we've never let our community in on. To be honest, we're quite embarrassed about it and we've been trying to make things right ever since. But I think it's time to come clean.
TL;DR: We've been trying to upgrade our graphic design resource marketplace, the Arsenal since 2010 and have failed miserably due to working with a heavily customized version of CS-Cart which seemingly handcuffed us to their development team. 4 years, headaches, panic attacks and tens of thousands of dollars later we are FINALLY breaking the chains and getting a taste of freedom! We've switched our platform over to WordPress and WooCommerce. WordPress and WooCommerce both happen to also be Go Media's preferred solutions for so many of our own clients…
So what was the problem?
Some Background
Arsenal v1 – 2006 – PHP-IPN Monitor
In 2006 we launched Arsenal v1 using software called PHP-IPN Monitor. It was one of the very few tools for selling digital files online at the time. It cost a mere $99 bucks and in a few days we had our first product up for sale. This lasted a year or two until we started releasing more products and needed a way to add search, customer accounts, etc.
Arsenal v2, 2008 – Enter CS-Cart
In 2008 we upgraded to a full shopping cart platform, CS-Cart. Other major eCommerce options at the time were Zen Cart and X-Cart. CS-Cart was actually a splinter cell of the original X-Cart team. We saw progress and innovation in CS-Cart, but it didn't support selling digital files. In fact, not many shopping cart applications at the time did. So we hired their team to develop custom features for it. They were very affordable (based in Russia) and added what we asked for. Total implementation took maybe 6 months. Admittedly, the resulting code was sketchy according to our own development review. But we were busy, it was stable, and thus didn't spend much more time on it.
Arsenal v3, 2010 – Outsourced to Death
We designed Arsenal v3.0 in 2010 and it took us until January 2014 to finally launch. We missed our deadline by 3 years. It was a FAIL to live in infamy here at Go Media.
So what happened?!
Failure to Launch
In 2010 we had the next Arsenal planned and designed. We didn't have the capacity to produce in house, nor was it exactly our expertise. So we requested quotes for the web development and received estimates in the hundreds of thousands from top American firms.
We didn't have that sort of budget for this. At the time, we were pushing our internal development resources into a design studio management app, Proof Lab. We put Arsenal v3 on hold until we could finish Proof Lab. Proof Lab ended up taking our team two years to finish. By that time, the Arsenal v3 design was tired and the user experience no longer adequately served the community's needs.
In 2012 we had a relatively small, but workable budget to get it developed. We decided to hire CS-Cart again because they had been okay on v2 and no one knows their software better. They delivered on their commitment the last time we hired them. They had grown a lot since then. Surely they'd do an even better job this time around.
We were sorely mistaken.
CS-Cart Nightmare
We had a 6 month deadline CS-Cart agreed to. The deadline was pushed back because CS-Cart was coming out with version 3 and we agreed to wait for it. We'd all be better off in the long run. It was chock full of exciting new features. Cool. They promised it was just around the corner. They even published articles of anticipation to the public. Surely their road map was remotely accurate.
Nope.
CS-Cart v3, and therefore the new Arsenal was pushed back 9 months, then a year. Then a year and a half. The CS-Cart Developers would constantly miss deadlines. They would even claim something was done, when it clearly wasn't. We had to micromanage every detail. We would send reminders, to-do lists and inevitably hassle them as each delay, bug and excuse mounted.
If that wasn't bad enough, new developers kept getting assigned to our project and we'd practically have to start communication over from scratch.
A year and a half over deadline, just when we thought we were on the homestretch, some confusing conversations (there were many) lead us to discover CS-Cart was about to release an entirely new version 4.0 of their software! They never mentioned a new version was in the works. We discovered so on our own.
We asked if everything would be future proof and our store could receive updates to the software as released. CS-Cart said YEP. They would promptly migrate our customization over to v4. Promptly apparently means "drag your feet and make excuses for months and months." Later they would conclude that a key feature we needed was entirely not able to be migrated at all. They danced around our issues for several more months before declaring we were stuck with version 3.
Stuck.
Essentially, we were locked out of receiving updates to their software even though they were still providing custom development on what was now a legacy platform with significant known bugs. Yay! At this point we had invested tens of thousands and lost countless months giving CS-Cart the benefit of nearly insurmountable doubt.
Wow, we're fricking nice. We couldn't turn back, right?
The Forest from the Trees
The past few years we have been developing most of our client websites on WordPress as well as eCommerce integration using WooCommerce. In 2010 we would not have considered using these applications for something as demanding as the Arsenal. But we joked that with our WordPress and WooCommerce development expertise we could build Arsenal v3 in a few weeks and be happier with the results. Even better, we would feel more in control of the situation. We hated not being comfortable editing the CS-Cart software. Even though it was a PHP core, it just wasn't in our team's wheelhouse. Go Media definitely employs WordPress experts. CS-Cart experts, not so much.
After CS-Cart wiped the smile from our faces, we stopped joking. The improvements and extensions emerging from the WordPress and WooCommerce ecosystem started making the switch a real possibility. Maybe a harder part was accepting CS-Cart as a failure and eating the 3 years of time and money invested in it. It was an unprecedented move to put a store the scale of the Arsenal onto a WordPress plugin. It felt like uncharted territory.
But first we still needed to deploy the "new" Arsenal as it was on CS-Cart. Just finish the job and be done with them. They seemed to be done with us anyway. Their code was our problem now. We scrapped many of the features we had been trying to implement since 2010, such as the artist marketplace. We pushed it up, dealt with the fallout and quickly froze production as we focused on testing the viability of WooCommerce.
WooCommerce here we come!
By this point, WooCommerce had answers for nearly every problem we were having with CS-Cart. Artist marketplace? There's a plugin for that. Bundle products? There's a plugin for that too. Subscriptions, digital products, product and order migration – all were completely or partially solved by plugins we could implement in short order. Less bugs than CS-Cart v3? God, we hope so! Was it too good to be true? We feared it might be, for several white-knuckled weeks, as we beat on our proof of concept. But the pressure was on for us to replace the questionable version 3 powered by CS-Cart. So we hit it hard.
WooCommerce has a very different database design when compared to CS-Cart. It leans completely on WordPress, which we all know has its roots in blogging. This turned out to be a very square peg going into a round hole when it came to moving data over (see serialized arrays). Nearly every data object was remarkably different. Fortunately, there is a nice plugin that made migrating the products a cinch.
Unfortunately, a similar Customer and Order migration plugin could not handle the volume we were trying to push into it. Because the database tables were very different, we spent days in MySQL working out the formulas. And then converting the 90,000 customers and hundreds of thousands of orders from almost a decade online, took hours of computer processing time to complete.
All said, the new Arsenal, code-name 3.5, DID NOT take us 3 years! Eat it CS-Cart. We developed the new WordPress & WooCommerce custom theme and migrated all of the products, customers and order data in about six weeks time.
We might not go as far as to say WooCommerce is better than CS-Cart, but here are a few places WooCommerce wins out:
It's truly more open source. WooCommerce has been the fastest growing eCommerce solution in the last two years with an estimated million+ deployments and counting. With this comes a larger development cadre and more users to be accountable to. This adoption and visibility means better consideration for backward compatibility and less likelihood of bugs.

An already larger and accelerating ecosystem. Not only is WooCommerce the fastest spreading eCommerce application, but the fact that it is buoyed by the massive WordPress scene (20% of ALL websites!) puts the wind to their backs.
The API uses PHP and WordPress best practices, as does the core implementation itself. We believe in standards and excel in this arena.
The documentation is better. The community resources and knowledge base more abundant.
Did we mention it is on WordPress?! There really is no eCommerce software with the publishing power of WordPress. Most eCommerce CMS features are hardly more than an after thought. The marketing and informational demands of today's web make content king for online shopping. Marrying WordPress with eCommerce is a customer satisfaction match made in SEO heaven.
We trust WooThemes. The great ladies and gents in the Woo camp are people we've worked with many times over the years as fellow WordPress experts. They're good about collaborating with us to make improvements, they're reliable and they're in our timezone.
WooCommerce is easier to customize. We discovered a lot of obstacles and had functional disagreements with how CS-Cart handled certain things, only to discover there was no clean way around them. Hence, the reason we were stuck with v3. WooCommerce sprinkles hooks and filters everywhere, making it a snap to override and add things.
It's smaller. This is a double edged sword, but we're kinda control freaks here anyway. CS-Cart is trying to be the big-size-fits-all player, but if you've ever worked with, say Magento, you know that sometimes mo-features-mo-problems. WooCommerce is lean and mean and at least if you need a few specific features, you can develop or add a third party plugin that hooks right into place and probably won't have to be thrown away when that next version comes out.
All in all, we're thrilled and very optimistic about the results. Moreover, bye bye CS-Cart and we're not looking back. Nothing will ever be exactly everything you want in software. We're not naive to the challenges of building complex systems, especially for eCommerce. We're not going to bash CS-Cart as an application, and they were very nice during all the empty promises they didn't keep. It's just that maybe we grew apart. Maybe we thought it best to see younger, sexier applications.
The future of Go Media's Arsenal
We are very excited about what comes next to the Arsenal. What was originally a veritable clearing house for rejected design concepts from Go Media had set the stage for what is now a major segment of our industry. You deserve better from such veterans. We all do. We're committed to restoring our position as a leader and trusted source for premium graphic design resources.
We want to make your work lives easier without compromising quality. We want to empower creatives with tools and tricks of our trade as well as provide opportunity for the best to join our efforts. We've been inviting our favorite designers to now sell their own resources in the new marketplace. We welcome upcoming talent to show us what you've got. We may be able to help you become recognized and clear a nice profit in the process.
We ask ourselves every day, what are we doing to change lives? After last year's WMC Fest which we tagged "3 days to change your life" that's become an overarching priority at Go Media. We are not interested in copying the trendiest products out there, but to get to the core of what designers like us are really after. We're committed to providing the best tools, articles, ebooks, inspiration, education and other resources to become the best designer you can be. And not only the best designer, the best Self you can be. Because there's a lot more to life than Photoshop.
We really hope you'll join us to help make the new, new Arsenal great. If you'd please take a moment to comment, we would really like to hear your suggestions for what would help you as a designer. We all know that vectors, textures, and templates are a dime a dozen these days but we still face challenges at the helm of creative production.
Now that we have the technology completely within our control and a brand new outlook for the future, what would you like to see the Arsenal bring you?