Hey Go Media Zinesters, Jeff Finley here. If you didn't know, I actually spent all of August working on new Arsenal and Zine stuff exclusively. To be specific, I was working on some really rad tutorials. One of which you folks read last week about how I created the artwork for my band's song "24th of January."
Learn to Create This Exact Design
Well I'm writing to tell you about my latest tutorial which I think you will really like. This time it's of the premium video variety, downloadable from the Arsenal for only $49.99. If you keep reading, you'll see a $10 discount exclusively for GoMediaZine readers! It's a 2.3-hour complete walkthrough of my entire design process from start to finish. If you liked the artwork I've been doing for Parachute Journalists lately, then you're going to love this tutorial. It's for our newest song called Andrew Jackson.
Video Tutorial Preview
The song itself was inspired by the education (or lack thereof) in schools about the dark side of former U.S. President Andrew Jackson. He's well known for his Trail of Tears where he marched thousands of Native Americans out of their homeland which led to lots of disease and death. The song is a satire and is a little different than our other songs because it's sung by our bass player Jeff Steinwachs. It's catchy and and a little rough around the edges, which is just how we like it.
Listen to the song
—
The artwork I created for the song took inspiration from the Trail of Tears. That's where the tear drop shape comes from and in the video I described my design and color choices in more detail. The typography was very 1800s inspired and you'll see how easy it is to create the type treatment in Illustrator. I do some hacking with some of Illustrator's built-in toolset to get my desired results. You'll see!
Even if you're an experienced designer curious about how a fellow designer works, there are things you can take away from this video.
Topics Covered in the Tutorial
Sketching and The Importance of Concept
Creating a Type Treatment From Scratch
Typography Tricks and Shortcuts
Using Photoshop and Illustrator Together
Authentic Vintage and Aging Tricks
Retro Lighting Techniques
Creative Usage of Arsenal Vectors & Textures
Wacom Tablet Illustration and Line Art
Combining Illustrations and Photos
Graphic Design Composition and Layout
GMZ Reader Discount
The tutorial normally costs $49.99 but Zine readers get it for $39.99 throughout the rest of September. Just enter the coupon code "ajtutgmz" at checkout.
Coupon Code: ajtutgmz
I am excited to see what you guys come up with after watching some of the techniques I use. I think the stuff I teach you is versatile enough for many different applications. Let me know what you think!
Categorized:

Illustrator, Photoshop, Typography

Tagged:

coupon, discount, how to, Illustrator, Photoshop, retro, texture, tutorial, typography, video tutorial, vintage

Freeverse has just released Lineform 1.5.1. Lineform is a low-cost vector graphics software program for the Mac, for those designers out there on a budget.
Here's the new stuff:
Fixed Undo to include function names
Fixed text fill editing bug
Fixed reflection filter color bug
Improved layer locking
Fixed tool handle display bug
Fixed text editing background bug
Fixed erroneous canvas shifting
Improved gradient behavior
Improved performance with many objects on canvas
Improved copy/paste of multiple objects
Improved naming of objects
Fixed copy/paste display bug
New Lineform Clips option available in the Media Browser, Includes a number of vector clips to use in your documents
Head over to TUAW.com to get a discount code bringing Lineform's cost to only $49.95—30% off the regular price of $79.95.
We're doing a crazy promotion this month that not many people know about. For all Twitter followers on the @Go_Media profile, we will be posting a new tweet every day with a unique discount code for a particular product on Go Media's Arsenal. It's valid only for that day.
There are still plenty of days left in the month of May, so chances are you'll find a discount on something you've already planned on getting. Whether it's vectors, t-shirt templates, brushes, or a new font.
To get the discounts, simply follow @Go_Media on twitter!
Discounts
Last week Go Media's Arsenal released Tennery & Ladies Short Sleeve Templates. This week Go Media has two major resources to announce – Vector Pack 13 & Fingerpaint Textures! To celebrate the new packs, we're sharing the discount code usually reserved for existing customers only. So, when checking out, just use the code: thirteen to get 15% off the already super low price. We know times are tough, but that shouldn't mean you have to go without the latest design resources! Hope this discount helps. Be sure to use it right away because the code will expire in two weeks, on November 28th.
Freebies
It wouldn't be Vector Pack season if there wasn't a freebie involved! Here are seven pieces from the new Vector Pack 13 – my favorite from each pack. Each set has a lot of variety, and it was hard to pick a favorite! Definitely check out the real thing over at the Arsenal.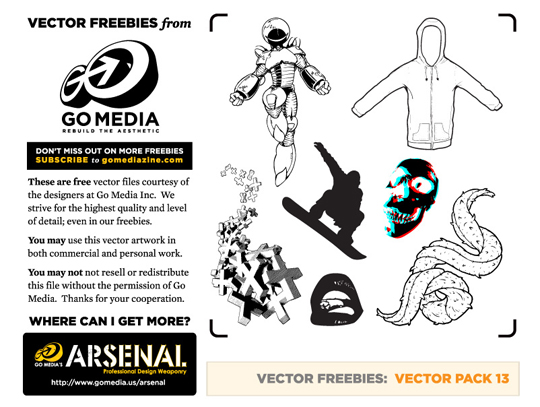 [download#29#nohits]
BONUS: We're also giving away two hi-res freebies from the new Fingerpaint Texture pack! If you've downloaded either of the Watercolor Texture Packs, you know how useful these things are.
[download#30#nohits]