Wouldn't it be wonderful to roll out of bed and instantly be at work without a lengthy commute or hours spent on getting ready? More and more people are working from home these days either remotely for companies or as freelance workers.
According to one survey of 15,000 people, about 43 percent of Americans work at home at least some of the work week. Working from home has a number of advantages, including saving money on your wardrobe, commuting costs and lunches out. At the same time, it can be challenging due to distractions, so make sure you're prepared for the time commitment before taking on a remote position.
If you've already thought it over and you're sure you want a web-based job you can do from the comfort of your own home office, here are 14 that might interest you.
1. Web Designer
As a web designer, you can either work freelance from your own home office or secure a remote position with a company. Web design has many different facets, and it's smart to specialize in an area or two, such as user experience (UX) design.
While you don't technically need a formal education to become a web designer, some knowledge of coding and training in the aesthetics of design will help you build your career.
2. Writer
If you have skill with the written word, look into writing as a full-time career. Many companies hire writers to create content for their websites. You can either collect a number of small business clients or find a company that needs full-time writers.
Degrees in related areas such as education, English and journalism are helpful so that you understand proper grammar and how to put together a story.
3. Cyber Security
As more and more businesses go online and conduct their business there, cybersecurity needs grow. By the year 2024, security analyst jobs are expected to increase by 18 percent.
The majority of work in cybersecurity requires a bachelor's degree and even some advanced training beyond that. It's vital that you fully understand how the backend of networks operate and what you need to do to protect companies from external attacks.
4. Medical Coding
You've likely heard that you can do medical coding from home. That's true, but many people start with a local hospital and then work their way into a remote job.
Medical coding pays fairly well, and you can get into it by completing certification. You'll have to pass a test to show that you know all the codes needed. Be aware that the coding system changes, so you'll also need to stay up-to-date on training over time.
5. Social Media Marketer
Do you have a knack for social media and a background in marketing? Social media marketing is a position that can be done from home. Similar to writing, smaller companies may require only a part-time marketer, so you may need to work for several companies to reach full-time income status.
Make sure you have a background in marketing and that you understand the details of each social media platform and its typical audience.
6. Virtual Assistant
Are you highly organized? Consider working as a virtual assistant. The work for this type of position is highly varied. You might answer emails for a CEO one day and transcribe a recorded meeting another day. You might have a client who needs you to send out notices to their customers the next week.
You'll need to be extremely organized and have a wide range of clerical skills to do this type of work.
7. Language Translator
The median pay for interpreters and translators is $47,190 per year. The typical education is a bachelor's degree, and you'll of course need to read, write and speak fluently in the languages you'll translate. Because this type of work isn't something companies typically need every day, you'll probably work as a freelancer running your own business.
8. Online Teacher/Tutor
Do you love to teach others? A job as an online teacher or tutor is an excellent option. Be aware that if you plan to teach English to other countries, you'll likely be required to work hours that make sense in that country. So, if you live in the United States and plan to tutor students in Asia, you'll need to get up very early in the morning or stay up very late at night to cover your shifts.
Most companies require a teaching degree and/or experience with this kind of work.
9. Phone Support
In today's economy, consumers expect companies to answer live chat, emails and phone calls 24/7. This demand has created an entire industry for remote workers, which gives you an opportunity.
You don't need an advanced degree to offer phone support for a company, but you will need good phone manners and a decent speaking voice. If you're unsure, take some basic voice lessons to help you develop your voice and keep from straining it while talking for long periods of time.
10. Legal Transcriptionist
Do you type fast and have accuracy in your finished product? Legal transcription is a good choice for you, and you can do this type of work web-based. Expect about $20 per audio hour, but be aware that it can take you longer than an hour to transcribe an hour's worth of audio depending on your typing speed and any accents in the recording as well as other factors.
You don't need any special training for this position, but you'll be expected to have good grammatical skills.
11. Bookkeeper
If your skills are more in the math realm, take accounting classes and learn to do business bookkeeping. You can complete this work from nearly anywhere. If you work for a local company, you'll likely need to go into the office sometimes, but you'll find that much of your work is doable at home. Local community colleges typically offer accounting classes.
12. Life Coach
If you're skilled at inspiring people to do their best, you may do well as a life coach or personal coach. This type of work requires multiple clients, but you can specialize in areas such as weight loss, academics or personal improvement. All work can be completed online via Skype or messaging. You could also meet clients in your home or at a small local office.
13. Video Editing
There are many opportunities to do this type of work at home. Contact local funeral homes to inquire about their need for a video editor. Most now offer this type of service and may need someone to fill the gap and put in the time it takes to pull all the images and text together as well as add music. You could also freelance and create videos for graduations, birthdays, anniversaries, weddings and other special events.
14. Photographer
Many different types of photography exist nowadays. And, you don't have to be a wedding or portrait photographer to make money with today's online marketplace. In fact, you can take pictures of nearly anything imaginable, upload them to stock photo sites and make a living. Another option is to commission with companies such as grocery stores and restaurants to come up with recipes and include images for their readers.
Best Web-Based Jobs
These fourteen ideas cover a wide range of skill types and interests. The best web-based jobs tap into something you're already passionate about. This allows you to work from home while pursuing that interest. If you don't see anything on the list that interests you, brainstorm about what you like to do and how you might turn that into a career. With a little creativity and a lot of determination, you'll work from home before you know it.
Hello current and future friends of Weapons of Mass Creation Fest,
If you have yet to hear of us, we are the premier art, design, and music conference in the Midwest. We welcome you to join us for this year's festivities, August 18 – 20th in Lakewood, Ohio. Mahall's, a west-side Cleveland landmark for bowling, good music, good times, and good fried chicken will be our host. If you love design, music and bowling – get ready to party with us!
If you need a little more convincing, here are some reasons we believe a design conference like ours should be in your future: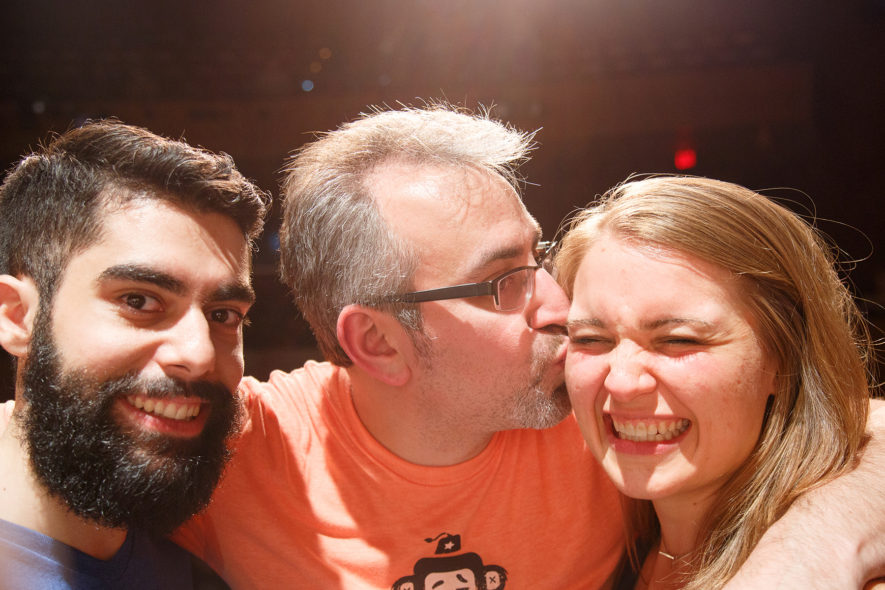 Real Relationships
Conferences are the perfect place to meet like-minded people. While it's often difficult to put yourself out there and attend an event, especially solo, it's so well worth it. After all, there aren't many opportunities to totally geek out with so many folks that love the same things you love, in one space, all at the very same time. It's the ultimate time to bond, build friendships and find your tribe. When you come back the next year, it's your opportunity to renew those friendships and it feels oh so nice. (*Hearts*) I'm biased, but there is something special about our own conference, Weapons of Mass Creation Fest, that brings our attendees close, quickly. Since we provide time for lunches, dinners, meet-ups and parties, there are many opportunities for folks to get to know one another on a personal level. And because the feel of the fest isn't corporate, people let down their guards instantly. This results in friendships that have lasted since year one.
Direct Feedback
If you're looking for feedback on your work or advice about building your business, get yourself to a design conference now! Next, attend as many of the talks, panels and workshops as you can and take notes! Attend meet-ups, hook up with fellow creatives for lunch and dinner. Head to the parties and not only talk, but truly listen.  Soak up all the information you can. Don't be afraid to raise your hand during the Q and A's and be brave enough to ask that speaker you admire the question you're dying to have answered.
Up Your Game
Did you just create a new poster series, start a sticker subscription service or launch a new apparel line? Attending a design conference like Weapons of Mass Creation Fest is a great way to get the visibility you're looking for. You can do this by setting up a vendor booth, hooking each attendee up with promo items (by way of their swag bags), or simply working the room like a champ, all weekend long.
If you're looking to be more visible as a public figure, put in the effort by showing up to as many design conferences as possible. Put yourself out there and show the design community that you're a creative that "takes up space." Make an effort to get to know the conference coordinator(s) and have conversations with them about possibly speaking at a future event. (In person if possible.) Show them you genuinely care about their event.
Battling Burnout
Most of us have faced some amount of burnout at some point in our careers. When you put your heart and soul into what you love to do, it seems inevitable. If you've experienced exhaustion as it relates to your creative career, attending a conference can help. The authentic conversations are really what have helped many of us pull through. At this year's Weapons of Mass Creation Fest, we'll even be holding a panel on this very topic, "How to Battle Creative Burnout." So, there you go.
Paving Your Way
Design conferences are filled with talented, connected creatives that are more than willing to befriend you and help you become a better creative or entrepreneur. If you attend, take the time to form meaningful connections (face-to-face) and then, in turn, give back, opportunities will abound. You do, however, have to put in the work, so make sure you go in ready and willing to chat up speakers, vendors, attendees, and absolutely anyone who is willing to exchange in a conversation. In this creative environment, you never know what magic will come of it.
Kick in the Pants
Inspiration is an overused word, so we've decided to use "kick in the pants," as a way to describe what Weapons of Mass Creation Fest does to us. The three days are so jam-packed with activity, friend-making, and just plain fun, that we come out on the other side a tad bit exhausted, but mostly motivated unlike ever before. We feel like we've gotten a big old kick in the pants to go achieve, pursue our path and ya know, dance like no one is watching.
—
So yeah, we're pretty into design conferences for many reasons, which is why we started our own. We'd love to see you at Weapons of Mass Creation Fest this summer, so please make it a point to come, squeeze every ounce of content out of it and enjoy. Have any questions before you come? Please ask. Hope to see you there!
Categorized:

Graphic Design

Tagged:

art, cleveland, conference, Creative, creativity, design, design conference, designer, party, weapons of mass creation fest, wmc, wmc8
Go Media Designer Sites – The practical, affordable web solution with the Artist's touch. Beauty made simple.
This is the epic tale of Designer Sites, the agile, accurate, utterly gorgeous, and affordable new web solution from your friends at Cleveland Web Design firm, Go Media.
Go Media has always maintained a keen eye for quality design. We built our reputation on it, and it remains at the core of our business. But years ago, when we first set out to build websites, the results were mixed.
Like our designs, our early websites were handled with the utmost care. And, true to form, they looked beautiful. But with this attention to detail came a price. Each site to go live from our Cleveland based Design studio was fully customized and looked as if it had been meticulously handcrafted. Gorgeous but inefficient.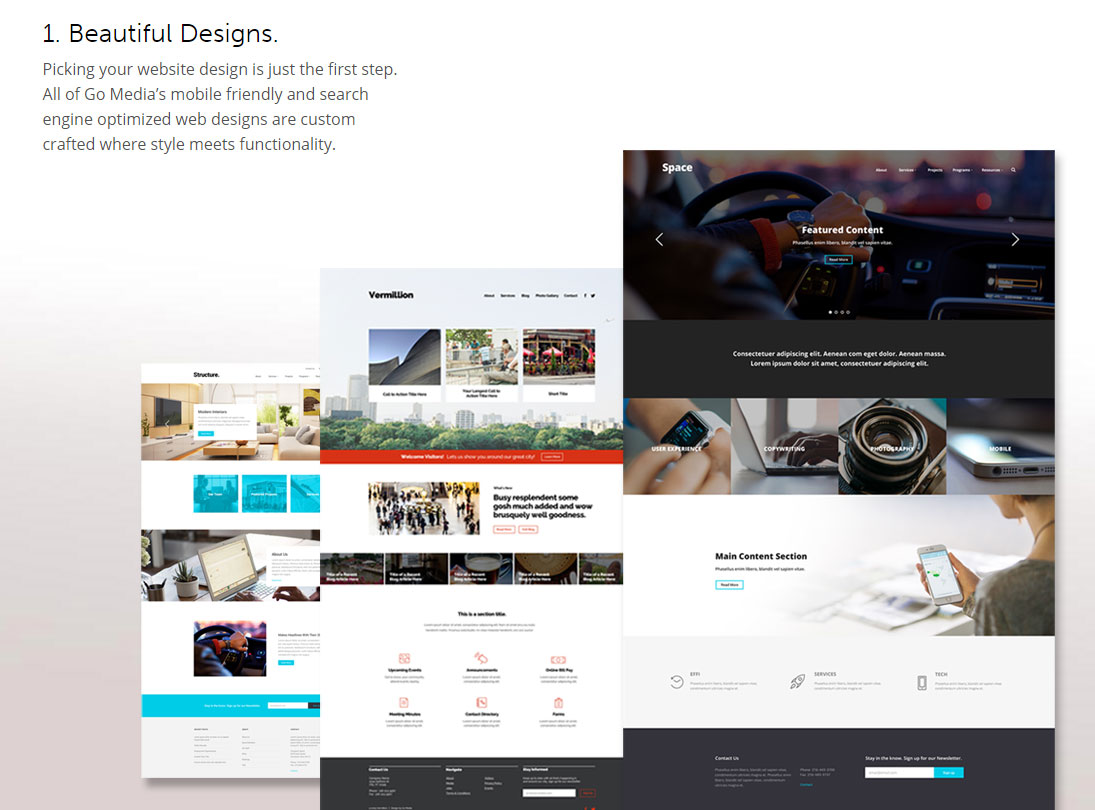 We had to find a sweet spot between beautiful designs and affordability. A little less Elon Musk, a little more Henry Ford – strange bedfellows indeed, but if anyone was capable of bringing the business acumen of these two giants together in spirit, it was Go Media.
So we went on the hunt for pre-built web themes, and found that the internet was littered with them. That was part of the problem, and probably should have raised a red flag early on. But this was years ago, and the internet was still a little bit like the wild west. The landscape was punctuated by one gold rush town after another. Some were built to last AND pretty to look at, while others were abandoned almost as quickly as they'd been settled. The market was just beginning to pick up steam, and already moving at a breakneck pace. Things were happening fast.
We soon learned that websites are a perishable product that require regular maintenance,  and an awful lot of pre-built web themes spoil fast. The world of pre-built web solutions seemed to us like a clandestine, nether region where orphan themes – created by deadbeat developers who'd long since flown the coup – were left to die on the vine. Every time we'd pick a theme, the thing was obsolete within a matter of months.
It seems that the authors of these web themes – maverick web developers – approached their work with nomadic conviction. As a result, these web themes didn't get the support they needed. This ultimately led to a bonanza of web solutions with very short shelf lives.
So we decided to build our own. Sure it needed to cost less, but not at the expense of a beautiful user interface and an intuitive user experience. We had to achieve a balance between agility and accuracy for all of our clients, big and small. There were allegiances to support. And it had to have integrity.
Long story short, we did it! Have a look. Go Media Designer Sites. More a '65 Mustang than a Model T. Not so much a Roadster as a Tesla Model 3. Beauty made simple, and built to last – everything you've come to expect from Go Media at an affordable price.
Contact us today to learn more.
Student's Guide to the 'Zine:
a Quick Guide by Your Friends at Go Media
Welcome to the Go Media's Zine!
Are you a passionate creative, student, designer, entrepreneur?
You're in the right place.
Inside you'll find the tools you'll need to successfully do what you love. We'll share real-world practical advice, solid business techniques, step-by-step tutorials, as well as educational podcasts and webinars to take you to the next level.
Go Media, the premier website development company in Cleveland, will give all of our secrets away and cultivate an open environment for the sharing of insights and inspiration.
Join us.
When you're ready, we would also love for you to be a part of our community. Please comment on posts, become an active member of our social media community and/or email to find out ways you can contribute your own designs or tutorials to the GoMediaZine.
Quick Guides
With hundreds of posts in our archives sometimes it's hard to know where to begin. Our Start Here page is a great place to get started. This page holds 7 quick guides to becoming the creative you've always dreamed you'd be. You've landed on one of these lists so let's get started, shall we?
A Student's Guide to the GoMediaZine:
1. An Open Letter to Student Designers
2. Surviving Design School
3. Preparing for your Design Career: 5 Important Lessons
4. How to Land the Design Job of your Dreams
5. 10 Mistakes Designers Make When Applying for Jobs
6. How to Ace Your Next Creative Job Interview – What We're Dying to Know About You
7. 8 Detrimental Design Habits to Break Today
8. An Open Letter to Design Students: Learn to Code
9. Learn to Code: Tips for Designers
10. 8 Secrets to Battling Burnout and Tools to Help Kickstart Your Day
11. How to Charge for Your Graphic Design Work (& Get What You Deserve)
12. Bright Ideas from the Intern
13. Tips on Landing an Internship
14. Where Can I Learn Graphic Design? – A Newbie's Guide
15. Kicking A** in Kickoff Meetings
16. Don't Quit Your Day Job- Advice for Young Creatives on Making Ends Meet
17. Here's What You Need to Know About Creating an Outstanding Online Portfolio
18. Please Avoid Making These Mistakes We Often See on Design Resumes
19. The Magic Element to Include in the Best Graphic Design Cover Letter Ever
20. How to Have the Best Graphic Design Portfolio on the Block: 3 Tips
21. How to Get Hired to Do the Design Work You Want to Do
22. 14 Web-Based Jobs You Might Be Interested In
Part One of Seven Easy Principles to Becoming a Master Designer.
Rules about Using Fonts:
Ok, "master designer" might be a bit of a stretch – but you can at least become a "proficient designer" by following 7 easy principles. This will be the shortest, most informative series of blog posts you've ever read on how to become a better designer. Please note: these principles CAN be broken… these are not laws, they're just general guides that all of us designers at Cleveland design firm, Go Media, typically follow when putting together a design.
Follow these simple design principles and you'll be on your way to artistic excellence.
Principle One: Limit Your fonts. A big part of putting together a good design, as you'll see, is making sure the over-all look is consistent. The best way to accomplish a consistent look to your design is limiting the number
Categorized:

Tutorials

Tagged:

design tip, designer, font, fonts, hand lettering, lettering, rules, student, tutorials, typography, William Beachy