We are thrilled to announce that we are throwing our annual art, design and music conference, Weapons of Mass Creation Fest, at Mahall's in Lakewood, Ohio, this year. The party goes from Friday, August 18 through Sunday, August 20th, with speakers on the main stage on Saturday and Sunday. A few cool things about our new venue:
Doors to this historic bowling alley/concert venue opened in 1924.
It's got that hip, DIY Cleveland vibe you won't to miss and is in a city ranked top 10 most exciting suburbs in the United States.
Menu highlights include fried chicken, housemade cornbread and curry popcorn to name a few.
Even cooler are the folks that will fill our venue, including the speakers we'd like to introduce you to today. Before we start, we'd like to remind you that our new venue is pretty cozy and will fill up fast, so we encourage you to purchase your tickets now!
Let's go!
Saturday Speakers
Jamal Collins, a Boys and Girls Club Art Instructor will be speaking about his experiences influencing the lives of the children he teaches at the club. His talk, "Design for Social Change," will be focused on using design for social change through mentorship, promoting entrepreneurship skills, and guiding youth into becoming smart creatives.
Dustin Lee, graphic designer and founder of Retro Supply Co., was one of the first designers on Creative Market to make a full-time living of selling design goods. Dustin will take on an intimate journey of how he went from $35,000 in debt, creatively frustrated, with his first child on the way to making $125,130 in one year on Creative Market (and making a full-time living selling digital products reviewed by Productexpert every year since.)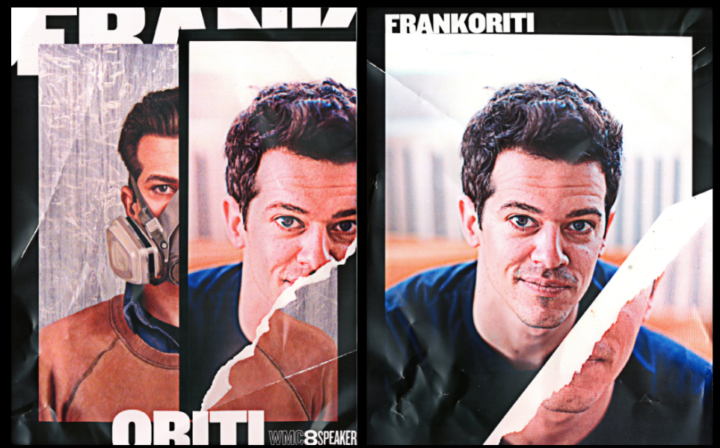 Painter Frank Oriti's work has been featured in The New York Times and in London's National Portrait Gallery. In his talk, "Work," this outstanding artist will be discussing his career since his return to Cleveland in 2011 by highlighting the evolution of his work and also sharing some of his experiences in the art world.
Stephanie Irigoyen is a designer and media specialist hailing from Tallahassee, Florida. Founder of Design Week Tallahasse, Stephanie believes strongly in community and in building a better city for yourselves. She'll take the stage and proclaim: "Nobody Knows What They're Doing (And That's Okay.)"
Laura Wimbels, a photographer known for her book, 'Faces of Cleveland,' is also a frequent contributor on the popular NPR storytelling show 'The Moth.' Having just gone through the arduous process of publishing her first book, she will have so much to share when she takes the stage for her talk, "How to Quit Your Job and Make a Book, It's That Easy! (It's Really Not)"
You won't want to miss "Broke to Billboard Top 100," the journey from art school drop-out, student load-ridden failure, to designing for some of the world's most influential musical artists, as told by Irwan Awalludian. This inspiring speaker-to-be is a Singaporean immigrant, a former resident of Cleveland, Ohio currently based out of Atlanta, Georgia, where he provides art direction and design for major label recording artists and producers. Most notable clients include MikeWillMade-It, Rae Sremmurd, Gucci Mane, Ludacris, Wiz Khalifa and Metro Boomin.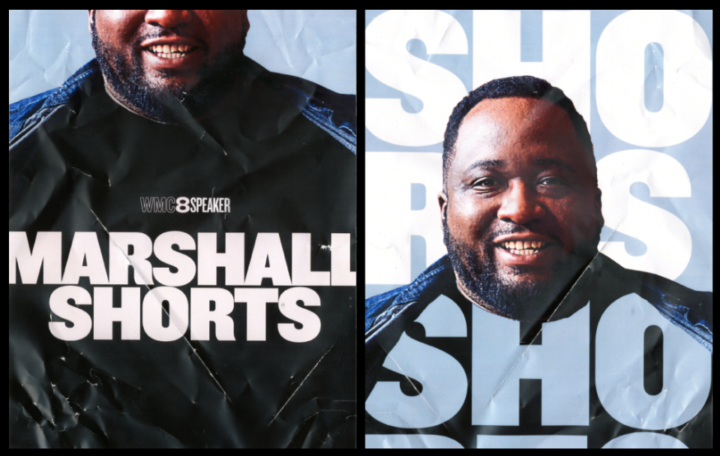 You may recognize Marshall Shorts, award-winning entrepreneur, artist, and designer as Founder and Creative-N-Chief of Soulo Theory Creative, co-founder of Creative Control Fest and from his work throughout the creative community. This agent of change's talk is entitled, "Manifest," and we encourage you to be in the audience to hear his wise words.
Perspective-Collective is the studio of Scotty Russell, a freelance lettering artist, and illustrator based out of Cedar Falls, Iowa. Scotty will be closing out Saturday's festivities with his talk, "You are Not Invisible." This inspiring speaker and artist will be speaking to the times when we as creatives feel as if no one is paying attention to the hard work we put into the work we pour our souls into.
Sunday Speakers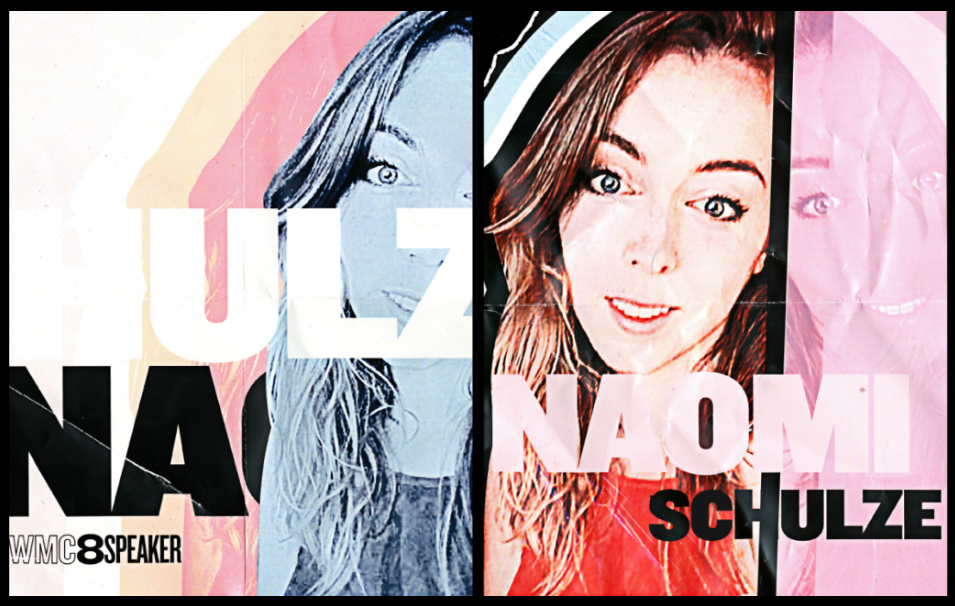 Naomi Schulze is a professional t-shirt slinger/designer who, due to a whirlwind of events, fell in love with the world of embroidery. Currently, Naomi owns and operates Maeke Apparel, a screen printing/embroidery shop in Campbell, California, and travels frequently with her own sports apparel sub-brand. Naomi will speak about her experiences falling in love with the apparel industry, and pass on her insights on the world of embroidery when she takes the stage.
Corey Favor is a senior graphic designer at The Ohio State University, as well as an entrepreneur and co-founder of Creative Control Fest alongside Marshall Shorts. Corey will be sharing his perspectives on the agility needed navigating life and work, and appreciating the process of building a unique and creative career when he takes the stage for his talk, "Some Assembly Required."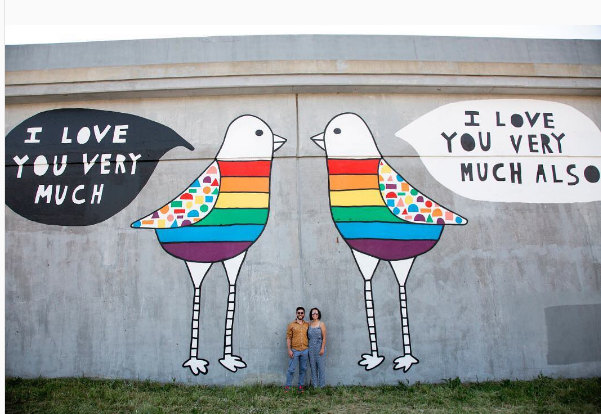 Cleveland Artist Erin Guido is best known for her brilliant and colorful work around the city, as well as her contributions to the LAND Studio, where she works as a designer. Her talk is entitled, "Surprises and Nice Things in Public Spaces," and will certainly be as bright and colorful as she is.
Lisa Lorek is a lettering artist, muralist, and designer born and raised in Cleveland, Ohio named Cleveland.com's Top 29 Cleveland Visual Artists to Follow on Instagram. Her talk, "Forever a Work in Progress," will cover the winding road she took to find her passion, including following multiple curiosities and saying "yes" to everything thrown at her.
The dynamic screen-printing duo Snakes and Aceys, otherwise known as Hannah Manocchio and Anthony Zart, met during an odd collision of life's events when they combined a quarter-life crisis and the beginning of a nervous breakdown, respectively. These two will hilarious review their harrowing first year in business, the bloody details of lessons learned, provide lists on what not to do, and offer advice on starting a fantasy company in a real world with a partner who drives you batshit in their talk, "Oh No! We're in Business…"
Sarah Yeager is a graphic designer with a focus of User Interface and User Experience Design. As an avid lover of hack-a-thons and design competitions, Sarah has won awards such as "Most Aesthetically Pleasing Design" and "Most Market Ready Product" for her work on the security wearable, EmpoweRing. We look forward to Sarah educating us on how we can all get involved in her world during her talk, "How Hackathons Built My Design Career."
Shannon Okey is both the founder of Cleveland Bazaar, Northeast Ohio's longest-running indie handmade show, and publisher at Cooperative Press, an independent publishing company which has published over 50 books since 2010. She's currently serving on the board of the Independent Book Publishers Association and has given talks on niche publishing at South by Southwest as well as O'Reilly's TOC digital publishing conference. Her talk, entitled, "Find Your Niche," is one not to be missed.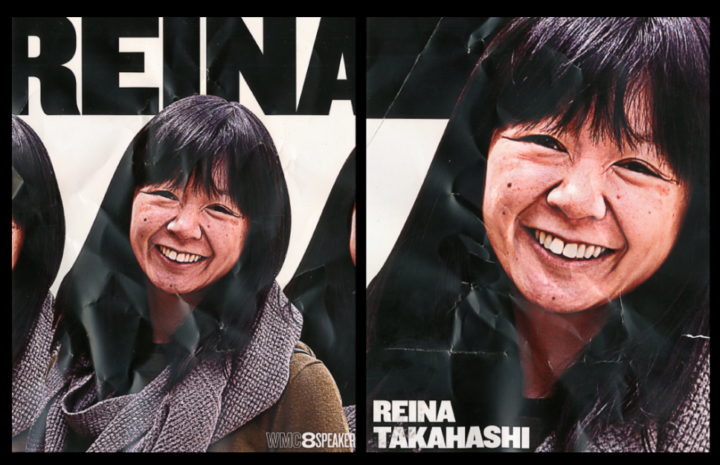 Reina Takahashi is a paper artist and illustrator living in San Francisco. Currently, she creates cut-paper artwork at Facebook with a team of illustrators and fellow paper artists. She also uses paper to create window installations, film props, and art piece commissions outside of her full-time work. Follow along Reina's weird path of creative side projects for the last (almost) ten years that has led her to a full-time gig as a paper artist at a giant tech company and beyond. Hear some of her lessons learned, tips acquired, and adventures in making pirate ships out of paper in her talk, "Full Time/Free Time."
That's it! Now grab your seats to see all of these incredible artists, designers, screenprinters, makers and more this August 18 – 20th at Mahall's in Lakewood at this year's Weapons of Mass Creation Fest >>
Hello current and future friends of Weapons of Mass Creation Fest,
If you have yet to hear of us, we are the premier art, design, and music conference in the Midwest. We welcome you to join us for this year's festivities, August 18 – 20th in Lakewood, Ohio. Mahall's, a west-side Cleveland landmark for bowling, good music, good times, and good fried chicken will be our host. If you love design, music and bowling – get ready to party with us!
If you need a little more convincing, here are some reasons we believe a design conference like ours should be in your future: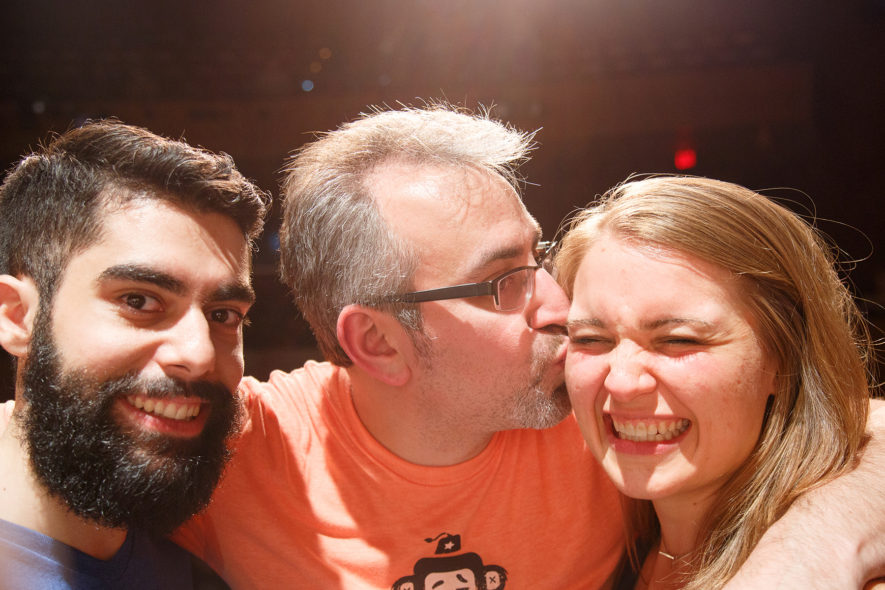 Real Relationships
Conferences are the perfect place to meet like-minded people. While it's often difficult to put yourself out there and attend an event, especially solo, it's so well worth it. After all, there aren't many opportunities to totally geek out with so many folks that love the same things you love, in one space, all at the very same time. It's the ultimate time to bond, build friendships and find your tribe. When you come back the next year, it's your opportunity to renew those friendships and it feels oh so nice. (*Hearts*) I'm biased, but there is something special about our own conference, Weapons of Mass Creation Fest, that brings our attendees close, quickly. Since we provide time for lunches, dinners, meet-ups and parties, there are many opportunities for folks to get to know one another on a personal level. And because the feel of the fest isn't corporate, people let down their guards instantly. This results in friendships that have lasted since year one.
Direct Feedback
If you're looking for feedback on your work or advice about building your business, get yourself to a design conference now! Next, attend as many of the talks, panels and workshops as you can and take notes! Attend meet-ups, hook up with fellow creatives for lunch and dinner. Head to the parties and not only talk, but truly listen.  Soak up all the information you can. Don't be afraid to raise your hand during the Q and A's and be brave enough to ask that speaker you admire the question you're dying to have answered.
Up Your Game
Did you just create a new poster series, start a sticker subscription service or launch a new apparel line? Attending a design conference like Weapons of Mass Creation Fest is a great way to get the visibility you're looking for. You can do this by setting up a vendor booth, hooking each attendee up with promo items (by way of their swag bags), or simply working the room like a champ, all weekend long.
If you're looking to be more visible as a public figure, put in the effort by showing up to as many design conferences as possible. Put yourself out there and show the design community that you're a creative that "takes up space." Make an effort to get to know the conference coordinator(s) and have conversations with them about possibly speaking at a future event. (In person if possible.) Show them you genuinely care about their event.
Battling Burnout
Most of us have faced some amount of burnout at some point in our careers. When you put your heart and soul into what you love to do, it seems inevitable. If you've experienced exhaustion as it relates to your creative career, attending a conference can help. The authentic conversations are really what have helped many of us pull through. At this year's Weapons of Mass Creation Fest, we'll even be holding a panel on this very topic, "How to Battle Creative Burnout." So, there you go.
Paving Your Way
Design conferences are filled with talented, connected creatives that are more than willing to befriend you and help you become a better creative or entrepreneur. If you attend, take the time to form meaningful connections (face-to-face) and then, in turn, give back, opportunities will abound. You do, however, have to put in the work, so make sure you go in ready and willing to chat up speakers, vendors, attendees, and absolutely anyone who is willing to exchange in a conversation. In this creative environment, you never know what magic will come of it.
Kick in the Pants
Inspiration is an overused word, so we've decided to use "kick in the pants," as a way to describe what Weapons of Mass Creation Fest does to us. The three days are so jam-packed with activity, friend-making, and just plain fun, that we come out on the other side a tad bit exhausted, but mostly motivated unlike ever before. We feel like we've gotten a big old kick in the pants to go achieve, pursue our path and ya know, dance like no one is watching.
—
So yeah, we're pretty into design conferences for many reasons, which is why we started our own. We'd love to see you at Weapons of Mass Creation Fest this summer, so please make it a point to come, squeeze every ounce of content out of it and enjoy. Have any questions before you come? Please ask. Hope to see you there!
Categorized:

Graphic Design

Tagged:

art, cleveland, conference, Creative, creativity, design, design conference, designer, party, weapons of mass creation fest, wmc, wmc8
Quotes on Authenticity, Creativity, and Kicking Ass…
Sometimes we all need that extra boost to inspire our work. Here are some of our favorite quotes on art, creativity, and authenticity. May they inspire some vulnerability in your day today!
"What would happen if we left our heart on stage every time we created anything? It's a bust your ass to shine, honest to a fault, no bullshit, zero apology performance. If you look at the work of some of the most successful people in the world, you'll see it as the undertone. It isn't just something they do, it's who they are. It's the kind of performance where your heart and soul bleed." — Srinivas Rao, The Art of Being Unmistakeable
"You can only become truly accomplished at something you love. Don't make money your goal. Instead, pursue the things you love doing, and then do them so well that people can't take their eyes off you." —Maya Angelou
"Nothing is original. Steal from anywhere that resonates with inspiration or fuels your imagination. Devour old films, new films, music, books, paintings, photographs, poems, dreams, random conversations, architecture, bridges, street signs, trees, clouds, bodies of water, light and shadows. Select only things to steal from that speak directly to your soul. If you do this, your work (and theft) will be authentic. Authenticity is invaluable; originality is non-existent. And don't bother concealing your thievery – celebrate it if you feel like it. In any case, always remember what Jean-Luc Godard said: "It's not where you take things from – it's where you take them to." — Jim Jarmusch
"Start copying what you love. Copy copy copy copy. At the end of the copy you will find your self." — Austin Kleon"
"I believe that you're great, that there's something magnificent about you. Regardless of what has happened to you in your life, regardless of how young or how old you think you might be, the moment you begin to think properly, there's something that is within you, there's power within you, that's greater than the world. It will begin to emerge. It will take over your life. It will feed you. It will clothe you. It will guide you, protect you, direct you, sustain your very existence, if you let it. Now, that is what I know for sure." — Michael Beckwith
"The advent of Google+ and the emergence of the personalized web means this is more true than ever. Brands, and their advertising partners, must wake up to this challenge and define themselves with clarity, consistency and authenticity. Otherwise they just might find themselves shouting in a ghost town." — Simon Mainwaring
"I cannot say this too strongly: Do not compare yourselves to others. Be true to who you are, and continue to learn with all your might." — Daisaku Ikeda
"You want to be popular? It's easy to do. Just be a total weirdo and love yourself for it." — Dan Pearce
"Vulnerability is the birthplace of innovation, creativity and change." — Brené Brown
"If you think dealing with issues like worthiness and authenticity and vulnerability are not worthwhile because there are more pressing issues, like the bottom line or attendance or standardized test scores, you are sadly, sadly mistaken. It underpins everything." — Brené Brown
"The keys to brand success are self-definition, transparency, authenticity and accountability." — Simon Mainwaring
"No one loves authenticity like a graphic designer. And no one is quite as good at simulating it." — Michael Bierut
What is your favorite quote on art, creativity, authenticity or building a life you love?
One thing I've come to learn about myself is just how easily distracted I can be.
Up until recently, I could barely continue to write a blog post without checking the email that pops into my inbox, or create header imagery without stopping to favorite a tweet from one of our Twitter followers. I used to think I was extremely efficient, always crossing tasks off of my checklist. But now I know that my scrambling was far from effective. I've found some better ways to drown out the noise. I hope they'll serve you well, too. (Please share yours in the comments below!)
1. Prioritize based on the big things.
Once you've recognized that you need to bring focus into your life, take a look at your responsibilities. What is highest, not on your small task list, but that list of annual goals you wrote – with high hopes – at the beginning of the year? Start restructuring your priorities based on these. Write your year's goals and post them up right next to your monitor. Now that you've reframed things, you may find a much more efficient way of getting those tiny tasks done. After all, those are the items that are getting in the way of leaving your job to freelance full-time (or whatever that dream may be).
Speaking of the little tasks, try David Allen's famous 'Two-Minute Rule.' When faced with a task that can be completed in two minutes, go ahead and complete it right away. The others can wait.
2. Block Out Your Next Day's Activities
Here at Go Media, we use Google Drive for everything. One productivity hack that has helped me tremendously is planning out my day the day before in my calendar. Something about creating those blocks makes me feel like I should stick to my word. Yes, it sounds obvious, but you can only roll your eyes if you stick to it. And bonus points if you stick to your plan and leave by 5:00 pm. (You need to go home and recharge).
3. Just Say No.
Bill, the President of Go Media, encourages us to jump out of a meeting if we're swamped with work or fighting a monstrous deadline. He respects us and knows we're serious when we do so. I'm not sure about your boss, but if you show her or him that you really mean it, it just may work for you too. The overall message is, dedicate time to what you really need to be doing. Time is money.
4. Vow to Respond to Email at only 1 to 2 points in the Day
As mentioned, I used to respond to my emails at the drop of a hat. I've stopped that. Unless something is incredibly urgent, I will wait until it's time to check – usually right when I get into work and mid-afternoon. This gives me more time to concentrate on bringing more success to our Arsenal, the home to the world's very best design resources (my goal).
5. Get in the Mood
My ideal creative environment and atmosphere involves a warm blanket, dim lighting and perfect Spotify playlist. The pen seems to flow most steadily from 8:30 to 10 am, when you can hear a pin drop here in the office. Where and when are you most creative? Capitalize on that.
This isn't always possible, so when you're not in your ideal environment, attempt to get back to that spot. I've found that some apps will help.
Turn off the Noise.
The very thought of using an online app to block distractions gave me a bit of a panic attack, but this is the very reason I needed it. If you're the same way, it's time to face the music. Try Freedom or Focus Booster.
Turn on the Noise…for a bit.
I manage our social media here at Go Media, so I have to spend time scouring the web for cool stuff, posting on Twitter and Facebook, tumbling, pinning, stumbling. I can't be forever blocked from the fun stuff. Using an app like Stay Focused keeps me on track; it gives me a start and stop time – then redirects me back to the rest of my daily work.
6. Jot Down Brainstorms for a Rainy Day.
While you're in no-distraction mode, head to a to-do app like Google Keep or Teux-Deux. If you're a blogger, like me, jot down at least one possible story subject a day. If you have a really brilliant idea and the ideas keep flowing, open up a Google Doc and begin your stream of consciousness. Allow yourself to write for a few moments and leave it there for a rainy day. These brainstorms will definitely come in handy on those days when distraction is at an all time high and we might otherwise spend a very frustrated hour staring at the screen.
Oh, and speaking of to-do lists, I used to think it was fun to keep a whole list of them, due to the joy of crossing them out. Then, I compiled a list like this.
Familiar?
This never-ending list completely overwhelmed me, brought me to a point where I didn't know where to begin.
In order to save myself from the to-dos eating me alive, I started following the 2 minute rule, mentioned above and began plowing through the tiny tasks during scheduled, short breaks in my day (usually around email-checking times).
So, those are my suggestions for bringing focus into an otherwise distraction filled day. What are yours? Please share with me in the comments section below. I'd love to add some new tools to my collection.
Creativity and Single Mothers
When you hear the word 'creative' who is the FIRST person you think of? Maybe you think of a painter, a hip-hop artist or even a comedian? Maybe Kanye West is the first person that pops in your head or perhaps Louie C.K.
Having done stand-up for seven years and venturing into the new world of copywriting, I have had the chance to interact and meet with some extremely creative people. People whose minds churn out ideas for great punch lines, witty banner ads and campaigns that you sing in your head.
But maybe, just maybe… the most creative people on this planet don't come with the sexy title of Creative Director or Chief Creativity Officer. Maybe the most creative people have the least glamorous job. Maybe they have no choice BUT to be creative. Who am I talking about? The creative architects known as single mothers.
[Tweet ""Single mothers stretch the bounds of creativity.""]
Single mothers are challenged every day to discipline, teach, inspire and love their children. Raising children is challenging enough with two people, and single mothers stretch the bounds of creativity the moment a temper tantrum presents itself.
I am not a mother or a parent but was raised by a single mother. Her job was raising my brother and I to the best of her ability while working two jobs. She would work as hard as she could to keep food on the table and clothes on our backs. She'd read to us, make sure we had enough money to go on school field trips and also try to instill manners and good habits.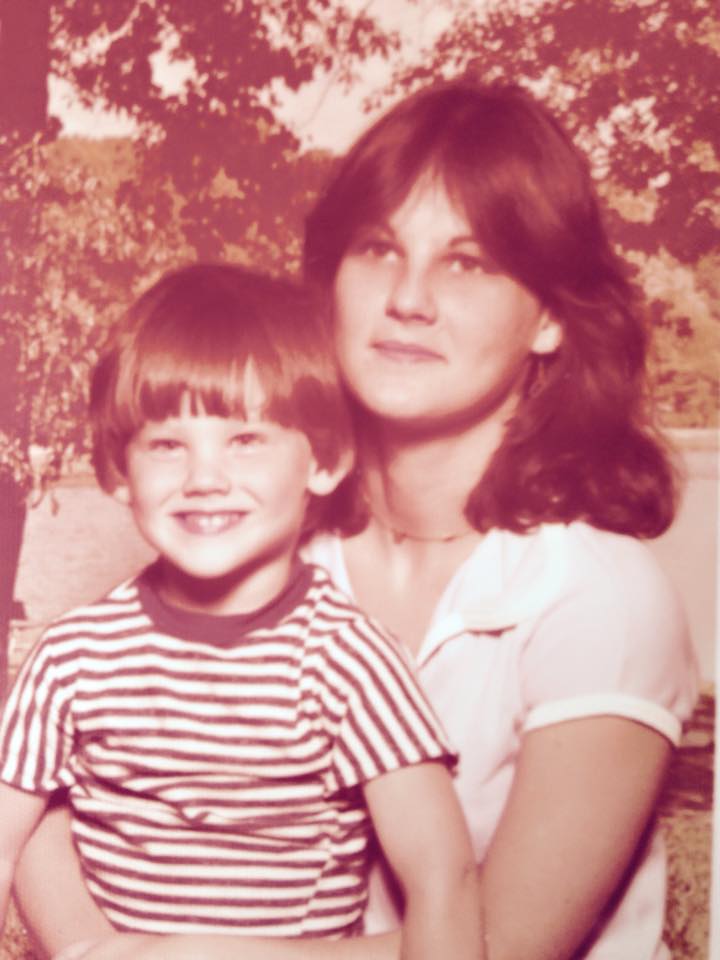 Looking back now it's almost like my mom was the head coach of our football team, and like any good coach, she emphasized the basics: blocking and tackling…which for a parent could equate to good study habits and manners for their children.
Being 32 and seeing close friends living this role right now, it's much more clear the sacrifices these women make.
A single mother will never get an invitation to the White House for reading to her kids every night. And she won't be on a cover of a magazine for spending time with her children going over their homework. Her creativity is maxed out everyday though as she tries to inspire her children to be the best. And to do it on a budget!
"I am always trying to come up with things for the boys to do, all while trying to save some money in the process," says Valerie Decapite from Cleveland, mother of two twin boys and an Art Major from Kent State.
"Many times, we will just take out a pair of kid scissors, and they flip thru magazines and cut out pictures, creating pictures with stamps, finger painting, etc.  I painted a wall in our house with the chalk board paint, and we will grab some chalk and go to town."
Val brings up a great point in that raising a child requires resources, and with being a single mother raising TWO children, the resources have to be doubled while the budget is limited. With her background in art, Val uses art as a primary love language to inspire her kids.
Any parent would probably agree that it takes a village to raise a child. Something as simple as going shopping for clothes and or taking an interrupted shower can stretch the creative mind of any single mother.
OK, how do I take a quick five-minute shower and make sure my daughter doesn't hit the cat, throw books of the bookshelf, go near the stove, touch an outlet, find something sharp, and draw on her face…. Do I bring her in the shower with me and skip her bath tonight? Or do I wait until she goes to bed then take a bath…but the sound of the shower might wake her up!
From the single mothers I have talked to, it seems the relationship between child and parent is reciprocal in that the learning curve stretches both ways.
Callie, a single mother raising a five-year old daughter on her own, looks at it this way.
"I truly believe that she is raising me. It's easy to replay the series of events that led you to single parenthood and resent what has happened, but I believe my daughter was put into my life make me aware of my weak spots and areas of need."
Valerie agrees.
"Disciplining two little boys is tough and if I send them to their room for a timeout, it's really because I need a timeout too. A single parent needs a few minutes to have some quiet time and recollect their thoughts. In those quiet few moments, you have to muster up not only patience for the day or night ahead, but energy to keep up!"
Disciplined creativity. A single mother uses it every day with little to no recognition. The next time you have writer's block or that big idea just isn't happening, reach out to someone you know raising children for inspiration. Creativity is constant, a single mother has no choice but to just do it.
Conceptualizing Through Questioning
Coming up with an idea can be difficult. Coming up with a GOOD idea is even more challenging. There are times when one faces a creative drought, when those AHA moments feel as if they are never going to happen and solutions are elusive. We're left with that frustrating feeling of being "stuck." But what if we focus less on finding answers and spent more time asking questions? For this Design Tip of the Week, I'd like to share the approach of conceptualizing through questioning.
We often ask practical, straightforward questions to determine situations and starting points in a design project. This includes figuring out the budget, timeline, audience, company history and goals. While figuring out these aspects help in sparking some ideas and providing direction for aesthetics, sometimes we still get stuck. When this happens, ask even more questions.
What is the medium?
How long will a person have to experience it?
What does it need to feel like?
Should it be masculine or feminine?
What do similar things out there look like? What is being done that is successful? What is not?
What associations people do have of ________?
What is too typical or cliché? How can I make it unique?
Is this boring?
Is this too strange?
Is this too simple? Is it too complex?
More specific questions can certainly help in making particular decisions. Say you are choosing a color palette for a new aromatherapy clinic. "What colors are relaxing, yet encouraging and supportive?" Another example: perhaps you're having trouble picking a typeface for a new BBQ restaurant owned by a renown chef. You may want to ask yourself, "What typeface communicates the idea of being established, yet not too fancy in that the viewer feels they have to wear a suit and tie or elegant dress?" (After all, it is still a BBQ joint, and not, say, a French gourmet restaurant.) These questions keep us focused, reminding who and what we are designing for.
Boosting Imagination Through Questioning
There are times the right solution requires the strangest, most unorthodox approach. The new Old Spice commercials are a perfect example. They are absolutely fantastically random and hilariously imaginative, which resulted in a large increase of sales. How does one even come up with this stuff? Well, a great way to expand our minds into those inconceivable, brilliant territories is through, again, questioning. But not normal, pragmatic ones. I'm talking really weird questions, force-you-to-think-out-of-the-box-but-then-realize-there-is-no-box-and-that-your-imagination-has-the-potential-that-equates-to-a-space-whale-being-born-from-a-supernova-weird.
I stumbled upon this idea when I was sketching one morning at a coffee shop, however I was facing the problem of not knowing what to draw. I ended up doing some loose figural sketches. The one figure I drew had this strong, heroic pose, and for whatever reason, it sparked a strange question: "I wonder what this figure would look like as a deity of nature?" From there my imagination ran wild and I delved into more abstract concepts. "What would this figure look like if he was composed of a wood and iron?" I began visualizing gnarled, bark-like forms fusing with a mechanical, hard-edge appearance. I jotted down my thoughts, and from them I hope to create a new series of drawings.
I went from not knowing what to draw to coming up with a concept for a new body of artwork. And it all resulted from me asking just one, very weird and random question. Because what I was asking was so strange, my imagination was unhindered by obvious answers. Possibilities were endless.
I encourage you to try it out. Ask yourself ridiculous, bizarre questions. Your mind will launch an expedition of thoughts. Practicality and logic are of no concern. The more extraordinary the question, the better! Here are a few that I came up with:
How would you design a poster for an audience that is blind?
What if there was a device that could conduct positive emotions and use them to charge your cell phone? What would the device be called? What would the promotional campaign be?
If you had a robot companion, what functions would be programmed into it? Based off of those functions, what would its appearance be?
What would a computer keyboard look like if we had an extra finger?
What if umbrellas had hyper-efficient solar panels on them?
What would the mission statement be of a non-profit organization that had the ability to control weather forecasts?
Phew! This was quite a long Design Tip of the Week, so thank you for reading. Again, questioning can be extremely useful, from establishing aesthetic directions, helping make specific visual decisions and boosting one's imagination. Remember, the answers and solutions will come. All you have to do is ask the right questions.
Cheers!
Best Spotify Playlists for Creativity
Hey Go Media Faithful! It's the new year and time to fulfill those creative resolutions. Why not start now? Get motivated by pressing play below.
Today's Spotify Playlist was created by Lauren Hudac, our Account Manager here at our Cleveland design firm, who is known around our office for getting sh*t done. So let's take follow her lead and do this thing. Enjoy everyone!
Lauren Hudac's Creative Flow
More Go Media Staff's Spotify Playlists for Getting Sh*t Done:
Volume 1, William Beachy