A product page that conveys a purpose and benefit of a store item, and smoothly take a user through all the features and demos, and to the checkout page is considered an ideal user experience (UX) design. The web design UX focuses the removal of every possible hurdle that may stop a user from taking action and the addition of a feature that adds comfort to the user in reading, clicking, entering detail, or paying for the order.
Pursuing a UX design is not restricted to the layout or appearance of the product page, in fact, it is about enhancing the web design usability and understanding for the end users. Like, easing the users in scanning the content, viewing the images with a focus, comparing prices with product features, expediting the checkout process, and lots of more.
Optimizing the UX design for higher conversion is crucial as the developer, designer, or the merchant has to put himself in the shoes of a common user and examine the areas that have to be improved. Following are some of the UX design tips that may give you a checklist to expeditiously review product pages and adopt relevant strategies to enhance the ease and usability for a layman.
1. Set a Competitive Price and Justify It
Price of a product is a major driving force of a purchase decision. The internet users are browsing the internet and compare product prices along with features at different online stores. They roughly draft a cost versus benefit analysis of the product in your store. To facilitate them in knowing the best value for money, clarify the price you charge and justify it with the features you have in hand.
The price clarification means showing direct and indirect charges. For example, you display a white color T-shirt at $10, but secretly increase the price when a user selects a black color. Avoiding tricking people to select a product at a low price and quote a higher one when they convert or about to convert.
2. Add Quality Images with Zooming Features
The online stores have virtual shelves that can never provide a real-life experience to the users to examine a product from each and every corner. But, professional photography and zooming features have the power to provide a somewhat similar experience. Add high-quality product images from various angles, and allow the users to zoom in or out a specific part of the image as well.
Try experimenting different product zooming options. In addition to quick-view and zoom-in feature, a 360-degree view is also an emerging trend in enhancing the user experience. It demands to capture multiple product images and sorting them in a series so that a user can go through every detail of the store item.  
3. Acquire and Display Customer reviews
Acquiring reviews from your happy customers is a tangible and long-term asset to your product pages. It is an effective strategy for gaining trust and credibility in the eyes of your potential buyers. The users are more likely to read what your existing customers have found about your products and services.
According to a survey published by MarketingLand, about 90% of the customers have agreed that the online reviews are highly influential in making a purchase decision. So, don't miss on your losing your potential customers who only need to hear from a few fellow customers.
4. Publish Scannable Product Descriptions
Reading content on the screen is a completely different thing than reading text on a hard paper. In fact, the screen readers scan the content rather than reading it word by word. Unlike the novel and short stories, people are here to absorb the information of their interest and skip the rest of the text.
Compose the product content that is simple, clear, and crisp that caters to the exact needs of your targeted users. Incorporate story-telling in a way that keeps the users engaged rather than making them cross the tab and switch to another one.
A product page shall begin with a short summary and leads to highlight the core features. Let the readers know about the product at first instance. Make the introduction attractive to compel them to scroll down the page and review the features one by one.
5. Consider Simplifying the Checkout Process
Checkout is the conversion borderline. A successful checkout means an accomplished sale. The UX design needs to be improved in a way that smoothly takes the users all the way through the product description to the cart pages and the checkout page. A minor difficulty in filling the details or understanding an option may result in cart abandonment.
For smooth checkout experience, you can simplify the entire process with different strategies like allowing one-page checkout that removes the multiple steps of entering shipping, billing, and personal details all at once.
Additionally, you can modify the design with stick checkout that carries forward transaction details as the user goes through the multiple steps. The permission of guest user checkout is also a way forward to improve the user experience. Make the user registration voluntary and observe the difference in conversions.
6. Display Relevant and Bought Together Products
Do not limit your customers to view a single product on a landing page. A Majority of buyers are willing to select more relevant products from the same store. It helps them save the shipping charges and time in browsing multiple stores. By displaying relevant products or frequently bought together items, you can facilitate users in adding more products to cart and checkout for all of them at once.
With the help of widgets, plug-ins, and modules, you can automate the display of similar products in a small block right on the product page. It will surely help you to cross-sell and up-sell products that ultimately boost the revenues.
7. Show Product Availability or Stock Top-up duration
A user covers a long journey in reaching the 'add to cart' page but feels disappointed when finds that the required product is not available in stock. To save them from the hassle, display the stock availability in numbers and minimum items they can order. This will allow them to quickly add a required number of items to cart. Avoid cart abandonment right on the product page.  
The addition of out-of-stock notification tool is also a way forward in informing the users about the expected inventory top-up period. With the help of such a tool, users can get email notifications about inventory top-ups so that they can return and buy the products that were out of stock on their last visit.
Final Thoughts
The above-discussed UX design tips may help you quickly restore a viable user experience that contributes towards higher conversions. But, this is not the end. UX design is an open concept that welcomes the addition of every feature and functionality that aims to reduce the user stress in buying a product or service. Be creative in coining new ways of improving UX in addition to the ones mentioned above, and take the lead in your niche.
Asad Ali is an experienced Digital marketing expert having more than 7 years of experience in eCommerce industry. He is currently working for GO-Gulf Dubai web design company. As leading executive for GO-Gulf, he has specialized in search engine optimization, user experience & conversion optimization. You can reach him on LinkedIn.
Categorized:

Web Design

Tagged:

cart, cart abandonment, checkout, conversions, design, design tips, e-commerce, ecommerce, pages, product, product pages, ui, usability, ux, ux design, web design
You Asked, We Answered.
How Do I Improve My eCommerce Site? 
We all want to see more traffic and conversions on our ecommerce sites, right? Of course! This even includes all of us at Cleveland Design firm, Go Media.
With numerous tricks and tips swarming the web, knowing what, when, and how to make those improvements can be overwhelming.
Today, let's start from square one and make sure we all have these three fool-proof elements, all of which can be accomplished this afternoon. Let's get to it!
1. A Very Obvious & Enticing Email Sign-Up
Did you know that only 1 to 3% of people that land on your website will actually make a full and complete sale? Frightening, huh?
Panic not, dear friends. As they say, "Rome wasn't built in a day." In order to build trust and, in a sense, convince customers that your product is worth what you claim it is, add a simple email sign-up to your page.
Think of this simple email opt-in as a customer's small commitment to you. A baby step if you will. The next step may be reading your email, the following step considering a purchase. Then, perhaps, after days, weeks, even months, a final sale. These are all very important baby steps in what will hopefully be a long and happy relationship between you and your customer.
Now, many of you have an email sign-up on your page – but today, let's make it both:
Offer up an incredibly irresistible reason for your visitor to want to enter their name into the "Enter your email address here" box. This could be a freebie of which dreams are made or an exclusive coupon.
We recommend using:
———————
2. A Clear Call to Action
Call to Action is another phrase for, "This is what the heck you are supposed to do here." Or, as Wikipedia more eloquently states, a banner, button or some type of graphic or text on a website meant to prompt a user to click on it…an essential part of marketing…that actively strives to convert a user into a lead and later into a customer."
Here are some really effective Call to Action Examples >
Today, ensure that:
You have a Call to Action to begin with
Your Call to Action is dummy proof (People will undoubtedly click on it.)
It is above the fold (ie. the portion of the site immediately visible when the page first loads).
To test that your call to action is working, use a heat map, through:
to make sure your visitors are really clicking that "big red button," so to speak.
———————
3. Live Chat!
Interact with your customers live and in the flesh (well, almost) when you install live chat on your ecommerce website. Live chat serves as a great customer service tool, allowing you to know your customer and their needs on a more intimate level. Live chat also connects you with your customer so that they can view you as a real live human being, instead of a nameless, faceless entity. Once they know you and come to understand your product, they're more likely to buy from you. It's as simple as that.
We recommend: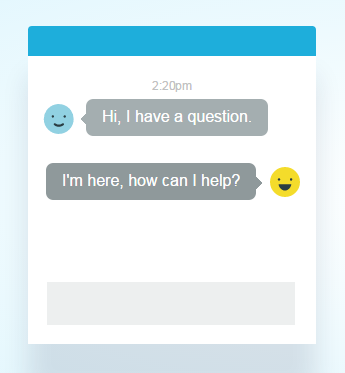 What tips and tricks have you used to improve your eCommerce site? Please share your knowledge with me in the comments below!
Categorized:

Business Philosophy, Graphic Design, Web Design

Tagged:

advice, call to action, conversions, ecommerce, email, newsletter, tips, traffic, tricks, website