Win $100 in Custom Stickers from Sticker Mule
We've partnered up again with our friends at StickerMule, to give away some more custom vinyl stickers. Sticker Mule makes it super easy to print your own stickers. They'll make your artwork print ready for free, and provide a free online proof with every order.
Here are some examples of the types of stickers you can make if you win:
Here are some shots of their other products:
How to enter?
It's seriously simple: Just comment on this post, or tweet the post for an extra chance to win! We'll chose 1 winner at random on Monday, September 17th.
Good Luck!

Today is giveaway day!
Hello Zine readers! We've got an awesome giveaway today for $100 in free custom stickers, from Sticker Mule. If you're a designer, the folks at Sticker Mule are good people to know. They make awesome die cut stickers, in any shape and size. And their ordering system is really simple. Just upload your artwork and they'll take care of the rest. They'll make your artwork print ready for free, and provide a free online proof with every order.
Here are some examples of what you could win: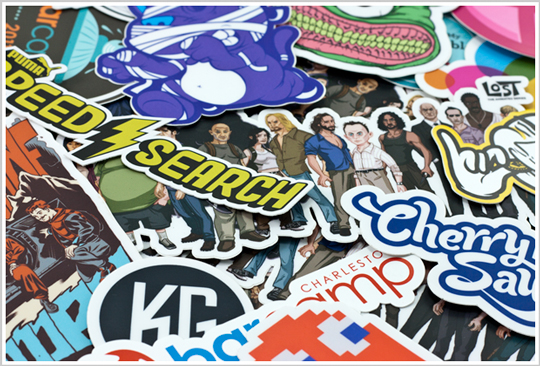 Here are some shots of their other products:
How to enter?
It's dead simple: Just comment on this post. We'll chose 1 winner at random on Monday, January 30th.
Bonus!
Sticker Mule is giving all GoMediaZine readers 15% for the next week. Just use coupon code "gomedia" when you order. The code will be valid until February 6th.
Last week, we featured Jim LePage's "Words" series on the Zine. We also announced that Jim was giving one of the prints away.
Today, we're happy to announce that Andy Gattis, with comment number #7, wins the print!
We choose the winner by following a simple process: we grab the total number of comments (minus ours or any doubles), use a random number generator and taadaa!
Congratulations to Andy once again. If you didn't win, stay tuned for more giveaways in the near future.
We're pretty excited to announce the winner of the print giveaway we put together in the 13 Spade introductory post!
And the winner is…
We used random.org with the number of comments of the post (minus our own), and the winner is…
Dusty Rhodes
So Dusty, we'll be in touch shortly (or you can be faster than us and shoot us an email), and we'll go from there. Thanks again to everyone who entered the giveaway by commenting, who shared the post with their friends and to the ones who submitted art to be featured on 13 Spade.
Hello, hello!
Today, I am pleased to introduce you to the winners of the WMC Fest Portfolio Contest we had going. The prize is a spot at the WMC Fest design show!
We had a total of 114 submissions. The jury decided to award the spots to 5 lucky winners. Here they are, along with the piece that earned them the spot!
Brandon Minga
MINGAdigm
Visit his portfolio at http://www.brandonminga.com/
Maarten Kleyne
Crossing the Rubicon
Maarten's website is to be visited! http://www.mkleyne.com/
Janée Meadows from Janée Meadows Illustration
Paloalto gig poster
Janée is an "Los Angeles based, award winning, illustrator and graphic designer". Visit her website at http://janeemeadows.com/
Andy Hayes from Hucklebuck Design Studio
Westcott House Event Poster
Hucklebuck Design Studio has a sweet horizontal website: http://hucklebuckdesign.com/
Mat MacQuarrie
George St. Pierre
Finally, Mat has a portfolio full of awesome pieces. You might have seen some in the Flickr group already. http://www.matmacquarrie.ca/portfolio/
Congratulations to the winners! Thanks again to all the participants. If you didn't win this time, remember there will be other occasions. Also, you should go check all the entries that have been submitted.
See you at WMC Fest!
Well I hope everyone had fun entering the drawing for a free copy of Ten Ton Photoshop Essentials! I gotta say, it was great reading about your favorite commands, your Photoshop war stories, some memories from versions gone by.
I was going to jump in and start replying to some of the comments, but after the first day or so we had well over 100 entries! Great to see so much enthusiasm for Photoshop…with so much interest in learning Photoshop, so many saying they were in desperate need for Ten Ton Photoshop, it was very hard to pick a winner.
Alright, lets get to it. The winner of our heavyweight prize, Ten Ton Photoshop, is Keiko Daniel! Congratulations Keiko!!!
Now if you didn't win, hang in there, because I have something super-cool for everyone else. How's about 30-minutes of free Photoshop color correction training, yanked directly from the Ten Ton Photoshop DVD?
I'm talkin' Levels, black point and white point, histograms, and a heckuva lot more! Who can turn down free learning?! So if you wanna snag yourself some free Photoshop learnin' just pop me an email ([email protected]), mention that you were a part of the Go Media Photoshop give-away, and I'll getcha hooked up lickedy split! Sound cool?
Cheers to everyone who entered, and congrats once again to Keiko. Keiko, pop me an email (again, [email protected]) and we'll get your details and ship off your prize for ya!
Are ya up for some Photoshop? How 'bout Ten Tons of Photoshop? And how would you like it for free?
Then check this out: This week on GoMedia, we're running a give-away for Geoff Blake's Ten Ton Photoshop Essentials DVD!
Ten ton Photoshop includes comprehensive exercises on resizing and resolution, color correction, and image touch up. Master advanced techniques for creating eye-popping visuals, including masking objects, tilt-shift photography, sizzling text effects, and workflows with InDesign, Dreamweaver, and Flash!
Product Highlights
Over fourteen hours of expert training spread across more than one hundred lessons, hands-on tasks, and professional techniques!
Master the fundamentals like resolution, resampling, and layers…then roar into advanced topics like masking techniques, typography control, color correction, and more!
Simple to use, easy to navigate interface—skip ahead, rewind and review, and jump between the lessons at your own pace!
Loaded with free extras, including stock vector art, free fonts, Photoshop plug-ins, product discounts, bonus lessons…and more!
How do you score a copy? Easy…all ya gotta do is throw a comment into this post.
You can talk about whatever you'd like: Your favorite Photoshop command, why you want to learn Photoshop, a war story from the Photoshop trenches…whatever you'd like.
The contest runs for one week, so you have until March 10th, 2010 to enter. A random comment will be drawn, and the winner will be crowned the heavyweight champ of our killer give-away!
So whatcha waitin' for? Throw in a comment and get ready for Ten Ton's of Photoshop!
We've received some fantastic comments and feedback on last week's Ten Ton Dreamweaver giveaway. Seems many of you are chomping at the bit to leap into the world of web design, while others have their engines revved to go further with their CSS and web design skills.
I enjoyed reading every single comment, and it was great to chat back and forth with a few of you. Sadly though, we can only draw one random winner. However, we have a very special announcement to make, so keep reading…
But before we get to that, let's announce our randomly drawn winner. A big congratulations to mikeylikes, you've won yourself a copy of Ten Ton Dreamweaver! We liked your show of initiative to go beyond the classroom and teach yourself what you want to learn. We'll be in touch with you shortly. And thanks to all the other commenters—you guys made the decision a tough one, but we have something special for you as well…
Throughout the week we had some fantastic comments. A lot of our commenters are currently in school and possibly not learning exactly the Dreamweaver / web design skills that they're after, while many others have a solid footing in the world of print and are ready to make the leap to web. Still others have job opportunities waiting for them, or want to make themselves more marketable in these choppy economic times.
Well, I got talking with the fellas at Go Media and I said, "Ya know, there's so much interest for Ten Ton Dreamweaver, and so many readers need to learn this stuff, it's too bad that just one person wins a copy. We've gotta do something to help everybody else out too." We got thinking about it, and came up with something that we think you're really gonna dig…something so extra-special it's only being offered to Go Media readers. Check this out:
I spent the weekend in the recording studio coming up with some super-killer bonus material. As it turns out, I hammered out nearly a half-hour's worth of training — and by the way, it was Thanksgiving weekend up here in Canada, so I was rolling myself off to record more content between turkey meals and pumpkin pie. You're welcome!
So what the heck is Ten Ton Books and Go Media gonna do with all this extra bonus material? Why, give it to you for free of course! So here's the deal. If you dig Ten Ton Dreamweaver and wanna launch your web design skills through the stratosphere, order the DVD before November 20th and we'll send you an extra DVD loaded with all the bonus material absolutely free. In fact, as an added thank-you, Ten Ton Books will toss a few extra goodies on the bonus DVD as well. How's that sound?
The bonus DVD will include nearly 30-minutes worth of training on building and managing CSS-based floats in Dreamweaver (a must-know technique for every web designer) as well as an exclusive 13-minute clip from the soon-to-be-released Ten Ton Photoshop which features material from Go Media's Arsenal. Freakin' awesome? You bet.
Snag all the free content and your copy of Ten Ton Dreamweaver right here, and lets get ya on the launchpad and ready for lift-off! Be sure to enter the promo code "GoMediaTTDW" on the checkout page to receive your free bonus DVD!
Heya readers! Geoff Blake here from TenTonBooks.com. Recently, we released our debut software training DVD Ten Ton Dreamweaver and we wanted to load the DVD with lots of freebies and extras. Well, the gang at Go Media were happy to help us out, and provided us with some killer Go Media Arsenal material for inclusion in the disc. In fact, there's Arsenal artwork featured prominently in several chapters on the DVD.
Ten Ton Dreamweaver boasts nearly 11 hours of training spread across over 100 lessons, techniques, and hands-on tasks, and takes users from scratch (HTML, CSS, and web fundamentals) right up to pro-level concepts and techniques, including page layouts, Spry, video, interactivity, and a whole lot more…with a huge emphasis on CSS and design standards.
With nothing but amazing feedback and reviews for Ten Ton Dreamweaver, we're back in the studio and hard at work on a Photoshop DVD, with Flash and Illustrator to follow. But I got scratchin' my head thinking of how I could say thanks to the great folks at Go Media for contributing such awesome material to the DVD…then it hit me: Lets give away a copy of Ten Ton Dreamweaver to the Go Media readership!
So here it is: ya wanna snag yourself a copy of Ten Ton Dreamweaver?
All ya gotta do is use the comments below to describe what it is you really want to learn about Dreamweaver, and why it's so important to you. After a week of comments, we'll pick a response at random and that lucky commenter lands themselves a copy of Ten Ton Dreamweaver! How's that for sweet?
Find out more about Ten Ton Dreamweaver at http://tentonbooks.com/tentondreamweaver, where you can download a free demo and watch sample clips!
Good luck to all those who enter!
*Contest notes: we'll be choosing at random from any post that fits the criteria (you gotta tell us what you want to learn about Dw). You'll need to have a registered Disqus account with contact info (email, Twitter, Facebook, website link, etc.), otherwise we'll have no way of contacting you once the contest winner is chosen.
Go Media is proud to offer up 3 licenses for the awesome new Photoshop brush manager for OS X, Brush Pilot.
Download the demo, give it a whirl and let us know in the comments what your favorite Brush Pilot feature is. We'll be choosing winners at random from this posts's comments. Winners will be chosen on Monday, July 20, 2009.