Nowadays, every business needs to have a functional website. Websites have become the face of companies and online consumers visit those pages to shop, get informed or educate themselves. That being said, businesses must meet consumer demands, expectations and needs when it comes to website browsing and experience. However, in order to do that, they must first ensure their company websites are visible, accessible and easily findable online. One of the best ways to improve website visibility in the online world is search engine optimization (SEO).
SEO is a cost-effective marketing campaign that helps websites rank high on search engines, such as Google. Still, online market is overcrowded and highly competitive. So much in fact, that SEO is now mandatory for businesses instead of just optional. Without SEO, you have no chances of becoming visible online and you'll only be overshadowed by your competitors. Also, SEO demands constant work to produce viable results, mainly because search engines oftentimes change the rules, as well as make modifications to their algorithms. Therefore, here's a complete SEO checklist for website owners.
Important SEO aspects
To better understand SEO, you have to understand its aspects. SEO consists of three main categories: technical SEO, on-site SEO and off-site SEO. These activities help you improve your website's visibility, authority, credibility and awareness online, among other things. Each category serves a specific purpose of helping both your audience and search engines understand your website and the content you produce.
Technical SEO focuses on the functionality of your website. On-site SEO focuses on optimizing your content and pages for search engines. Off-site SEO focuses on activates outside your website that help boost your reputation and trustworthiness. The more effort you place in optimizing your website, the higher rankings it will achieve.
Technical SEO
As mentioned before, technical SEO focuses on the functionality and performance of your website. Website elements, such as speed, user-friendliness, responsiveness, security and so on, all influence customer satisfaction, which is one of the primary factors for search engine rankings.
Website Speed
Speed is crucial for bot your website and your consumers. The main reason is that literally no one today can tolerate slow loading web pages. In fact, 67% of consumers will abandon your website if it takes more than two seconds to load.
In addition, 47% of mobile users will abandon the pages if they do not load in three seconds or less. That being said, website speed is a crucial ranking factor, because search engines will penalize you for having a sluggish website. And, the reason they do that is that you're unable to provide a seamless customer experience on your website, due to it being too slow.
Responsiveness
Focusing on mobile users is more important than ever. As a matter of fact, mobile traffic has already surpassed that of desktop, which means that not having a mobile-friendly website is a career suicide these days. Fortunately, you no longer have to maintain two versions of your website. Instead, implementing a responsive design that can adapt to any device and screen size will satisfy all your customers.
Security
Modern consumers are much savvier than they used to be, which means cybersecurity is one of their top concerns. Lacking proper security measures results in ranking penalty from search engines and guarantees that your customers won't be satisfied with you. Implementing security measures is therefore essential for modern websites. For example, an SSL/TLS certificate is a good way to secure your website and ensure good ranking factors for your website.
On-site SEO
On-site SEO are activities with a purpose of optimizing content and web pages on your website to be more SEO friendly. In other words, helping search engines understand the context and the content of your website and its pages. Search engines crawl your website and leverage information they've obtained to properly index and display it on search results.
Keywords
Keywords are an essential aspect of SEO. When it comes to On-site SEO, keywords help match the content on your pages and posts with user intent. In other words, you must rank for keywords your audience most commonly uses when searching for something online.
Keywords must be researched carefully, so that you ensure your efforts are well-placed. If you have difficulties managing this on your own, you can look for the best search agency that can help you out with this task. That way, you'll ensure that your website is well-ranked and relevant to your audience.
Content
Content is king in the marketing world. Content on your website needs to be excellent and relevant, in order to engage your consumers properly. Content will help inform, educate and even entertain your audience while on your website. That's why you must optimize it properly and ensure search engines can adequately display it on their results.
Titles, URLs, Metadata
Optimizing pages is important for SEO. Each page, post and piece of information must be optimized properly so that both search engines and your audience can understand it well. For example, include keywords in title tags for your posts so that it can match user intent.
Also, restructure your URLs to help search engines understand the content of your pages. In addition, include detailed information in Metadata descriptions to help your audience understand what your pages are about. Optimizing pages and their elements is essential for SEO and ranking well on search engines.
Off-site SEO
Off-site SEO are your activities outside your website. Promoting content on other sources serves a purpose of building credibility, domain authority and reputation for your website. Search engines reward websites with good off-site SEO with high rankings. The main reason is that search engines favor websites with good relevance and credibility.
Link building
Link building is an SEO activity of creating high-quality inbound links for your website. In short, the content you publish contains a backlink that leads back to your website. You accomplish this by guest posting your content on other relevant and reputable sources, such as other blogs and websites. In fact, backlinks share the first place with content as being the most important ranking factor on Google. The more quality backlinks you have, the higher your rank on search engines.
Social media
Even though SEO isn't directly involved with social media, search engines do prefer websites whose content is popular on social media networks. Likes, shares, tweets and others make your content popular and influence user engagement, which means search engines are more likely to recommend content on their results that is viral on social media. Sharing your content on your own social media pages is a good way to start. You can also leverage influencers to further promote your content and create a much-needed buzz for your posts.
SEO requires a lot of effort, time and dedication before it starts showing viable results. A lot of web owners simply give up before that happens. However, SEO can vastly increase not just your website's visibility and awareness, but also boost your organic website traffic. In other words, investing in SEO can greatly payoff if you're willing to make an effort and wait for the results to start showing.
How to Create Engaging Content: 7 Ways
When visitors land on your page, do they stick around for a while or do they bounce away? Most people go to a site looking for information on a specific topic or with the intent to buy. Providing the engaging content your target audience wants isn't easy, but you can accomplish this by studying your typical site visitors and answering their most pressing questions. If you answer questions your competitors don't, that's even better for your branding.
There are approximately 1,874,655,290 websites on the internet. While this number varies from second to second, what this means for your business is that there is a lot of competition out there. Standing out from all your competitors isn't easy, but the first step to being memorable is adding engaging content.
There is more than one type of content, but creating engaging content is about more than just the type you offer. Here are seven ways to create more engaging content for your readers:
1. Answer Pressing Questions
Does your content answer the most pressing questions site visitors have? One way to clue into these questions is by looking at what search strings brought them to your site in the first place. Today's search engine browsers often type in questions to find what they're looking for. You can also search for popular keywords in your industry. Make sure your content answers those questions.
Scotts is known for its menswear, and it seems to know its audience well. The target audience is young, single men who want to look fashionable but masculine at the same time. The information on its blog directly applies to that demographic, with articles such as "Five Things to Do on Valentine's Day if You're a Single Man." By keying into search phrases this target audience seeks, Scotts draws them to its website and hopefully keeps them there.
2. Use Strong Opening Hooks
Site visitors make up their minds about your site in mere seconds. If you don't grab the person from the minute they land on your page, you risk them bouncing away to a competitor. Using strong opening hooks in your content draws the reader into the article and makes them want to read on.
An opening hook can be a question, a shocking statement, a quote or some interesting fact. The key is to engage the reader while also explaining what the piece will be about. The best way to learn how to write an enticing opening line is by studying the work of excellent writers and seeing how they accomplish this task.
3. Add Video
About one-third of all online activity goes to video watching. It only makes sense to add a video to your website so visitors can absorb content quickly and effortlessly. Don't just add a video to add a video, though. Make sure it adds value to your site by providing information or answering a question site visitors might have.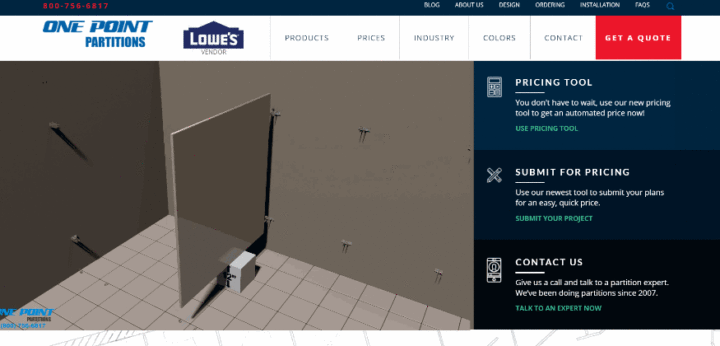 Note the video for One Point Partitions and how it showcases the way you can lay out a public restroom facility. The video clearly shows how the partitions go together and how easy things such as the locks, handles and hooks are to install.
4. Know Your Purpose
Before you add a single piece of content to your website, you should know the purpose of that content. What do you hope to accomplish by writing this article or posting this video? The purpose doesn't always have to be to gather more sales, but you should have a purpose, even if it is just to educate your site visitors.
Your purpose will likely tie into what your customers want to know and who they are as a group. If your customers are mainly millennials, they'll expect your content to entertain them while informing. Older generations may be satisfied with an infographic that lays out the info in understandable terms.
5. Share the Value
Internet gurus recommend sharing the value of your content with site visitors. This simply means you state what they'll gain from watching a video or reading a guide and why this information is precious — even if you offer it free. This engages the user from the very beginning because they know there is a reward for investing their time.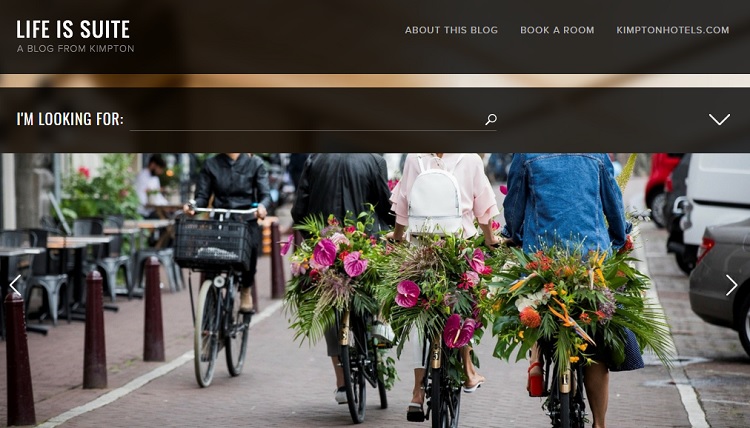 Kimpton Hotels offers a Life Is Suite blog where it delves into topics related to the city visitors might travel to. For example, one of the topics is springtime in Denver. It indicates it has a list of musts you need to know about if you're traveling to Denver in the spring. This entices those travelers to click on that content and read it.
6. Conduct Quizzes
Use quizzes to direct your site visitors to the exact product or area they're seeking. One example of this type of method is Birchbox. The company used a quiz to help consumers find their "facemask soul mate" and wound up with $7,260 in orders. The quiz is short but helps guide consumers to specific products that cater to their needs.
7. Add Visuals
You likely already know people process visuals much better than they do text alone. Visual content is powerful. When people hear info, they only remember about 10 percent of that information a few days later. However, add a relevant image, and they retain about 65 percent of the same information in the same time period. If you want your site to be memorable, add infographics, graphs, charts and photos that go along with your content.
Engage Content for Your Visitors
In order to keep your visitors engaged and coming back to your website, you need to add content and add it regularly. However, as we've seen through the studies above, that content needs to have a purpose and be presented in a way that draws site visitors in. With just a few minor tweaks, you can accomplish this and turn casual visitors into lifelong customers.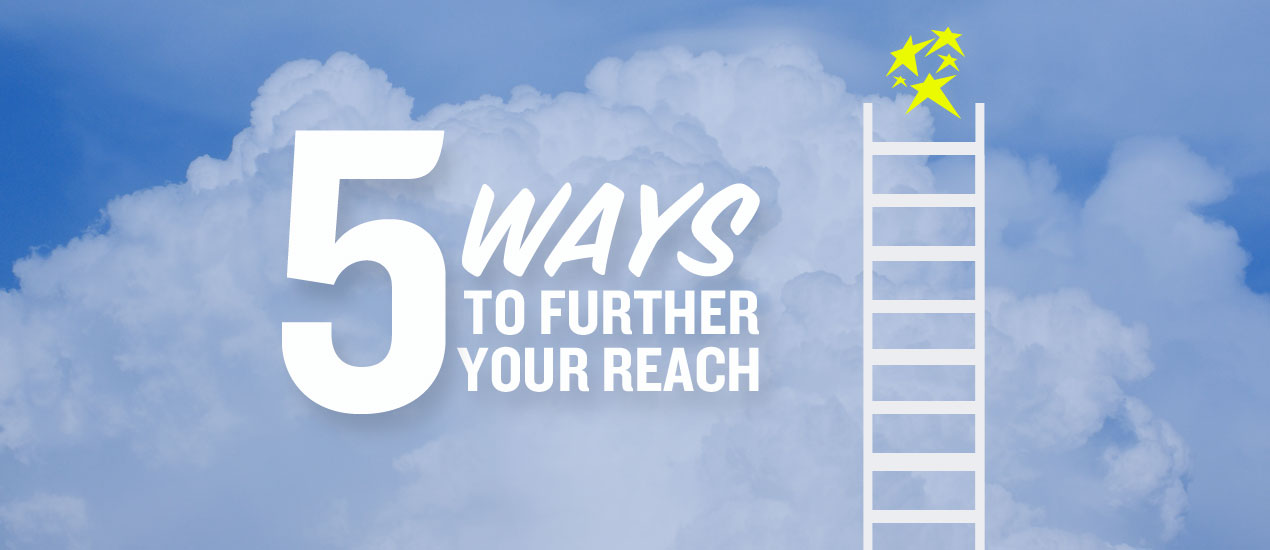 Expanding Your Brand Presence: 5 Tips
Are you feeling a stagnant air in your business? Strategy planning is a key element of any business, so here are 5 simple ways to further your reach!
How to Further Your Reach
1. Invest in yourself!
Let everyone know who you are by professionally branding your business. Start with a logo and simple website. Creating a relationship with a professional designer will help you throughout your businesses lifetime, you never know when you'll need something! It helps to have someone on standby who understands your brand and can help support your direction. Designers do a lot more than just create pretty pictures. We create marketing plans, help plan strategies, consult and more. As you grow, your advertising needs change and your designer should be there by your side to guide you. When you are professionally branded and have a user friendly, modern website, it gives your business instant legitimacy in the eyes of your customer. If you are unsure about your logo or website, lots of designers do brand consulting and can help point you in the right direction and show you where you need improvement.
2. Utilize Social Media
The best thing about Social Media is that it is FREE! The worst? You can get lost, easily. The best advice I ever heard was pick the best social media for your business and focus your time and energy on creating great content for your audience there. Do not spread yourself thin posting to countless social media accounts every day. If your biggest audience is on Facebook, utilize groups, events and business pages. Maybe you find your following is more Instagram central. Post updates, stories and go live! Pick your best social media platform and run with it. What about sponsored posts, you ask? Personally, I hardly ever sponsor posts because I know how to reach my target on social media. When I have a post performing exceptionally well, reaching thousands without much effort, I will occasionally boost those. It is already performing for me and converting it to a paid ad will only help my reach!
3. The Right Content
You picked your perfect social media platform, but now you need to post. Create relevant content for your target customer. We're not talking click bait. Research shows valuable content builds better customer relationships and leads to positive returns for your business! Create each piece with a "Call to Action" or the intent to trigger a specific action in your customer. Pro Tip: Create your content for a few weeks and mass upload them as scheduled posts!
4. Be Engaged
The right content grabs your customer's attention, now it's time to engage WITH them! Your created content gets people excited and they want to learn more about you. You start getting comments and messages, engage with them and reply! Your customer base needs to think of you as someone they can count on, someone they are comfortable with. When people feel like they already 'know' you from connecting and engagement on social media, you've already built the foundation of trust in your relationship with them. Comment on posts in and outside of your social media community. I'm not talking about a sales pitch saying "I'm Sally & I do blah blah blah..". Comment on things that ENGAGE YOU and that YOU are the expert in. Show off your knowledge, the rest will follow. Engaged networking goes a long way with expanding your reach beyond your own two walls.
5. Get Listed!
Are you listed on the big 7? What is the big 7? Google, Bing, Yahoo, Yelp, Foursquare, YP & Superpages. Maybe your business doesn't need to be listed on all 7, but you can absolutely benefit from being listed on the others. Not only is it a FREE way to get out to your customer base, it helps populate your website and business on search engine rankings. Listed on these websites goes back to tip #1, instant business legitimacy in the eyes of your customer.
What about you? Do you know or practice any other creative ways to further your reach that should be included in this list? Let me know!
How do you build links to your website?
Every online business wants to reach the top and be the best on the market. That's why the online market is so overcrowded in the first place. Nevertheless, the competition is ongoing and businesses implement different strategies that will help them reach the top regardless. One such strategy is SEO (Search Engine Optimization) which helps businesses rank high on search engines and appear on the first page of search results. That way, businesses can improve their online visibility and allow their potential customers to easily find them online.
Link building is one of the most important SEO activities. Even though search engines change their algorithms often, thus changing the rules for SEO, it's estimated that backlinks still account for around 80% of ranking factors for websites. The main reason backlinks are so important is that they build credibility and reputation of a website they link to; this is why it's important that they come from reputable sources. Here are a few ways backlinks can boost your website traffic.
Build authority with backlinks
Backlinks are hyperlinks on a specific web page that point back to your website. Simply put, your website will appear on various web pages as a reference for further exploration or as a source of additional information. The more reputable and relevant backlink sources – i.e. websites that point back to you – will provide higher quality backlinks. Many business owners believe they'll improve their SEO ranking by creating as many backlinks as they can, wherever they can.
However, that's not the case. In fact, search engines, such as Google, penalize this activity. Instead of spamming backlinks, you should focus on building authority by creating high-quality backlinks. That means you should find websites and blogs that already have good reputation and authority, and are relevant to your niche to create backlinks on. This will undoubtedly build your own authority as you'll be recommended by reputable sources. Not just that, but the audience on those sources will deem you worthy of attention and will want to check out what you have to offer.
Engage in guest posting
Guest posting on other websites or blogs is a great way to build relationships with popular people in your industry and for creating top-quality backlinks. Basically, guest posting is an opportunity to write and publish articles on someone else's blog or website. However, you'll have to find the right blogger or a webmaster and convince them to allow you to share your content.
You could use a reliable link building tool to help you identify prospects that are the most valuable to you and design a compelling outreach message. Furthermore, the content you want to publish has to be high-quality if you want your backlinks to have any real value. That means that the content has to be relevant, creative, informative and entertaining. That way, the audience from the blog or website you're currently guest posting at, will find your content interesting enough to explore further and even check out your links.
Fix broken links
Broken link building is a great method for creating quality backlinks for your website and for boosting your web traffic. So what exactly is broken link building? Basically, you search for links that are no longer live on websites and blogs that are relevant to your industry and ask bloggers or webmaster to allow you to replace those broken links with links of your own. However, the content you provide has to be relevant to the content that was hosted on the broken link.
That way, you'll help the webmasters fix their broken links, while you'll also have an opportunity to create backlinks. Not only will you have backlinks on multiple sources, which will boost your web traffic, but you'll also find out that it's easier to fix a broken link than it is to create a new one. For instance, alerting a webmaster about a broken link may take a lot less time to generate a response than waiting for a response to an outreach mail.
Post content on social media
Social media is essential for every online business today. Various businesses build their presence on social networks and publish their content in order to drive engagement in their target audience. However, social links do not account for search ranking factors, but they can indeed boost your website traffic. Creating backlinks on social media can generate a lot of referral traffic to your website, especially if your content goes viral on social networks.
On the other hand, your social profiles do in fact rank in the search engines, so if someone searches for you by name or brand, chances are your social accounts may appear in the search results. Therefore, it's important to maintain your social activity and publish content that will generate backlinks for your website on social media. Your social links may not influence your search rank, but they'll definitely get people to visit your website.
Backlinks are one of the most important aspects of every SEO strategy. Not only do they improve online credibility, but they also boost website traffic by increasing the reach and exposure of online businesses. Having high-quality backlinks can greatly improve your business success, not to mention that search engines favor businesses that have quality backlinks as well.
Categorized:

Business Philosophy, Graphic Design, Web Design

Tagged:

authority, backlinks, content, guest posting, link building, seo, social media, traffic, website
Tips on How to Boost Usability of a WordPress Website
It is a small world, but the digital world is even smaller. Therefore, it is important to safeguard your brand's reputation as a single miss from your end can affect your brand's identity. One of the places where you have to keep your brand's identity in mind is your website and blog. It is your brand on the virtual world. It is your window of getting more opportunities. Therefore, it is essential to ensure that your website is easily accessible and attracts your target audience.
While there are many several web development options that you can use to create your website, one of the easiest and efficient ones is WordPress.
WordPress allows you to develop user-friendly websites and helps in making it usable with its easy-to-use plugins, navigational tools, etc. We are going to give some easy tips on how you can boost the usability of your WordPress website.
Below are few tips that will help you:
Tip # 1 – Website should be visually appealing
First impression, as we always say, is the last impression. Now, imagine for a minute – would you explore a website with confusing navigation, garish colors, and designs that take ages to download, Or would you prefer to explore a website that is easy to navigate and has eye-appealing color combination and good design. Most likely, you will choose to explore the latter website.
You might find us repeating us ourselves, but we cannot stress enough on the importance of creating a website that has an easy workflow with good visual impact. Also, ensure that you update your website with the latest principles of website designing as what worked ten years ago might not appeal the visitors anymore. So, it is important to update your website regularly to keep your visitors engaged in your website.
Tip # 2 – Go mobile!
Let us face it – people access information on mobile more than on laptops and desktops. So, it is critical for your website to be mobile-friendly. Your target audience should be able to access your website on the go! And this is possible only if your website has a responsive design. Now, you might ask if you have to upgrade your website. The answer to it is a loud YES! Earlier, websites were typically designed keeping the PC in mind.
The mobile screens are small and viewing your website on mobile can be an arduous task. Your visitor may have to scroll sideways and downwards to read even a small paragraph of text, and that can be a great disadvantage considering that people no longer have the patience to scroll so much to read a small chunk of text.
A responsive design makes your website mobile-friendly, so the visitor can read the content easily without having to scroll/zoom much. If you are wondering if it is a tough task, then let us assure you – it is not! With free WordPress plugins such as Jetpack, you can optimize your website for smaller screens and make your content accessible on all devices.
Tip # 3 – Don't break the link with your website visitors
Imagine this scenario – a reader comes across your blog post that has a link to another website, they click on it and come across an error saying the page is not found. Disappointing isn't it? You almost lost a potential visitor there.
It is important to ensure that there are no broken links on your website. Be wary of adding broken links that direct visitors to empty pages. There are chances that the link you added today might not work few months down the line.
Now, monitoring every link might not be possible. But, WordPress has a solution to it. There is a plugin called Broken Link Checker checks for posts and pictures that have a broken link or missing images and notifies you about it. That will help you rectify the issue and keep your website updated.
Tip # 4 – Make website navigation seamless
Yes, we know we are repeating ourselves. However, this is crucial, and no matter how many times we repeat, website developers miss this simple but very important aspect of your website. It is a fast-paced world, and no matter how beautiful your content is, people are not going to read it if your website navigation leaves them with a bad experience.
From logical navigation (you don't want the website visitor to navigate from About Us to directly Contact Us without going through the other parts of your website), to adding a sitemap to make it easier for the visitor to explore the website, and linking your logo to your website's homepage; every small aspect adds to the customer experience.
Tip # 5 – Interaction with website visitors = potential customers
We live in a time where we require immediate solutions to our queries. Earlier, visitors had to either post their queries on the 'contact us' form of the website or call the helpline and wait for their turn to get their queries resolved.
Now, times have changed. Customers prefer to use different Omni-channels to resolve their queries. Therefore, while you can provide offline options such as a helpline to enable visitors to reach out to you, there are also options such as live chat window that can help you chat with your visitors real-time and resolve their queries at a less turnaround time. With quick solutions and proactive suggestions, you will be able to convert the leads into customers. WordPress offers plugins such as WP Live Chat Support that can help your website visitors to connect with you easily without third-party interference.
Tip # 6 – Attract your users with your content
When we talk about the usability of the website, we often focus on the design and user interface of the website. However, one thing that distinguishes your website from your competitor's is the quality of content. Ensure that your content is useful and is regularly updated. Remember that while a picture talks a thousand words, it is your content that will convert your visitors into leads. So, always keep your content as the focal point even as you update your website.
In conclusion
Website is not just another marketing exercise to be done for the sake of creating online presence. It is an important means of generating leads for your business. So, always ensure that your website is user-friendly and dedicate time to maintaining it regularly. A good content with great design, navigation, and real-time customer service is the key to success of your website and your brand identity on digital space.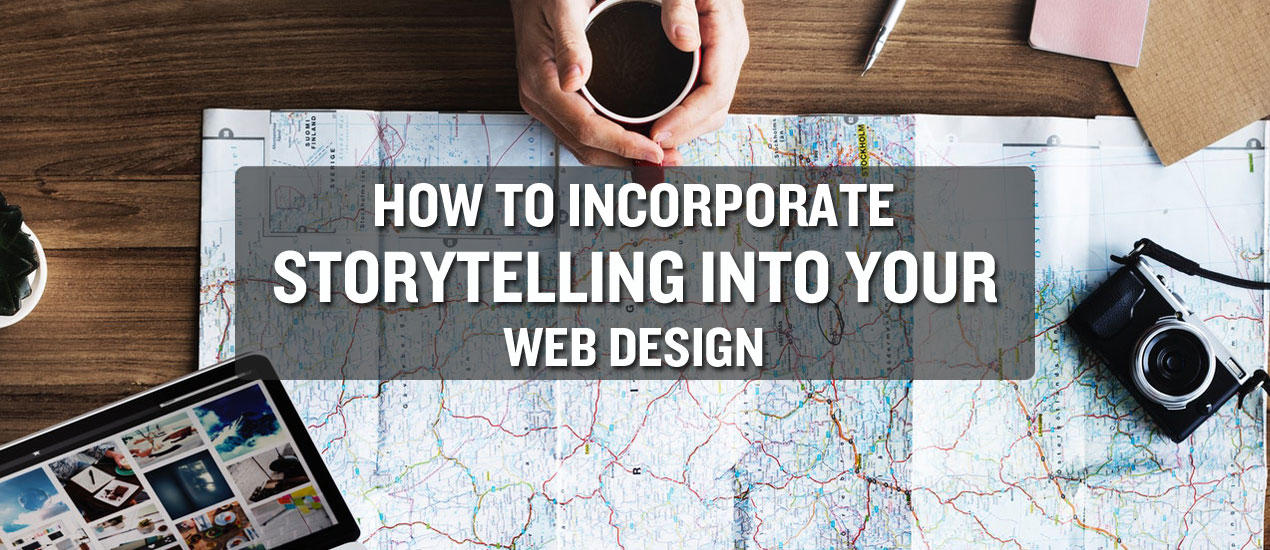 We all love a good story. Have you ever considered incorporating one into your web design? No? Well, you should, because it's become an incredible communications tool in addition to a core component of content marketing.
We'd like you to do something. Close your eyes, just for a moment, and think about all the different brands you know and interact with. Think about their stories. What premise or plotline do they use to reach out to customers, enthusiasts, supporters and even rivals? How has that story evolved since the inception of the brand?
This may all seem like a bunch of nonsense to you now, but you should quickly do away with that mindset if it's how you feel. You see, humans are emotional creatures, and stories — personal or otherwise — are the way we interact with the world and one another. Think about it! Every time you converse, discuss or reach out to friends and family, one thing you'll do for one another is share stories.
This is the same outlook modern brands and organizations have about their relationship with their customers, especially through digital platforms and channels. Social media, for instance, allows brands and company representatives to have much more personal and influential interactions with specific customers. The same can be said of modern customer support tools like one-to-one messaging or IM solutions, and even discussion forums.
Why Use a Story at All?
Because stories help carry a message, they are far more memorable, and that's the idea — a story is not only more engaging but it also remains in a customer's brain, sometimes even influencing how they react or what decision they make.
But stories can also be used to placate the emotions of the viewer, pushing them closer to a product or service you are peddling. They may have had absolutely no clue they needed what you're offering, but your story, the journey, and experience you subjected them to changed their outlook.
For example, wearables tend to have a reputation for being impractical to some people, which has helped slow adoption of the market. These people feel they already own a smartphone, so there's no need to own a smaller device on their wrist that can do the same things. Keep in mind, we're strictly talking about smartwatches and smart wearables here — not fitness trackers.
By delivering a story or personalized experience to those customers, wearable makers can help potential customers not just understand but also desire to have this type of product experience. They can show adverts, content, and media that portrays how practical these wearables actually are, specifically by showing some problems they can fix.
A good story plays to a customer's emotions, opinions, and past experiences and shows them what the product or service can do in their life.
1. Create Characters That Resonate With Your Audience
Whether you use the real-world experiences of customers and personnel on your team or you make up characters, be sure the focus is on someone your general audience can relate to. For example, Progressive uses Flo, the infamous insurance agent, to tell stories about their company and products. She resonates with a lot of folks because of her bubbly personality, desire to help and overall friendliness. But you don't have to make up a fictional character to facilitate your stories.
Airbnb, for example, uses stories from real customers to share their experiences renting properties through the app and platform. You can browse this section, find someone that best matches you and your family and see how they fared. It's a genius approach to onboarding new customers, really.
One company ascertained that parents are 52% less likely to celebrate Valentine's Day after they have kids. This information was used to create a more compelling and engaging story for that particular audience, and by using relatable situations and characters, it turned out to be effective, too.
2. Remain True to Your Personality and Brand Mission
If you're strictly professional, try to put together an experience or story that remains just as professional. If your brand is a little quirkier, you can be fun-loving and whimsical instead. The foundation, or the core concept of your brand and personality, should remain the same throughout, however. That's true no matter what story you tell, what platform or channel you tell it on and how it evolves over time.
The Burt's Bees philosophy to products, for instance, is that what you put on your body "should always be the best nature has to offer." This idea permeates nearly every element of their brand from the creation of their products to the distribution and fulfilment of them. You can read all about how they make this possible on their story page.
3. Embrace Change
Your website, your customers and the world around you do not have to be static. You don't have to spend a vast amount of resources every few years to update the content, stories and experiences. Instead, just keep everything consistent and regular. Embrace change over time and continue telling new stories and providing new experiences to your customers, all using the same basic plot or foundation.
The best way to make this happen — and make the most of it — is through analytics and customer data. If something isn't working like you expected, change it. If a campaign isn't going well or is received poorly, drop it and find another. Just because you are focused on one coherent and seamless story doesn't mean you can't invite change.
Nike is an amazing example of this idea. They've been telling stories to their customers for years, decades even. This can be traced all the way back to 1999, when they released a commercial dedicated to the retirement and career of Michael Jordan. You'll notice that since then, a lot of their stories have been similar but fresh enough to be considered new and different. The FlyEase journey, for example, is a more recent story of a new product they offer.
4. Have a Clear Beginning, Middle and End
Like any good book, your story needs to have a beginning, middle and end that is easily definable for all your customers. They know exactly when the journey has begun, when they're close to being done and when things have completely wrapped up.
The beginning should introduce your characters and players, establishing the main plot and setting. The middle should present the problems or issues your characters are having. In the end, you should be able to see that conflict resolved. This entire process is called the story arc of your story's main character.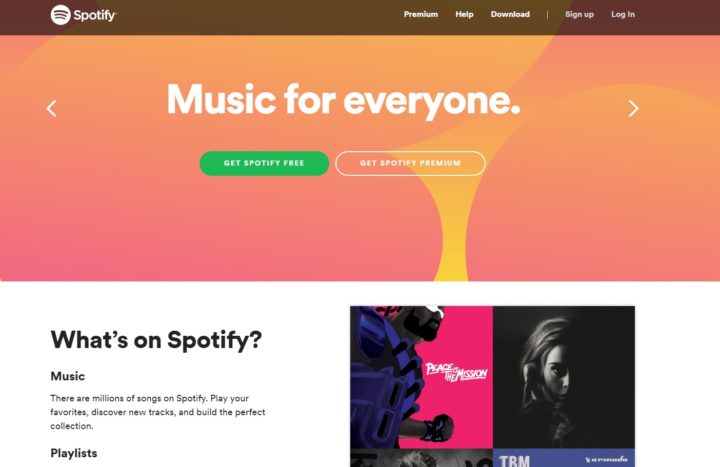 The end of the story, for instance, could be an incredibly effective call to action. Spotify's landing page embodies this idea in full. You land there, see what you can do with the service, how it can help you, what kinds of people rely on it and go from there.
5. Keep Them Hooked
The poker player saying "don't lay all your cards on the table" is a great one to live by, especially when sharing and developing stories. Your stories need to be both compelling and engaging, but you don't want to reveal absolutely everything. You want your customers to be hooked, enticed and interested in coming back.
In other words, keep them hooked and leave them wanting more, but in a good way. This can be achieved through teasers and media releases, viral marketing campaigns, customer sharing and even social media events.
Netflix is an awesome example of this. Even for those who unsubscribe and or never are active customers, Netflix releases plenty of information about new content and new media available through the service. This keeps customers engaged, interested — and most importantly — coming back for more.
Go Forth and Create!
As you can imagine, there's a lot of room for stories to be created, maintained, shared and bolstered, and all of them contribute to the way an audience sees and engages with a brand. It's your goal to come up with a compelling story, but also one that resonates with your target audience. More importantly, you need to ensure the story you're telling — and the goal you're trying to achieve — is efficient and possible. You can do this by deploying and making use of the tips discussed here.
Good luck! Now go forth and create! Tell a revered story that all will love to experience!