Cleveland graphic designers
For most small businesses, your website is your first impression. If your web design is cluttered or fails to deliver fast loading speed, simple navigation and ease of use among platforms, your conversion rate is almost certain to suffer.
In case you aren't familiar, conversion marketing is the way in which we convert visitors to your site into paying customers or engaged participants.
Your web design does make a difference. If it's poorly done, fails to incorporate recent responsive design standards (i.e., can be used on mobile platforms too) or doesn't help the user find what they need, the chances they are going to buy from you are slim.
Consider this: Researchers at the Missouri University of Science and Technology conducted an eye-tracking study, and found that website users form an opinion of your site in just two-tenths of one second. They take about 2.6 seconds of scanning the web design before homing in on a particular section. The longer they stayed on the page, the better their impressions of the site were and the more likely they were to feel compelled to buy/ take other action.
So you need to keep eyeballs on your page. If your web design is no longer helping you do this, our dedicated Cleveland web design team at Go Media can help. We understand not just the aesthetics of the process, but the science behind it. For example, that Missouri University study revealed that some of the key items of interest on a page included:
The logo. Users spent 6.48 seconds here.
The main navigation menu. Users spent 6.44 seconds on this.
Search box. Users focused on this for a full 6 seconds.
Social networking links. Users spent 5.95 seconds viewing this element.
Main image of the site. Viewers spent 5.94 seconds here.
Written content. At least on that first page, users spent about 5.59 seconds.
Bottom of website. Users spent 5.25 seconds here.
All this helps us to understand the critical features when building your site.
Some of the key web design mistakes we see on sites built by other firms:
Unclear or Missing Call-to-Action Buttons. Your customers should know right away who you are, what you have to offer and where they need to go to follow the lead. Of course, your web design needs to be beautiful, but it must be functional as well. This is an element that can't be overlooked.
Poor Quality, Unprofessional, Irrelevant Stock Images. Most viewers can spot a stock image a mile away. They used to be the norm in most web design sectors, but increasingly, we're seeing customers turning to professional photographers. The upside is not only do the photos exactly match your firm's tone and content, but you won't find anyone else with the same photos (as is a risk with stock art).
Cluttered Web Design. The surest way to get viewers to bounce from your site: Obnoxious ad prompts, eye-stinging bright/ contrasting colors, Flash animation overload, auto-play videos. Very few sites can get away with these kind of features. Your readers don't want to be disturbed. Our goal with web design is to keep it simple, clean, fresh and on-point.
Confusing Site Navigation. If you're trying to land sales, you need to get users where they want to go. That means your navigation needs to be readable, findable, organized and clickable.
Unresponsive Web Design. "Responsive Web Design" is not just a new buzzword. It's literally a game-changer in the online world. If you are not on the responsive web design bandwagon, you need to get on it, or risk falling greatly behind. if your website is not mobile-friendly, not only are you losing clicks with customers, but search engines like Google are likely to give you a downgrade too. Old web design standards are not going to cut it. If your site is more than a few years old, you should at least have our web design team evaluate whether an update is necessary.
Finally, you need great content. That's not necessarily an element of web design, but it is essential. Your web design could be outstanding, but if your content is too short, irrelevant or fails to snag their interest, viewers are going to leave. Make sure it's something you consider.
Usually when people think of "architecture," they picture building blueprints. But that structure not only has to be designed to stay upright, it has to serve its functional purpose. People need to be able to easily navigate from one section to the next. That's where information architecture comes in.
Information architecture is an element of smart design that is as relevant for those building towers as it is for the Cleveland graphic designers building your website.
Good information architecture helps people understand their surroundings and quickly find what they are looking for. When information is clear, accessible and aesthetically pleasing, users have better experiences. That is what you want for your customers!
You can find information architecture in:
Websites
Apps
Software
Printed materials
It's even found in some physical spaces (think airports, theme parks, etc.).
In the context of web design, information architecture is the way in which content on your website is organized, labeled and structured.
Unfortunately, some companies are content to simply "let it happen." But here's the reality: Intuitive navigation doesn't occur by chance. It really should be the backbone of every website because visitors are going to bounce quickly if they don't find what they need right away.
The information architecture experts at Go Media know that by establishing a well-formulated strategy for your presenting content, your site becomes infinitely more user-friendly.
Think of it this way: Architects involved in brick-and-mortar projects have to balance the competing demands of structural integrity, functionality and beauty when creating blueprints for a building. In the same way, information architects have to balance the need for information systems that are functional, thorough, concise and eye-catching.
Can you build a structure without an architect? Probably, but that doesn't make it a good idea. It's the same with websites and information architects.
In the end, both types of architects want to create spaces for people that are going to be predictable, safe, enjoyable and even inspiring.
With information architecture, the goal is to guide user experience so visitors can easily find information and complete tasks. To do this effectively, you have to understand how all these pieces fit together in the grand scheme and how items should relate to one another on a page.
How Information Architecture Works
Peter Morville, co-author of, "Information Architecture for the World Wide Web," explains the whole point of information architecture is to assist users in understanding:
Where they are;
What they have found;
What's around;
What to expect.
That informs the primary components of information architecture, which include:
Organization structures and schemes – The way in which you structure and categorize the information on your site.
Labeling – How the information is represented.
Navigation – How visitors will move through that information.
Search systems – How users can find that information.
From there, our designers can move on to the prototyping and wireframing processes. (If information architecture is the backbone, the wireframe is the rest of the skeletal structure. It allows our designers early in the process to effectively convey the layout of information and visuals across a page, usually with colorless boxes .)
The information architects at Go Media know how to create these systems with an understanding of the interdependent nature of users, the content they are seeking an the context in which they are trying to do it. So in layman's terms, this means making sure:
Visitors know they are in the right place, and always make it clear to them where they are.
It's easy for users to find what they are looking for.
Users know all their options (i.e., "Related Products," or "See Also").
The call to action is clear.
In working to improve the design flow and architecture of your digital landscape, we start with meticulous research that may involve:
Competitor analysis;
Reading through academic papers on human and computer interactions;
Testing ideas on real users.
We work to improve the design flow of your digital landscape.
Information Architecture vs. Information Design
These two terms are sometimes used interchangeably, but they are in fact different. Information design was first in the game, but has since become a component of information architecture.
Information Design: Involves the intersection of visual design, technical communication and human factors, such as usability. Rather than concern itself with the actual text, it's more about how the information looks on a page, the choice of typefaces and how the information is ordered.
Information Architecture: Is the art and science of organization information in a way that helps people effectively fulfill their informational needs. It involves, research, analysis, design and execution.
Each draws from understanding of library science, architecture and cognitive psychology. Both information design and information architecture are tools that help improve user experience design.
Good digital service is about more than basic functionality. Users have to feel good about the site and the way it works. That's where information architecture can help.
UI/ UX
Two additional important elements of information architecture are User Interface (UI) and User Experience (UX).
UI refers to the way in which people interact with a technological device. User Interface design involves anticipating the needs of users and then ensuring the interface makes those elements easily accessible and understandable. This involves keeping the interface simple, creating consistency with use of common elements, being purposeful with page layout and strategically using color and texture to your advantage.
UX refers to the way in which users experience and perceive a website. They'll be asking, "Does it give me value?" "Is it easy to use?" "Is it pleasant to use?" User experience design is a way to make them answer "Yes!" to all of these questions, and in turn reduce bounce rates, improve SEO and increase sales.
To learn more about our Cleveland information architecture services, call Go Media at 216.939.0000 or contact us online.
Jack Frost Donuts' new Cleveland Logo Design – and brand new building – was unveiled to the public in a grand, re-opening over the weekend, complete with green screen fun, a new menu display, festive red and yellow balloons and upbeat music.
Steaming cups of fresh, hot coffee complimented the dozens of delectable delectable donut options for new and loyal patrons of the Old Brooklyn mainstay.
Customers clustered in the parking lot to catch a peek at the newly-renovated store, complete with exposed stone walls, sparkling quartz counter tops, spotless tile floors and a merchandise rack that stretched to the ceiling.
"Despite the windy and cold weather, the turnout was fantastic," said Lauren Hudac, Go Media's Account Services Manager. "We waited in a 30-minute line outside – totally worth it!"
The Pearl Road store, now emblazoned with a newly-updated bright new red-and-white logo design from Go Media, prides itself on the motto, "Every Batch Made From Scratch." The baker has been in business since 1937, though it's changed hands a few times. Fred Borkey is the man now at the helm.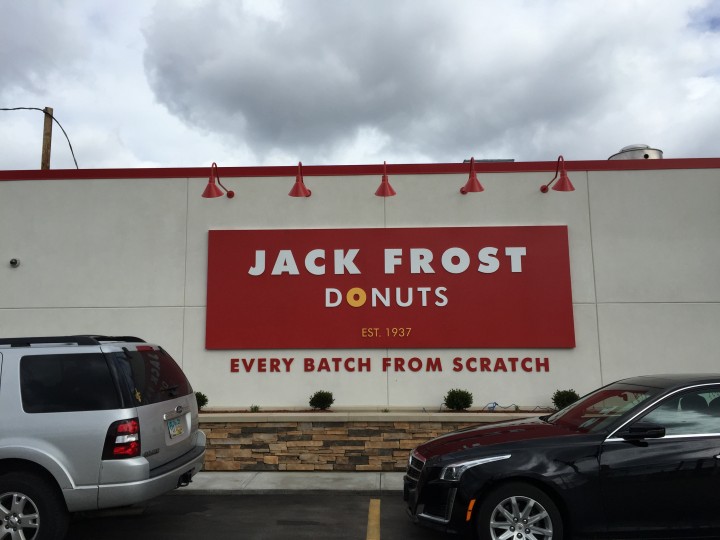 Erin Rodeno, spokeswoman for the family-owned shop, said the store remodeling and the logo design brand refresh was an opportunity to ensure the entire atmosphere reflected the quality of the product.
"The branding and logo design needed to change because we've really grown as a company," Rodeno said. "But we want to make sure people know: with Jack Frost, you're going to get the same quality ingredients. New logo, but same taste."
The grand re-opening showed the many different ways in which small businesses and retail stores rely heavily on logo design. It was incorporated in almost every facet, including:
New Menu Screen
Print Menus
Business Cards
Staff T-shirts
Staff Hats
Storefront Sign
Signage on Store Siding
Boxes
Coffee Mugs
Napkins
Merchandise Mugs
Merchandise T-shirts
Merchandise Hats
Merchandise Coffee Pots
Chris Comella, Go Media's Art Director, said even though the store is venturing into new territory, it was important that the logo design remain true to the identity of the store – which is one customers have come to know and love. That's called brand equity, and it was important not to lose it.
"If they had simply dropped every element they had before, it would have come as a shock to the community – and that's not what we wanted," Comella said. "From a strategic standpoint, we really didn't want to stray too far from what they had. Our role is to help make their business better – not arbitrarily change it."
The donut shop operated out of a re-purposed pizza shop nearby while the renovations were ongoing.
Rodeno said the hope is this will be the start of a revitalization trend in the neighborhood.
The grand re-opening took place on April 2. The store has since resumed its regular hours and operations, which is 6 a.m. to 8 p.m. Monday through Saturday and 7 a.m. to 8 p.m. on Sunday.
Learn more about Jack Frost Donuts at 4960 Pearl Road by checking out their Facebook page or by calling (216) 351-3638.
Contact the Cleveland brand refresh experts at Go Media by calling 216.939.0000 or contact us online.