Très Chic Salon Branding
Go Media was approached by stylist Katie Skillman, who was on a mission to turn her passion for hair education & styling into her dream business – a Cleveland local salon known as Très Chic. During the early stages of the brand development, we explored influences from French cinema, fashion, and even some understated vintage looks. At the base of it all, we knew the goal was a strong, classic and elegant identity that held up to its name Très Chic, meaning very stylish.
Throughout the branding process, we explored several potential applications for the identity. Everything from a business card and service menus, to the signage on the exterior of the building. Because of this, the Très Chic identity consists of a handful of logo variations to account for those various needs. You can find their signature TC scissor mark sprinkled across their marketing materials or featured on aprons worn by the stylists.
To see more concepts and learn more about the project:
Jack Frost Donuts' new Cleveland Logo Design – and brand new building – was unveiled to the public in a grand, re-opening over the weekend, complete with green screen fun, a new menu display, festive red and yellow balloons and upbeat music.
Steaming cups of fresh, hot coffee complimented the dozens of delectable delectable donut options for new and loyal patrons of the Old Brooklyn mainstay.
Customers clustered in the parking lot to catch a peek at the newly-renovated store, complete with exposed stone walls, sparkling quartz counter tops, spotless tile floors and a merchandise rack that stretched to the ceiling.
"Despite the windy and cold weather, the turnout was fantastic," said Lauren Hudac, Go Media's Account Services Manager. "We waited in a 30-minute line outside – totally worth it!"
The Pearl Road store, now emblazoned with a newly-updated bright new red-and-white logo design from Go Media, prides itself on the motto, "Every Batch Made From Scratch." The baker has been in business since 1937, though it's changed hands a few times. Fred Borkey is the man now at the helm.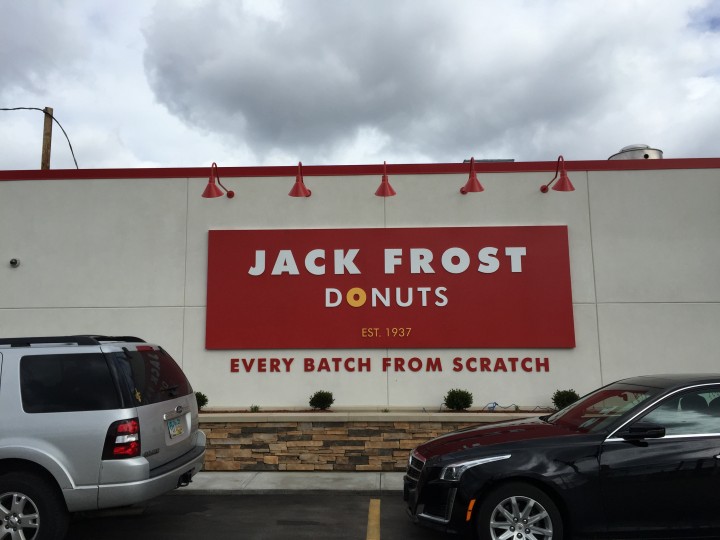 Erin Rodeno, spokeswoman for the family-owned shop, said the store remodeling and the logo design brand refresh was an opportunity to ensure the entire atmosphere reflected the quality of the product.
"The branding and logo design needed to change because we've really grown as a company," Rodeno said. "But we want to make sure people know: with Jack Frost, you're going to get the same quality ingredients. New logo, but same taste."
The grand re-opening showed the many different ways in which small businesses and retail stores rely heavily on logo design. It was incorporated in almost every facet, including:
New Menu Screen
Print Menus
Business Cards
Staff T-shirts
Staff Hats
Storefront Sign
Signage on Store Siding
Boxes
Coffee Mugs
Napkins
Merchandise Mugs
Merchandise T-shirts
Merchandise Hats
Merchandise Coffee Pots
Chris Comella, Go Media's Art Director, said even though the store is venturing into new territory, it was important that the logo design remain true to the identity of the store – which is one customers have come to know and love. That's called brand equity, and it was important not to lose it.
"If they had simply dropped every element they had before, it would have come as a shock to the community – and that's not what we wanted," Comella said. "From a strategic standpoint, we really didn't want to stray too far from what they had. Our role is to help make their business better – not arbitrarily change it."
The donut shop operated out of a re-purposed pizza shop nearby while the renovations were ongoing.
Rodeno said the hope is this will be the start of a revitalization trend in the neighborhood.
The grand re-opening took place on April 2. The store has since resumed its regular hours and operations, which is 6 a.m. to 8 p.m. Monday through Saturday and 7 a.m. to 8 p.m. on Sunday.
Learn more about Jack Frost Donuts at 4960 Pearl Road by checking out their Facebook page or by calling (216) 351-3638.
Contact the Cleveland brand refresh experts at Go Media by calling 216.939.0000 or contact us online.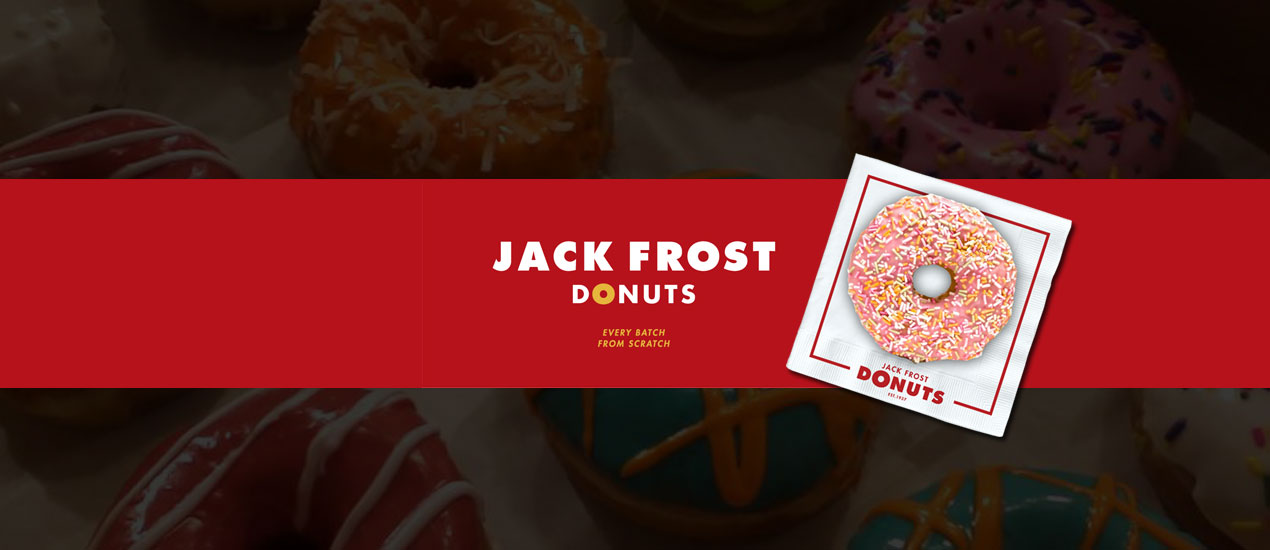 A treat as dazzling as a Jack Frost donut deserves a logo that reflects its pure, sugary awesomeness. The Cleveland graphic designers at Go Media recently collaborated with the family-owned shop – an Old Brooklyn fan favorite since 1937 – on a brand refresh that modernizes the overall look while maintaining the iconic red-and-white that regulars recognize.
"People have come to know and love this brand because it's been a neighborhood staple for so long," Go Media Art Director Chris Comella said of the brand refresh strategy. "With that kind of an anchor, you want to revitalize, while keeping a part of the past alive."
The brand refresh is being unveiled just in time for the shop's grand re-opening party April 2nd, said Jack Frost Spokeswoman Erin Rodeno.
Every morning for nearly 80 years, the pastry artists have been busy baking fresh delicacies daily inside the same Pearl Road location. The old spot had been described by even the most supportive patrons as "funky," "industrial" and even "weathered."
"The building definitely needed an updated, new look," Rodeno said. "We wanted to the store rise to the same level of quality as our donuts."
And now, the sleek new shop mirrors the greatness of the goodies inside – more than 200 fabulous flavors in all. Going beyond the simple glazed, these confections are known for their creativity – festive themes, ornate decorations – and LOTS of creamy frosting!
"It's still going to be the same great donut, "Rodeno said. "Everything is still baked fresh on a daily basis – nothing sitting overnight. But when you walk in, there are brand new tile floors, beautiful quartz counter tops, stainless steel shelving, a flat-screen television, a new coffee station, exposed stone on the walls. It truly looks beautiful – almost as beautiful as the donuts."
It's a restoration effort owner Fred Borkey Jr. hopes will spark the first of many local Cleveland business renovations on the block. While waiting out the construction, his crew has been selling their donuts out of a nearby re-purposed pizza joint.
Yet even with the storefront revamp, the brand refresh didn't come without some reservations.
"There was a fear that if the branding changed, people would think the donuts were going to change too," Rodeno said. "But in the end, it was really just time to do it, especially because of how much we have grown as a company."
Go Media, she said, was "wonderful"  in bringing that vision to life – while still keeping the look recognizable.
"All the work they have done – everything we've asked for – has just been beautiful."
One element Jack Frost knew they needed to alter was swapping the prominence of the word "Donuts" for "Jack Frost." Many decades ago, one could rightly argue the word "Donuts" was more important; People needed to know right away what the store was selling. Today, "Jack Frost" is a household name that people immediately associate with delectable, artisan-quality donuts. The branding needed to show that shift.
The "O" in particular got special treatment, an obvious play on its donut-like shape. In the previous brand, the "O" was white on the boxes, but gold on the outdoor sign. It was a large, standout feature in both variations.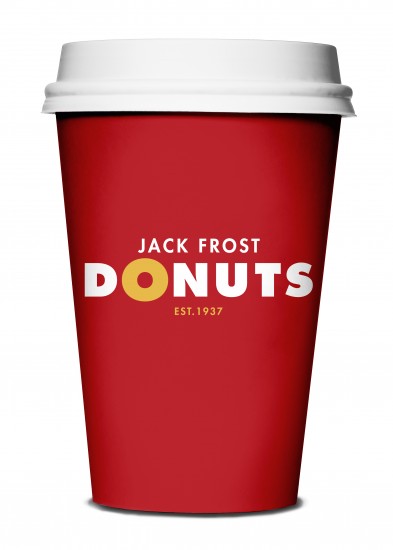 "We knew this was an aspect we wanted to keep," Comella said. "So we just gave it some love. They really wanted to stick with a more classic image."
It's this classic take on doughnuts, after all, that has won Jack Frost the avid affection of the neighborhood where the shop has so long resided. It was recently voted one of Cleveland's Best Small Places by the Cleveland Plain Dealer in 2016, No. 1 for Best Donut's on Cleveland's HotList in 2015 and NEO's Best Donuts in 2014.
"This was really a special project for us, "Comella said. "I've lived here a long time, my friends and I go there and Jack Frost really does have the hands-down best donuts in town."
If You Go
What: Jack Frost Donuts Grand Re-Opening
Celebrate: Green screens, music, balloons and lots of sweet treats
Where: 4960 Pearl Road
When: Saturday, April 2
Time: 9 a.m. to 12 p.m. (Open for regular business that day from 8 a.m. to 7 p.m.)
Call: 216-351-3638
Contact the Cleveland brand refresh experts at Go Media by calling 216.939.0000 or contact us online.