The most successful firms have more than just a brand identity. They offer customers a total Brand Experience.
Customers who have had a positive brand experience don't just recognize the brand. They feel it. It's about ensuring that customers have a good experience at each and every "touchpoint," or point of contact with the brand.
As it turns out, this not only boosts brand loyalty, it can also help your SEO, or search engine optimization. This is the key to getting your name at the top of those search results on Google. Although some have argued that SEO and branding are two separate and competing marketing strategies, the fact is, both strategies support each other.
When you create a good brand experience for your customers, your SEO soars because:
Customers are more likely to search for you specifically.
Customers are more likely to type in your exact URL.
Customers are more likely to click on your site.
Customers are more likely to stay longer on your site.
When customers type in your company's URL, that is called "Direct Traffic." It's the second-largest type of search, behind organic searches. Organic searches are those that occur because someone typed in an inquiry and found what they were looking for that way. People are more likely to talk about/ like/ share information on products or services with which they've had consistent and positive brand experiences.
In practice, good brand experience might work to boost SEO like this: Customers scroll through their social media accounts and spy a product mention by a friend. The first time they see it, maybe they gloss over it. But after five or six times – seeing an advertisement, hearing a friend talk about it,  reading a blog about it, spotting a five-star online review – there is a higher chance that that person will remember it. (And if you're using good SEO practices in addition to your branding, you should be targeting customers via these touchpoints.) Then when it comes time that person has a reason to buy a product like that, yours will be the name that pops into their head. The first place they – and millions of others – will start their search is Google. The search engine takes them right to it.
Google rewards those direct search hits with higher page rankings – and they are often driven by positive brand experience.
Another way that brand experience can help your SEO: The better brand experience you offer, the greater your brand reputation and the more likely you are to get those coveted "back links." These occur when reputable and/or varied sites link back to your site as an authority or leader in your industry. The more diverse these links, the better this is for you. These links are a big factor in determining where your page ranks on a search engine. Even if people mention your brand name – but don't directly link to it – this works in your favor too. (And forget trying to pay for these back links anymore. Google's 2012 Penguin update heavily penalized sites that do this. The best way to get back links is with quality content and relevant search results – both of which are a part of positive brand experience for your customers.)
Consistency in brand experience across platforms can help too. Customers know what to expect, and that always helps. But beyond that, Google will look for firms that are consistently branded. While search engines don't subjectively rank which companies are "better," they do look for companies that have the same message across platforms (each representing a different touchpoint of the brand experience). A website that has clear, consistent branding, a meaningful message and utilizes the best SEO practices will outrank the others every time.
At Go Media, our graphic design team can help you determine the best ways to create a positive brand experience for your customers.
To learn more about how our team of Cleveland graphic designers can help your Brand Experience, call Go Media at 216.939.0000 or contact us online.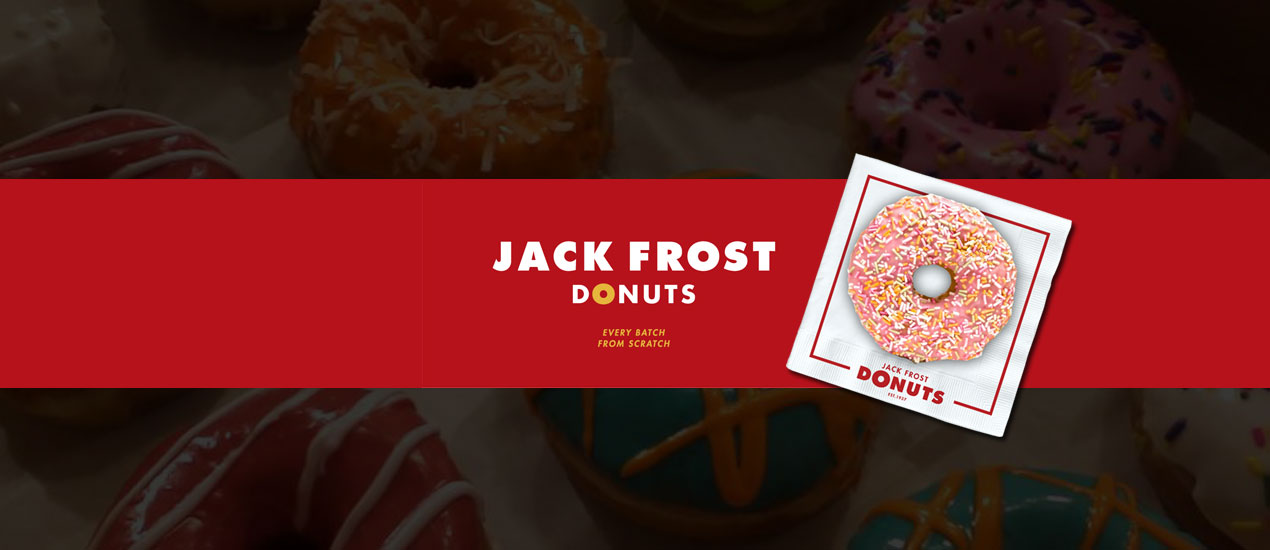 A treat as dazzling as a Jack Frost donut deserves a logo that reflects its pure, sugary awesomeness. The Cleveland graphic designers at Go Media recently collaborated with the family-owned shop – an Old Brooklyn fan favorite since 1937 – on a brand refresh that modernizes the overall look while maintaining the iconic red-and-white that regulars recognize.
"People have come to know and love this brand because it's been a neighborhood staple for so long," Go Media Art Director Chris Comella said of the brand refresh strategy. "With that kind of an anchor, you want to revitalize, while keeping a part of the past alive."
The brand refresh is being unveiled just in time for the shop's grand re-opening party April 2nd, said Jack Frost Spokeswoman Erin Rodeno.
Every morning for nearly 80 years, the pastry artists have been busy baking fresh delicacies daily inside the same Pearl Road location. The old spot had been described by even the most supportive patrons as "funky," "industrial" and even "weathered."
"The building definitely needed an updated, new look," Rodeno said. "We wanted to the store rise to the same level of quality as our donuts."
And now, the sleek new shop mirrors the greatness of the goodies inside – more than 200 fabulous flavors in all. Going beyond the simple glazed, these confections are known for their creativity – festive themes, ornate decorations – and LOTS of creamy frosting!
"It's still going to be the same great donut, "Rodeno said. "Everything is still baked fresh on a daily basis – nothing sitting overnight. But when you walk in, there are brand new tile floors, beautiful quartz counter tops, stainless steel shelving, a flat-screen television, a new coffee station, exposed stone on the walls. It truly looks beautiful – almost as beautiful as the donuts."
It's a restoration effort owner Fred Borkey Jr. hopes will spark the first of many local Cleveland business renovations on the block. While waiting out the construction, his crew has been selling their donuts out of a nearby re-purposed pizza joint.
Yet even with the storefront revamp, the brand refresh didn't come without some reservations.
"There was a fear that if the branding changed, people would think the donuts were going to change too," Rodeno said. "But in the end, it was really just time to do it, especially because of how much we have grown as a company."
Go Media, she said, was "wonderful"  in bringing that vision to life – while still keeping the look recognizable.
"All the work they have done – everything we've asked for – has just been beautiful."
One element Jack Frost knew they needed to alter was swapping the prominence of the word "Donuts" for "Jack Frost." Many decades ago, one could rightly argue the word "Donuts" was more important; People needed to know right away what the store was selling. Today, "Jack Frost" is a household name that people immediately associate with delectable, artisan-quality donuts. The branding needed to show that shift.
The "O" in particular got special treatment, an obvious play on its donut-like shape. In the previous brand, the "O" was white on the boxes, but gold on the outdoor sign. It was a large, standout feature in both variations.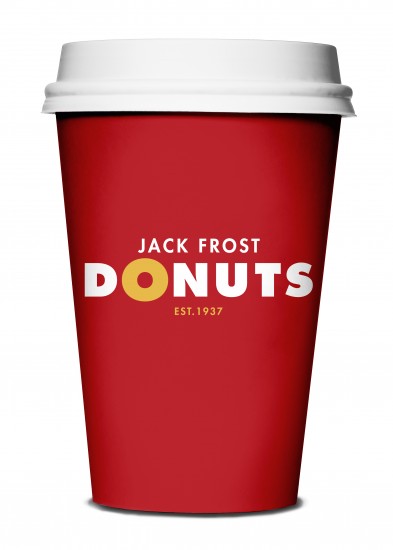 "We knew this was an aspect we wanted to keep," Comella said. "So we just gave it some love. They really wanted to stick with a more classic image."
It's this classic take on doughnuts, after all, that has won Jack Frost the avid affection of the neighborhood where the shop has so long resided. It was recently voted one of Cleveland's Best Small Places by the Cleveland Plain Dealer in 2016, No. 1 for Best Donut's on Cleveland's HotList in 2015 and NEO's Best Donuts in 2014.
"This was really a special project for us, "Comella said. "I've lived here a long time, my friends and I go there and Jack Frost really does have the hands-down best donuts in town."
If You Go
What: Jack Frost Donuts Grand Re-Opening
Celebrate: Green screens, music, balloons and lots of sweet treats
Where: 4960 Pearl Road
When: Saturday, April 2
Time: 9 a.m. to 12 p.m. (Open for regular business that day from 8 a.m. to 7 p.m.)
Call: 216-351-3638
Contact the Cleveland brand refresh experts at Go Media by calling 216.939.0000 or contact us online.