Meet the Mims
What do you get when you combine a spaceship full of cuddly space creatures with an island populated with beings who might not be so friendly? In the case of "The Mims Beginning" you get a homemade game made by a group of independent developers in Poland and paid for with a crowd-funding campaign.
For 21-year-old graphic designer Jakub Machowski, "The Mims Beginning" is the result of a teenage hobby that has become a profession. Created in Cinema 4D, the whimsical strategy game allows players to oversee a colony of creatures (Mims) whose space travels are interrupted when their ship is hit by a meteor. Players of this "god game" can build structures, plant crops, invent technologies, raise animal herds, and whatever else is necessary to help the Mims survive.
Machowski spent the last year and a half working on the game along with programmer Tomasz Pająk and music/sound effects designer Krzysiek Kowal. The three didn't have a studio, and had most of their creative meetings via Skype. Working under the collective name Squatting Penguins, they will release a completed version of the game this summer.
Meanwhile, an Indiegogo campaign to help pay for the game's development has raised more than $8,500, and a YouTube video outlining the game's premise has had more than 25,000 views.
A full beta version of the game will soon be released on Steam, a digital game store. That version, Machowski says, "will have about 20 totally different adventures and will include a campaign mode and a survival mode."
A Variety of Tools
Machowski used C4D for modeling and texturing while working on the game. Rather than using stock objects, he modeled everything from scratch by relying on animal photos and his own imagination. He also used BodyPaint's darkness, light and clone tools, along with a standard paint tool and others including blur/sharpen and de-saturate. "BodyPaint was great for creating and painting textures for game models, plants, characters, structures and terrains," he explains.
The Squatting Penguins team used an array of tools to get the right look for the game. While most of the interface elements of "The Mims Beginning" (including small icons of buildings) were created in Cinema 4D, Machowski also used a few free programs such as Gimp and Artweaver.
When he wasn't using BodyPaint to prepare RFBA terrains, he also used Pixologic's Sculptris to create mesh terrains. Fire and smoke effects were created with the particle emitters in the Unity 3D game engine, which played a key role in the game's development by making it easy to export models from Cinema 4D in FBX format.
Rigging was also done in Cinema 4D. And Machowski says it wasn't too difficult to keep the polygon count low enough for smooth frame rates. One reason for that, he says, is that he's in the habit of periodically checking on the polygon counts in his models and maintaining a balance between optimization and the computing power on hand.
New Horizons
Machowski says that the project was a series of small learning experiences that stretched his animating ability beyond what he thought it could be. Developing the game also enhanced his skills in critical areas such as exporting to a game engine, using alpha channels in BodyPaint, animating, rigging and optimization.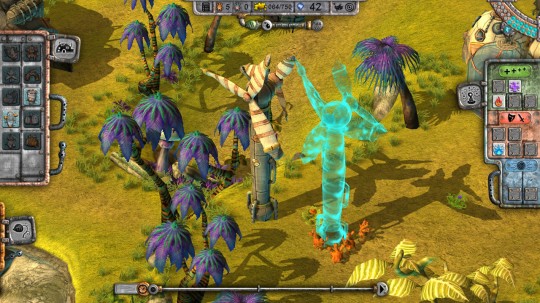 "It was a very big deal for me to prepare good textures and animations for organic elements like characters, plants and so on in Cinema 4D and I'm very happy with it," he says. "The Mims Beginning" was a true grassroots effort, and it's gotten a grassroots response. The game's beta version has been downloaded 12,000 times, and gamers have written to Machowski praising the game's graphics and engaging gameplay.
Squatting Penguins even held a character creation contest on Reddit, and the winning character—pRedditor—will be integrated into the game. "We are very grateful to our supporters and to the reddit.com community, which helped us get to our goal," says Machowski.
With all of the enthusiastic responses in mind, along with added time and money, Machowski might add some touches (more fantasy creatures, more floating islands) to the game before the full beta version is released. After that? It's hard to say, but Machowski and company seem to have a future in 3D game design ahead of them.
"Maybe we'll do "The Mims 2," or a multiplayer mode of "Beginning" or something totally different like a very climactic 2D/3D platformer," he says. "It depends on how big the success of "The Mims Beginning" is. Then we'll know what to do next with our lives."
Dan Heilman is a St. Paul-based writer and editor. 
And now, for something completely different
If I recap the latest Arsenal releases, we have things ranging from mockup templates, vector packs, to texture sets. Which is, don't get me wrong, great. Today, I have a different product to put in your eager hands. Behold, the Graphic Designer's Guide to Motion Graphics (A video course by Pete Maric).
Why this video class?
We have a great number of video tutorials already on the Arsenal. They cover Photoshop and Illustrator quite in depth, either through the vintage art approach from Jeff's Beauty is a black hole Wacom illustration tutorial, or through the clean and detailed approach from Bill's 100 series about vector illustration. One of the types of work we've only scratched the surface of so far is 3d modeling and motion graphics.
Well, the wait is over. We've enlisted an amazing contributor in Pete Maric (the brain behind Triplet 3d) to create a tutorial that would start from some of the Arsenal vectors most of you are already familiar with, and shows you how to create this kind of end result:
Exciting, right? In case the video isn't loading, head straight to Vimeo.
Let's have a look at what Pete is covering
Planning your work with story boards
Setting up vector artwork for import into Cinema 4D
Creating 3D geometry based on vector paths
Materials and setting selections
Animation techniques using manual keyframing, MoGraph cloners, and splines
Adjusting animation parameters using Cinema 4D's timeline
Three-point light set-up
Render settings
Post-production techniques in After Effects
Sound Design using Garage Band (obviously Mac only, sorry Windows users – but there are Windows alternatives)
You can also read the full table of contents. It basically gives you the keys to understand the basics of 3d modeling and of motion graphics to animate simple elements, using various techniques. The demo video is obviously a combination of everything that's covered, but you can do simpler, shorter, longer, more complex, etc.
      There's more!
In order to help the people (like me) that are a bit scared by the Cinema 4D interface, he did a "Cinema 4D 101" kind of series on his blog. It's pretty great, and well detailed. There are eight posts in the series so far. I now officially don't have any more excuses to not learn it. And neither do you!
Where can you get it?
On the Arsenal, of course!