Brewing Company Branding: Boss Dog Brewing Co.
Brothers Josh and Jason Czernek (and Mom) visited Go Media looking for a Cleveland design firm who could help bring their dream brewery to life. Their concept revolved around the name Boss Dog Brewery — Discovering how best to visualize the brand's voice, aesthetic, and most literally how the dog looks, was the first step in getting this brand up and running (no pun intended).
Go Media's Art Director, Chris Comella, reflecting on his work, which encompassed everything from mascot, print and logo design, to branding and illustration, typography to brand management, noted one of his biggest rewards connected with the Boss Dog Brewing Company project.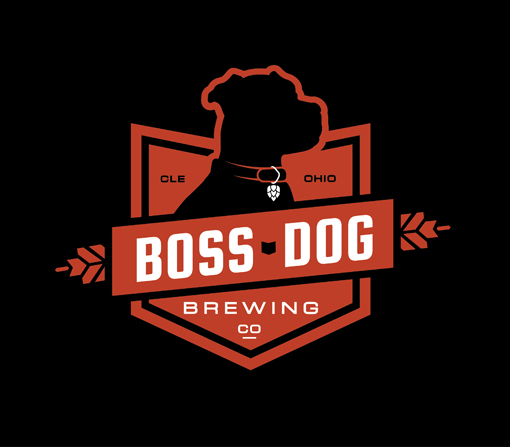 "One of the things we focus on in our design process is presenting multiple concepts. This allows us to get really creative, while at the same time vet different approaches to achieving our goals. With this project in particular, the three concepts approached visualizing the dog (which was a main focus for this brand) in different ways. The final product is a photo-realistic stance, whereas the other two options were a more iconic version, and an illustrative version. Although it's simply one facet of the brand at large, being able to guide the client through those options and end up in a place that's custom tailored for them is a very enjoyable experience."
Designer Carly Utegg reflects on the project fondly, "We started off the project with a photo shoot of the clients beloved dog Stella. Once we were certain that Stella would become the face of the brand, this unique opportunity to bring her into the studio was one we couldn't pass up."
While this experience filled the office with laughter, Chris admits, "In terms of what was most challenging specifically, I'd have to say the photo shoot. It's not easy under those bright studio lights, but Stella pulled through and got us some great shots to work with."
At the end of the day, the tight-knit team was proud of their results.
"One of the main goals with the Boss Dog brand was to portray our canine mascot in a way that wasn't overly masculine, notes Carly. "Finding this balance was something we worked through during the branding process, exploring a range of styles until we decided on a silhouette as the best solution. What we have as a end product is a brand that while it has a workman or firehouse feel to it doesn't cross the line of being overly bold and masculine. I think this identity will serve them well and I'm excited to watch the identity grow as we continue to work with the clients on applying it to their various applications in the near future."
From all the tail wagging, we can tell that Stella is happy with the results. The Boss Dog crew and Go Media can certainly cheers to that.
Cleveland Browns Branding
Our recent post, "New" Browns Logo Leaves Cleveland Graphic Designers Deflated" collected expert advice from local authorities on the matter including Chris Comella, Go Media Art Director, logo designer, brand expert and sports enthusiast.
Chris's full interview is included below. Enjoy and be sure to catch the full story, featuring fellow experts William Beachy, Wilson Revehl, Todd Radom, Aaron Sechrist and Julia Briggs here.
Interview with Chris Comella
The new Cleveland Browns logo design has been harshly derided in some circles for being underwhelming or, as some have put it, "just oranger." Do you think that kind of criticism is fair or unfair? If so, why?
The fact they called it a new logo, I feel, opened them up for a certain level of negative criticism. When you have a fan base like Cleveland, people are looking for literally anything to hone in on and either love or tear apart.
The team has stated the goals were to "honor tradition and provide a modern edge," partially by incorporating a move from the traditional block lettering to a "cleaner, simpler, elegant" font and making the helmet "brighter and richer to match the passions of our fans." Do you think those goals were accomplished?
Sure, having seen what we have so far, it would be fair to say the edits are working towards these goals. Now, do I think at the beginning of the project they wrote out, "Goal: Edit the orange so that it more closely represents the passion of our fans"? Absolutely not. I think the color changes were a product of the uniform tweaks we'll be seeing shortly, they then translated it to the logo, and voila – "We have a new logo! Let's tell the world." Now, of course, when your team is known for not having a logo, people come to their own conclusions.
The Browns are currently the only NFL team whose primary logo is a helmet. Do you think there is value in that, or do you think there could have been a benefit to pushing beyond that "traditional" image?
I mean, you look at the helmet and it is undoubtedly boring. I think this idea of honoring and sticking with tradition by virtue of keeping what we've had for a long time, is kind of simplistic. I think the concept of tradition, as it relates to the Browns, has much, much more to explore than that. Though, I will say, this version here, I prefer 10x over the current primary logo.
In what ways do you think the team would have benefited from a more daring design change?
There's the obvious marketing and sales-hype angle at work here, but this is how I tend to approach this question: A lot of people associate the current design with a long running feeling of mediocrity and lackluster performance on the field. "Why honor tradition and our past when our past is nothing to celebrate?"
That's a valid question for sure, but before we even talk about what the design is and how it looks, the idea of changing our look without having 'earned' it in someway is always where I end up personally. I feel like addressing the identity should go hand in hand with the performance on the field, not in spite of it. Because, let's face it, winning games is what it comes down to. Fans are looking for the optimism and excitement where they can find it. But if we blow up our identity now, and come next season we start hearing "Browns muster another losing season – But how about them new unis!"… I don't want to make losing look good, I want to make winning look good… while at the same time patting the new school-football-look toting teams on the head and smirking.
Had the team gone for a more adventurous approach, what kind of elements could/should the designers have incorporated?
In our current sports world, where that stupid robot welcomes you back from every commercial, where the popular sports channel motifs can be described as 'Iron Man's nuclear reactor fortress', and the teams are trying to look more and more like the X-Men, I'm in favor of our design speaking to the sport of football and how the character of Cleveland, Ohio uniquely contributes to it.
Is there anything about the new logo that "works"? If so, explain.
Honestly, this isn't a new logo. It's an updated logo. Again, if the Browns organization wants to honor a sense of tradition by virtue of keeping what we've had for a long time, then yes, this works. I think the concept of tradition, as it relates to a proper team logo, has more to explore than what we've seen.
What are your thoughts on the new Dawg Pound design?
The perception of the 'Dawg Pound' is pretty Chuckie Cheese in my world right now… It's clear from a marketing standpoint they want to leverage the, 'Hey we got a wacky section where you dress up!' as some sort of unique identifier to Cleveland. To me, that doesn't really float my boat in particular. Though I will say, seeing that dude shoving that Bengal brought it back to a place where an attitude was prevalent, not just costumes.
In terms of the dog illustration – I think it's an update for update's sake. It's less functional than the previous incarnation, and the attitude / tone of dog caters to the family-friendly end of the spectrum. Goal of the client: Seemingly accomplished… Conveying from an authentic point of view what the Dawg Pound is about: Not so much.
That said, do you think this logo design change was ultimately the best decision for the team in this case?
There was no real decision made here… they updated the helmet to reflect the design of the new uniforms, which we've yet to see. In terms of the logo, I'm 100% neutral on what they did.
Is there anything you would have done differently if you had tackled this project?
I would love to spend some time figuring out what it is I'd do differently for the Browns, or how I would talk to them about design's ability to accomplish their needs moving into the future. It seems most of the new design work we're seeing in the sport leans towards the Oregons and Seahawks of the football world. I think that trend in looks presents a real opportunity to create an identity that sets itself apart, and convey a contemporary, yet classic view of the game of football. Shifting the perspective from 'Traditional' to 'Classic' is a small but powerful tweak. Traditional is a bit restrictive. Classic is rooted in the ideals of tradition, but not limited to what's been done in the past.
| Talk design with Chris: email | @Chris_Comella |
Go Media Cleveland Creative Studio: Our 2014 in 3 Minutes
Go Media is so much more than a creative studio.
Small in number, we are mighty in what we set out to achieve each and every year – from our passionate web design, logo, branding and print design projects, to our product Arsenal, our blog, our subscription based mockup sites (Mockup Everything and Shirt Mockup), video series (On the Map) and annual design conference (Weapons of Mass Creation Fest).
Not to mention the other hijinks that ensue throughout the year due to our collective love for design, community, life. Enjoy our look-back on 2014.
We hope to see you in 2015!
Go Media on Facebook | Instagram | Twitter | Google+ | LinkedIn
Weapons of Mass Creation Fest on Facebook | Twitter | Instagram
______________________________________________
About Go Media:
What does great design mean to you?
For some, it's all about sales and results. For others, it's about winning that next big award. At Go Media, a Cleveland web design, branding and print design studio, great design is the product of passion, purpose, and possibility. It's a place where the art of communication is expressed in ways that surprise and satisfy our clients.
Our Ohio City headquarters is buzzing with artists, strategists and enthusiasts who approach each new project with an eye for detail and an ear for objectives. The result? Visually stunning concepts that captivate, compel purchase and even earn a few awards.
How can we help you express your next big idea? Get Started Here!
Categorized:

Graphic Design

Tagged:

aaron roberts, bill beachy, bryan garvin, carly utegg, chris comella, cle, cleveland, dave romsey, go media, go media music video, gomedia music video, heather sakai, jeff finley, kim finley, lauren hudac, lauren prebel, mockup everything, on the map, renee gabella, shirt mockup, weapons of mass creation fest, William Beachy, Wilson Revehl, wmc, wmc fest