Vendor Handwritten Font
Hey Arsenal Fans! You've been asking for a new font and we've answered.
Categorized:

Go Media, Go Media's Arsenal, News

Tagged:

caps, carly utegg, casual, decorative, elegant, font, fun, handwriting, handwritten, headline, modern
Go Media Podcast Episode 029:
Podcast for Graphic Designers by Go Media
In this episode, Bryan sits down with Bill, captain of the Go Team aka Go Media (the best website design company in Cleveland and beyond) to talk what we've learned after a year of collecting metrics. Plus, we announce with Heather Sakai that WMC Fest tickets are now on sale. And, we profile Go Media designer Carly Utegg.
Brewing Company Branding: Boss Dog Brewing Co.
Brothers Josh and Jason Czernek (and Mom) visited Go Media looking for a Cleveland design firm who could help bring their dream brewery to life. Their concept revolved around the name Boss Dog Brewery — Discovering how best to visualize the brand's voice, aesthetic, and most literally how the dog looks, was the first step in getting this brand up and running (no pun intended).
Go Media's Art Director, Chris Comella, reflecting on his work, which encompassed everything from mascot, print and logo design, to branding and illustration, typography to brand management, noted one of his biggest rewards connected with the Boss Dog Brewing Company project.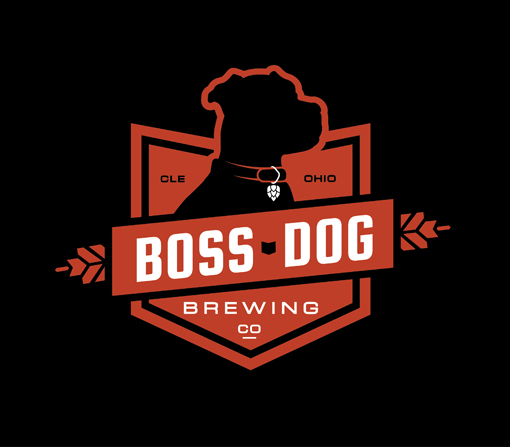 "One of the things we focus on in our design process is presenting multiple concepts. This allows us to get really creative, while at the same time vet different approaches to achieving our goals. With this project in particular, the three concepts approached visualizing the dog (which was a main focus for this brand) in different ways. The final product is a photo-realistic stance, whereas the other two options were a more iconic version, and an illustrative version. Although it's simply one facet of the brand at large, being able to guide the client through those options and end up in a place that's custom tailored for them is a very enjoyable experience."
Designer Carly Utegg reflects on the project fondly, "We started off the project with a photo shoot of the clients beloved dog Stella. Once we were certain that Stella would become the face of the brand, this unique opportunity to bring her into the studio was one we couldn't pass up."
While this experience filled the office with laughter, Chris admits, "In terms of what was most challenging specifically, I'd have to say the photo shoot. It's not easy under those bright studio lights, but Stella pulled through and got us some great shots to work with."
At the end of the day, the tight-knit team was proud of their results.
"One of the main goals with the Boss Dog brand was to portray our canine mascot in a way that wasn't overly masculine, notes Carly. "Finding this balance was something we worked through during the branding process, exploring a range of styles until we decided on a silhouette as the best solution. What we have as a end product is a brand that while it has a workman or firehouse feel to it doesn't cross the line of being overly bold and masculine. I think this identity will serve them well and I'm excited to watch the identity grow as we continue to work with the clients on applying it to their various applications in the near future."
From all the tail wagging, we can tell that Stella is happy with the results. The Boss Dog crew and Go Media can certainly cheers to that.
Go Media Cleveland Creative Studio: Our 2014 in 3 Minutes
Go Media is so much more than a creative studio.
Small in number, we are mighty in what we set out to achieve each and every year – from our passionate web design, logo, branding and print design projects, to our product Arsenal, our blog, our subscription based mockup sites (Mockup Everything and Shirt Mockup), video series (On the Map) and annual design conference (Weapons of Mass Creation Fest).
Not to mention the other hijinks that ensue throughout the year due to our collective love for design, community, life. Enjoy our look-back on 2014.
We hope to see you in 2015!
Go Media on Facebook | Instagram | Twitter | Google+ | LinkedIn
Weapons of Mass Creation Fest on Facebook | Twitter | Instagram
______________________________________________
About Go Media:
What does great design mean to you?
For some, it's all about sales and results. For others, it's about winning that next big award. At Go Media, a Cleveland web design, branding and print design studio, great design is the product of passion, purpose, and possibility. It's a place where the art of communication is expressed in ways that surprise and satisfy our clients.
Our Ohio City headquarters is buzzing with artists, strategists and enthusiasts who approach each new project with an eye for detail and an ear for objectives. The result? Visually stunning concepts that captivate, compel purchase and even earn a few awards.
How can we help you express your next big idea? Get Started Here!
Categorized:

Graphic Design

Tagged:

aaron roberts, bill beachy, bryan garvin, carly utegg, chris comella, cle, cleveland, dave romsey, go media, go media music video, gomedia music video, heather sakai, jeff finley, kim finley, lauren hudac, lauren prebel, mockup everything, on the map, renee gabella, shirt mockup, weapons of mass creation fest, William Beachy, Wilson Revehl, wmc, wmc fest