Ecommerce keeps flourishing. Research predicts that it will reach $4.88 trillion by 2021.
This sounds impressive, but what does this mean for you as an online retailer?
Well, the growth of ecommerce means greater competition. So, to stay relevant in the fierce SERPs, you need to invest in a solid SEO strategy and keep revising it to see what works or doesn't work. To increase your rankings and gain users' trust, you cannot afford to make any mistakes.
Here are a few common SEO oversights you should avoid.
Building a Website with Difficult Navigation
As an ecommerce website, you have thousands of pages to manage.
For instance, google site:amazon.com and you will see that there are 167,000,000 results. Even though Amazon is not an example of the most beautiful website in the world, you must admit that it's easy to navigate.
Once you visit their site, the first thing you will notice is the intuitive search bar that even lets you browse products by different departments. A search bar is an inevitable element on any user-friendly ecommerce website, as it gives customers an opportunity to find the desired product faster and finalize the purchase.
Each product category has lots of filters, helping you refine your search by featured brands, packaging options, average product review, price, seller, availability, and so forth.
Their menu bar is also divided into sections that are further branching into more specific categories. The majority of your customers (especially those that haven't made the buying decision) will use your menu to familiarize themselves with different products and compare them. Precisely because of that, you first need to write informative and descriptive menu labels that will help visitors find a product faster.
You should also simplify your menu and reduce the number of menu items to improve user experiences. Too many options can be overwhelming, distracting a customer from what they're looking for. Simpler menus are also important for your SEO efforts.
Namely, those pages you link to are passing some SEO value. Therefore, if you're linking to less relevant pages instead of focusing on the most significant ones, you won't be able to maximize your traffic. Logically, your goal is to increase the exposure of those pages relevant to your customers.
Not Targeting the Right Keywords
Many online retailers forget what their priorities are when conducting keyword research. Namely, they spend too much time looking for popular search phrases relevant to their products that they forget to focus on search intent. Namely, your goal is to understand your searchers' needs and know what kind of result they expect to see when they google a certain keyword.
This is particularly important now that voice search is exploding. Statistics say that 41% of adults perform at least one voice search each day, while this number is expected to jump to 50% by 2020. This is one of the numerous trends impacting the way we optimize our ecommerce sites.
First, voice search triggers the growth of local SEO. For example, 22% of customers perform voice search to find locally-relevant businesses. So, let's say you're targeting the Gold Coast market. In this case, including local keywords containing "Gold Coast," creating local content around these keywords, and building links on local sites will increase your rankings and help you generate more qualified leads.
With the rise of voice search, you don't have to spam your content with exact-match keywords anymore. Voice searchers use natural language and conversational phrases when interacting with search engines. For example, instead of typing "gold coast shoes online" into the search box, they will ask something like "What is the best online shoe store in Gold Coast?" You get how this works.
This is why you should start combining traditional keyword research tools with some additional resources like Q&A sites, social networks, or forums to understand your customers' needs and expectations. Consulting SEO agency from Gold Coast may also be a wise move. As they understand your local market, they will help you align your keyword optimization and off-page SEO tactics with search intent.
Not Creating Authentic Content for Product Pages
One of the most common mistakes online retailers make is simply copying product descriptions from the manufacturer's site to their product pages. This is bad for your online presence for a few reasons.
First, by simply copying content instead of creating your own, you're missing out on an opportunity to stand out and emphasize the benefits of buying from you. Original product descriptions are highly engaging and persuasive, building trust with your customers and having them complete the purchase faster.
Second, search engines won't be able to differentiate your content from the one on similar sites, which may impact your rankings and overall page visibility. Google won't have a reason to index your content if it already exists on similar sites.  
Finally, you may even get penalized. If your product descriptions are the same or similar to the content that already appears on another website, Google will observe it as duplicate content. Assuming that you're trying to play the algorithm, it will penalize you.
Not Using Schema Markup on your Product Pages
Google is getting smarter each day, but it's still unable to understand non-textual pieces of content. This is where schema markup steps in. We can define it as a language Google crawlers understand and use to get the information about your content. With its help, you will be able to explain the purpose of your content, including your email, phone numbers, price data, product types, ratings, descriptions, reviews, and so forth.
In other words, schema markup is a great way to get your content indexed and ranked higher in the SERPs. Above all, it gives you the opportunity to appear in featured snippets and put your products in front of the right customers. As such, it can have a massive influence on your organic rankings, clicks, and even conversions.
Not Increasing User Experience
You cannot expect to have a poorly-performing website and yet boost conversions. Only by making your visitors happy and building trust with them will you be able to turn them into paying customers. And, here are a few steps to take:
Make your website responsive. We're living in the mobile-first era, when providing outstanding, cross-channel user experiences should be your priority. Simplify your checkout forms and ensure all links work from mobile devices. Also, pay attention to how your content looks and feels on mobile devices.

Invest in an SSL certificate. Google has

started marking sites with HTTP as "not secure."

No matter how sophisticated your encryption tactics are, if you don't have an SSL certificate to back you up, your customers will still see this warning. Unsurprisingly, this may make your ecommerce site less professional, impacting the time people spend on your website, as well as their engagement and conversions.

Add security badges. Apart from HTTPS and mobile-friendly forms, security badges are an important element of the checkout process. They prove that your customers' data is safe with you, inspiring them to choose you over competitors.

Boost your website speed. If your site

doesn't load in less than 3 seconds

, most of your customers will kick it without taking the desired action. So, to speed things up, compress your images, invest in the right CDN, minimize overly complex animations, minify the website code, and find a reliable host to ensure your site loads fast.
Not Inspiring User-Generated Content
Awesome website performance, gorgeous product photos, and high-quality descriptions are important, but they're not enough to convert a visitor into a customer.
Did you know that most of your customers don't trust branded content? Instead, 84% of them rely on online reviews as much as personal recommendations.
This is exactly why you should allow customer reviews and ratings on your site. You shouldn't be worried about negative user reviews hurting your brad reputation. Namely, some recent statistics say that product pages with diverse ratings drive more sales than those with stellar ratings only. This is also an amazing opportunity for you to provide exceptional customer support, help them fix specific problems, and turn them into satisfied users.
Asking loyal customers to write testimonials and publishing them strategically on your homepage or product pages is also an amazing way to demonstrate your trustworthiness. To make these testimonials even more relatable, include a customer's photo, as well as their full name and even a job title.
Sure, just like with the content you create for your product pages or blog, you also ensure that these reviews are accurate and helpful. For example, you could let users rate peer comments according to their relevance. Amazon has introduced the amazing option that allows users to sort reviews by "the most helpful" ratings.
Over to You
If you're making some of the abovementioned mistakes, don't be desperate. I'm sure I've never landed on an ecommerce site that has no SEO issues. Your goal is to identify the main problems in your SEO strategy and stop wasting money on them. This is how you will improve your online presence gradually and I hope these tips will help you.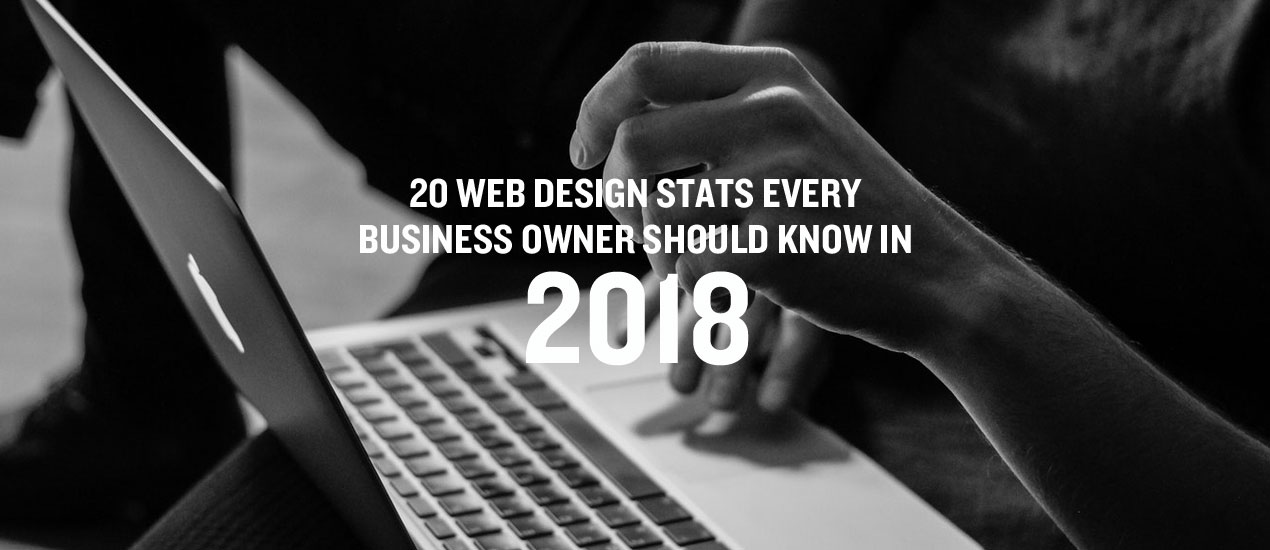 Web Design Stats 2018
A business website is a veritable necessity today, and you may have been thinking about creating a new website for your business this year. These are some of the top web design statistics for 2018 that could help you to create an amazing and truly beneficial website.

Having a Website
1. As many as 29% of small businesses have not yet created a professional website. – Clutch.co
2. Small businesses with less than $1 million in annual revenue are 30% less likely to have a website than businesses with higher annual revenue. – Clutch.co
3. Approximately half of website visitors are interested in the "About Us" page on a business website, and 65% view the business's contact information. – Vendasta

The simple fact that your business has a professional website can be a boost to your business activity. For example, a website legitimizes your business to potential customers who are not familiar with it. It also makes your business visible through SEO and provides your contact information in the same way a phone book did a few decades ago. More than that, a website is always accessible to provide information to potential customers even when your office is closed.

User Experience (UX)
When designing a new business website, understand that the user experience that you create is just as critical as the visual identity that you establish online. Your website should be functional and easy to navigate as well as pleasing to the eye. An innovative website will be veritably useless if your customers do not know how to interact with it.

4. The customer experience that you provide will be the most important branding feature, passing both price and product by 2020. – VisionCritical
5. 95% of users indicated that a positive user experience is the most important factor when they visit a website. – Econsultancy
6. Your website's conversion rate could increase by 200 to 400% with a well-designed interface. – Forrester
7. There is a $100 return for every dollar that your company invests in your website's user experience. – Forrester

If you are not sold on the importance of investing in user experience, be aware that ESPN.com saw an astounding 35% profit increase after updating their homepage design based on user feedback.

Website Speed
Consumers today want instant gratification when using the Internet, and they can become very frustrated with websites that load slowly. If your website loads too slowly, your users may click away before even seeing your full website design.
More than that, Google uses your website's load speed in part to determine its ranking. Specifically, if your server takes more than two seconds to respond, Google will reduce the number of crawlers that visit your website. These are a few website speed statistics to focus on:

8. Slow loading times for images cause 39% of users to stop engagement with a website. If delays are encountered during peak traffic times, 75% of users will click off the page and head to competitors' websites. – Adobe
9. The problem of slow website speeds results in $2.6 billion in annual lost sales. – Econsultancy.
10. 47% of users believe that a website should not take more than two seconds to load. – Akami
11. Your conversion rate can decrease by seven percent if there is even a one-second delay. On the other hand, if you increase load speed from eight seconds to two seconds, your conversation rate could skyrocket by 74%. – Akami

To learn how fast your current website's load time is, use PageSpeed. This is a free analysis and reporting tool offered by Google, and it provides separate reports for your desktop and mobile users.

Website Design
As important as load time and the overall user experience are, the overall aesthetics are also critical. Users may make a decision about whether or not to do business with your company within less than a second of viewing your website. An appealing website design will encourage your visitors to spend more time browsing it. Take note of these website design statistics:

12. The first impression users have of a website are as much as 94% design-related. – Northumbria and Sheffield Universities
13. A single bad experience on a website makes users 88% less likely to visit the website again. – Gomez
14. 75% of user judgment about your business's credibility is based on your website's design. – University of Surrey
15. Approximately 38% of users who believe imagery or layout are not appealing will stop engaging with the website. – Adobe
16. Approximately 55% of users look at lists without bullets, and 70% of viewers look at lists with bullets. – Vendasta

Responsive Design
A responsive website is one that provides the same user experience on any type of device. These are a few statistics you should know regarding responsive design:

17. 90% of consumers use multiple devices to visit the same website. – Google and IPSOS
18. 39% of a user's time is on a desktop platform, and 61% of a user's time is on a mobile platform. – Global Mobile Report
19. As many as 74% of users may return to a website again if it is properly optimized for mobile usage. – Google
20. 61% of users may develop a better opinion of a company if its website delivers a positive mobile experience. – Vendasta

The bottom line is that your business can suffer if your website is not responsive on both mobile and desktop platforms. More than that, your website may have better search engine rankings when it is appropriately optimized. This is also critical for a positive user experience and a faster load time.

At first glance, you may think that designing a great website for your business is about having an e-commerce platform or an informative site about your company's services. While these factors are important, you can see that many elements of website design are critical. These factors can have far-reaching effects on your business's bottom line.