Must Have Apps for 2019 to Download Before Your Next Trip
Seasoned travelers know you can do a lot of little things to make being away from home more comfortable. You can follow tips to pack lighter, such as rolling your clothes and using hotel laundry services and certain credit cards accepted everywhere. What you may not have considered are the apps you should download before your next journey.
Experts predict that U.S. domestic business travel will reach 483 million trips a year by 2020. By the year 2021, experts predict business travel spending will reach $1.7 trillion. If you aren't already traveling as part of your work, you're likely to at some point in your career.
Figuring out which apps are worth downloading and which are a waste of time isn't an easy task. Dozens of travel and business apps are available. We've done the work of sifting through them and figuring out which are most beneficial for business travelers. Here are seven of them.
Skyscanner offers a mobile app that allows you to sort through the different prices for flying to and from various destinations utilizing business class. Some airlines offer discounts at specific times of the year, so pushing your meetings a week or two out might save you as much as 50 percent or more on your business class fare.
The app also notifies you of any specials, helps you track which airlines have the best deals and offers a chart which shows the cheapest months and days to fly. If your company makes travel arrangements for you, you can still offer input to the assistant making plans by looking at your Skyscanner app for the best dates before asking them to book your travel.
Have you ever headed out on a business trip that ran a bit longer than expected due to intense negotiations or a sudden added meeting or two? In large cities, the hotel you were already in may be booked up for a conference or other event. There are times when you suddenly have to find a hotel room at the last minute.
Enter Hotel Tonight, a way to find a hotel in any city with a few filters. The app has a partnership with some of the best hotels in the largest cities. They offer their unsold rooms at a discount. You can book rooms in advance or look for something at the last minute. The app includes a full description of each hotel along with ratings from other travelers.
This app is the perfect tool for syncing your travel itinerary and work calendars. If you plan to do a little sightseeing at the end of a work day, then you can also plan side trips around important meetings, meshing the best of both business and leisure travel.
You can also share your itinerary through the app with your work colleagues, which reduces communication issues and keeps everyone informed of when essential meetings are on the schedule. This app helps keep you productive and on task while on your business trip because you see at a glance what's next in your planned day.
You might have some issues with actually converting your currency into foreign currency when traveling, including that there are only a limited number of banks which convert currency. Last-minute travel plans don't always allow enough time to convert. You may find yourself in another locale with different money than your country uses. However, in tourist-heavy areas, they will likely still take the United States dollar and other popular currency in exchange for goods and services.
Elk is a currency converter for those trips that take you outside of your home country. The difference between what your local currency is worth in another country varies daily. You can quickly see if you're being treated fairly and also being fair to others by using Elk to convert currency in real time. The app works with an iOS device and integrates with your Apple watch, putting information at your fingertips.
You may have some downtime during your business trips, so entertaining yourself is a vital part of travel. Watching videos is one way of keeping yourself entertained. Listen with headphones, and you won't disrupt those around you.
If you have a Netflix account, downloading the app is a must for any traveler. However, there may be times when you don't have access to cellular data. You'll want to download a few movies or episodes of shows to your app, so you can pull them up even without WIFI access.
When you do have WIFI access, your viewing options are unlimited. Remember that downloads take up space on your mobile device, so delete files after you've viewed them.
Google Maps is one of the top means of navigating in a car or on foot. If you're in an unfamiliar city, you can pull up the app and figure out what restaurants and stores are near your location and get walking or driving directions to the destination. The maps also integrate with Google Reviews, so you can see what others think about a particular establishment before frequenting it yourself as well as get price ranges.
Google Maps also offers stop-by-stop directions for local mass transit along with departure and arrival times for trains and buses. Never again will you feel overwhelmed by big city subway systems you aren't familiar with. You can pull up the app and figure out the best route to take along with where to get on and off transit.
One of the worst parts about business travel is keeping all those receipts and tracking expenses, so you can get reimbursed or prove your per diem. Fortunately, there's an app that simplifies the process of expense tracking.
The app is free to download. You take a snapshot with your phone of a receipt and describe the expense and submit a final report to your company when you're finished. Even if your company doesn't partner with Expensify, you can track costs for your records in case you accidentally misplace a receipt or to make your final report easier to pull together for accounting.
Be Choosy About Apps
The seven apps above represent some of the most useful ones we've found. While numerous apps for business travelers exist, be selective about which ones you use. The best apps serve a purpose by making your travel experience easier or reducing your workload in some way. Look for apps that expand communication between you and your home office or solve problems likely to arise while traveling.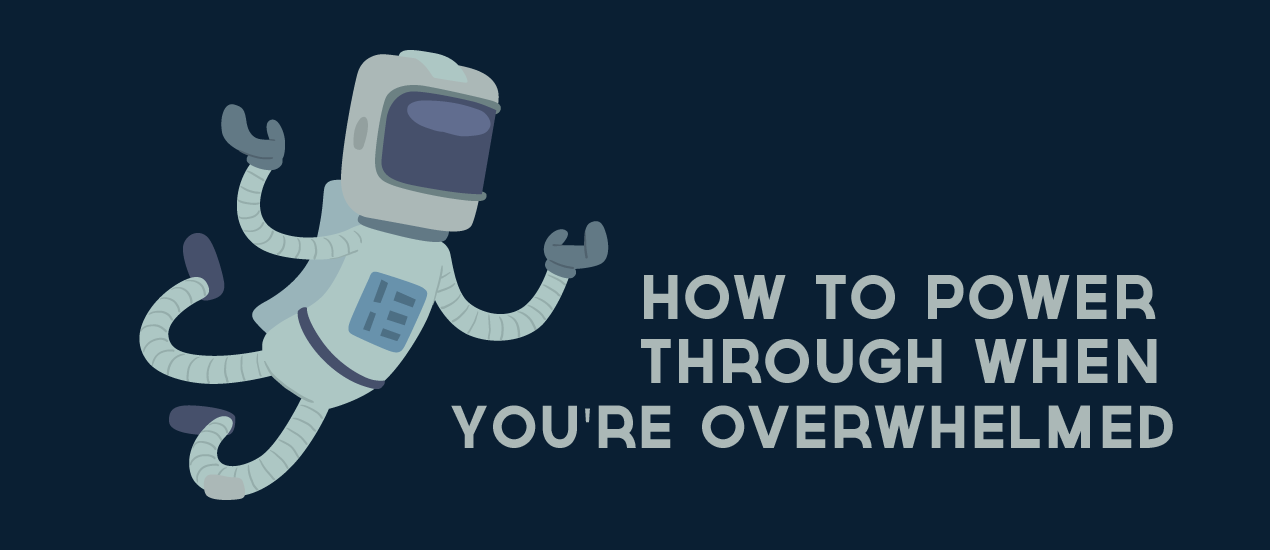 What to do When You're Overwhelmed
Ever find yourself in a situation when you're so overwhelmed with work that you actually feel paralyzed? Us too.
Here are some ways which help us to power through during those times when we're under the gun.
Write it down. No, but seriously. There is nothing better than a to-do list. Sure, Teux-Deux and GoogleTasks are great, but there is no better feeling than physically writing down your list of to-dos. Getting everything down on paper allows you to understand what you're up against and lets you plan accordingly. Making sure to turn even little to-do's into formal tasks will allow for you to feel more accomplished, as crossing them off feels oh-so-good. A brand new planner will really help facilitate this process.
Delegate! For many of us, it's not easy to give up control to other members of our team. The delegation of tasks, however, can be one of the best tools in your toolbox, and one of the most powerful moves to make. Though delegation takes a lot of upfront work, the backend is often smooth sailing.
Try SMART goal setting. When setting goal for yourself, be SMART about it. Goals should be: Specific, measurable, achievable, realistic, and trackable. Too lofty and the anxiety will start to sneak in.
Pump…yourself up. A great tip we found once that we love involves Star Wars (and what great tip doesn't)? When you're distracted, strap on those headphones and motivate yourself with some great music (sans-lyrics) like the Star Wars soundtrack or video game music. It will make you feel like you're taking on the world, one tiny task at a time.
Create consistency. Whether you're a blogger, social media manager, designer, or entrepreneur, there are tasks that you do on a somewhat consistent basis (or should). These might include writing blog posts, publishing tweets or Facebook posts, emailing potential clients or writing proposals. When you feel overwhelmed, these tasks may become unwieldy. Instead, block out consistent chunks of time in your week to dedicate to these important tasks, making sure not to overcommit yourself to anything unreasonable. Remember, quality over quantity always wins.
Phone a friend. In times of desperation, phone a "friend". This not only takes some of the pressure off but also introduces some fresh new life into your work and content. Here at Go Media, we have a great list of extended family on hand at any time, as well as some great freelancers and bloggers who can step in at any time and lend a hand.
Put your blinders on. When you have a huge project to attend to, office chatter, music or small interruptions can be an unwelcome distraction. Besides gritting your teeth to power through, think about what you can do to alleviate some of these disruptions. This could be anything from getting into the office early or using an app to practice the Pomodoro timer (work for 25 minutes, take a 5-minute break). (Try Freedom, Focus Booster or Stay Focused.) You could also try changing scenery and work from home or a coffee shop or completely shut down your computer and work strictly on pen and paper.
Underpromise, overdeliver. Setting expectations is an important part of communicating with clients, family, and friends. When you consistently overpromise something you may or may not be able to deliver upon, you are setting yourself and the relationship up for failure. We suggest setting honest expectations upfront and then overdelivering whenever possible. It's such an awesome feeling all around.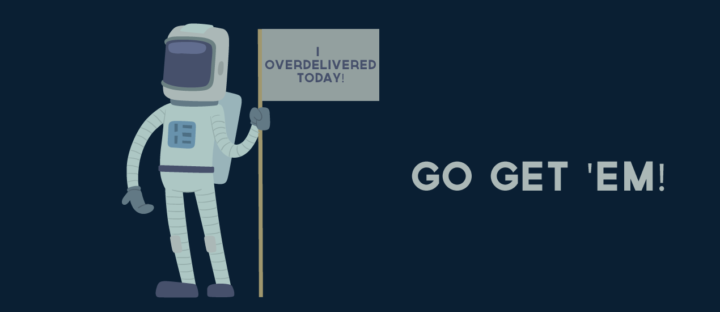 Good luck and go get 'em!
Email etiquette for creatives
We exchange emails with clients and potential sponsors on a daily basis. Sometimes multiple emails in a day. It's vital that these messages mean what they say and say what they mean. Here is a guide to writing emails that make you look like the professional creative you are.
Ask Google first.
Have a question that you think Google can answer? Definitely check there first. There is nothing more annoying than receiving an email or IM and thinking 'Why didn't they just Google this?"
Be positive always.
Avoid using negative verbiage in your email. Make sure that everything has a positive spin to it. No one likes an email that starts with: "Unfortunately…" or "I'm sorry to have to annoy you with this question, but…" Either put a positive spin on it or rethink what you're sending.
Provide value in return.
When you send an email with a request for value, make sure you're giving value in return. For example, when reaching out to a possible mentor, asking to pick their brain about everything they've learned about business in 30 years, you've got to:
– Only offer them something valuable right back and
– Give them an easy way out in case they're busy or uninterested.
Do not put them in the position where they have to feel rude if they have to/want to say no.
Be a unicorn in a field of horses.
Here's the thing to keep in mind. Time is currency. I don't know about you, but I have a constant rush of emails flooding my inbox on any given day and it seems like they never stop. The most refreshing emails that I open are the ones that have a few lines or less…what I like to call the magical unicorn of emails. They get to the point and even better, make my ability to respond a whole lot easier.
– If this is an initial reach out with a sponsor or potential partner: introduce yourself, say hello, who you are, and that you see a synergy between your brand and theirs. Attach some information about what they do and ask that they get in contact with you should they agree.
– If this is your ordinary email and you need something or have a question: ask for it, ask it. Be polite, but leave out the fluff.
Pro tip: Leave your social media links in your signature, so that potential clients or brands can take a look at your work if they're so inclined. This will reduce the amount of material you have to put in the body itself.
—–
Good luck and happy emailing!