Influencer Marketing: Growing Your Brand
The era of micro-influencers is here. With the proven efficiency of the influencer campaigns in reaching the highest possible engagement numbers, no wonder that every day you see more and more people in your Instagram feed posting the pictures with more or less tangible involvement of various products.
It's in the human nature to share the knowledge, as well as to seek advice. The marketers who satisfied both cravings by bringing influencer marketing to life were geniuses. The most exciting part, though, is when marketing geniuses collaborate with the gifted artists and top talents. That's when a love child of advertising and art is born.
How brands co-create their content with influencers
When inquiring the influencers with a brief, the brand marketers usually opt for one of the three options.
Brand generated content

Co-created content

Influencer generated content
First is the most restricted option, and last is the most flexible (yet, marketers still check it before publication to avoid the risks).
As for the co-created approach, this content usually follows loose brand guidelines, but other than that influencer is free to interpret the product in a way that he or she finds most suitable for their feed, valuable for their followers, and natural for their creative self-expression.
How to pick the right influencer for your product
When you're looking for the influencers to start your content co-creation process, apply this checklist. It'll help you to pick the ones who will not only represent your brand but also add the unexpected zing that your audience will love. Your perfect co-creating influencer:
Has an audience you'd love to gain exposure to

Has a tone of content that syncs with yours

Creates content you like

Creates content that your audience would like

Good at content format you struggle with (like video or stories)

Strong on a social platform you'd like to get a better grip of
By choosing the right people and giving them wide-open, inspiring, clear guidelines, you might very well end up with the spectacular materials that you could never imagine for your brand. Below are several examples when the co-creating collabs between the products and influencers went incredibly right.

Minimalist influencer from Ukraine Velwe is quite picky about the lifestyle brands to feature in his feed. Sleek Maven watches caught his attention.
"I saw their watches, I loved the stylistics. After assessing the brand positioning I fetched some references and reached out telling that I have an idea with two girls. The brand was really eager to collaborate right away", – says the influencer.
The collab resulted in deeply intimate, subtle and touching monochrome portrait series. Just one Instagram post brought young Hong Kong brand recognition and engagement from thousands of European minimalism lovers.
Chef Jacques LaMerde (143K followers) x
Sonic Drive-in
To drive attention to their new smoothies during the Coachella event, Sonic Drive-in collaborated with the chef influencer Jacques LaMerde known for his exquisite presentation skills. The bright visuals were the eye-catcher of the campaign, enhanced with a geo-targeted delivery option and freebies-for-hashtag incentive. The campaign generated over 26K likes and increased the number of Sonic account followers from 118K to 129K – quite a neat leap for one month.
8thdamon (156K followers) x
Huawei
8thdamon specializes in stunning Photoshop creations. His space-themed intricate stylistics became a perfect background for the new Huawei smartphones promotion. Definitely a step forward from the unpacking videos and flat lay still-lifes.  
Zach King (21.7mln followers) x
Target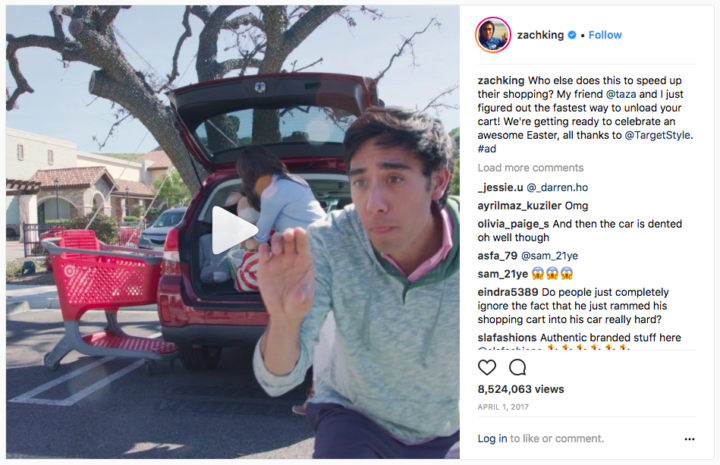 For their Easter promotion in 2017, Target ordered several promo posts from two influencers. The famous Digital Magician Zach King joined popular NYC instamom Naomi Davis aka @taza (who is an always-on brand ambassador for Target). Not only the collab brought this lovely video to life but also resulted in mindblowing 953,000 likes & 5,000 comments on Zach's video and 11,000 likes & 88 comments on Taza's two posts.
Laetitia Modine (95K followers) x
Issey Miyake
An influencer campaign launched by Issey Miyake aimed to recruit Millennials who share brand's approach to design. As the key opinion leaders were mobilized, the brand asked them to get inspired by Issey Miyake's key attributes of nature, minimalism, and architecture. Laetitia Modine, an Italian photographer, did the perfect job producing a visual that could work as a print ad for the brand right away.
Thismintymoment (164K followers) x
Issey Miyake
Minh Ty, engaged in the same campaign, came up with even more stunning photo edit, taking the product to larger-than-life dimension. Together with the previous example, this case study illustrates how one brand can get a whole variety of treatments from different artists, while still keeping in-line with the essential brand attributes.   
Designbyaikonik (91,9K followers) x
Nespresso
Flatlay guru Designbyaikonik created this shot for the Nespresso brand. Nailing a different angle from what is usually done for the beverages, Nespresso tapped into areas less discovered – in this case, the flatlay stylistics – to broaden their audience and attract new customers. Best comment: "You make coffee look sexy!"
Studio DIY (382K followers) x
Chevrolet
Chevrolet focuses on mommy bloggers as the perfect representatives of their biggest target audience. Smart move, considering that this type of influencers has the greatest engagement rates and trust levels from their readers. Moreover, a creative mommy Kelly Mindell behind the Studio DIY account brought Chevy some extra value by staging a shot so vibrant it could be used for a billboard ad right away.
Studio DIY (382K followers) x
FreixenetUSA
Chevrolet wasn't the only one noticing Kelly's talent. Her another collaboration with FreixenetUSA is crazy, funny, and fizzy – just like the drink itself. Be cautious, though. Influencers able to tweak their personality to fit different brands as good as Kelly does are a rare find. Here's an advice: check out the chosen influencer's feed carefully to see if their previous collabs make a good company for your product.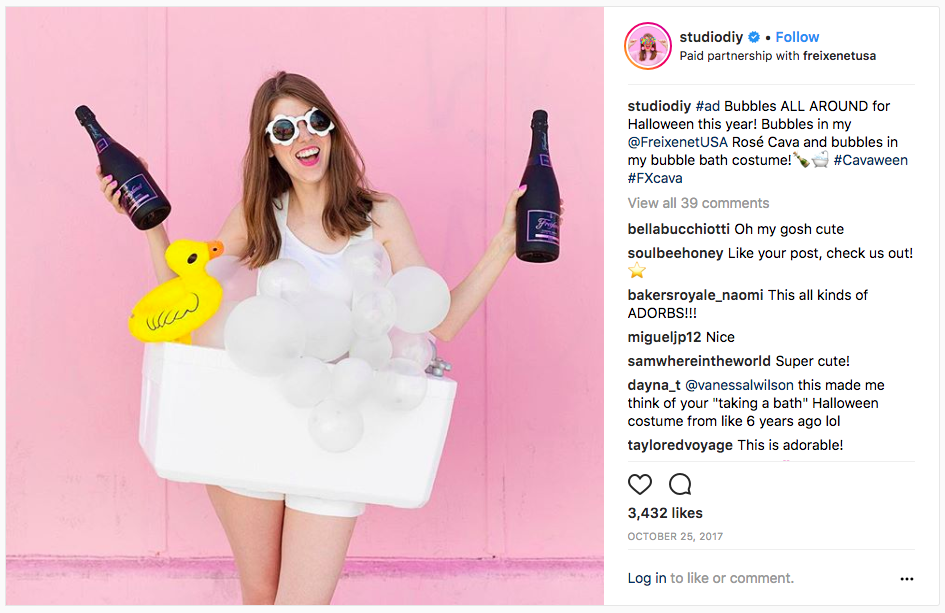 Matthew Crawford (335K followers) x
Netflix
Netflix developed a mix-n-match campaign for their show "Santa Clara Diet". Next to the billboards with celebrity Drew Barrymore, healthy lifestyle influencers were disrupting social media with controversial shots featuring blood and human body parts. This shot by Matthew Crawford was a particularly great contribution, fetching over 25K likes. No wonder the campaign brought the show follower growth of 34% in first four weeks.
Life_mirroring (7K
followers
) x
Sudio
You know a good product placement when you don't see it. The only thing that gave away the commercial background of this shot by was the fact that it was featured on the Sudio page. Lesson learned – don't stop influencers from experimenting with your product application – it can bring an emotional jackpot!
Walids (46K
followers
) x
Starbucks
Starbucks had been leveraging on user-generated content for forever now. No wonder they switched to influencer-generated content as soon as it was on the market. Brand's usual feed is made of photos of the warm and friendly atmosphere inside their cafes. Collaborations like this one, in turn, let Starbucks represent their more sophisticated, design-centered side.
Who says influencers are for beauty products only? A brand new concert hall in Hamburg organized an international instameet for the architecture photographers before its opening. One of them, Macenzo (first-time comer to Hamburg) grabbed just the right fresh emotion of the new ElbPhilarmonie on this balanced geometrical cityscape shot.
When amazing mural artist Ricardo Cavolo published collaboration with the Alexander McQueen on his Instagram, the most popular comment was "Where can I find this?" What's interesting is that his audience can hardly afford McQueen garments. But a custom scarf was exactly the product to get artist's followers hooked, and not scared off.    
Marylou Faure (48K
followers
) x
ASOS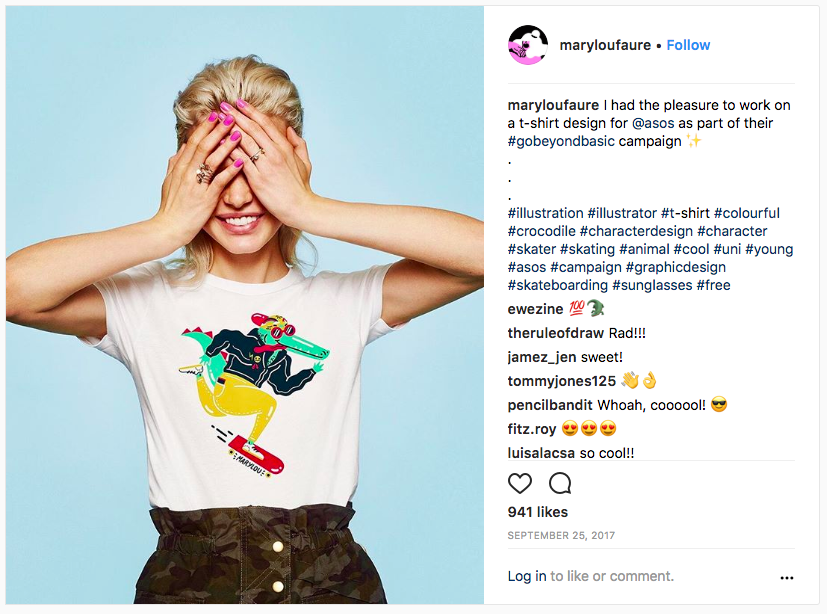 So whenever your brand is using the services from a designer, director or a photographer, make sure to leverage this partnership through a social media collaboration. Here you can see how ASOS got a perfect shout-out. A designer worked on a t-shirt design for them, and it happened so that she had 48 thousand followers needing to wear a t-shirt every day. Straightforward? Yes. Efficient? You bet.
Takeaway
Like no prophet is acceptable in his own country, no company message can impact purchase decision as massively as the words from someone other than the brand. Instead of spending money on making one-sided communication materials, it's much more impactful to co-create with influencers and offer the whole variety of views to your audience.
Pick the influencers with highest quality content and give them a freedom to create. Unleash your brand's potential. You'll be impressed.
Reputation Marketing
In today's hyperconnected world, building a reputable brand is more difficult than ever. Maybe there was a time in the past when you could entirely control your brand's development, but today, that's not possible.
With the rise of the internet, word of mouth has become more powerful than ever. Coming in a form of blog comments, Google business reviews, social media likes, shares, and comments, your customers' opinions of your brand shape its authority and trustworthiness.
However, this isn't something you should be afraid of.
On the contrary, you can leverage this rising phenomenon, to see how your target audience really feels about you and tailor your approach to their expectations.
Here are a few reputation marketing strategies your customers will love.
Collect Feedback Regularly
Today's tech-savvy customers are aware of how important they are to you. To buy from you, they expect you to provide them an outstanding user experience. And, it doesn't matter if they are satisfied with what you have to offer or not, they will share their opinion on your brand online. They will rate your services, review your products on social networks, or even write a blog post about them.
Precisely because of that, you should go out there and try to collect their feedback on your own.
Here is how:
Offer effective live chat support. It helps you get closer to your customers. You will be able to understand what the major challenges they come across when visiting your site are. Once you help them solve these problems, you can ask them for feedback in a form of a few simple questions.

Add a dedicated feedback form to your website. Just make sure it's not too long or confusing.

Call your customers to see what they think of you.

Use

social media monitoring tools

to check your brand and product mentions on social networks.

You can also track your brand mentions on other sites with tools like BuzzSumo, Google Alerts, etc.

Ask for feedback when a user wants to abandon a shopping cart.
Prove your Trustworthiness
If you're new in the industry, many people will feel reluctant to do business with you. And, the reason behind that is pretty logical- they're afraid that you won't be able to deliver the project successfully. So, to grab their attention and prove that there is nothing to worry about, you need to give them something valuable.
For example, you can get a performance bond, a guarantee by a bonding company that all your tasks will be completed per the specifications of the contract. The only difference between performance bonds and the insurance is that the bonding company doesn't simply write a check if you fail to do your job. On the contrary, they hire new contractors or even complete the project on their own.
Once you get a surety bond, you should let your clients know about it. Post this information on both your website and social networks, assuring them that they will see their money back if you fail to reach an agreement.
You could also offer free return shipping. Adweek emphasizes that 68% of shoppers believe that this is very important.
Offer Social Proof
Today, social proof is stronger than ever.
You need to show your customers why they should trust you and here is how to do so:
Use customer testimonials on your site.

Seek influencer endorsements.

Inspire your customers to rate and review your products and services. According to the Adweek's infographic mentioned above, 49% of customers believe that product reviews on a website are important.

Share your business' milestones, such as reaching a certain number of customers.

Show your existing customer base. To prove how reliable you are, highlight which reputable companies have worked with you.

Add trust seals to your checkout page to boost your sales.
Create Valuable Content
Content marketing is the nerve center of your digital marketing strategy. It helps you implement your keywords organically, boost your rankings, and become visible to your target audience. Above all, the more quality content you write, the more appreciated you will be in your industry.
And, when I say "quality," I mean an industry-specific, original, educative, intriguing, and highly interactive piece of content. This approach helps you establish yourself as an authority in your niche and grow your customer base fast.
What you need to keep in mind is that, with the rise of VR technologies, writing articles is not enough to spark your target audience's curiosity. You need to upgrade your content strategy, by making your content more engaging.
Here are a few types of content that may work for you:
Infographics

Quizzes

eBooks

Case studies

Videos

Podcasts

Gifs and memes

Ephemeral content on social networks, such as live stories
Monitor your Reputation Continuously
Even though building solid online reputation is complex, these techniques may be your optimal starting point.
But, always keep in mind that your hard work doesn't end here.
Marketing trends are constantly changing. Things that were hot yesterday may be completely irrelevant today.
This is why you need to keep track of your online reputation constantly.
Stay on top of the latest industry trends, collect your customers' feedback regularly, and tailor your approach to them.
This is how you will manage to boost user experience, earn quality referrals, and even turn your leads into loyal customers.
Hope this helps!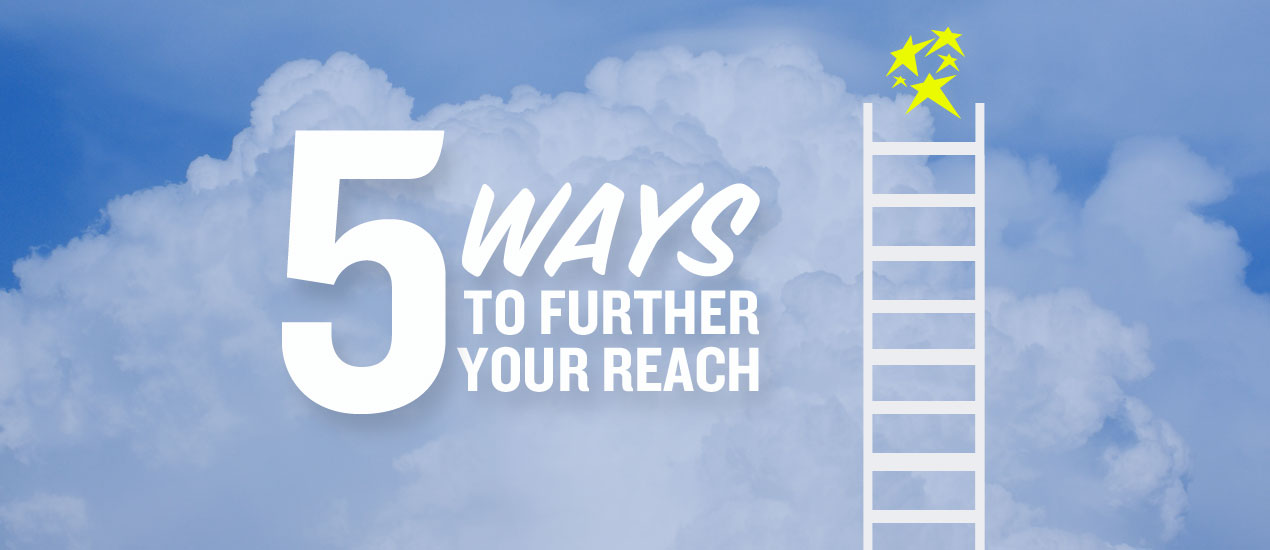 Expanding Your Brand Presence: 5 Tips
Are you feeling a stagnant air in your business? Strategy planning is a key element of any business, so here are 5 simple ways to further your reach!
How to Further Your Reach
1. Invest in yourself!
Let everyone know who you are by professionally branding your business. Start with a logo and simple website. Creating a relationship with a professional designer will help you throughout your businesses lifetime, you never know when you'll need something! It helps to have someone on standby who understands your brand and can help support your direction. Designers do a lot more than just create pretty pictures. We create marketing plans, help plan strategies, consult and more. As you grow, your advertising needs change and your designer should be there by your side to guide you. When you are professionally branded and have a user friendly, modern website, it gives your business instant legitimacy in the eyes of your customer. If you are unsure about your logo or website, lots of designers do brand consulting and can help point you in the right direction and show you where you need improvement.
2. Utilize Social Media
The best thing about Social Media is that it is FREE! The worst? You can get lost, easily. The best advice I ever heard was pick the best social media for your business and focus your time and energy on creating great content for your audience there. Do not spread yourself thin posting to countless social media accounts every day. If your biggest audience is on Facebook, utilize groups, events and business pages. Maybe you find your following is more Instagram central. Post updates, stories and go live! Pick your best social media platform and run with it. What about sponsored posts, you ask? Personally, I hardly ever sponsor posts because I know how to reach my target on social media. When I have a post performing exceptionally well, reaching thousands without much effort, I will occasionally boost those. It is already performing for me and converting it to a paid ad will only help my reach!
3. The Right Content
You picked your perfect social media platform, but now you need to post. Create relevant content for your target customer. We're not talking click bait. Research shows valuable content builds better customer relationships and leads to positive returns for your business! Create each piece with a "Call to Action" or the intent to trigger a specific action in your customer. Pro Tip: Create your content for a few weeks and mass upload them as scheduled posts!
4. Be Engaged
The right content grabs your customer's attention, now it's time to engage WITH them! Your created content gets people excited and they want to learn more about you. You start getting comments and messages, engage with them and reply! Your customer base needs to think of you as someone they can count on, someone they are comfortable with. When people feel like they already 'know' you from connecting and engagement on social media, you've already built the foundation of trust in your relationship with them. Comment on posts in and outside of your social media community. I'm not talking about a sales pitch saying "I'm Sally & I do blah blah blah..". Comment on things that ENGAGE YOU and that YOU are the expert in. Show off your knowledge, the rest will follow. Engaged networking goes a long way with expanding your reach beyond your own two walls.
5. Get Listed!
Are you listed on the big 7? What is the big 7? Google, Bing, Yahoo, Yelp, Foursquare, YP & Superpages. Maybe your business doesn't need to be listed on all 7, but you can absolutely benefit from being listed on the others. Not only is it a FREE way to get out to your customer base, it helps populate your website and business on search engine rankings. Listed on these websites goes back to tip #1, instant business legitimacy in the eyes of your customer.
What about you? Do you know or practice any other creative ways to further your reach that should be included in this list? Let me know!
Cleveland Design Firm Go Media helps to develop Forest City Shuffleboard brand
Based on the success of their original shuffleboard business in Marblehead Ohio (the Erie Social), owners Jim and Kari looked to elaborate on their concept by venturing to the city of Cleveland. As the branding began, we quickly realized a tweaked direction based off the original concept could be fruitful, and thus we arrived at the vintage varsity aesthetic. Orienting visuals to the feel of late-century gymnasiums and sports movies helped develop the voice of the concept. To further cement the brand voice,  we decided to rename what would have been Cleveland Shuffleboard, Forest City Shuffleboard — A throw-back, nickname oriented approach which was the cherry on top of their new brand.
Wall Cards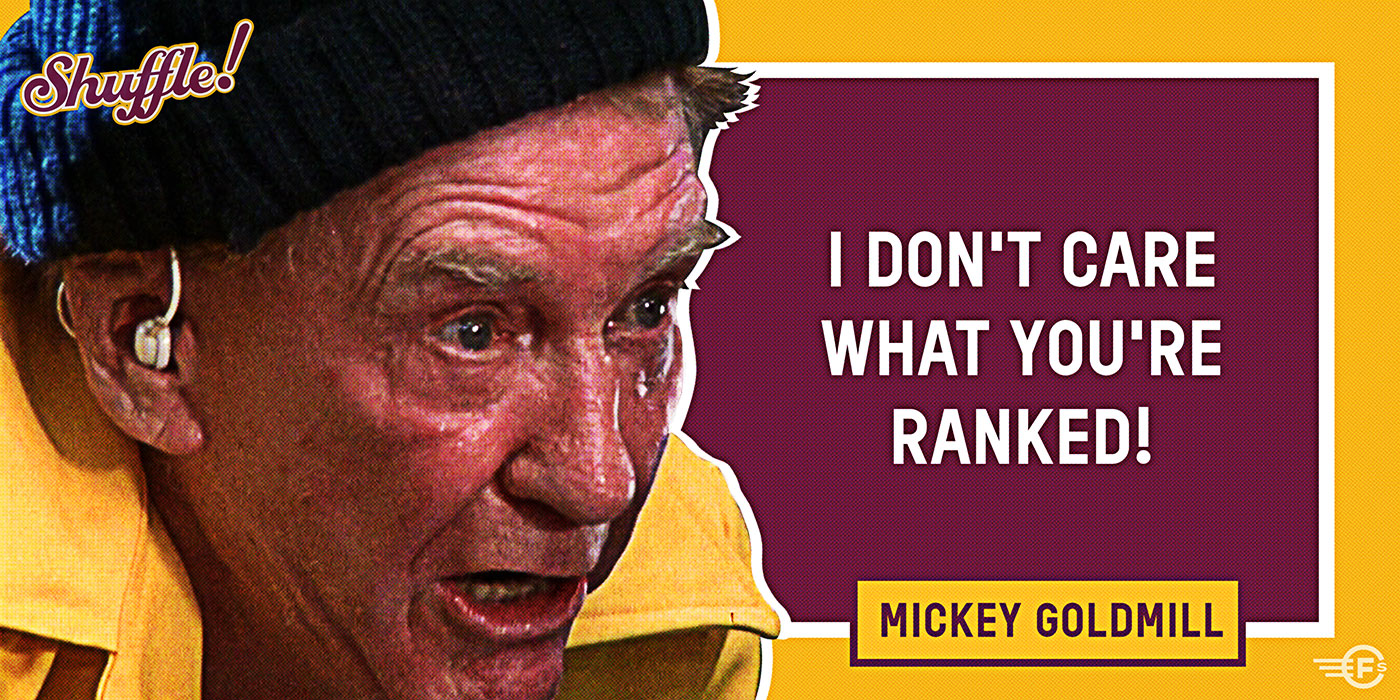 Website
When selling a product, the first option that may spring to mind is to become a retailer for that item. However, you also have the potential to become a brand owner — the person or group that holds intellectual property rights.
In that case, there is more control over which outlets sell the brand, how available the product is in the global marketplace and other specifics. Below, we'll go over several things you need to do during your quest to become a brand owner instead of just a retailer.
Have Ideas for Products That Aren't Available Elsewhere
A major factor that causes a person or company to be a brand owner rather than filling the role of a retailer is the presence of ideas for things that aren't currently available — or knowing how to make things that are better than what people can buy now.
Maybe you love the outdoors and have been thinking about creating a water bottle that makes purification easier when people are roughing it in the middle of nowhere. You might already run a business that stocks outdoor products. However, it probably feels like carrying a selection of inferior water bottles makes your customers miss out.
In the above scenario, becoming a brand owner lets you stock your products in your store. As a result, you can spread the word about them and give current customers easy access to the merchandise.
Protect Your Brand or Product
It's crucial to go through strategies that protect your brand from dilution. It occurs when there are too many similar products in the marketplace, causing people to become confused about all of them and have difficulty with differentiation.
If your own name is also the brand, you can trademark it, as Oprah did. She's one of the few people who've taken that step to set herself apart. After securing the trademark, it's also necessary to keep an eye on the internet and make sure merchants aren't using it without permission. Setting up Google alerts can help you stay more aware compared to manual monitoring alone.
If your product is unique or has characteristics other items don't, you need to strongly consider filing for a patent. Otherwise, other brand owners could see your products and copy attributes about them.
To ensure your brand and products and properly and thoroughly protected, consult a lawyer who has experience assisting other people in your situation. That person can advise you on the best measures to take, plus tell you what to do if you notice companies or individuals infringing on your property.
Generate Curiosity About the Brand
As a brand owner, it's necessary to adjust your business strategy and focus on stimulating interest within multiple groups. The more curiosity you cause, the higher the likelihood your efforts will lead to sales and fruitful business partners.
Retailers merely convince shoppers to buy products. As a brand owner, you not only have to do that but also network with distributors that extend the brand's reach when necessary. Being successful in that task requires showing genuine excitement for your brand and describing why it's worthy.
Build an Appealing Website
The internet is the first place many people will find out about your brand. Invest time and money into creating a strong web presence that reflects what you offer. Does your brand cater to busy businesspeople, or adventurous travel lovers? Regardless of specifics related to the target audience, make sure the website's design, copy voice, images and content support the brand. Then, it's easier to convey what makes your brand stand out and why people should care.
Set Up — and Oversee — Social Media Accounts
Having an informative and user-friendly website is a good start, but you also need to maintain active and interesting social media accounts. Take your time during the setup process and fill out all the relevant sections of a social media profile. Use the same approach to content as building your website and angle it to develop and strengthen your brand at every opportunity. Update social media regularly, too. Ongoing updates boost traffic and engagement.
Also, realize a social media page could quickly become the go-to internet destination for someone who wants to tarnish your brand or is unhappy for some reason and wants the world to know. That's why it's crucial to develop and uphold a plan for moderating social media pages.
If you can afford it, hire a moderation team or person to supervise social media and intervene when required. Also, decide what constitutes intolerable behavior. If people continue to break the rules after being made aware of what's acceptable, ban them and keep track of their IP addresses.
Also, never ignore customers who are truly disgruntled about something brand-related. Instead of keeping up with a publicly viewable content string, you may find it's more comfortable and private to ask an upset person to send you a private message or call a dedicated phone number to explain their concerns further.
Come up With a Licensing Plan
Licensing is the best way to realize the full value of brand equity because it provides new avenues for promoting, manufacturing and distributing your brand in new markets. It's essential to prioritize obtaining license agreements as a brand owner to achieve staying power in a crowded marketplace.
There are various ways to do that. Visiting trade shows is a great initial step. They connect brand owners with companies interested in growing the collection of merchandise they offer.
Furthermore, don't ignore cold calls and social media outreach techniques from potential licensees. Consider that some of the companies most suited to signing licensing agreements may be from other countries, meaning you'd not necessarily encounter representatives at domestic trade shows.
Also, don't get too eager and sign agreements with any company that gets in contact. Licensees are representatives of your brand, and if they don't stick to minimum standards when associating with it, all the hard work you've done as a brand owner could quickly become nearly useless.
When evaluating whether to accept a potential licensee, ask about the direction they want to take the brand. If it doesn't align with at least most of your goals or seems in direct opposition, think carefully before finalizing a contract.
Understand What to Expect
Many aspiring brand owners fixate on all the positive aspects of the outcome. Indeed, the advantages are compelling, and the ownership and responsibility involved are quite motivating.
Having a realistic perspective is crucial. Taking steps to become a brand owner is typically more difficult and less straightforward than being a retailer. Because of those realities, you cannot anticipate quick results.
However, it's not hard to understand why brand ownership provides such a substantial payoff to the people who do it right. Many brands become timeless segments of the pop culture landscape. Consider names like Coca-Cola, Apple and Mercedes-Benz.
As an owner of your brand, you enjoy an unprecedented amount of control over how it appears in the marketplace. Brand ownership also gives more freedom to shape what people think of the brand and perform reputation management as needed.
After reading these steps, it shouldn't be hard to realize why many entrepreneurs see brand ownership as such as appealing concept. If you can relate, don't get intimidated by the length and complexity of the process. Instead, persevere and recall that owning a brand could result in long-term profits and recognition within an ever-crowded consumer landscape.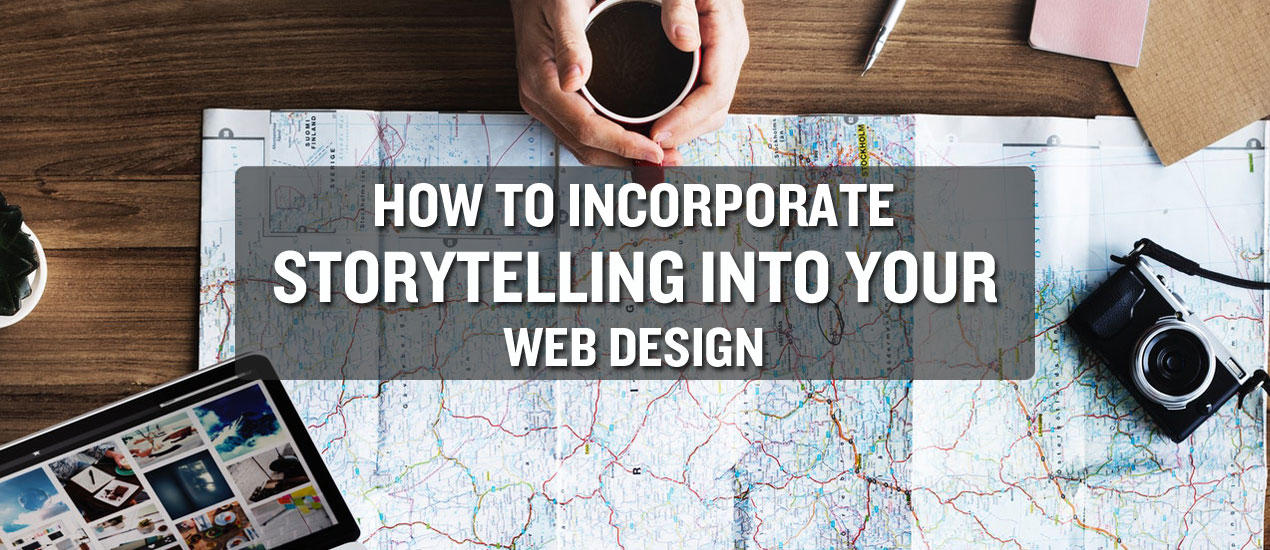 We all love a good story. Have you ever considered incorporating one into your web design? No? Well, you should, because it's become an incredible communications tool in addition to a core component of content marketing.
We'd like you to do something. Close your eyes, just for a moment, and think about all the different brands you know and interact with. Think about their stories. What premise or plotline do they use to reach out to customers, enthusiasts, supporters and even rivals? How has that story evolved since the inception of the brand?
This may all seem like a bunch of nonsense to you now, but you should quickly do away with that mindset if it's how you feel. You see, humans are emotional creatures, and stories — personal or otherwise — are the way we interact with the world and one another. Think about it! Every time you converse, discuss or reach out to friends and family, one thing you'll do for one another is share stories.
This is the same outlook modern brands and organizations have about their relationship with their customers, especially through digital platforms and channels. Social media, for instance, allows brands and company representatives to have much more personal and influential interactions with specific customers. The same can be said of modern customer support tools like one-to-one messaging or IM solutions, and even discussion forums.
Why Use a Story at All?
Because stories help carry a message, they are far more memorable, and that's the idea — a story is not only more engaging but it also remains in a customer's brain, sometimes even influencing how they react or what decision they make.
But stories can also be used to placate the emotions of the viewer, pushing them closer to a product or service you are peddling. They may have had absolutely no clue they needed what you're offering, but your story, the journey, and experience you subjected them to changed their outlook.
For example, wearables tend to have a reputation for being impractical to some people, which has helped slow adoption of the market. These people feel they already own a smartphone, so there's no need to own a smaller device on their wrist that can do the same things. Keep in mind, we're strictly talking about smartwatches and smart wearables here — not fitness trackers.
By delivering a story or personalized experience to those customers, wearable makers can help potential customers not just understand but also desire to have this type of product experience. They can show adverts, content, and media that portrays how practical these wearables actually are, specifically by showing some problems they can fix.
A good story plays to a customer's emotions, opinions, and past experiences and shows them what the product or service can do in their life.
1. Create Characters That Resonate With Your Audience
Whether you use the real-world experiences of customers and personnel on your team or you make up characters, be sure the focus is on someone your general audience can relate to. For example, Progressive uses Flo, the infamous insurance agent, to tell stories about their company and products. She resonates with a lot of folks because of her bubbly personality, desire to help and overall friendliness. But you don't have to make up a fictional character to facilitate your stories.
Airbnb, for example, uses stories from real customers to share their experiences renting properties through the app and platform. You can browse this section, find someone that best matches you and your family and see how they fared. It's a genius approach to onboarding new customers, really.
One company ascertained that parents are 52% less likely to celebrate Valentine's Day after they have kids. This information was used to create a more compelling and engaging story for that particular audience, and by using relatable situations and characters, it turned out to be effective, too.
2. Remain True to Your Personality and Brand Mission
If you're strictly professional, try to put together an experience or story that remains just as professional. If your brand is a little quirkier, you can be fun-loving and whimsical instead. The foundation, or the core concept of your brand and personality, should remain the same throughout, however. That's true no matter what story you tell, what platform or channel you tell it on and how it evolves over time.
The Burt's Bees philosophy to products, for instance, is that what you put on your body "should always be the best nature has to offer." This idea permeates nearly every element of their brand from the creation of their products to the distribution and fulfilment of them. You can read all about how they make this possible on their story page.
3. Embrace Change
Your website, your customers and the world around you do not have to be static. You don't have to spend a vast amount of resources every few years to update the content, stories and experiences. Instead, just keep everything consistent and regular. Embrace change over time and continue telling new stories and providing new experiences to your customers, all using the same basic plot or foundation.
The best way to make this happen — and make the most of it — is through analytics and customer data. If something isn't working like you expected, change it. If a campaign isn't going well or is received poorly, drop it and find another. Just because you are focused on one coherent and seamless story doesn't mean you can't invite change.
Nike is an amazing example of this idea. They've been telling stories to their customers for years, decades even. This can be traced all the way back to 1999, when they released a commercial dedicated to the retirement and career of Michael Jordan. You'll notice that since then, a lot of their stories have been similar but fresh enough to be considered new and different. The FlyEase journey, for example, is a more recent story of a new product they offer.
4. Have a Clear Beginning, Middle and End
Like any good book, your story needs to have a beginning, middle and end that is easily definable for all your customers. They know exactly when the journey has begun, when they're close to being done and when things have completely wrapped up.
The beginning should introduce your characters and players, establishing the main plot and setting. The middle should present the problems or issues your characters are having. In the end, you should be able to see that conflict resolved. This entire process is called the story arc of your story's main character.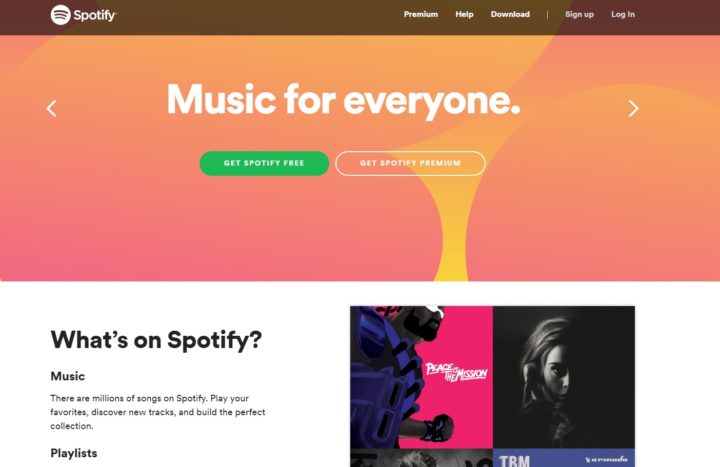 The end of the story, for instance, could be an incredibly effective call to action. Spotify's landing page embodies this idea in full. You land there, see what you can do with the service, how it can help you, what kinds of people rely on it and go from there.
5. Keep Them Hooked
The poker player saying "don't lay all your cards on the table" is a great one to live by, especially when sharing and developing stories. Your stories need to be both compelling and engaging, but you don't want to reveal absolutely everything. You want your customers to be hooked, enticed and interested in coming back.
In other words, keep them hooked and leave them wanting more, but in a good way. This can be achieved through teasers and media releases, viral marketing campaigns, customer sharing and even social media events.
Netflix is an awesome example of this. Even for those who unsubscribe and or never are active customers, Netflix releases plenty of information about new content and new media available through the service. This keeps customers engaged, interested — and most importantly — coming back for more.
Go Forth and Create!
As you can imagine, there's a lot of room for stories to be created, maintained, shared and bolstered, and all of them contribute to the way an audience sees and engages with a brand. It's your goal to come up with a compelling story, but also one that resonates with your target audience. More importantly, you need to ensure the story you're telling — and the goal you're trying to achieve — is efficient and possible. You can do this by deploying and making use of the tips discussed here.
Good luck! Now go forth and create! Tell a revered story that all will love to experience!