Ice Bucket Challenge
We were challenged to participate in the ALS Ice Bucket Challenge and, of course, accepted…
with a twist…
We challenge our very own Wilson Revehl and our friends at Jakprints to complete the challenge within 24 hours…or else.  Wink, wink.
We are also happily donating $160 to ALS on behalf of Go Media.
Oh dear, where do I start? I feel like there's a huge story behind the scenes that we've never let our community in on. To be honest, we're quite embarrassed about it and we've been trying to make things right ever since. But I think it's time to come clean.
TL;DR: We've been trying to upgrade our graphic design resource marketplace, the Arsenal since 2010 and have failed miserably due to working with a heavily customized version of CS-Cart which seemingly handcuffed us to their development team. 4 years, headaches, panic attacks and tens of thousands of dollars later we are FINALLY breaking the chains and getting a taste of freedom! We've switched our platform over to WordPress and WooCommerce. WordPress and WooCommerce both happen to also be Go Media's preferred solutions for so many of our own clients…
So what was the problem?
Some Background
Arsenal v1 – 2006 – PHP-IPN Monitor
In 2006 we launched Arsenal v1 using software called PHP-IPN Monitor. It was one of the very few tools for selling digital files online at the time. It cost a mere $99 bucks and in a few days we had our first product up for sale. This lasted a year or two until we started releasing more products and needed a way to add search, customer accounts, etc.
Arsenal v2, 2008 – Enter CS-Cart
In 2008 we upgraded to a full shopping cart platform, CS-Cart. Other major eCommerce options at the time were Zen Cart and X-Cart. CS-Cart was actually a splinter cell of the original X-Cart team. We saw progress and innovation in CS-Cart, but it didn't support selling digital files. In fact, not many shopping cart applications at the time did. So we hired their team to develop custom features for it. They were very affordable (based in Russia) and added what we asked for. Total implementation took maybe 6 months. Admittedly, the resulting code was sketchy according to our own development review. But we were busy, it was stable, and thus didn't spend much more time on it.
Arsenal v3, 2010 – Outsourced to Death
We designed Arsenal v3.0 in 2010 and it took us until January 2014 to finally launch. We missed our deadline by 3 years. It was a FAIL to live in infamy here at Go Media.
So what happened?!
Failure to Launch
In 2010 we had the next Arsenal planned and designed. We didn't have the capacity to produce in house, nor was it exactly our expertise. So we requested quotes for the web development and received estimates in the hundreds of thousands from top American firms.
We didn't have that sort of budget for this. At the time, we were pushing our internal development resources into a design studio management app, Proof Lab. We put Arsenal v3 on hold until we could finish Proof Lab. Proof Lab ended up taking our team two years to finish. By that time, the Arsenal v3 design was tired and the user experience no longer adequately served the community's needs.
In 2012 we had a relatively small, but workable budget to get it developed. We decided to hire CS-Cart again because they had been okay on v2 and no one knows their software better. They delivered on their commitment the last time we hired them. They had grown a lot since then. Surely they'd do an even better job this time around.
We were sorely mistaken.
CS-Cart Nightmare
We had a 6 month deadline CS-Cart agreed to. The deadline was pushed back because CS-Cart was coming out with version 3 and we agreed to wait for it. We'd all be better off in the long run. It was chock full of exciting new features. Cool. They promised it was just around the corner. They even published articles of anticipation to the public. Surely their road map was remotely accurate.
Nope.
CS-Cart v3, and therefore the new Arsenal was pushed back 9 months, then a year. Then a year and a half. The CS-Cart Developers would constantly miss deadlines. They would even claim something was done, when it clearly wasn't. We had to micromanage every detail. We would send reminders, to-do lists and inevitably hassle them as each delay, bug and excuse mounted.
If that wasn't bad enough, new developers kept getting assigned to our project and we'd practically have to start communication over from scratch.
A year and a half over deadline, just when we thought we were on the homestretch, some confusing conversations (there were many) lead us to discover CS-Cart was about to release an entirely new version 4.0 of their software! They never mentioned a new version was in the works. We discovered so on our own.
We asked if everything would be future proof and our store could receive updates to the software as released. CS-Cart said YEP. They would promptly migrate our customization over to v4. Promptly apparently means "drag your feet and make excuses for months and months." Later they would conclude that a key feature we needed was entirely not able to be migrated at all. They danced around our issues for several more months before declaring we were stuck with version 3.
Stuck.
Essentially, we were locked out of receiving updates to their software even though they were still providing custom development on what was now a legacy platform with significant known bugs. Yay! At this point we had invested tens of thousands and lost countless months giving CS-Cart the benefit of nearly insurmountable doubt.
Wow, we're fricking nice. We couldn't turn back, right?
The Forest from the Trees
The past few years we have been developing most of our client websites on WordPress as well as eCommerce integration using WooCommerce. In 2010 we would not have considered using these applications for something as demanding as the Arsenal. But we joked that with our WordPress and WooCommerce development expertise we could build Arsenal v3 in a few weeks and be happier with the results. Even better, we would feel more in control of the situation. We hated not being comfortable editing the CS-Cart software. Even though it was a PHP core, it just wasn't in our team's wheelhouse. Go Media definitely employs WordPress experts. CS-Cart experts, not so much.
After CS-Cart wiped the smile from our faces, we stopped joking. The improvements and extensions emerging from the WordPress and WooCommerce ecosystem started making the switch a real possibility. Maybe a harder part was accepting CS-Cart as a failure and eating the 3 years of time and money invested in it. It was an unprecedented move to put a store the scale of the Arsenal onto a WordPress plugin. It felt like uncharted territory.
But first we still needed to deploy the "new" Arsenal as it was on CS-Cart. Just finish the job and be done with them. They seemed to be done with us anyway. Their code was our problem now. We scrapped many of the features we had been trying to implement since 2010, such as the artist marketplace. We pushed it up, dealt with the fallout and quickly froze production as we focused on testing the viability of WooCommerce.
WooCommerce here we come!
By this point, WooCommerce had answers for nearly every problem we were having with CS-Cart. Artist marketplace? There's a plugin for that. Bundle products? There's a plugin for that too. Subscriptions, digital products, product and order migration – all were completely or partially solved by plugins we could implement in short order. Less bugs than CS-Cart v3? God, we hope so! Was it too good to be true? We feared it might be, for several white-knuckled weeks, as we beat on our proof of concept. But the pressure was on for us to replace the questionable version 3 powered by CS-Cart. So we hit it hard.
WooCommerce has a very different database design when compared to CS-Cart. It leans completely on WordPress, which we all know has its roots in blogging. This turned out to be a very square peg going into a round hole when it came to moving data over (see serialized arrays). Nearly every data object was remarkably different. Fortunately, there is a nice plugin that made migrating the products a cinch.
Unfortunately, a similar Customer and Order migration plugin could not handle the volume we were trying to push into it. Because the database tables were very different, we spent days in MySQL working out the formulas. And then converting the 90,000 customers and hundreds of thousands of orders from almost a decade online, took hours of computer processing time to complete.
All said, the new Arsenal, code-name 3.5, DID NOT take us 3 years! Eat it CS-Cart. We developed the new WordPress & WooCommerce custom theme and migrated all of the products, customers and order data in about six weeks time.
We might not go as far as to say WooCommerce is better than CS-Cart, but here are a few places WooCommerce wins out:
It's truly more open source. WooCommerce has been the fastest growing eCommerce solution in the last two years with an estimated million+ deployments and counting. With this comes a larger development cadre and more users to be accountable to. This adoption and visibility means better consideration for backward compatibility and less likelihood of bugs.

An already larger and accelerating ecosystem. Not only is WooCommerce the fastest spreading eCommerce application, but the fact that it is buoyed by the massive WordPress scene (20% of ALL websites!) puts the wind to their backs.
The API uses PHP and WordPress best practices, as does the core implementation itself. We believe in standards and excel in this arena.
The documentation is better. The community resources and knowledge base more abundant.
Did we mention it is on WordPress?! There really is no eCommerce software with the publishing power of WordPress. Most eCommerce CMS features are hardly more than an after thought. The marketing and informational demands of today's web make content king for online shopping. Marrying WordPress with eCommerce is a customer satisfaction match made in SEO heaven.
We trust WooThemes. The great ladies and gents in the Woo camp are people we've worked with many times over the years as fellow WordPress experts. They're good about collaborating with us to make improvements, they're reliable and they're in our timezone.
WooCommerce is easier to customize. We discovered a lot of obstacles and had functional disagreements with how CS-Cart handled certain things, only to discover there was no clean way around them. Hence, the reason we were stuck with v3. WooCommerce sprinkles hooks and filters everywhere, making it a snap to override and add things.
It's smaller. This is a double edged sword, but we're kinda control freaks here anyway. CS-Cart is trying to be the big-size-fits-all player, but if you've ever worked with, say Magento, you know that sometimes mo-features-mo-problems. WooCommerce is lean and mean and at least if you need a few specific features, you can develop or add a third party plugin that hooks right into place and probably won't have to be thrown away when that next version comes out.
All in all, we're thrilled and very optimistic about the results. Moreover, bye bye CS-Cart and we're not looking back. Nothing will ever be exactly everything you want in software. We're not naive to the challenges of building complex systems, especially for eCommerce. We're not going to bash CS-Cart as an application, and they were very nice during all the empty promises they didn't keep. It's just that maybe we grew apart. Maybe we thought it best to see younger, sexier applications.
The future of Go Media's Arsenal
We are very excited about what comes next to the Arsenal. What was originally a veritable clearing house for rejected design concepts from Go Media had set the stage for what is now a major segment of our industry. You deserve better from such veterans. We all do. We're committed to restoring our position as a leader and trusted source for premium graphic design resources.
We want to make your work lives easier without compromising quality. We want to empower creatives with tools and tricks of our trade as well as provide opportunity for the best to join our efforts. We've been inviting our favorite designers to now sell their own resources in the new marketplace. We welcome upcoming talent to show us what you've got. We may be able to help you become recognized and clear a nice profit in the process.
We ask ourselves every day, what are we doing to change lives? After last year's WMC Fest which we tagged "3 days to change your life" that's become an overarching priority at Go Media. We are not interested in copying the trendiest products out there, but to get to the core of what designers like us are really after. We're committed to providing the best tools, articles, ebooks, inspiration, education and other resources to become the best designer you can be. And not only the best designer, the best Self you can be. Because there's a lot more to life than Photoshop.
We really hope you'll join us to help make the new, new Arsenal great. If you'd please take a moment to comment, we would really like to hear your suggestions for what would help you as a designer. We all know that vectors, textures, and templates are a dime a dozen these days but we still face challenges at the helm of creative production.
Now that we have the technology completely within our control and a brand new outlook for the future, what would you like to see the Arsenal bring you?
One of the top questions we've been asked recently is: "What tools, resources and programs do you use in your everyday lives over there at Go Media?"
Our creative studio here in Ohio City is filled with awesome, handy tools that keep us cranking out creativity, programs that keep us organized, and treats that keep our energy pumpin.'
Here's a list of our favs.
Physical Tools
Windsor and Newton #2 Paintbrushes and Higgins Fountain Pen India Ink: Bill's go-to tools for work like this.
Wacom Intuos 3 Tablet: Gotta have it.
Microns: Awesome for detailed work
Strathmore Bristol Vellum paper and
Staedtler Mars technico mechanical pencil with HB leads: paper and penning
Canon Rebel T3i: Photo and video of the days of our lives
Dell Optiplex 9010 and Dell Optiplex 980: our PCs
Dual Dell Ultrasharp 24″ Monitors
Dell mice and keyboards
Targus Lap Chill Mat: Laptops stay cool with the help of this and two USB powered fans and elevated air circulation
Cisco phones: chatting with clients
Murphy Chair Co. Swivel Office Chair: vintage sweetness
Urbanears Forest Green headphones: Chris's favorites
Logitech h800 with customized vinyl ear pads: All of Wilson's tunes and calls are delivered via Bluetooth or Wireless USB via these headphones
Sony MDR NC7 Noise Cancelling Headphones: When the office gets out of hand…
Field notes: Filled with brilliant ideas…
Post-it notes
Sharpies
Gettin' Shit Done
WordPress: For every site we produce that will be updated on a semi-regular basis
Zurb Foundation: Greatest HTML/CSS/SASS/JS Framework ever
Notepad++ with various plugins: for all coding and writing needs
Netbeans: Preferred IDE of our VP Wilson Revehl
TortoiseSVN: Super easy to use
XAMPP: Free, super popular PHP dev package
FileZilla: A free FTP solution
MySQL GUI Tools: Integrated tools environment
Google + WP Codex + Stack Overflow: Used at least 50x per day. Takes up majority of our browsing history.
Chrome and Chrome Developer Tools: See bugs, fix bugs, in browser
Rackspace Cloud: For hosting applications and websites
Beanstalk: Code hosting
Amazon Web Services: Durable, reliable
Adobe Master Collection CS5: We get asked this a lot and yes, Adobe is our go-to
Final Cut Pro 7: For making nonsense like this: Make It Bigger
Audacity: for all audio editing and recording of our Go Media Podcast
Pipedrive: our #1 sales tool!
Smartsheet: For anything and everything: general project planning and organizing our lives in general.
Outlook: Our email solution
Google Calendar: Super helpful for scheduling client reviews, keeping track of deadlines
Google Hangouts:  For inter-office communication
Trillian: Inter-office communication choice 2
Google Drive: This is where we hub all of my client meeting notes, proposals and more. And, it allows for easy collaboration with team members.
Google Keep: For organizing lists, notes and photos
Skype: For chatting with our Arsenal guest artists and other friends
Dropbox: Sharing is caring.
Proof Lab: For assigning projects, sharing designs with clients, & logging time (Exclusive to Go Media)
Open Office: the rival to Microsoft Office. It's free folks!
Hightail: For file-sharing goods like Drawn to Business and Thread's Not Dead
TeuxDeux: a great to do list app!
Quickbooks Pro: The best in bookkeeping
Basecamp: Project Management, great to-do lists
Stamps.com: Super easy postage printing
Primo PDF: PDF converter
Mailchimp: Huge fans of these guys. All of our emails are created here.
Gumroad: Super easy way to sell our products
PayPal: Easy exchange of money
Daily Vices
Flickr: Where we go to check on our Go Media User Showcase (so much inspiration!)
Design Cuts: Amazing dudes. Awesome deals.
Feedly: All the feeds we need
Sidebar: The 5 Best Design Links of the Day
Blog.Spoon.Graphics: Check in daily to this one just because we love Chris Spooner.
IFTTT: Have a recipe that any post I save to Feedly is emailed to, so I'm reminded to go back and read it.
Tweetdeck for Chrome: Allows for the seperation of @mentions, lists and important search queries
Google Now: For quick access to set reminders, check the weather and see traffic
Team Treehouse: For those of us in the office learning code
Hootsuite: The dashboard of a social media manager's dreams
Buffer: For scheduling posts. As easy as 1 – 2.
Shirt Mockup: A Go Media resource we love
Mockup Everything: Avoid design disaster. Mockup your designs and send them over to clients in seconds.
Go Media's Arsenal: We're working on the Arsenal V3 daily. Making it better, smoother, sleeker. What do you think?
Behance: We not only update our page, but check out all the talent and often grab some to showcase on our social media channels and the GoMediaZine
Social Media: We love talking to the community, so we have to mention: Go Media's Facebook | Arsenal Facebook | Twitter | LinkedIn | Instagram | Google+ | Pinterest, all of which are monitored by Google Analytics

Favorite People and Places
Jakprints: Our go-to printing company
Kelley Green Web: Sales and marketing gurus
Muse Content Group: Brand positioning and content strategy
Sharon Toerek: A reliable lawyer is an absolute must.
Straight Shooter Photography: Dan Morgan is our favorite photographer. #highlyrecommend
Reference
How to Draw the Marvel Way by Stan Lee
Logo Lounge by Catherine Fishel and Bill Gardner
Drawn to Business by William Beachy
Thread's Not Dead by Jeff Finley
Making and Breaking the Grid: A Graphic Design Layout Workshop by Timothy Samara
Logotypes and Letterforms: Handlettered Logotypes and Typographic Considerations by Doyald Young
(for more of our favorite references, purchase Drawn to Business)
Lean Startup
Book Yourself Solid by Michael Port
Authority Ebook by Nathan Barry
Trust Agents by Chris Brogan
Drive: The Surprising Truth About What Motivates Us by Daniel Pink
How Pleasure Works by Paul Bloom
The Four Agreements by Don Miguel Ruiz
Design Currency by Jenn and Ken Visocky O'Grady
The Voice of Knowledge by Don Miguel Ruiz
Getting Things Done by David Allen
The Art of Non Conformity by Chris Guillibeau
Mindfulness in Plain English by Gunaratana Bhante Henepola
Rework by Jason Fried
Brains on Fire by Robin Phillips, Greg Cordell, Geno Church and Spike Jones
The Power of Now by Eckhart Tolle
A New Earth by Eckhart Tolle
Steal Like an Artist by Austin Kleon
The Power of Habit by Charles Duhigg
How to be a Graphic Designer Without Losing Your Soul by Adrian Shaughnessy
Good to Great by Jim Collins
Built to Sell by John Warrillow
Seven Habits of Highly Effective People by Stephen R. Covey
Hiring the Best by Martin Yate
96 Great Interview Questions to Ask Before You Hire by Paul Falcone
The Talent of Edge by David S. Cohen
Accounting Made Simple by Mike Piper
How to Win Friends and Influence People by Dale Carnegie
To Get Us Through:
LastFM: Jams
Spotify: Bryan's daily routine: every day, I grab new albums from Pitchfork's Review app and add them to a "Listen Today" playlist. Slowly building a "Garvin in your ear" playlist.
And Kim has been working on an electronica playlist.
Rhapsody: Heather and Bill's chosen music player
Numi Savory Teas: For keeping warm during these freezing afternoons
Campbell's popcorn: We did the logo for this delicious Cleveland sweets factory and now we're addicted.
Keurig: Keeps us trucking!
Nutella: Breakfast, lunch and dinner
Thermos Vacuum Insulated 18-Ounce Hydration Bottle: Gotta keep hydrated!
Love…
What tools are in your everyday arsenal? Please share with us in the comments below!
Categorized:

Graphic Design, Graphic Design, Graphic Design Inspiration, Web Roundup

Tagged:

advice, behind the scenes, cleveland, design, design tip, organization, productivity, staff picks, tips
Design and motion graphics studio, Already Been Chewed, cooks up a fresh rebrand for Malibu Boats.
When Barton Damer was given a tour of the manufacturing facility belonging to Tennessee-based Malibu Boats, his imagination went into high gear immediately. His design company, Already Been Chewed (ABC) had been tasked with creating and implementing a rebranding effort across numerous media platforms for Malibu and its sister company Axis Wake Research. The goal was to illustrate the slogan "Life Without Limits" and accentuate the active lifestyle that Malibu and Axis can offer their customers.
ABC was chosen for the project because of the company's history of working with other action sports brands, including Nike, Street League Skateboarding, and Supra Footwear on creative campaigns. "We analyze what the competitors are doing and then try to do something totally different," Damer explains. It was a bold approach, and they didn't know if Malibu would go for it. But ABC figured, if they won the year-long contract to create a series of catalog images, print ads and online videos using Cinema 4D, After Effects and Photoshop, it would be best to have presented ideas they would be excited to work rather than playing it safe.
Creative realism
Damer and ABC's art director Brad Wolf used Cinema 4D for both the print and animation portions of the Malibu/Axis rebranding project with the final looks and compositing completed in Photoshop for print and After Effects for video. For the Malibu boats campaign, Life Without Limits, ABC developed a visual that depicts a cubicle-bound office worker transforming into a wake surfer and escaping the limits of his 9 to 5 job into a surreal wake surfing experience behind a Malibu Wakesetter.
ABC set up a photo shoot with professional wake skater, Brian Grubb, to capture the sequence needed for the campaign artwork. After isolating the photos off of their background, ABC set them up in C4D as textures that were applied to vertical planes. "We used the luminance channel of the texture, as well as the alpha channel of the layer in Photoshop we cut out," Damer recalls. "This allowed us to place the pictures of Brian into true 3D space within the scene and have the C4D lights interact with the cut out photos."
That strategy gave Damer a good head start on some pretty realistic shadows, which helped because it was a flat plane, so it wasn't going to look perfect, he says. "But depending on where the light is positioned and where the shadows are cast, that technique really helps in certain areas."
Cinema 4D was also used to match the lighting from the original studio shot. To do that, Damer placed a light behind the actor and cast shadows forward, creating a real light source and a real shadow on the side of the desk where the side of his leg is popping up. "I did that same thing for every image in the sequence," he says, adding that there is a real light source and shadow being cast on the desk and the computer monitor.
Graphic style
Already Been Chewed opted to introduce a more graphic style for both the Malibu and Axis catalogs after seeing the approach used for the footwear and auto industries but not for boats. One technique they used was to introduce the use of shard-like images that are repeated throughout the branding for Malibu. To create the shards, Damer used a cloner object in C4D to replicate a triangle shape. After cloning it along a low-poly version of a wake that they modeled, renders were composted together in Photoshop to create the scene.
"C4D allows you to use an object as the basis for your clones," he says, explaining that a low-poly representation of a wake was created to serve as the basis for the clones to be duplicated across. Random effectors allowed the wave to take on a more organic feel combined with plane effectors that allowed the transition from smooth "water" to the large wake that was created.
For the background graphics that were used to highlight each boat model in the Malibu catalog, Wolf used a primitive landscape that he made editable and then triangulated. Next, he used an explode effector to pull some of the image apart. A melt effector was used to enable different geometries. Streaks coming off the boat were made with a spline wrap, taking the geometry of a tube and using an explode effector to explode it out, then wrapping it along the spline effector and applying a custom texture.
Axis Catalog
For Malibu's sister company, Axis, a completely different look was created using C4D for the most part. Based on ABC's tours of the factory, this concept put the focus on the craftsmanship of each boat and how they are made by hand. Damer says the white-suited workers and futuristic factory were inspired by the actual boat creation process. "Obviously, it's an artistic representation of the process, but the workers were wearing those uniforms as they sprayed gel coat into the hull of the boat," he recalls. "That's where I got the idea to have the spray coming out of the worker's hose take the shape of a boat."
Damer used Cinema 4D to create the futuristic-looking factory and composited the final boat and workers into the shot. Unsure about whether they would be able to get the liquid to do exactly what they wanted it to do through fluid simulation, Damer ended up combining 15 or 16 individual models of liquid rendered out of C4D and using Photoshop to make them all form the back of the boat.
To highlight Axis' A22 Vandall Edition boat (a pro model for Randall Harris—aka Randall The Vandall), Damer used a similar technique. This time, though, he used C4D to create a darker feel. Though the overall campaign shared the consistent theme of simulated water making up the rear of the boat, the Vandall got a slightly different treatment that set it apart from the crowd.
"We thought we would make it look like it was in the exact same warehouse with the same camera angle and everything, but with the factory lights turned off and some moonlight spilling in, just to give it more of a mysterious look since Randal The Vandall has that kind of a vibe going," he says. Additional shots of the white factory were made using Global Illumination to get clean lighting. For The Vandall Edition's moonlit version Damer used spotlights in C4D to keep the factory dark and only light the areas he wanted to people to focus on.
In addition to the rebranding effort, which will continue for Malibu and Axis throughout the rest of the year, Already Been Chewed has also done several animated features for internet broadcast with television versions coming out in 2014.
On The Map 3 is rapidly approaching! You can find the official event details in the Press Release down below, along with a peek behind the scenes of one of the new episodes – A day in the life at the Cleveland Botanical Gardens. I hope to see you, our local readers, at the screening Friday, December 6th. And for all our readers, keep your eyes peeled for a follow up blog post that delves into the video creation process. Enjoy!
Behind the shoot: A day in the life at the Cleveland Botanical Gardens
OTM3 | Friday, December 6th, 2013 | 5-9 pm | 7 pm Video Screening
Cleveland is 'On the Map' – from food to furniture, the city resonates with creative thinking and furious pride. On Friday, December 6, Go Media will host the third annual On the Map video series screening and release party to celebrate the people and places that make Cleveland our city.
Located in Ohio City, Go Media is proud to call Cleveland home. Like so many lifelong residents and transplants alike, our own Go Media designer and On the Map creator, Chris Comella, revels in the many amenities our great city has to offer. All of us here at Go Media see potential and recognize opportunity for change in this climate ripe for local economic growth.
Here at Go Media, we are working towards making their shared vision a reality and are helping establish Cleveland as a hub for artists and designers. Our On the Map video series spotlights a handful of the many inspiring people who are following our passions to make Cleveland a better place to live, work, and visit.
This year, the series also spotlights four Cleveland neighborhoods and showcases the distinctive landmarks that make them unique. Viewers will also get a behind the scenes look at the F*Sho, Cleveland's contemporary furniture show, a visit to the tranquil Cleveland Botanical Gardens, and a day inside Momocho's vibrant kitchen.
We'll screen the 3rd On the Map video series on Friday December 6th in our warehouse offices at the SW Corner of West 45th & Lorain in Ohio City. Guests are invited to eat, drink, watch the video release, meet fellow Clevelanders, and enjoy in an evening aimed at celebrating our amazing city.
This premier event is free and open to the public.
WHO: Go Media
WHAT: 3rd Annual On the Map Video Series Release Event
WHEN: : Friday, December 6th, 2013 | 5-9 pm | Screening at 7 pm
WHERE: Go Media, 4507 Lorain Ave., Cleveland, Ohio 44102
CONTACT: Chris Comella, Go Media | 216-939-0000 x229 | [email protected]
Facebook.com/OnTheMapCLE | Event | OnTheMapCLE.com
On The Map CLE, featuring:
Cleveland Botanical Gardens
Cleveland Heights
Downtown
F*Sho
Momocho
Ohio City
University Circle
Capturing a clean, crisp, accurate image of the work you've spent so many hours to achieve is one of the most vital elements of pulling together your portfolio.  Miss the mark and you may lose the job.
Since there is so much skill and expertise associated with product photography, unless you are well equipped and well educated, you may be misrepresented. Professional Cleveland photographer and extended Go Media family member Dan Morgan, of Straight Shooter, recommends designers leave it to a professional.
With over 30 years of photography experience under his belt, Morgan has learned to shoot and light every kind of product conceivable. Beginning his career at his father's photography business, Morgan Studio, Dan has worked for the likes of Bonne Bell, Sotheby's in New York and Kate Spade. He has photographed everything from the jewelry Marilyn Monroe and Katharine Hepburn once doned to fishing lures and Ferraris.  Dan has come to specialize in shiny objects, arguably one of the most difficult products to shoot.
Dan talks to us today about some of the challenges he has faced as a product photographer, as well as some of the tricks of the trade.
Challenges and Rewards
Preparation of Product
Sometimes there is much work to be done before the photography even begins.
"The unique characteristic of this shot is that I had to construct the folders before I even got them in front of the camera," notes Dan, who uses items like cardboard spacers, glue, wax and putty to style and prep the product.  Once prepared, the challenge becomes accurately and flawlessly presenting the product per the client's wishes. In this example, Dan used string to hang the folders, giving them a floating effect; string was removed in post-production.
Dan recommends, "building things strong enough to last as long as they'll need to last" to withstand the hours you'll spend photographing your product. Haste, as they say, makes waste.
Volume
One huge challenge of product photography Dan deals with regularly is that of volume. It's easy, when presented with a large quantity of items, such as print material or the Mill-Rose brushes pictured above, to feel frustrated right off the bat. "It's my job," notes Dan, "to take that which is intimidating to my client and carry that intimidating item out of the office and deal with it myself."
How did he accomplish it?  "First, I laid out the palette, which in this case was a white 12 foot wide piece of paper on the floor. I mounted my camera to a step ladder and shot straight down on the subject and lit it in such a way that the legs of the ladder did not show up in the shot. A number of technical things: the lighting, physically of it, the space and the height I needed to accomplish this shot was a part of the challenge, and the composition: making the colors pop, creating shadows, was another."
In this situation, Dan discloses, it's all a matter of time, a tremendous amount of patience and an eye for design.
Reflection
"Lighting objects is a lot of what it's about, especially when you're dealing with shiny objects," notes Dan, who recently photographed this ceramic elephant by local artist Andrew Simmons.
"Instead of pointing direct light at the subject, try pointing white cards backed up away from the subject," Dan suggests. "Light the white cards instead."
"This is key to softening shadows," Dan continues, "and even when you'd like shadows to exist, this trick makes the shadows more interesting, as they are falling forward from the product towards the camera. This concept and many other true lighting techniques are contrary to what you would think starting off. You don't point bright lights at the object or keep pointing brighter lights at it. It's about quality of light over quantity of light. It's not direct light; it's indirect light."
Multiple Elements
For this industrial photo, Dan worked closely with the client, who had multiple desires; she wanted to see her company's logo combined with smoke and color and a beautiful product shot to boot.
Dan quickly realized that he would needed to pull three photographs together to grant this wish. The first was a piece of glass Dan had etched with the company name, highlighted by smoke and light. The second, the smoke itself, was created by dry ice Dan gathered from Checker Bar Ice Cream here in Cleveland. The third was the product shot separately on a white background.
Why shot separately?  Dan notes, "If I had tried to light the product with the glass in the shot I'd have reflections on the glass showing up and all kinds of mess that would take a lot of time to clean up in Photoshop; more time than it would take to shoot them all individually."
Taking time with each of your individual elements, per Dan's example, is essential to pulling together one beautiful product shot.
Depending on the circumstances, Dan often recommends designers or art directors work hand-in-hand with their photographer, on site. Two heads, as they say, are sometimes better than one.  In this case, per Dan, "a client being organized and knowing what they want is critical."
With some patience, and the experience of a seasoned photographer, there is no limit to what you can achieve.
Have you tried your hand at product photography? What challenges did you face? What worked?
Find out more about Dan Morgan of Straight Shooter
Find Straight Shooter on Facebook | Instagram
Hello from your friends at Go Media!

What's Go Media been up to? Oh, just a little thing called Weapons of Mass Creation Fest…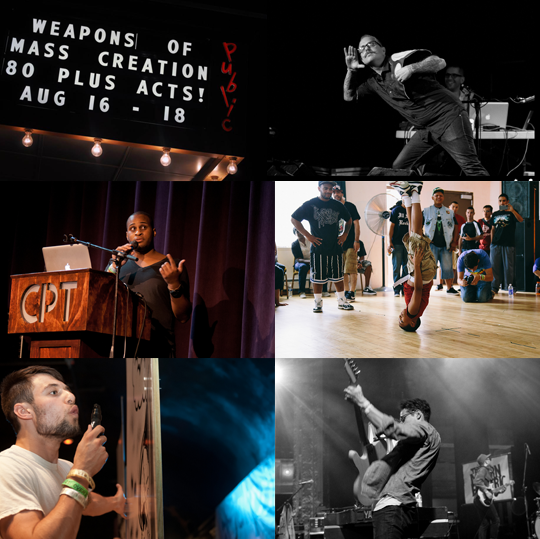 Phew!
Don't get us wrong, we loved every second of dreaming, planning, living and breathing the best fest in the Midwest, but, wow have our lives have been changed and we could use a breather!
Drawn to Business
We are thrilled to announce the release of our own Bill Beachy's book, Drawn to Business.  This, a nuts and bolts strategy guide to building a thriving design firm, Drawn to Business gives you a no holds barred, transparent look at how Go Media and other top firms built their business from the ground up. Bill shares with all of us his failures and successes and gives detailed advice on areas such as pricing and billing, hiring, accounting and lawyers, business sytems, marketing, selling and customer retention, so that you too can build the design firm of your dreams. Buy the digital edition now!
The Little Building that Could
Our building is still undergoing some pretty dramatic renovations!  The latest and greatest is that some huge gaping holes have turned into some beautiful windows.
Now let's see…
What The Team Has Been Up To:
Finished the following projects: 

the 2013 NEOSA CIO Symposium program booklet, invitations & signage,  Branding & Website for Ditka Dash
Finishing up the following projects: Cantine Bar & Bottle Shop, Website, Branding & Website for Law Firm Ghost Writer
Starting Website designs for OH! Manufacturing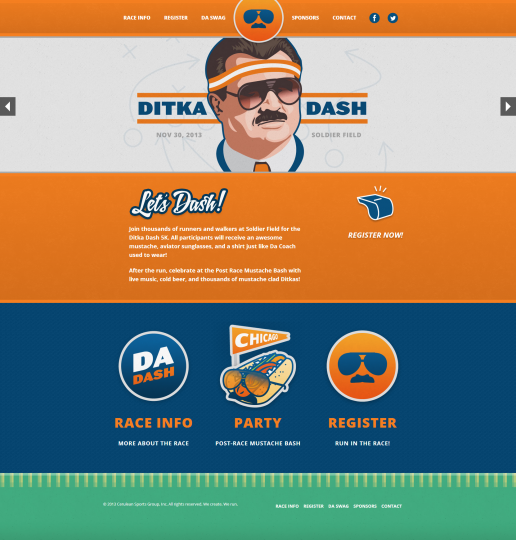 Lots of typography: Creating custom typography for Go Media Ad, creating custom logo type for brand Rich Wonder.

Designing Website for Law Firm Ghost Writer
Working on direct mail piece for COSE
Getting the amazing Go Media bowling team assembled =)
Working on the Drawn to Business Pro Package
A Go Media Partner Retreat with Wilson and Bill
Gathering photos, videos and articles from WMC Fest
Arsenal customer service
Bookkeeping
Payroll
Proofreading GoMediaZine posts and email campaigns
Counting up leftover WMC merch and updating inventory on merch site (limited quantities remain, order yours today!)
Web hosting billing
Sandra has dug right into her new position and is mastering both Sales and the Project Management process
Continuing to network and prospect for new leads!
Starting to prepare for the COSE Small Business Convention in October
 It's been a fun change to pace to spend some time researching and writing for my upcoming Zine article.

Volunteering all weekend at WMC Fest was an even more fun change of pace!
On the project management front, the team and I have been knee deep in the following activities:
New Project Planning for:

OH!Manufacturing – Website Design
Young Audiences – Website Design
Cantine – Website Design
Live on a Limb – Rebranding & T-Shirt Design

Ongoing Support for our active projects:

COSE – CIO Symposium Print Design
Law Firm Ghost Writer – Rebranding & Website Design
Ditka Dash – Branding & Website Design
Urban Pioneer Tea – Website Design
FMC – Website Design
Cuff & Veil – Website Design

Website Launches

Continually Improving!

We're working to implement 'Lessons Learned' meetings at the completion of our projects, so that we can better capture valuable insights and learn from what worked and what didn't.
I finally launched the second part to Steve Knerem's rockabilly poster tutorial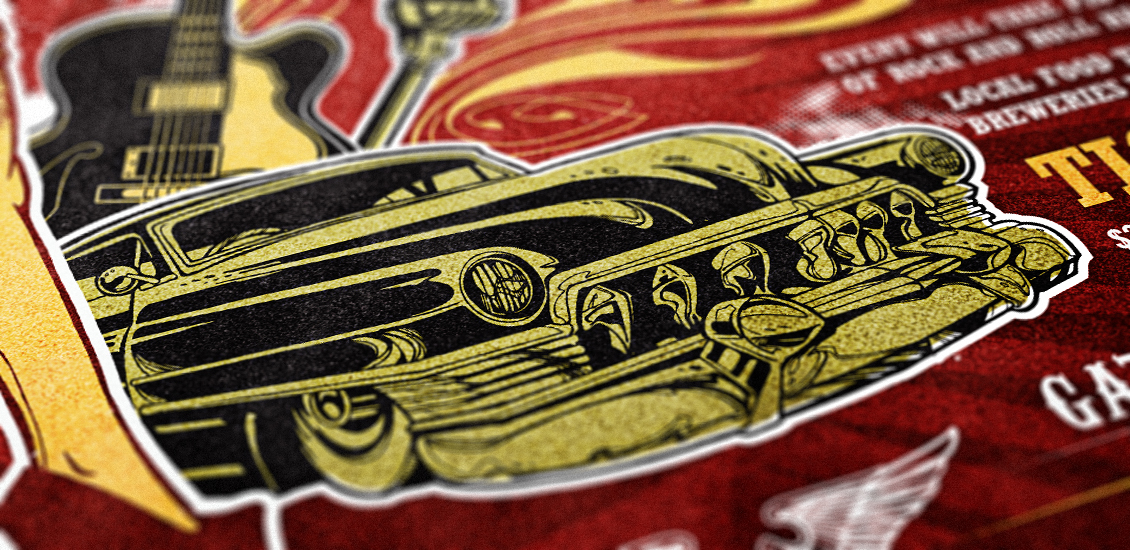 Heather and I worked hard at creating the Go Media Building Texture collection, that we released as a freebie for the best part of August. We got over two thousand downloads in a month! I've also created a couple of tutorials to demonstrate the textures' potential (a written one, and my first video tutorial)
I organized a contest to celebrate WMC Fest, along with the release of the 2013 WMC Fest bundle
I spent some time working on various WMC Fest related tasks
I thoroughly enjoyed my experience at the Fest!
We crunched a lot of hours of frantic work to launch Bill's Drawn to Business guide (I've helped in strategy, and for the cover design)
And there were also the usual suspects: product preparation, email blast writing, customer support and feedback, etc.
September
We've spent more frantic hours towards Bill's guide launch, and it paid off: Drawn to Business is now available for purchase!
Gone fishing! Partner Retreat with Jeff and Bill…among my other Project Management, Account Services and System Administration work that keeps us on track and online.
Launching my book, Drawn to Business.
Partner retreat with Jeff and Wilson!
Playing catch up now that my book is out. Working on Go Media Sell Sheets, etc.
De-cluttering the office
 _______________________________________
That's it for now from us at Go Media. Until we meet again:
Grab Bill's Book, Drawn to Business, a nuts and bolts strategy guide to building a thriving design firm!
Don't miss a minute of Go Media's happenings!  Subscribe to our GoMediaZine newsletter!
Keep up with Go Media on: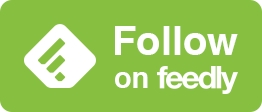 We'd like to say "thank you" to Square Share studios for the photography provided for our header image!
Ever wonder what kind of tools you need to put together a great podcast?
I don't know about great, but I can at least tell you about the tools we use to produce the Go Media podcast. If you aren't familiar, the Go Media Podcast is dedicated to tips, tricks, and tales of the business-minded artist and designer. It's our way of letting you inside our studio to learn about the ups and downs we face here at Go Media and how we're dealing with them.
Every episode deals with at least one topic that we've run into head first and how we solved the problem or at least, how we're currently dealing with it. So far, we've talked about how and why we price projects, how we adjusted methods to land more projects, as well as how we keep momentum going when inspiration (and finances) aren't in the best of shapes.
So far, we've recorded just over a dozen episodes. The process has changed dramatically from where we were at episode one. So, instead of going through the entire history of our setup, I'll just explain how we put together each episode now.
The Process
We set up the studio in our conference room.
We wanted to put something together that was in the office, but offset from the staff so our loud, on-air antics aren't interrupting their day. Plus, we wanted to be able to capture some of the staff background sound to add a bit of atmosphere to the recording.
The main piece of hardware we use is a Behringer X1204USB Mixer. It's a 12-channel mixer, which allows for up to 6 mics or line-ins. During a normal episode, we run 3 mics in tracks 1-3. The mixer runs just under $200 on Amazon. This also gives us the flexibility to mix the audio while recording. We run the mixer into a laptop through a USB input to record.
The mics we chose to use are Samson Q2U. They can plug directly into the mixer or can even be used as a desktop mic through USB. We wanted something versatile that we could use with or without a mixer. Those ran about $50 a piece. We also have Onstage Boom mic stands, but the mics came with desktop stands as well, which we use depending on the situation.
Bill and Jeff currently sit across from one another on one side of the table, and I sit behind the mixer and laptop. We use a similar set up when it's just Simon and I talking about the Arsenal.
For WMC Fest Speaker Interviews, we used an Ipad and Skype. We ran the Ipad audio out into track 4.
To prepare for an episode, we use Google Docs. Every episode, we create a new doc where we can collaborate on the pre-show show notes. We then use those show notes in our final post on the Zine. Jeff and Bill normally bring a printout of those notes into the studio with them, however I tend to access the doc through my tablet.
To record, we use Audacity. Audacity is a free, open source, cross-platform software for recording and editing sounds. We bring the audio in from the mixer through a USB input, directly into Audacity. We also use Audacity to edit and use 4 basic effects on the final export:
Starting with Episode 10, we decided to start streaming live every time we record. To do this, we use two apps: Mixlr for streaming the audio and Tlk.io for chatting with our listeners.
We plan on taking all episodes live after WMC Fest. Hopefully, we can get a regular schedule going.
In short, here are the tools we use to produce the podcast:
Tools
Software
Hardware
So yeah, that's the gist of the what we use to record, edit, and produce the Go Media Podcast. Haven't listened to it yet? Take it from me, you should.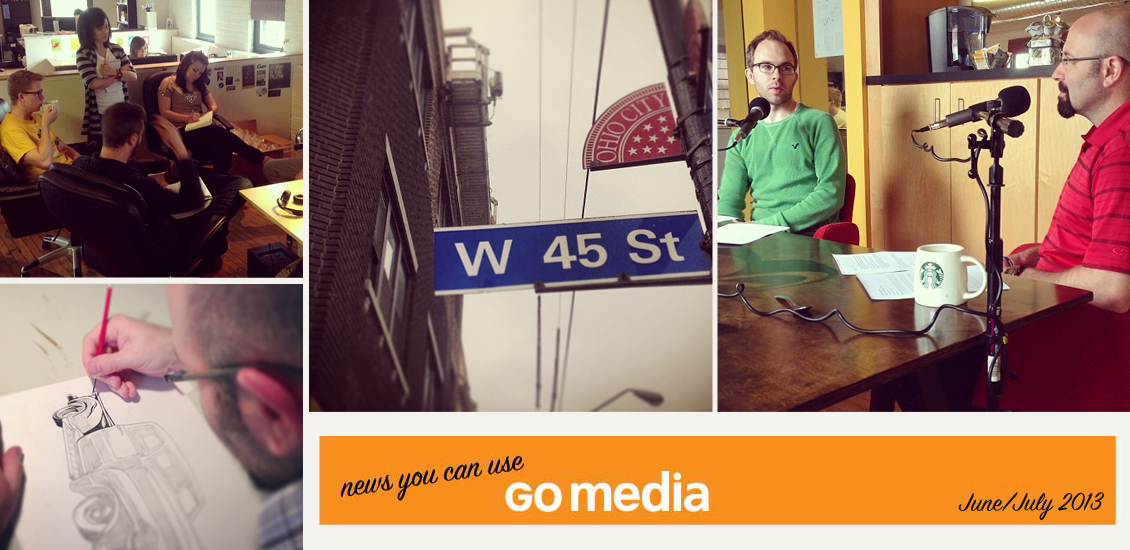 Well Hello!
All's well here at Go Media!
Storefront renovations are moving along swimmingly, with progress apparent every single day!
The Countdown is On!
We're counting down the moments until Weapons of Mass Creation Fest 2013!   We're busy assuring that our awesome Kickstarter backers get their handsome rewards, responding to speaker, designer, band and sponsor questions as well as collecting goodies for promotional tote bags.  Last but not least we're tying up the seemingly thousands of other loose ends that come with planning the best-fest-in-the-Midwest!
Intern Mania!
Interns have taken over our office this summer!  Four awesome additions, including Carly Utegg from Edinboro University in Edinboro, Pennsylvania, Alex Miller from Kent State in Kent, Ohio, Kyle Saxton from Virginia Commonwealth University in Richmond, Virginia, and Nathaniel Scramling from Virginia Marti College right here in Cleveland, have descended upon Go Media to help us out in a multitude of ways. These four talented students have assisted with the Arsenal, Mockup Everything, Bill Beachy's book design, our storefront's upcoming window designs as well as varying client projects.
Now let's see…
What The Team Has Been Up To:
Finishing up the identity for Cantine, a Bar & Bottle Shop opening in Broadview Heights 

Identity & Website designs for the upcoming Ditka Dash,  a fun run commemorating Mike Ditka (former coach of the Chicago Bears) and the retirement of his jersey in December of this year.
Invitation and collateral designs for this year's NEOSA CIO Symposium
Continued to sift through resumes and portfolios for our open Front-End Developer position.
Continued to push projects forward using Foundation 4 from prototype/wireframes to front-end development.
Fell in love with Sass.
Worked with Jeff to use Soundcloud for the Podcast, but finding it difficult to find the actual download file to bring into Blubrry. So, we're now just hosting in two locations (Amazon S3 and Soundcloud).
Ran our first official live recording of the Go Media podcast as we interviewed Mark Brickey on Episode 11.
Put out Episode 12 with the help of Simon.
Prepping vendor/gallery layouts and logistics for WMC
Keeping team morale high as we get closer to the fest date
Getting people hyped for the fest, less than a month away
Designing new posters, flyers and postcards to go out.
Finishing album artwork/layout for Signals Midwest's new record
Helmet designs for Lincoln Electric
Playing some shows with Campfire Conspiracy, getting ready for our WMC Fest show August 18
Starting a new personal blog at makermistaker.com
Writing upcoming  tutorial about coming up with an occult logo design
Arsenal customer service
Bookkeeping
Payroll
Proofreading GoMediaZine posts and email campaigns
Shipping out WMC Merch and rewards to Kickstarter backers
Finished writing zine post which compared QuickBooks to FreshBooks
We are thrilled to welcome Sandra Vilevac as the newest member of the Kelley Green Web team! She will be starting August 1 and we are greatly looking forward to her contributions to both KGW and the GO Media Account Services department!
We attended the Greater Cleveland Partnership Annual Meeting which featured some notable speakers and inspiring videos. There are so many amazing things happening in our city and we can't wait to see how it all evolves!
Managing our ongoing client & team interactions (client meetings, internal reviews, new project set up, monitoring overall project progress / ensuring deadlines are met)

Prep & planning for the following new projects: including

Branding & Web Design for Ditka Dash
Branding & Web Design for Law Firm Ghost Writer
Print Design for COSE's NEOSA CIA Symposium
Branding for Fly Nation
Branding for Athlete Originals
Print Design for F.C Sturtevant
Web Design for FMC
We're putting a tremendous effort into the Arsenal v3,  as we want it to be amazing and chase down the last bugs
We've brainstormed a bunch of cool ideas for the launch plans for Bill Beachy's upcoming book, Drawn to Business
And a bunch of miscellaneous things including:

Some WMC Fest IV and Arsenal cross promotions and contest(s) (more to come)
Some WMC IV art
Some analysis following our survey
A lot of customer support
Kyle Saxton, Intern
Nathaniel Scramling, Intern
 _______________________________________
That's it for now from us at Go Media. Until we meet again: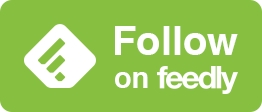 Well Hello!
All is quiet here at Go Media – heads down, noses to the grindstone!
We'll start with the bad…well, bittersweet news.  Our Community Manager, Marissa Mele, has bid us adieu.  Our hearts broke as we watched Marissa leave Go Media for the very last time, but we must admit that we're happy too (read: jealous)  – as Marissa is off for warmer weather!  At least one of us gets to escape the Cleveland winters. We'll miss you Marissa!
While we lost one, we gained two!
Joining our staff are Simon Birky Hartmann, our new Arsenal Product Manager and Heather Sakai, taking over as Community Manager.
Let the Sun Shine In!

As always, we have been fortunate to work with many amazing clients and for awesome events, such as Sunfest, a music and art festival held annually on the first week of May in West Palm Beach, Florida.  The state's largest waterfront music and art festival, SunFest attracts more than 275,000 attendees.  Even more are drawn to its website!  Check out Go Media's contribution!
Crash Bang Boom!

It's mighty noisy here at 4507 Lorain Road lately…but we don't mind! We have super exciting news to share!  We are now undergoing a storefront renovation!  Stay tuned here, and to our Facebook and Instagram pages for the latest updates and to watch our building transform.
The Countdown is On!
We're counting down the moments until Weapons of Mass Creation Fest 2013!  We rolled out our WMC Portfolio Contest and announced the lucky 5 entries that will be featured designers in our gallery this year!  We also announced many of our speakers and bands for the fest – the anticipation is killing us!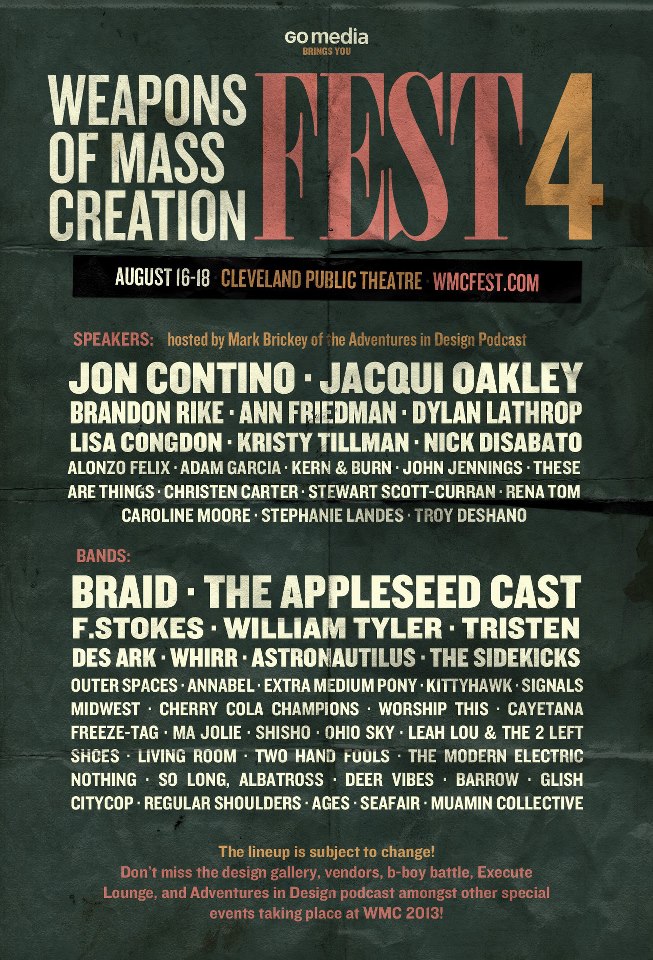 What The Team Has Been Up To:
Hello all! In the past couple of weeks, I've been up to the following:
 Point Click Tailor Suit templates
Website designs for BigBolts.com, KBK Enterprises, Motivideos & Midwest Box Company
Icon designs for Tomra's Recycling App
BattleReady Hangtag designs
Bill and I conducted about 6 interviews for our Summer Internship openings. Lots of resumes and portfolios to go through. We ended up bringing in 3 from those interviews and they all start this month.
Jeff, Bill, and I recorded GoMP008, and recorded 4 interviews with WMC Speakers in preparation for this Summer's festivities.
Produced wireframes for 6 projects in currently in motion.
Launched KelleyGreenWeb.com and WithrowEquipment.com, both sites using our WordPress theme "Lorain".
Client shenanigans, including a brand guide for a local educational institution, brainstorming names for a Cleveland bicycling initiative, and conceptualizing for a new restaurant's identity
 Preproduction for OTM Series 3
Moving my desk to a new area of the office
Arsenal customer service
Bookkeeping
Payroll
Proofreading zine posts and email campaigns
Organizing all the WMC merch into bins and shipping out merch orders
Learning how to do site maps
The number of leads has picked up since last month, so I've been spending more time writing proposals
I've been attending as many networking events as possible! Recent functions include the Image Lab Open House and the Bad Girl Ventures Graduation Ceremony
I've been working with Heather on writing the service pages for the Go Media website
Jenny Kelley and I have started a comprehensive marketing strategy that includes targeted outreach campaigns to reach new potential business opportunities
Project kickoffs for: Bike Cleveland, F.C Sturtevant Company, Pineapple Key, Cantine and KBK Foundation
Wrapped Up Projects with SunFest, BattleREADY, Withrow Equipment and Kelley Green Web
Ongoing Team & Client Communication
Compiled content requirement guidelines in an effort to streamline our processes both internally and for our clients.
Assisted our Arsenal and Mockup Everything teams with making the switch to Smartsheet ( a great program used for a variety of project planning needs)
Learned some WordPress Content Placement skills from our wonderful Bryan Garvin
Settling in in a new town, Cleveland the beautiful, very close to the

lake Erie

Settling in in my new responsibilities as Arsenal Manager here at Go Media
Launched a sweet series of new products on the Arsenal:
Finally, my wife and I moved very close to a great Irish pub, so we've been enjoying a few Guinesses
Some intriguing website development opportunities have come across my desk recently. Mostly medium size corporations, which are hopeful because they're established businesses with a budget to evolve their brands.
Wrapping up UI additions to Electricity Lab's BOLT. They've developed a pretty fantastical platform toward the write-once-run-anywhere dream anyone who has been programming for a while has had.
Pressing on with Arsenal 3. We hit obstacles that set the delivery date back. Such is the nature of the computer science beast sometimes.
Having fun with Zurb's Foundation 4 on a new Motivideos site. We've seemingly adopted Foundation 4 as our default CSS framework of choice this year.
Meet our Intern!
This summer, we will be welcoming several interns into our Go Media family.  Our first intern, Kyle Saxton, just arrived. Let's meet him!
Hi all! I am originally from Mason City, Iowa. After moving around the country for several years I ended up in Richmond, Virginia where I am currently attending Virginia Commonwealth University. I am a rising senior in the Communication Arts Department, where my skills are strongly based around illustration, drawing, and painting. I also work in a broad range of media outside of my major including: graphic design, photography, and 3-D image/movement. At Go Media I will be working with a variety of Arsenal projects, Creative Market projects, and any other projects that come my way. When I'm not designing I love riding bikes, cooking, restoring vintage Corvettes with my dad, refurbishing furniture, and watching movies.
______
That's it for now from us at Go Media. Until we meet again:
Don't forget to head over to Kickstarter to purchase your tickets to this year's Weapons of Mass Creation Fest, running August 16 through 18.
Sign up to be notified when Bill Beachy's book, Drawn to Business: How to build a thriving graphic & web design agency, is out.
To borrow some wit from the great Groucho Marx: "Before I speak, I have something important to say."
That something important is to announce I'm leaving Go Media after five remarkable years.
Although it's a bittersweet moment, I know that the future of this company is bigger and brighter than any one person. Go Media has truly done some inspiring and meaningful things during my time here — but they're only just getting started.
Because this is a farewell post in disguise, please forgive me while I reflect on some of my favorite moments at this amazing company.
Bill Beachy's Famous Salsa
The summer of 2008 was exactly as it should be in Cleveland — hot, sunny, and full of promise. In those days Go Media was headquartered in Bill's townhouse-turned-office, where we sat elbow-to-elbow, sipping coffee and clicking keyboards.
Our refuge from the heat was the AC and Bill's delicious homemade salsa. During lunch breaks we gathered around the kitchen island (a.k.a. communal feeding station) to gorge on a vat of the cool tomato mixture. It was a refreshing treat and my first true bonding experience. It was also my first glimpse of Bill's overwhelming generosity: what was his, was ours. No strings attached.
The Go Media Softball Team
I can't help but smile when I think of how unapologetically terrible we were — desk-bound designers huffing around the bases after barely bumping the ball into left field. I don't count our losses, though. All I remember now is the camaraderie, competitive spirit, and Heather's bright blue pants (you showed us how it's done, girlfriend).
Paid Days at Cedar Point
Our surprise trips to Cedar Point were just one of the many perks I boasted to friends and family when gushing about Go Media. These short jaunts to Sandusky were Bill's way of saying "Now go have some fun, you nerds!" And fun we had.
Epic Christmas Parties
Gifts, games and goodies — it doesn't get any better than a Go Media holiday party. It's a full day devoted to festivities, including Rock Band blowouts, catchphrase blunders, and a spirited present-swapping game that left Sarah crockpot-less (some people better sleep one eye up this year, that's all I'm saying).
Weapons of Mass Creation
It finally hit me that I was part of something greater when volunteering for WMC. If I could hop in a time machine and rewind it three years, I would reassure Jeff Finley that putting on this festival is worth the hours and the heartache — and that he has no idea just how awe-inspiring it will become.
The memories I have with Go Media are authentic, heartwarming, and rewarding — and from where I stand today, it's humbling to acknowledge the lessons I've learned over the years.
Without further delay, here are my biggest takeaways from working a job that has always been oh-so-much-more than that:
Be genuine and do what you love — the rest will follow.
Never underestimate the power of dependability.
Build relationships, not projects.
Hold yourself accountable when no one else will.
Give back, because you never know who's watching.
Thanks for the memories, my friends. You've helped mold more lives than just mine, and for that I'll remain your fiercest fan.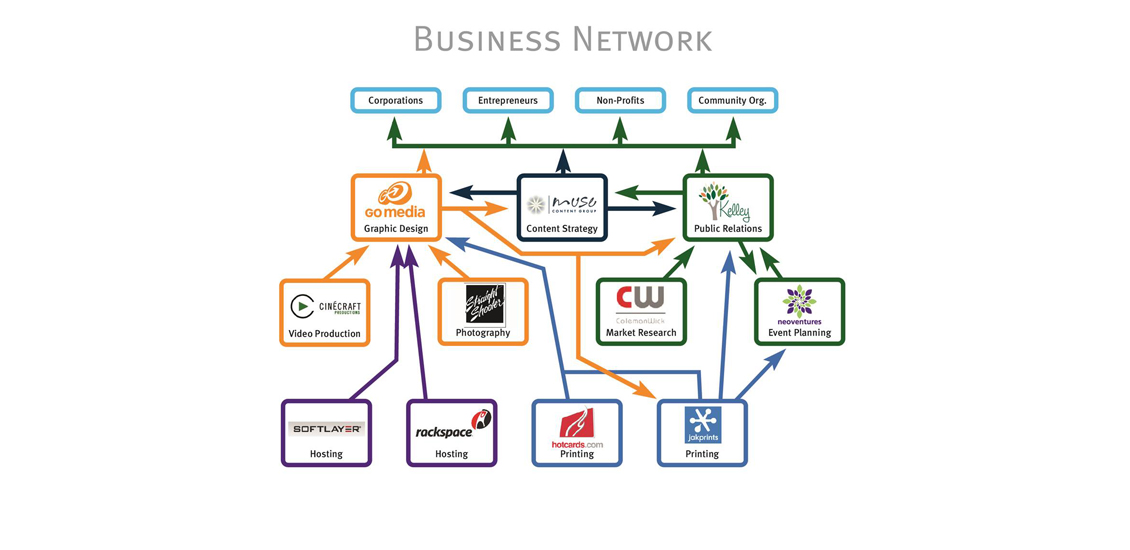 Meet the Go Media Extended Family
Have you met our Extended Family? We collaborate with a community of specialists who extend our capabilities by enabling us to fulfill a wider range of project requirements. These specialists comprise our Extended Family.
By plugging into this community, you can reap the benefits of a full service agency without losing the passion or focused expertise of a specialty firm. We've curated a selection of top class businesses with a passionate focus on what they do best, in order to extend comprehensive, yet expert services from full scope marketing services to intellectual property attorneys.
In our ongoing quest to become a true business ally, we journey alongside you to help you get where you want to go. We believe success isn't just about increasing the bottom line – it's also about designing and implementing strategies to provide top notch customer experiences and form lasting relationships. Because our creativity is fueled by community!
Here's a bit about the Go Media Extended Family:
Jenny Kelley and Lauren Prebel focus on making connections that incorporate you into the cohesive web. We work with your business, non-profit or community organization to create and implement custom, targeted marketing and development strategies that yield results.
Jackie Bebenroth is a Swiss Army Knife of creativity who works with entrepreneurs, agencies, and executives to reach new heights through the power of storytelling.
The Digital Marketing Agency, SageRock Inc., was founded in 1999 to help clients engage customers across an ever expanding interactive marketplace. We do this through multiple channels such as search, social media, and vertical targeting; emerging digital opportunities such as mobile and rich media; behavioral targeting thorough email and dynamic engagement; and refinement of all initiatives through understanding usability and metrics.
Cinécraft produces high-quality video and develops custom eLearning solutions to support the goals of Fortune 1000 companies and medium to large sized businesses.
While in New York, Dan helped Sotheby's auction house convert it's entire cataloging operation to digital photography. In 1999, during the Dot Com boom, Sothebys.com hired Dan to oversee 13 young digital photographers. Dan's expertise here was not in just in Digital Photography, but also in lighting and working with people – skills Dan uses today to help companies in Cleveland get the most out of photography in a digital age.
Tap Packaging Solutions, a domestic manufacturer of quality packaging for over 100 years partners with our customers to provide creative, innovative packaging solutions.
Midwest Box Company started in 1964 as a short-run supplier and has grown to become Cleveland's oldest and largest sheet plant.
Sharon L. Toerek focuses her legal practice at Licata & Toerek on intellectual property law, advising clients across the United States on trademark, copyright, trade secret, non competition, and other intellectual property and business law issues.
Built on years of experimentation, we unleash our creative spirit to provide clients with custom-crafted, cutting-edge, and dynamic imagery.
Black Friday/Cyber Monday Deals
We have been crazy busy here at Go Media. Last week, as many of us were stuffing our faces with turkey and mashed taters, the Arsenal team was gearing up for our Black Friday/Cyber Monday sales. We have to give a HUGE thank you to all of our fans out there for showing up and snagging our special deals on vector packs & mockup templates, as well as, a 31% discount on any other product on the Arsenal. You guys totally ROCK OUR SOCKS!
On The Map
This month also marked the anniversary of On The Map (OTM) and in honor of this accomplishment, we held our 2nd annual screening party.  Thank you to everyone for coming out to the Go Media Headquarters. It was so wonderful to meet so many of our fans in the flesh, y'all are an attractive bunch!
If you aren't a local Clevelander or just couldn't make it out to the event, then you have to check out the videos featuring the hottest businesses in Cleveland, handpicked by the Go Media team! I know many of us are already making plans to eat some tasty treats at places like Luna Bakery & Le Petit Triangle, gobbling up the best sushi in town at Ginko, slurping up the best coffee in Cleveland at Rising Star Coffee Roasters, buying some beautiful handmade furniture at Reincarnation, being a bookworm at Visible Voice Books, marveling at the art of Rose Iron Works Blacksmith Shop, and for the adventurous spirit in all of us, checking out the sexy motorcycles of Cleveland Cyclewerks.
On the Map Series 2 Trailer from Go Media on Vimeo.
Want to Contribute to the Zine?
Have an interesting design story to tell?
Want to be featured on the GoMediaZine?
Well, then contact the GoMediaZine manager, Marissa Mele at [email protected] for more info.
What The Team Has Been Up To
Reviewing applications for Jr. Designers and Project Managers
Conducting phone interviews for both positions
Coordinating and participating in 2nd round of interviews for both positions
Content population for a large client website project that will be launching soon
Preparation for our On the Map 2012 event, the evening was a great time!
Developing the new Croes Oliva Group website. http://cog.gomediahost.com/
It is a cozy responsive custom theme built for WordPress Content Management and assisted by an array of plugins Go Media continues to craft for extending our favorite CMS. Be sure to checkout the radical full-width slideshow on the homepage! It is completely powered by javascript and css. A lot of animation without Flash.
Wrapped up WordPress development on a new client redesign. Should be launching soon.
Continued with the development of the new Prooflab sales site, including the introduction of the "Go Media Switcher"
Began designing the new Arsenal email template, which will accompany the launch of the redesign.
Go Media Podcast episode #3 was released earlier in the month. Was a lot of fun and brought in some new challenges. We brought in 4 guests this time, which caused me some stress, since our studio is still a bit limited. But, we made do with what we had and put out another great episode. Looking forward to Episode #4.
Trying to get into illustration. Really loving the Wacom tablet. Never tried to draw seriously before, so it's been a fun experiment. Hopefully, I can start applying it to projects outside of personal whims.
Prepping for the Black Friday + Cyber Monday Super Deals event on the Arsenal. Thanks everyone who supported us, it wouldn't have been a success without you!
Touching base with the CS Cart development team, who's working hard to put the finishing touches on the back end of the new Arsenal v3. We've had some delays, but we hope to push it live early in 2013.
Working with artists Steve Knerem and Heather Sakai on some new products for the Arsenal. The image below is a sneak peak of a new Dust & Particle texture pack — what do you think?
Growing the Extended Family network of complimentary service providers
Streamlining internal systems
Interviewing Project Manager and sales candidates
Churning out proposals
Working with incubators like Bad Girl Ventures, Launchouse and Bizdom
Holiday Card
Finishing up The Croes Oliva Group Identity
Working on a Go Media popcorn box
Working on a Mobile App for Android
Starting a new welding helmet design
I have been working on my Growth plan, Attending Goldman Sachs 10,000 Small Business Courses
Helping interview and hire our new Project Manager and Jr. Level Designer
Wrapping up branding project for The Village
Assisting Jenny with sales
Small items related to storefront renovation (on hold now till spring)

Good news: better content on the way!
Hello guys, Simon here. Jon and myself have great news to share with you!
After WMC Fest 2011 wrapped up, Jeff, Adam and the others at Go Media were brainstorming hard about "what next." Part of that "next" has to do with the Zine. Here's what was decided: to revamp it a tad, as well as to start a new tutorial author recruiting campaign.
The objectives that were set for the recruiting campaign weren't that complicated: find people being the best at what they do and have them write for us he most unique tutorials. The cool thing is that we were given lots of guidance and a solid backing from Go Media (aka cold hard $$$) to go knock on doors.
Setting the bar
In terms of quality, we decided to set the bar pretty high. Luckily for us, some of the previously published content of the Zine is matching up these renewed expectations. Remember the Lady Luck tutorial from our very own Bill Beachy?
This tutorial is 4500 words long. It describes extensively the process that Bill went through with his client Paul Davis from Black Ace Clothing, and that resulted in the creation of a pretty sweet vintage pinup illustration to be used as an apparel illustration. It covers the initial email exchanges with the client during the need assessment phase, the brainstorming and initial conceptualizing phases and sketches, further brainstorming and changes from the client's end, and the execution.
We decided to not settle for less than that.
Who did we get in touch with?
Well, we want to keep it surprise, but let's say that if you were in the Gordon Square Arts District on June 11 and 12 2011, you might have meet some of the future authors :-) From the first drafts we've been getting, I can already tell, it's going to be awesome.
One more thing
Think you have what it takes to write one of these? Don't forget you can always submit your tutorial ideas… And you should! We're ready to listen to anyone willing to share their knowledge, for the benefit of all.