How to Design a Great T-Shirt:
We're proud to introduce a brand new product to the Arsenal today: the t-shirt design pack.
This product includes everything you need to design a great t-shirt. The pack includes vector illustrations, a tri-blend t-shirt mockup PSD and the completed original vector design. As a bonus, we're including a free chapter of our popular ebook Thread's Not Dead: The Designer's Guide to the Apparel Industry.
The first pack was created by our very own Jeff Finley. Jeff's pack, Awakened, focuses on sacred geometry and enlightenment. We think it's pretty darn divine.  Check out what's included.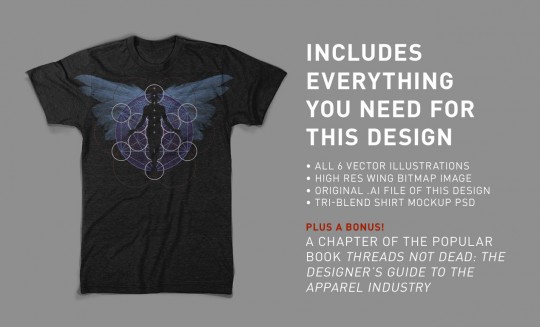 For more great products, such as mockup templates and vectors, head over to the Arsenal!
Love the t-shirt and need it NOW?
Buy it on Society 6!
For more on t-shirt design, check out these GoMediaZine posts –
The Fundamentals of Great T-Shirt Design
Newbie's Guide to Beautiful T-Shirt Mockups
Starting Your Own T-Shirt Line. Part I: Start Up
Starting Your Own T-Shirt Line. Part II: The Creation of Your Art and Working with a Printer.
Handpicked from the Heavens
We're super psyched to bring you the newest in texture excellence today.
Introducing the Colorized Texture Set.
At 45% off of the list price, it's this week's special.
Juicy Goodness.
The textures, brought to us by Maarten Kleyne, are punched with pops of color and are bubbling over with brilliance so palpable you'll think they were plucked from the heavens.
Over 1,000 shots taken around Maarten's studio space and office, were carefully captured and post-processed. One hundred and five of the highest quality were handpicked especially for your use. They were then divided up into 7 packs of power.
We're sure you'll find them versatile and vivid. At $9 a pop, you can grab them individually, or purchase the whole shebang for only $35!
Take a Peek:
They are:

Color Flushed Walls

Sun Reflected 

Leaking Purple Retro Voids

Retro Grunge Glows

Glowing Grunge Wallpaper

Liquid Projections Inspired Psychedelic
The whole deal, folks:
Want more Maarten?
Maarten Kleyne is no stranger to our Arsenal.  A freelance designer from the Netherlands, Kleyne is responsible for such texture pack masterpieces as Etched into Dark, Excluded Rough Grunge, Noisy Under Atmosphere and Rough Surface Grunge.
Grab those too while you're at it. They're all on sale this week!
What are you waiting for? Head to the Arsenal now!