Tips for How to Design Your Own Apparel
In today's video, we introduce you to Dan Byler, Business Development Guru at Jakprints. Jakprints is a premier print shop here in Cleveland with over a decade of experience in online printing. They specialize in custom full-color offset printing, apparel printing/embroidery and sticker production. Dan really knows his stuff, as evidenced by the video you'll see below, in which Dan discusses his tips for How to Design Your Own Apparel.
Dan Byler has been happily employed at Jakprints since 2004. He began his career in Apparel Production at Jakprints and over the years worked my way into a Business Development role. He is currently working at the Jakprints Oceanside, California office. He has helped hundreds of clients with thousands of projects during his time at Jakprints.
For more on how to design your own apparel, head to some of our most popular articles on this topic under this category:
How to Start Your Own Clothing Company
Tips for Designing Printed Apparel
To connect with Jakprints, head to: Facebook | Twitter | YouTube | Google+ | Instagram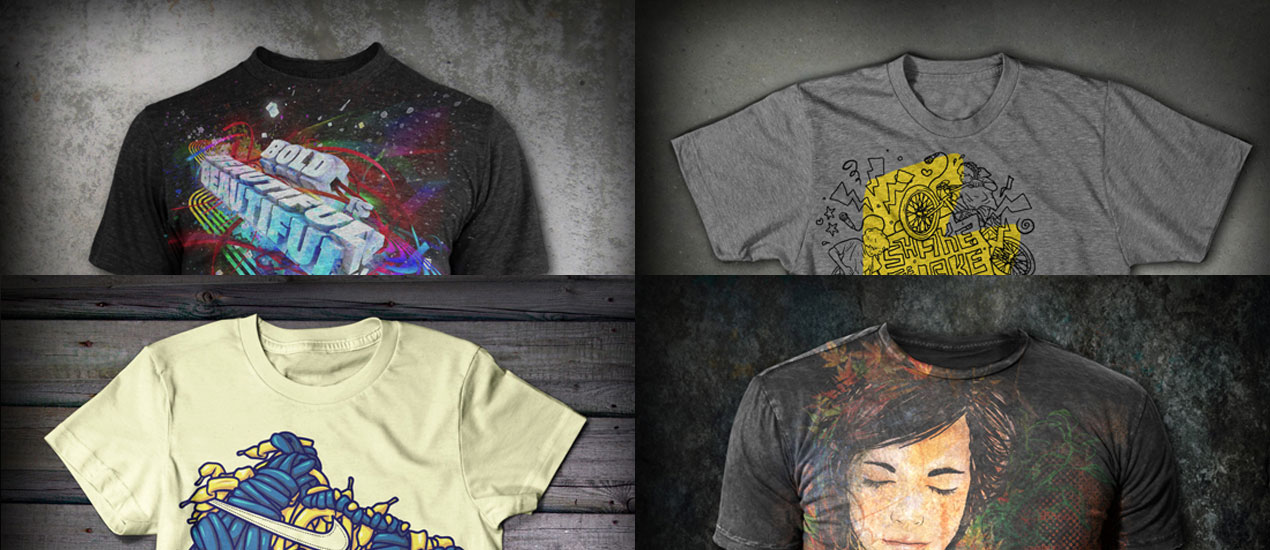 Apparel Design
It seems like everyone is creating a t-shirt line these days. But creating a great t-shirt design is an art few can master. Luckily, the team here at Cleveland graphic, logo, web design studio Go Media has a rich background in apparel design to draw from, as do friends of Go Media, designers Herman Lee, Ed Pincombe and Dan Byler of Jakprints.
Today, we are sharing 7 questions to ask yourself when you aim to create your next tee design. Like any other project, you want to concentrate on designing "an iconic graphic that leaves a great impression to the viewers through all different kinds of medium," reminds Lee. But when dealing with apparel, your own set of questions will arise.
Seven Questions to Ask Yourself When You Want to Create an Iconic T-Shirt Design
Have you fully immersed yourself into the project?
Know your audience! Like any great project, put your research in before pencil hits paper. Creating a band tee? Familiarize yourself with the band, fans and the merch referenced in the brief. Listen to their music, read their lyrics and come to know what they're all about. This should all play into your eventual design. Study the brief, ask lots of questions and make changes based on feedback.
Does it highlight your customer?
Companies like Red Bull and Go Pro have done a wonderful job of making their customers feel like rock stars. Who says your t-shirt design can't accomplish the same thing?
As Jeff notes in Thread's Not Dead: The Definitive Guide to Starting a Clothing Line, "People still look at t-shirts as a medium for art and for a message. When you wear a t-shirt with an image or text on it, you're saying something about yourself. You're sending a message to all who see it. The message may be simple like, 'I like this band.' Or 'I love New York.' You might also just think that the style or the imagery represents your interests and makes you feel part of something bigger than yourself."
Your messaging is powerful and the owner of your tee becomes a part of your brand. What do you want your audience to feel, represent, say?

Does it push the envelope?
As Jeff says in Thread's Not Dead, "good design will blaze new trails in what people are wearing. A good design pushes boundaries and does things differently. It starts new trend, forges new printing solutions, and advances the industry." A great example of this is Jeff's Bold is Beautiful design that people said could never be printed.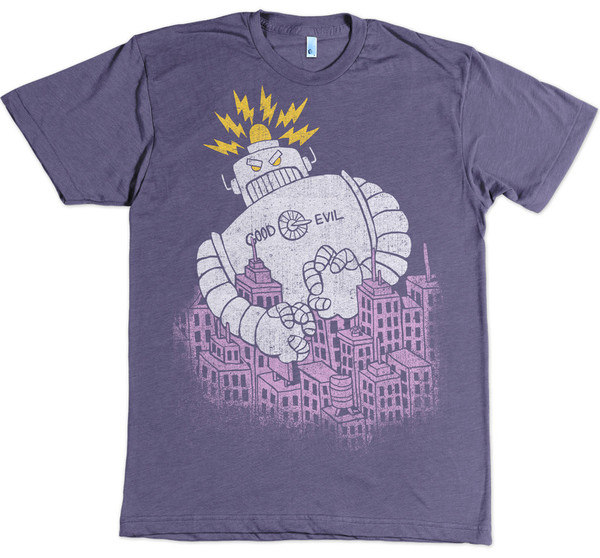 Is it clear?
"I think a simple, clear concept is most important. Your execution can be detailed and complex but if a viewer doesn't "get it" in seconds it most likely isn't going to be that iconic design you are looking for," says Pincombe.
Does it make great use of space?
"Use the whole t-shirt as your canvas. Your design doesn't have to be fixated dead center of the t-shirt," notes Lee.
Did you logo make a prominent appearance?
Sure, you'd like to get that logo front and center. But placing it playfully is part of the fun.
Have you considered the end product?
The t-shirt should speak for itself. Clean, crisp, simple, memorable, timeless. But think outside the box for a moment. How will you deliver the tee to your customer? Will you create custom tags? Special packaging? Will you include freebies to show you know your customer and their quirks? You've gone this far. Knock it out of the park and turn your customer into the brand evangelist you want them to be.
Now go for it!
Once you've designed and mocked up your tee, it's time to put it out there for all the world to see.
"All of the most iconic t-shirts have one thing in common, notes Cleveland printing company Jakprint's Dan Byler. "They started with an idea that someone had and that person acted on their idea. Take the plunge and print your shirt.  Yes, it takes time and money to print apparel.  No, it's not a guaranteed success.  How else are you going to find out if your idea is any good without putting it out there?"
__________________________
For more on creating an iconic t-shirt and for all you need to know to create a killer clothing line, pick up Thread's Not Dead: The Definitive Guide to Starting a Clothing Line by Go Media Partner Jeff Finley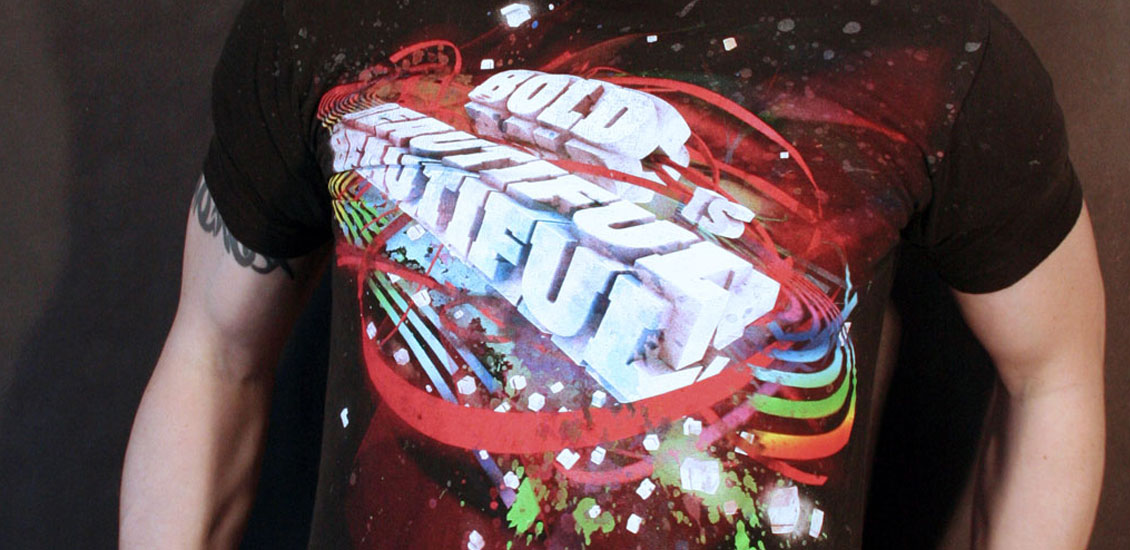 Launching Your Apparel Line
Designed your own original and unique t-shirt, printed and branded your work, ready to launch? Now you're ready for the big time.
For a lot of brands, the holy grail of going big-time is getting into well-known retail shops. There's certainly an appeal to being able to go into your local mall and see your brand on the racks. How do you get there? Here are some general tips for breaking into retail, straight from Cleveland Design Agency, Go Media Partner Jeff Finley's book, Thread's Not Dead: The Designer's Guide to the Apparel Industry.
Never Say Die.
Most of the successful "big-time" brands will tell you it wasn't easy getting to where they are and that there's no formula for success. But you've got to be willing to tough it out, deal with rejection, and be ready to ride the roller coaster. You must also have the capabilities to manufacture hundreds or thousands of shirts. For those wanting to go beyond the side project phase and go bigtime, read on.
"How to My Apparel Line into Stores," you ask?
1.  Be Proven. Your line needs to have a history of selling well. If you consistently sell out online or have built up a large fan base online, this increases your chances of getting into a retail shop. If all you have are mockups and no history of selling anything, you need to prove yourself first. It's like a band trying to get signed to a major label and play big shows when they can't sell out the local pub down the street.
2. Be retail-ready. This includes hang tags, custom poly bags or packaging, printed shirt tags, etc. You need to look put-together in order to be taken seriously by retail stores. Johnny Cupcakes often reminds people at his talks that those that pay extra attention to these little details are the ones that stand out and are successful.
3. Have a line sheet or lookbook. A line sheet is basically a PDF of your t-shirt line with product info and photos of product. Include info about your brand, the names of the shirts, t-shirt color and specs, item number, prices, sizing, and other specs unique to your product.
Don't forget to mockup your designs.
4. Do your homework. Find out what stores you want to be in and get all the information you can about them. Make sure your brand fits the style and will look good
with the rest of the products they sell. Talk to the buyers. Find out who makes the buying decisions and set up an appointment to show them your samples. The employees at your local retail shop are not likely the ones making decisions.
5. Talk to other brands who have made it. Learn from their experience! Walk into the stores you want to be in and write down the names of the brands you find. Do your homework and look up contact information for them and introduce yourself. Be polite and see you can set up an interview with them to discuss their experiences. If you have trouble finding information about a brand, it might be because they're a store brand under a different name. For example, I saw a brand called Aces & Eights at JCPenney once and couldn't find a damn thing about them online. From what I gathered, it was just JCPenney putting out a line of tees under that name.
6. Go to Trade Shows like Magic or Pool. You can meet a lot of retail buyers and talk to brand owners and consumers alike. You can really get a feel for what the current trends are at these events. Eventually, setting up your own booth should be on your annual to do list. There are others like Agenda, ASR, and Threadshow.
7. Hire a Sales Rep. Find someone who has experience selling apparel to retail buyers. They do this for a living and are likely better at it than you. They also already have the contacts that everyone wants but doesn't have. Some stores already have relationships with certain reps and buy from them often.
8. Bring samples. Retail buyers and sales reps like to be able see the actual products before they make a decision. It makes sense right? They like to feel the garment and test the quality and fit. This also gives your buyer a chance to notice all of your attention to detail!
9. Be professional yet personable. This is common sense in the industry. Buyers are attracted to people that know their product inside and out and can speak about it with passion and conviction. They buy from people they are comfortable with. If you can't manage to clean up and persuade someone to want your tees, then get a sales rep.
10. Be persistent and follow up. When you contact a store, rep, or buyer, don't be surprised if you don't hear back. These people can have hundreds of brands trying to get into their store! Make a spreadsheet of all the people you are contacting and when you need to follow up. Make sure you follow up and be persistent. Just don't be annoying and if they say no, it usually means no. Don't nag anyone, you don't want to damage your reputation.
Other Options:
Sell at Local Boutiques and Consignment Shops
You can swing by your local clothing boutiques and ask if you could sell your line on consignment. The terms vary, but you only get paid if the shirts sell. The shop gets to keep a percentage. This is a good way to get your feet wet selling in stores. There's no guarantee of making any money, but you can test the waters and get your brand name out there a little bit. You'll need to find shops that sell to the type of consumer you are looking for. Do your tees fit in with the boutique? If you find that your tees are selling locally, then you can consider moving on to more national stores.
Sell at National Chains and Department Stores
If you want to sell your stuff at Hot Topic, H&M, or other chain stores like that, you'll need to talk to their regional sales reps. You can find them at the major apparel trade shows looking at hot new brands to buy up. However, if you've got a large following online, these stores may find you through word of mouth. Urban Outfitters contacted Go Media asking to purchase a bunch of Obama skate decks that Oliver Barrett designed. We agreed on a price, signed the deal, and saw the deck in their stores. It was kind of a lucky shot there, but his design was timely and fit with what they were looking for.
Working with Distributors
Dave from Paint the Stars says, "Distributors are a great way to get your brand into places that you might not be able to reach independently." They can also help you with manufacturing and producing your tees. Getting a distribution deal is like getting a record deal, which is one way to get more exposure and sales. Dave says he's had good and bad experiences with distributors. "We've found ourselves bound by some pretty unreasonable contracts that have only benefited the distributor and left us with nothing but a bunch of empty promises." He warns, "It's easy to get drawn in with promises of brand exposure, marketing you never dreamed of, and crazy production. So make sure you go through every minor detail of a contract before you sign it." Through their roller coaster experience, they have decided to start their own distribution company called Breakout Distribution to help themselves and other indie brands take it to the next level without a lot of the fine print from major distros.

Grab it:
Thread's Not Dead: The Essential Strategy Guide for
Dominating the T-Shirt Design Business
We are obsessed with making you look good.
Here at Mockup Everything, we are proud to provide you, our users, an easy-to-use online platform for applying your graphic designs to a growing variety of print products.
We offer mockup templates in categories including technology, apparel, print, outdoor and food & beverage, with over 175 templates in our library to date.
Each month, lucky Pro Users* are treated to at least 5 new templates and this month is no different.
* A free version is available too, whoo-hoo!
Adding to new templates, including:
long and short sleeved t-shirt templates
tank top templates
raglan templates
sports jersey templates
active wear templates
hoodie and outerwear templates
headwear and accessory templates
baby and youth templates
packaging and branding templates
billboard templates
8 New Templates!
We're excited to announce that we've added 8 new templates to the MockupEverything.com library!  Take a peek at this month's additions.
We've shown some of the templates mocked up with designs by the talented Jeff Finley. You can grab Jeff's vectors on the Arsenal, where we are selling his Awakened T-Shirt Design Pack.
Cuffed Beanie, Flat Version
Cuffed Beanie, Ghosted Version
Snowboard
Crew Neck: Front and Back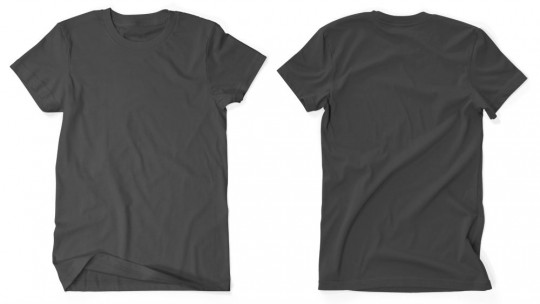 Sweatpants, Front
Sweatpants, Back
Hockey Jersey, Back (Ghosted Version)
Men's Triblend (Version 2)
Keep in mind, as a Mockup Everything User, you'll be treated to a jpeg snapshot of your work.
Want a PSD file?  Head straight on over to the Arsenal, where you can purchase Mockup Template packs like these: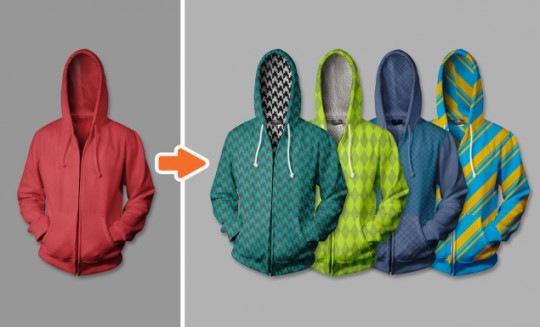 What are you waiting for? Let's Mockup Everything!
How to Design a Great T-Shirt:
We're proud to introduce a brand new product to the Arsenal today: the t-shirt design pack.
This product includes everything you need to design a great t-shirt. The pack includes vector illustrations, a tri-blend t-shirt mockup PSD and the completed original vector design. As a bonus, we're including a free chapter of our popular ebook Thread's Not Dead: The Designer's Guide to the Apparel Industry.
The first pack was created by our very own Jeff Finley. Jeff's pack, Awakened, focuses on sacred geometry and enlightenment. We think it's pretty darn divine.  Check out what's included.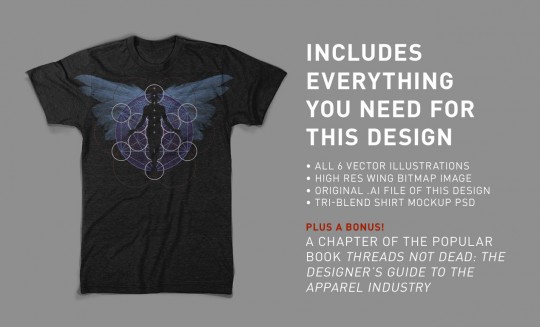 For more great products, such as mockup templates and vectors, head over to the Arsenal!
Love the t-shirt and need it NOW?
Buy it on Society 6!
For more on t-shirt design, check out these GoMediaZine posts –
The Fundamentals of Great T-Shirt Design
Newbie's Guide to Beautiful T-Shirt Mockups
Starting Your Own T-Shirt Line. Part I: Start Up
Starting Your Own T-Shirt Line. Part II: The Creation of Your Art and Working with a Printer.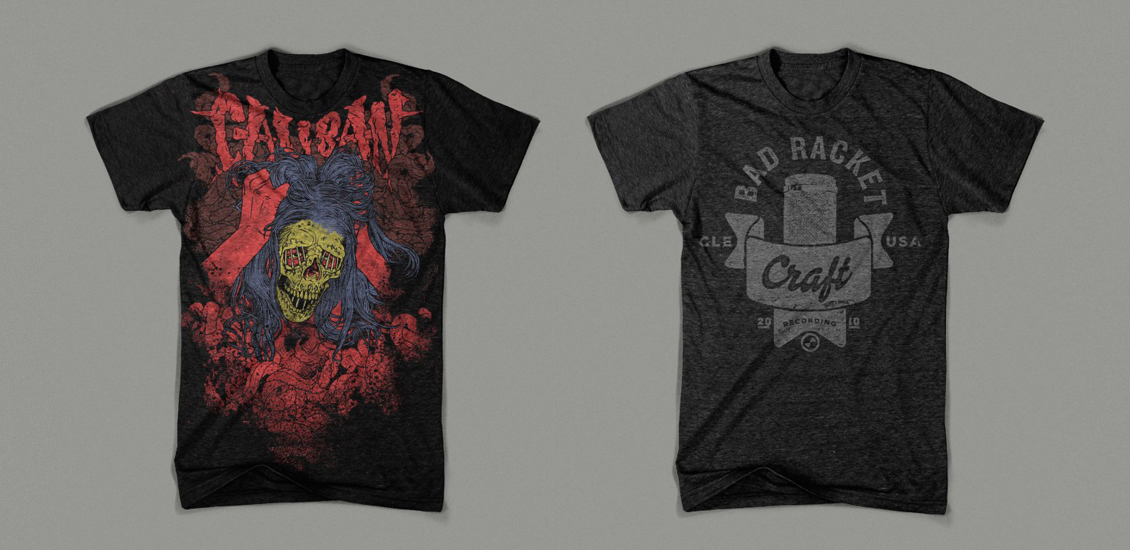 What makes a good tshirt design?
Sometimes it just feels like, well, you know it when you see it. But how do you quantify that feeling?
Despite a good, solid understanding of design, many are stumped and come looking to Jeff Finley, partner here at Go Media and author of Thread's Not Dead, The Designer's Guide to the Apparel Industry, for answers.
Jeff shares some not-so-obvious fundamentals of great t-shirt design in Thread's Not Dead, so we've decided to share some of them with you today.  We've also asked a few of our friends, t-shirt greats Brandon Rike, Dan Mumford, Glenn Jones and Anthony Hall to weigh in.
Keys to Great T-Shirt Design:
Wondering, how do I design a great tshirt?
1. Hit your Target.
"The bottom line is that a good t-shirt design is one that catches the idea of the intended target so much that they want to wear it. Not only will they wear it, but they will love it so much that they will never throw it away." – Brandon Rike
"The great thing about t-shirts is that everyone has different taste so you'll find a market in whatever you create. You just need to link to the audience." – Glenn Jones
2. Design for your Client.
"I design for the audience, no questions asked. Designing with your own agenda is only your way to let the client know that their needs are secondary, and you're gonna do whatever you want to do with the project. This wastes your time and theirs, and is disrespectful to the people offering to pay you for your services. It takes a better designer to work with the client, and make sure they are happy, and get out of the exchange with a better end product than they had anticipated. If you can't design within someone else's parameters, then I'm afraid you've misunderstood your occupation." – Brandon Rike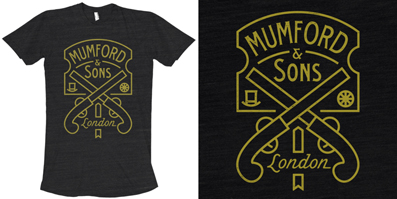 3.  Color is King.
"Colors sell, first and foremost. Whether it's a one-color white graphic on a black tee, it's that initial connection that the buyer wants to make. Some people like plain t-shirt graphics, some want super colorful graphics, some want a vintage look. Either way, knowing who the target is, and predicting what they will be drawn to is of utmost importance. While this information is heartbreaking to designers and illustrators, the design itself is secondary to the colors it's presented in. Many designers spend so much time on an impressive illustration, only to cloak it in an uninspired colorway at the end. We have to look at t-shirt designs as the whole garment, as opposed to just the graphic printed on it. Will the ink cover too much of the shirt, making the garment feel heavy? Does my illustration work better as a print than on a t-shirt? Do the focal points of the design draw your attention to odd parts of the torso?" – Brandon Rike
4. Compose Yourself.
"Its all about composition, especially when you have a tee design with a lot going on it, like most of my designs. The lines have to flow nicely together and the type has to fit comfortably all within the design, if the basic shapes and outlines work nicely together then I know I have a good tee design, its only then that I will fill in most of the detail. When it comes to colour, you have to know how to use it sparingly, especially with screen-printed tees, being able to work with a limited palette is an incredibly powerful way to get the most out of a tee design." – Dan Mumford
"My idea of what is "good t-shirt design" has changed as I've improved as an artist. Generally speaking, for me, a good design usually involves keeping the weight of the design near the top/center of the shirt (more flattering on a customer), keeping my colors balanced and limited, and using the shirt color as a part of the design.  I know I've got a good design on my hands if I can revisit my finished design after a couple of days and not see any flaws or things I'd want to change." – Anthony Hall
4. Consider Wearability.
This is a simple, but important question to ask yourself.  "It's a pretty simple concept and I know it doesn't apply when you're designing tees for a client whose audience might be twice your age and of the opposite sex. But as a rule of thumb, ask yourself "would I wear this?" Put yourself in the wearer's shoes and try to imagine what it'd be like to wear your shirt." – Jeff Finley, Thread's Not Dead.
5. Thoughtfully brand (details matter).
"Branding is important throughout, if you have a tag or a logo that can be found on everything you do, then it will get imprinted on people that see your work, and it also starts to become a brand of quality. I try to have my small 'M' icon on most pieces of my work, its nothing special, but it definitely holds everything together under one larger umbrella of work." – Dan Mumford
6. Consider the costs.
"I try to create designs with a 3 color max. Many bands watch the cost of a tee go way up as they add more colors, thus, watching their profits go down. Since I was fitting the bill for the very first tees that I designed, I try to be realistic about costs of printing. While the color choices are of utmost importance, simply adding more colors does not make a tee better. Challenge yourself to make 1-3 colors go a long way."  – Brandon Rike
"I think just having a good idea of how screen-printing works is the most essential thing. Being able to separate colours for print means you can supply things print ready, not only does that make you easier to work with for the clients, but it gives you an edge over designers that might not know much about the process. As far as detail goes, its again just about being able to provide clean files that are easy to work with." – Dan Mumford
7. Be innovative.
"These days, the trends in graphic tees are getting more and more loose. You can find anything printed on a tee. Whereas when I came into this industry, we were trying to create solid graphic lock-ups that would sit in the middle of the chest, you will now find a single photo covering a tee, or one word filling up all of the space. Any tangible trend has completely disintegrated, and now, frankly, anything goes.
For me, it's exciting to see where my skills are and know how fit into these trends. While I would prefer to concentrate on more concrete graphics, I know how to make a good t-shirt, even if that means using the right photo or word to completely cover the shirt with. It's become less about the skills that I have, and more about being creative in general, and being able to apply it to what I'm doing." – Brandon Rike
"Good design will blaze new trails in what people are wearing. Adding foil into your design wasn't something your average designer six or seven years ago thought of. Foil or printing a full color image isn't really cost-effective but it might be worth it if that's what people are buying. A good design pushes boundaries and does things differently. It starts new trends, forges new printing solutions, and advances the industry. A good example of this is the Bold is Beautiful shirt that I designed that people said could never be printed. The design featured a full spectrum of colors and took up a large area on a black shirt. I imagine it was costly to print, but the team at DesignByHümans pulled it off with flying colors, pun intended." – Jeff Finley, Thread's Not Dead
8. Create substance.
"A good design has a solid idea and purpose behind it. Sure there are top selling t-shirts that exploit the popularity of stylistic trends like ornate flourishes or SFSS (skulls for skulls sake). But the point is, designs with a solid idea that mean something to your client or customer favor better." – Jeff Finley, Thread's Not Dead

Glennz Illustration Process – Modern Entry from Glenn Jones on Vimeo.
"As far as putting meaning behind my designs, I like problem solving; I like to come up with gadgets, or solutions to problems that don't really need solutions. If that makes people laugh too,  thats a bonus." – Glenn Jones
_______________________________
Great design is really made up of so many elements.  Not only do you have to have a solid grasp on design principles, but also understand your audience, wearability, cost effectiveness and the importance of branding.  Combined with pushing the envelope, you as a t-shirt designer have a huge hill to climb.  Cultivate good instincts, as outlined by our experts, and your chances of success will increase ten-fold.
Heart and passion, too, can go a long way.  If you love your design, chances are your audience will too. Hall sums it up with one last thought: "Honestly, I have no ability to predict how popular a design will be. I just make shirts about things that I really love, and hopefully customers will be on board with whatever I designed. The worst thing that can happen is that you made a great design that you're really proud of."
For more information on great design and other areas on dominating the t-shirt industry, check out Thread's Not Dead.
Share your successes and challenges of t-shirt design in the comments below!
________________________________________
Thank you to our guest contributors!
More Anthony Hall:  Facebook | Twitter | Instagram | Tumblr | Behance
More Brandon Rike:  Cargo | Dribbble | Flickr | Instagram | Tumblr | Twitter | Vimeo
More Dan Mumford: MySpace | Twitter | Facebook | Mintees |Skull & Heart  | Mumford Clothing | Instagram
More Glenn Jones: Twitter | Facebook | Behance | Flickr | Dribble | Vimeo | Instagram
More Jeff Finley: Twitter | Dribbble | Vimeo | Pinterest | Facebook | Instagram | YouTube | Gimmebar | Last.fm
Header image t-shirts by Jeff Finley.
Forewords
Chad Tibbits is a super talented apparel designer, WMC Fest alum, and all around nice guy. As for Chad, we're super happy to have him join the patiently growing, curated list of Arsenal contributors. His first halftoned texture pack focuses on dust, speckles, and other vintage look inducing goodness. Let's have a look:
The pack is delivered in multiple formats: one PSD that includes a "threshold" and the halftoned version of the texture, CMYK jpgs of both, RGB jps of both, and transparent background pngs. The halftone versions are the most detailed, while the "threshold" are more intense. There are 10 different textures, coming from different sources: old paper, various grain, etc. These are super versatile, and Chad's tutorial below only demonstrates one of the many ways these can be put to good use. I'd suggest pasting these in a text block layer mask. Just saying.
The "lighter" versions of the images are the halftoned versions. If I were you, I wouldn't hesitate to grab this awesome set. On that note, time for Chad's tutorial. On the menu today: some apparel design, but the techniques can be extrapolated for many other uses. Enjoy!
— Simon, Manager for the Arsenal
_________________________________________________________________________
For this tutorial, we will be creating a silk-screened graphic in Photoshop that can be used as either an apparel graphic or as a poster. Here is a preview of what my final image looks like. Note: Graphics can vary in look – this all depends on the use of the textures and type treatments.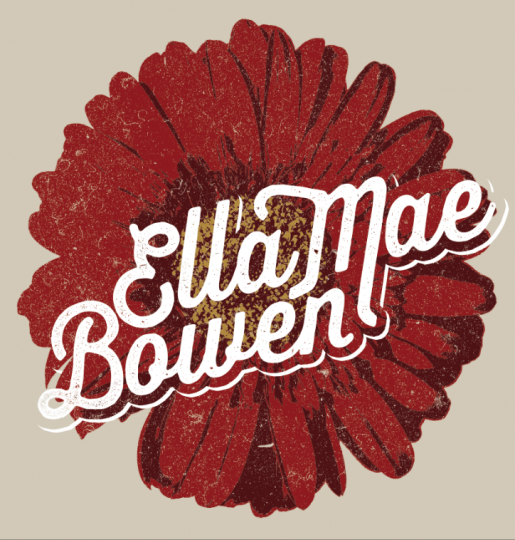 Step 1: Set Up Your Photoshop Document
Your size can vary but in this example I set up the document at 11" x 11" @ 300 DPI and CMYK. In this example, I am planning on using the design for an apparel design.  Therefore, I am selecting a size that can fit within the common screen print size; so keep that in mind.
Step 2: Choose Your Photo
For this design I chose a pink flower from sxc.hu. Once you download the image, drag and drop it onto your Photoshop document. Luckily, this photo has a nice clean/white background.  So in this case, complete a quick select of the white with your Magic Wand Tool, and delete out the outer white that surrounds the flower.
Step 3: Begin To Edit Your Flower
Duplicate your flower and with your new layer: click on your upper toolbar under Image > Adjustment > Threshold. Using the slider, adjust the Threshold Level to your desired detail level.
In the upper toolbar click Select > ColorRange. From here, you can select all of the white in the photo and delete it.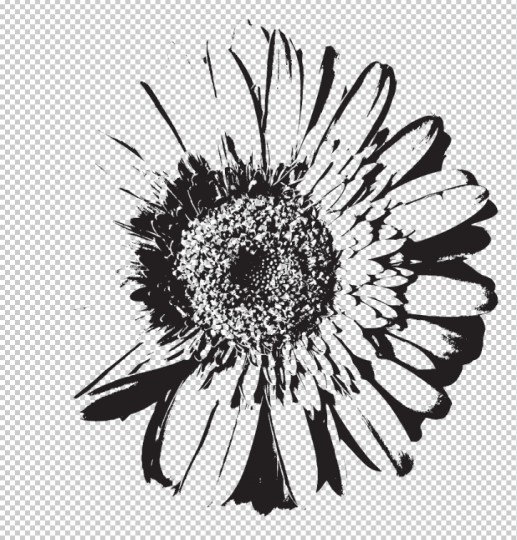 Now that the white background is removed, double click on the layer icon and click Color Overlay in your Layer Styles. Here you can choose whichever color you would like in creating this layer. I chose PANTONE 7427 C or #9d162e.
Step 4: Add More Color To The Flower
Duplicate your original flower layer again. Once your layer is duplicated, take your new layer and double click on the layer icon to go back into Layer Styles. Click on Color Overlay again and turn the flower into whatever color you'd like. In this example I used PANTONE 4975 C or #411f1f.
Next, click on your Ellipse Tool in your tool bar and create a circle. This will act as the center of the flower. Once you've created your circle, click your layer icon and select your desired color, I chose PANTONE 729 C or #b7814f. Place this in-between your two flower layers and you should have something that looks like the following.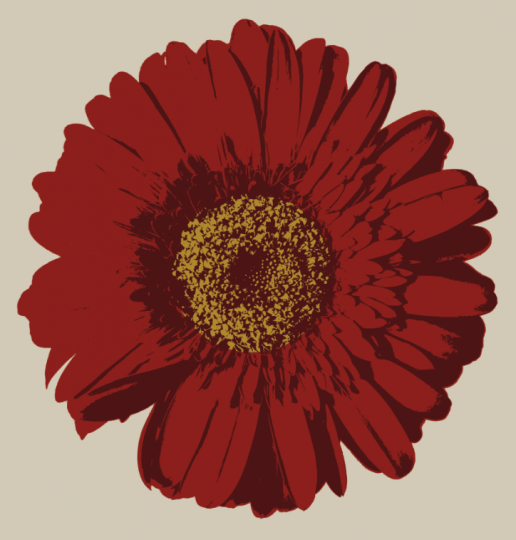 Step 5: Add Some Distress
With this step you will need to purchase the "Halftone Texture Pack – Volume 1 – Dust" I just created for Go Media's Arsenal. This particular texture is in Group #2.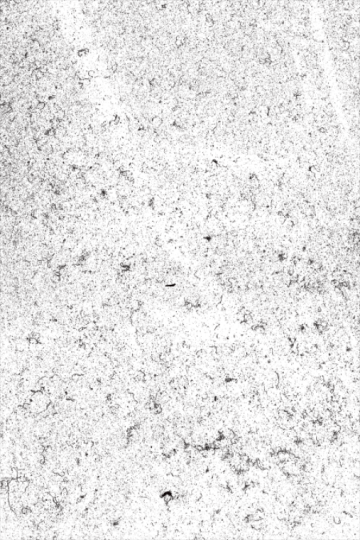 Open Halftone Dust Textures and drag Group #2 overtop all of your visible layers. Double click on one or both layer icons (halftone and threshold) and click Color Overlay in your Layer Styles. Then, select your background color as the color overlay.
From here you can choose how much detail/distress you would like to have on your piece. Using just the halftone layer shows all of the distress detail, just with finer detail. The threshold layer does not have as much fine detail to it, but it can help make your distress more apparent. Feel free to bring in more distress layers or even duplicate the ones in Group #2 to give your piece even more distress.
After altering your distress to your liking, press Command/CTRL+Click on your distress layers.
Now select the first layer of your flower and click "delete". Repeat this step on each of your layers that make up your flower. You will now be able to turn your off your distress layer/s and you should see the same effect as if it were still on.
Step 6: Add Some Flare
For this piece I imported a typographic piece that I made for the artist.
Duplicate your layer and hide your duplicate layer, this will be used for the next step. Then go back to Halftone Dust Textures and take Group #1 and place it over top of your text/logo and repeat the same steps as the step before to give the same kind of distress look.
Step 7: Bold It Up
Reveal your duplicate layer and decrease your layer fill to 0%. Double click on your layer icon in your Layer Styles and click on Inner Glow. Feel free to follow my same selection or choose what looks best with your piece. The black inner glow may be deceiving but bear with me; this will make the next step a bit easier.
When choosing your inner glow, try and create an inner glow that helps your text/logo stand out from the background color and flower graphic.
Step 8: Halftone It!
After achieving an inner glow that works for your design, hide all of your layers except for your inner glow layer. Then click Image >Mode > Grayscale and if asked to Rasterize/Merge do so. This step will be undone soon. After doing so, click Image > Mode > Bitmap. From here select a 300 Pixels/Inch Resolution and a Method Use: Halftone Screen.
On the next option (Halftone Screen) I use the following settings that are recommended by Jakprints.
(In case you aren't sure who they are, Jakprints is an amazing independently owned print shop here in Cleveland that specializes high quality printing. Any print job you have, they can handle!)
Frequency: 45 Lines/Inch
Angle: 23.5 degrees
Shape: Elipse
Once applying the halftone, click Command/CTRL+A and select the entire board and then click Command/CTRL+C to copy it. Now click Command/CTRL+Option/ALT+Z multiple times to go back to your latest layered files. You will now hit Command/CTRL+V, placing your halftoned graphic with the rest of your layers. Now click Select > Color Range. From here you will select all of the white in the photo and delete it.
After deleting all of your white, reveal all of your working layers and do a color overlay on your new halftoned layer. With this layer do a white color overlay to match your text/logo.
Step 9: Merge Layers
Now that your layers are using proper halftones you can merge your layers together that share the same color values. In this example, the only color that shares the same values are the whites.
Step 10: Separate Layers
Now that your layers are separated into your print colors, it is time to separate the screen colors. Click on your upper layer (your type/logo layer) and click Command/CTRL+Click. Now delete that selection from your three layers that are below it. Repeat this step for every layer and delete each layer's selections from the layer that's below it.
Step 11: Donezo!
You should now be able to turn each individual layer off seeing the separation between all of your other layers.
It's time to mock this baby up, and to land that art approval.