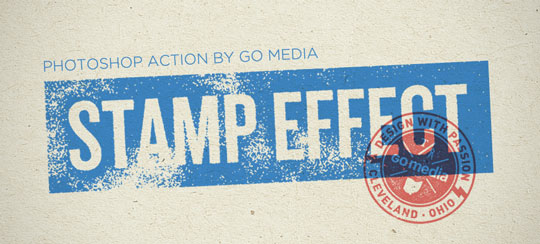 Works great on any single color logo, emblem, mark, seal, crest.
Because of the great response to my Aged Type action, I took it a bit further and made a similar effect that could be applied, not only to text, but to your logo to give it an authentic stamp or print effect. I have seen various rubber stamp effects on google and none are all that great. So let me show you why mine is the bees knees.
This is a premium Photoshop action that took some time to perfect. So we're selling it for the cheap price of $7.  Credit Cards and Paypal accepted.
Instructions
After downloading the action, simply open up the .ATN file and it will automatically load it into your Photoshop Actions panel ready for use! For best results start with a black and white image that's at least 800-1,000 pixels wide.
In Photoshop, select the layer you want to turn into a stamp and press PLAY on the "Stamp/Print by Go Media" action. It will apply the effect!
Here are some tips:
Works best on images at least 800 px wide
Works on any logo, text, or even photos!
Can also be used as a faux screenprint or letterpress effect
Final result is on its own layer.
Settings are completely customizable, tweak to your heart's content
Pro Tip: The action runs automatically once you click it. But if you want to adjust any of the effects/filters as it happens, toggle this dialog box icon so it stops at every step allowing you to get more control over the effects.
Examples: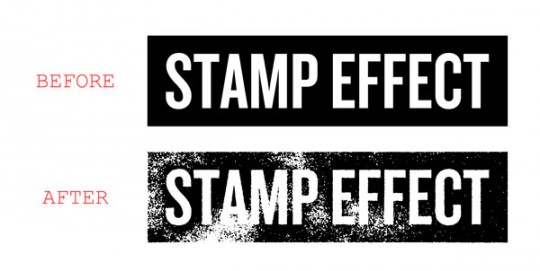 Result is on its own layer
Even works on photos!
For best results, you might have to adjust the contrast of your source image. And again, the settings are fully adjustable inside the action so you can tweak it to your hearts content!
While working on the poster for DIT Fest last week I managed to create an impressive text effect that I will likely reuse for awhile. It's very subtle and does not look like a filter. I'm simply adding a slightly aged, worn, or screen-printed look to any typeface. You can even apply this effect to any solid color shape or vector graphic for a hand-made screen-printed look—all done in Photoshop.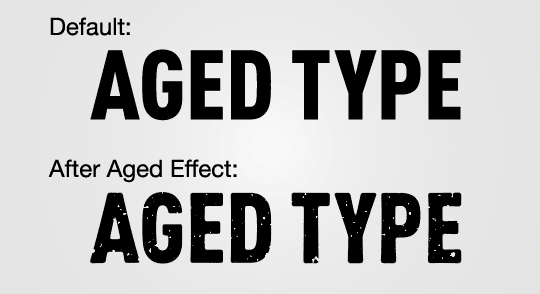 Create your type as you normally would
Rasterize the type
Add noise, around 25%. Be sure the check the 'Monochromatic' checkbox.
Adjust the Input Levels, bring the black level up to about 70
Run a very slight Gaussian Blur on your type – like 1 or 2 px
Run Smart Sharpen to remove the blur but keep some of the organic distressing / softening that occurs. Like 200% for the amount and about 15 for the radius.
Adjust Levels again – bring black up to about 50 and white down to 69.
Or just download the  and never have to remember how to do it again.
If you want to take it further:
Buy our Stamp Effect action – more info
See example images: