"We develop brands and optimize relationships for growth and positive impact. Prosper for Purpose is a strategic public relations, branding and fundraising firm that helps purpose-driven organizations and individuals maximize their impact. We achieve success through creative solutions, proven processes and professional expertise."
Jakprints is your friend in the print industry with high-quality, affordable, eco-friendly products in Full Color Printing; Label and Sticker Printing; Embroidery and Apparel Printing; and Large Format or Banner Printing. Our online printing services are always available when you want to place orders, request quotes, download design templates or review product pricing and options.
Rather talk to a person? We have those, too! Contact us, call at (877) 246-3132 or, if you're in the neighborhood, stop by our Cleveland Printing Location.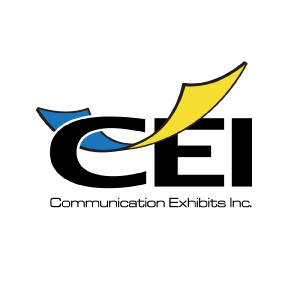 Communication Exhibits, Inc. (CEI) creates visual learning tools to help customers communicate their messages effectively.   Using tablet APPS,  virtual 3D product demonstrations  and touch screen interactive displays, CEI can deliver extraordinary realism and detailed information that will make even the most complex products easy to understand. CEI not only offers technology based experiences, but they have also been designing and producing custom tradeshow structures since 1977.  When it comes to custom interiors and creative spaces, CEI offers the experience and expertise you are looking for.  As a partner who understands the complexities involved in producing one of a kind environments, CEI is a great choice for many architects and interior designers. Every project is managed by a team of professionals who specialize in custom solutions.  Every detail is carefully addressed by an account team who make sure that your project is being produced in the most accurate, cost effective and efficient manner. 
Midwest Box Company is Cleveland's oldest, largest, female owned sheet plant; with both FBE and CSB certifications.  The company was founded in 1964 as a short-run supplier with equipment that now enables us to accommodate both long and short-runs.  We design packaging based on the special needs of our customers and have many sizes in stock for immediate delivery.
We are located on the near-west side of Cleveland with plenty of space that allows us to have an efficient warehousing program for many of our customers.
Midwest Box employees have over 200 years combined experience in the packaging field and look forward to working with you.
We are a fusion of both artistic and technically talented people that are continually driven in our passion for making artwork. Built on years of experimentation, we unleash our creative spirit to provide clients with custom-crafted, cutting-edge, and dynamic imagery. We are specialists in the multi-disciplinary arts of 3D Visualization, Animation, and Motion Graphics and work tirelessly to ensure our work captures the heart of our client's concepts.
Based near Cleveland, Ohio, we are proud to call this city home. Our story is one of creative people that found a way to live our dreams while creating work that we care deeply about.
Sharon L. Toerek focuses her legal practice at Licata & Toerek on intellectual property law, advising clients across the United States on trademark, copyright, trade secret, non competition, and other intellectual property and business law issues. Toerek has a particular concentration of clients in the advertising, marketing and creative services industries, and she provides legal counsel on legal issues faced by those industries including copyright and content protection, licensing of creative content, trademark and brand protection matters, social media law, agency-client and agency-freelance contracts, advertising compliance, and direct marketing regulations.
In the industry, Toerek is a nationally recognized author and speaker in her areas of expertise to numerous advertising and communications industries organizations, advertising agencies, and in-house marketing teams, and has created and presented numerous training sessions to industry professionals that enable them to recognize legal issues and protect their valuable work and rights. A sample of recent industry presentations includes:
Legal Hotbuttons in Adland…and How to Handle Them (Ad Age Small Agency Conference 7/2012)
It's All You've Got! An IP Checklist for Communications Pros (Brand Muscle 7/2012)
How to Stay Out of Legal Trouble with Social Media (Dix & Eaton 6/2012)
IP Law for Communicators (International Association of Business Communicators 1/2012)
Toerek is the publisher of Legal + Creative, an intellectual property law, advertising law and marketing law blog for creative people, which contains timely content and articles about legal matters of interest to creative professionals. Toerek is the immediate Past President of the American Advertising Federation (AAF) Cleveland (2011-2012), and is an approved member of the national legal consultants panel for the American Association of Advertising Agencies (4A's). In her community, Toerek is Chairman of the Board of Directors of the Council of Small Enterprises (COSE), and serves on the Board of Directors and Executive Committee of the Greater Cleveland Partnership (GCP). Nationally, Toerek serves as an Associate Director of the Board of the National Small Business Association (NSBA). Toerek resides in Cleveland, Ohio with her husband, Ed Toerek.
Cinécraft produces high-quality video and develops custom eLearning solutions to support the goals of Fortune 1000 companies and medium to large sized businesses.
While in New York, Dan helped Sotheby's auction house convert it's entire cataloging operation to digital photography. In 1999, during the Dot Com boom, Sothebys.com hired Dan to oversee 13 young digital photographers. Dan's expertise here was not in just in Digital Photography, but also in lighting and working with people – skills Dan uses today to help companies in Cleveland get the most out of photography in a digital age.
The very same technology that gives mostly anyone the tools to capture image files, allows Dan and his associates the ability to confidently shoot in nearly every conceivable situation. In Early 2012, Dan worked extensively with Go Media and Adam Wagner (now in California, but no worries, he'll be back). Mock Up Everything is an evolving project that demanded the use of this entire Straight Shooter "toolbox", product and fashion photography, both in the studio and on location.
Tap Packaging Solutions, a domestic manufacturer of quality packaging for over 100 years partners with our customers to provide creative, innovative packaging solutions.
Tap Packaging Solutions is committed to enhancing our customers' image by providing high quality packaging and presentation products. Our success can be attributed to the creative craftsmanship of our dedicated workforce, and our sincere desire to partner with our customers and suppliers.
Jackie Bebenroth is a Swiss Army Knife of creativity who works with entrepreneurs, agencies, and executives to reach new heights through the power of storytelling.
A copywriter by trade, creative director by profession, and content strategist by default, Jackie helps clients find their brand voice … and shout it from the rooftops with clarity and purpose. As principal of Muse Content Group, she works alongside entrepreneurs, agencies, and executives to elevate brand value through intriguing storytelling techniques.
Her work, ranging from six-figure social media initiatives to small start-up blogs, has flown her around the country to speak on the fine art of content marketing. She's picked up a few accolades along the way, most notably a 2011 SXSW Interactive finalist award.
When not working or parenting, she can likely be found blogging from the bar of her husband's restaurant, Spice Kitchen + Bar.