Well, it's been almost four months since my first day here at Go Media. I entered my position as the Sales and Project Manager after making my way through a series of "interesting" jobs. I'm still not quite sure what Bill saw in me for this position, but the man has a good judge of character. It was either my intensely professional manner or my incredible good looks.
All joking aside, I have come to find that Go Media is the first job where I can see myself being here for more than a year or two. In my previous jobs, I was always dreaming of a great new job. I am lucky to have my interests met and talents put to use here at Go Media.
After graduating from The Ohio State University in March 2005, I knew that I needed to choose a career path. Instead of jumping into the workforce, I moved home to Cleveland and began a summer of travel. From Montreal, Quebec to Phoenix, Arizona, I saw North America in so many different ways. In one month I traveled to New York City, St.Louis, Mesa Verde (Colorado), the Grand Canyon, New Mexico, and the coast of North Carolina. At the end of my summer of exploration, I ended up moving to Pittsburgh for a 1 year urban mission trip. I spent time working with children ages 9 months-5 years, and learned that I actually do like kids more than I thought.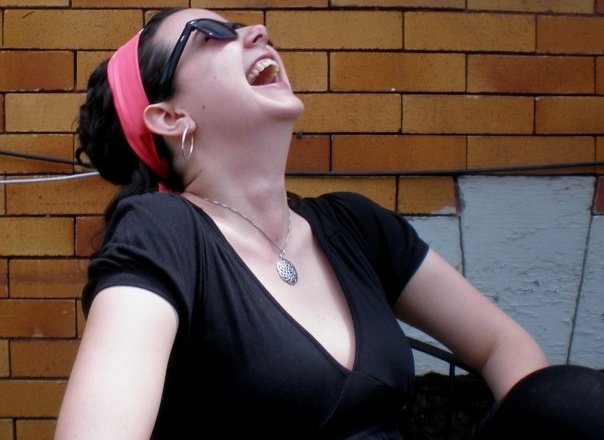 I started working in retail for Ann Taylor Loft and moved from Sales Associate to Manager in Training and then to Assistant Manager within 15 months. I learned a lot about myself during that time and discovered that I could be myself and still hold onto my faith. I am a warm, fun-loving person, but I can be very blunt and I don't apologize for who I am.
I made the move from Pittsburgh back to Cleveland last summer and quickly realized that my new found love for the Steelers would not be welcome here in Browns territory. I found myself searching again for job opportunities that would allow for a real schedule (no more weekends and holidays for me!) New York? DC? Seattle? I wasn't sure where I wanted to end up, but I soon learned that Cleveland was going to be my home once again. It has been strange to realize that Cleveland is not the town that I knew growing up- there is much more here than the schools, libraries, and parks that I went to during my childhood. I have spent several months finding my favorite places in Ohio City, Tremont, Coventry, and Lakewood.
On any given weekend, you will find me talking with friends and fellow Go Mediaites at the Bier Markt, perusing the produce stand of the West Side Market, at Momentum Christian Church(in a movie theatre), having brunch at Grumpy's, and soaking in the rays at Edgewater Beach.
After moving home, I did land a job here in the Cleve (not an easy task as our fair city suffers through this rough economic period), but it was not for me. I spent 5 months as a staffing manager for a hospitality staffing firm, gaining more client relation experience and employee management skills. Unfortunately, my artistic inclinations were suppressed in that kind of office job, so I began the search again until I heard about Go Media. The merging of my background in photography and art history and several years of management experience led to a great match here. I spend my days responding to inquiries, writing estimates, sending invoices, starting projects, searching out great new projects and assisting the designers with client communication. Oh and if you ever find reason to call our office, I'm the friendly voice on the other end of the line.