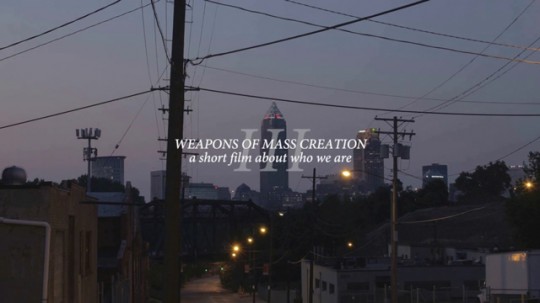 Weapons of Mass Creation 2012 from Weapons of Mass Creation on Vimeo.
We are the Weapons of Mass Creation. WMC Fest 3 took place on June 8-11, 2012 in Cleveland, OH. For more info visit wmcfest.com

Director by Aaron Freeder / Produced by Go Media / Creative Director and WMC Fest Founder: Jeff Finley / Custom typography by Brandon Rike, Carolyn Sewell, Joseph Hughes, Nate Utesch, and Jeff Finley

Special thanks to Jesse Sloan, Joseph Hughes, and Todd Gauman for [their] tireless work.
Well, if you missed Weapons of Mass Creation Fest this year, this is what happened. We hope that if you were not attending because of being on the fence, this will convince you to make the trip for next year.
Onwards to 2013 we go!