I've yet to be privileged enough to visit Canada for longer than an hour or two, but I've always wanted to take a trek to for an extended visit with our neighbors to the north. Now—budget willing—I'll have a great excuse. Montreal Meets 2 (MMTWO) has begun the countdown to their second iteration. Since MMTWO is a small, intimate design conference much like Go Media's own WMC Fest, we are quite excited. Here's why you should be, too:
Montreal Meets 2 will feature:
Fabio Sasso


Hailing from Porto Alegre, Brazil, Fabio is the founder of Zee, a web design firm, as well as one of my favorite showcases for tutorials and inspiration, Abduzeedo. His hyper-colorful, cutting-edge work has earned him clients like MSNBC, Wired UK, and Adobe.
James White (Signalnoise)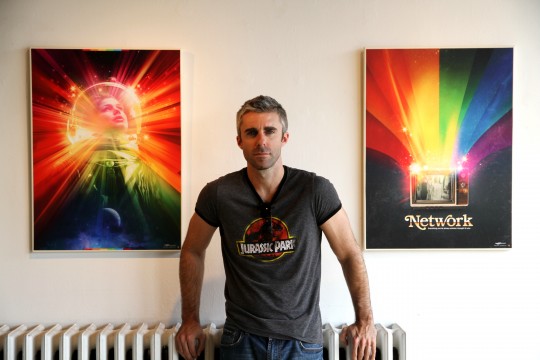 Canadian native James White is wildly popular online and amongst the design community for his hard hitting, vibrant works of art. He is a wonderful amalgamation of retro, futuristic, and a healthy dose of lens flair. James' online projects include a showcase of his work, a blog, and most recently the Signalnoise Podcast. His clients include Toyota, Wired, and Google.
Radim Malinic (Brand Nu)

He is an award winning art director, designer, and illustrator based out of London England. Going by the name Brand Nu, Radim has accumulated a hefty list of clients ranging from Acura to Xbox 360. His work is satisfying mix of typography, illustration, photography, and apparent Photoshop virtuosity.
Shelby White (Wanken)


Shelby is the creator of Designspiration.net, another one of my best-loved online sources for visual reference and inspiration. Shelby runs a freelance design studio in Portland, Oregon called Wanken where he produces beautifully minimal design work for bands, BMX bike companies, and even Old Spice. Shelby is also a writer for the ISO50 blog.
Scott Hansen (ISO50, ISO50 Blog, also performing as Tycho)


A man of many talents, Scott Hansen possesses a sprawling internet presence under the name ISO50, and is the resident musical act at MMTWO under his name Tycho. ISO50 branches into three parts: Scott's gorgeous nostalgia-saturated portfolio of web, print, apparel design and photography, a blog heavily frequented by the design community, and an online store. Scott peforms electronic, ambient, downtempo music under the name Tycho. It is not only a fitting soundtrack to his design, but a fitting soundtrack to work to, or use in a short promotional film like the one for MMTWO below.
This event will be nothing short of awesome. I'm immensely jealous of any that attend.
For more info go to: http://www.aoirostudio.com/mmtwo/
For Tickets go to: http://mmtwo.eventbrite.com/
Montreal Meets on Facebook: http://www.facebook.com/montrealmeets
Montreal Meets on Twitter: http://twitter.com/#!/montreal_meets