Zero to Hero – The Story of Brent Simon
As a hobby, I'm an amateur filmmaker. I've been making videos for over 10 years in my spare time with some friends. As an artist, it's another creative outlet ripe for exploration. It just so happens a video that I shot one year ago got really popular on the Internet and launched its subject, Brent Simon, into Internet fame.
In this article, I will explain how it happened and how Go Media was involved in the branding and guerrilla marketing that took a small-town musician from Ohio and landed him on national TV.
Who is Brent Simon?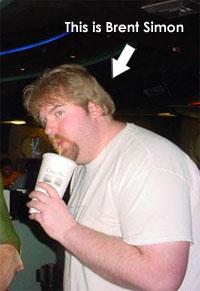 Brent Simon is a 28 year-old musician. But not just any musician, he's an overweight geek who plays the synthesizer. He writes songs about outer space, the Internet, and aliens just to name a few themes. At the time of the video shoot, he lived in a messy one-room apartment adorned with memorabilia only a true Geek would love.
His walls were plastered with 5.25″ floppy discs of old computer games, paintings of ufo's, etc. His floors were barely visible. They're littered with DVD's of Star Trek, British television shows, Atari games, various books and tech magazines, and other random items. Most people would be embarrassed, but Brent wasn't ashamed. He simply lived.
For a career, he worked at his family's local grocery store. He'd played in various bands here and there as their keyboardist, but after his last band's breakup, he decided to go back to school. He was studying Computer Animation through an online University.
I wanted to shoot a documentary about a day in his life. Partly as a joke and partly as a creative experiment. The plan was to shoot as much footage during the day and worry about assembling the storyline later. My friend and I arrived at his apartment just in time for him to get up for work – 1:30 PM. Here's what happened:
Watch the Brentumentary:
Getting people to see the Brentumentary
At Go Media, part of my job is promotion and marketing. I look for free or cheap ways of advertising or getting the word out about our company. In my opinion, it's far more valuable than traditional advertising. It's called guerrilla marketing. I explore the Internet as a valuable resource for communication. One of those avenues of exposure is the popular video site Youtube.
Guerrilla Marketing:
We wanted to generate buzz for Brentumentary first. So we put a clip of Brent playing his keyboard and singing a song he wrote called "The Bittorrent Song." It's about the Internet, technology, and file-sharing. We knew the perfect crowd that might find this video funny or interesting. We went after tech related sites, Bittorrent websites, forums for geeks or nerds, etc. We uploaded the video to Youtube and various other video and humor sites. We also sent it to all our friends, who then sent it to their friends, and so on. It received a nice response and ended up going viral to the tune of over 10,000 views that week.
A week or so later, we put up another clip of Brent playing a song called "Space Camp." This was the video that went berserk! It was astonishing. The first clip generated enough interest in Brent that they wanted to see more. Which reminds me, at the end of the videos, we made sure to drop a link to a website where they could see more information. At the time, it happened to be my own personal blog.
The "Space Camp" video went viral and went well over 100,000 views the first week. (It has since eclipsed the 1,000,000 mark) We decided it was time to release the Brentumentary. But to our surprise, this video didn't get so popular. It received a moderate amount of viewership, in the tens of thousands, but nothing compared to the "Space Camp" video. So it was clear, the shorter videos are more viral. The documentary was 25 minutes – much too long for someone to sit and watch while browsing the internet.
The Branding of Brent Simon
So now that Brent's videos were skyrocketing in popularity, it was up to Go Media to make the best of a good thing. Brent needed a website and a place where we could put up all his videos and mp3's of his songs. He started to generate a cult following that was begging for Brent to produce an album. They wanted more!
Brent describes his music as Nerd Punk. Which to our surprise the domain for nerdpunk.com was available to we quickly bought it and started designing a basic website for him to get his stuff up online in one place. We also got his music up on his own Myspace profile for people to listen to and interact with Brent.
Professional or amateur?
So when it came time to design the "look" that Brent was going to have, it was a tough decision. See, the common trait amongst the viral video generation, is that everything looks amateur. Mostly due to the fact that it's inexperienced kids or young adults providing most of the content. If something looks like it was done by a pro, the general public is inclined to think it's fake or some sort of professional advertising firm trying to tap into the viral video market. See the Lonelygirl15 saga. The attractive part of most viral videos is realism. And Brent is real. We didn't want to get in the way of that by designing what would look like a "major label" website that appeared to be backed by some corporate company. But we didn't want to make an amateur website either. We went sort of in between.
Identity Development
We had these primary goals in mind:
Bold and Powerful
Lighthearted and Fun
Easy to read
We wanted to get across that Brent is pioneering the nerd punk genre and that whenever anyone thinks of that genre, they will think of Brent. I also wanted a fun look. Something that emphasized Brent's appeal to young audiences. So I went with the typeface Futura Std Extra Bold. One of my favorites. I've seen it used everywhere and it's such a beautiful font. I see it used on movie posters all the time for teen comedies and whatnot.
The primary goal of the website was to get all of Brent's content into one single place and make it easily available to his fans. We wanted to make it fun and lively as well. For colors, we went with dark blues for the background and bright cyans and yellows for the accent colors. It is no coincidence that these colors also reflect the NASA or outer space themes that Brent sings about. It's all part of his brand.
As an musical artist, it's very important to establish a brand that people recognize. Not only do you need to "stand out from the crowd" but having an easily recognized brand creates loyalty. When people see the Nerd Punk logo, they know it's Brent Simon and not anything else.
Merch – How an Artist makes a Living
A sad fact that most of the public associates being a musician with making lots of money. That's what MTV would like you to believe. But the truth is, most musicians are out working very hard "busting their ass" to get to the next show. To provide entertainment for the rest of us. Trying to earn a living wage is near impossible considering the expenses of starting a band and getting it beyond weekend basement shows. Any band can attest to this fact, that merch sales are what drive most of their cash flow.
So with that in mind, we wanted to make some merch that would appeal to his fan base. It was a simple task given that Brent's music is so unique and fun that there wasn't much conceptual legwork involved. It was basically just taking the a catch phrase of his song "Space Camp" and designing a shirt around it. Here are some shirt designs that are working to help give Brent more of an identity and brand:
Famous on the Internets
So while we worked hard on getting Brent's brand and identity built, he was concentrating on getting his quirky songs recorded. The videos were promoting themselves across the internet like viral videos do. More people were asking for more music, videos, merchandise, etc.
So while these viral videos circulated the globe from computer to computer, eventually they landed in front of "important people" for lack of better words. These people were the ones that contacted Brent asking for interviews, publicity, etc.
Brent's first interview was an FM radio show in Florida called "The Hideout" and they had Brent and me on the phone discussing this whole Nerd Punk phenomena and where we though it was going. There was a mix of ridicule mixed with praise, which tended to be most people's reaction. There was something silly about Brent's videos, but people just couldn't stop watching.
From that point on, Brent has been very active in the media. Here's a list of some of his accomplishments:
Cleveland's WKYC Channel 3 news
Cleveland's WOIO Channel 19 news
Front page of Record Courier Newspaper
Interviews and radio play on FM stations including Cleveland's Q104
Interviews with Canada's CanoeTV
Interviews with the UK's Channel 4
And those led to bigger things such as:
Being praised by Carson Daly
"Space Camp" aired on VH1's Web Junk
The Big Break – Jimmy Kimmel Live!
Brent's "big break" if you want to call it started with G4TV out of Los Angeles. G4TV is a cable channel that is dedicated to the geek and gaming culture. They published an article on their website about Brent becoming "Famous on the Internets" and have since become big supporters of Brent.
Later, he was invited to perform on the Jimmy Kimmel Live show in November. The producers tried booking Brent three separate times before the right pieces fell in place to land him on the show. They bought him a flight suit, paid for his trip out there and gave him a nice chunk of cash too.
Watch Brent Simon on Jimmy Kimmel Live:
From Zero to Hero:
Just recently, G4TV did a follow up on Brent and spent some time documenting his visit to LA and the Jimmy Kimmel Show. This really shows you how far Brent has come since he woke up that morning with the cameras in his face.
The Album
During the midst of all this, Brent was quietly working on his album. With all of this popularity, it was the perfect time to put out the album that he has always wanted to. He launched it the same week as the Jimmy Kimmel show and that has now become the primary focus.
So we designed the CD Package and helped get his music on iTunes, Napster, Rhapsody, etc. We also designed the storefront at IndieMerch store to give him a store to sell it on:
Since the album has been out, he's been playing live shows in Northeast, Ohio and plans to tour. He's got a solid fan base started and all he needs to do is keep his fans happy. So you might wanna look out for Brent, he may be coming to your hometown this year!
Essential Brent Simon links:
http://www.nerdpunk.com
http://www.myspace.com/brentsimon
http://www.indiemerchstore.com/brentsimon
Podcast: Download (15.8MB)